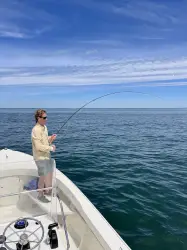 Latest posts by Leonard Schoenberger
(see all)
Oakley makes some of the finest sunglasses for all kinds of sports. The Oakley Clifden are great for fly fishing. Here is why.
When it comes to be being successful and safe at the water, there is hardly a piece of gear that is more important than sunglasses. Not only does a good pair of sunglasses protect you from the elements like sun, wind or dust, it also helps you spot fish. That is if you go for a pair of polarized sunglasses. If you want to learn more about polarized lenses and how to choose your pair of fly fishing sunglasses, make sure to check out our Guide to the Best Polarized Sunglasses for Fishing.
One of the sunglasses we feature in that test are the Oakley Split Shot Prizm. They are a fantastic pair of classic fly fishing sunglasses that offer great protection and visibility. In this review we want to take a look at another model from Oakley. It is a good choice for fly fishing and offers even more versatility: the Oakley Clifden.
Oakley Clifden Review Prizm Sunglasses
The Oakley Clifden come in two versions and multiple colors. First off, you have to choose between the Prizm and the Prizm Polarized. Oakley's Prizm technology is a great feature since it enhances color and contrast. Both of these effects are important when doing outdoor sports such as fly fishing, skiing or mountain biking. Hence the great thing about these glasses is that you can use them in multiple environments.
The standard Oakley Clifden Prizm come in three colors: Prizm Snow Black Iridium, Snow Sapphire and Snow Torch.
If you want to use your Oakley Clifden Sunglasses for fly fishing you should however opt for one of the polarized models. No matter whether you opt for the Prizm or Prizm Polarized a feature that we really like about the Oakley Clifden are the removable side shields.
They come in really handy on bright days since they block out most of the light. This is also great if you plan on using your Clifden for skiing for example. Another great feature for fly fishermen is the integrated leash that makes sure you don't lose your shades for example when fishing on a boat on open water.
The rubber nose pads increase the grip and work well even on hot days when you're sweating. You can also get the Oakley Clifden sunglasses with prescription lenses.
Oakley Clifden Review Prizm Polarized
Let's take a look now at the Prizm Polarized version as this version of the Oakley Clifden is the most interesting one for fly fishermen and women. Polarized lenses help you to see "into" the water which can come in handy in terms of spotting fish you otherwise wouldn't see. It also adds to your security when wading for example as it helps you see the ground better.
All of these different colors have different advantages and disadvantages in certain fishing situations.
The Prizm Tungsten Polarized has a matte olive frame which is a nice fit for fly fishermen and women. The lense color is called Prizm Tungsten Polarized.
It is a bronze lense that has a light transmission of 14% and is a good fit for bright light situations. On top it gives you an increased level of contrast compared to what your eyes see in reality. The lense color makes it a great choice if you are looking for an allrounder.
The Prizm Deep Water Polarized is an excellent choice if you are mostly fishing from a boat on bright days. With a light transmission of 12% it is in a similar range as the Tungsten Polarized.
If you know you will most often be fishing in bright light situations this is your lense color. When it gets a little darker or more cloudy this lense color has downsides.
As the name suggests this is a great choice for shallow water fishing in flats for example. Officially Oakley calls all of these Prizm Polarized lenses "bright light" lenses. But similarly to the Tungsten Polarized, the Shallow Water is a good allround choice if you are looking for a pair of fly fishing sunglasses.
If you are looking for the best low light lense out of these Oakley Clifden lense color options, the Oakley Clifden 24k Polarized is the way to go. Oakley describes this lense color as bronze as well but in reality it is more of a golden/yellow color.
Conclusion on our Oakley Clifden Review
With its Clifden line Oakley has introduced a line of polarized sunglasses that are a great choice for outdoor enthusiasts. They have features that make them well suited for all kinds of watersports. The removable side shields increase the Oakley Clifden's flexibility. Their retro look adds to their appeal. If you are looking for a great pair of fly fishing sunglasses that you can still wear away from the water without looking like a fisherman right away, the Oakley Clifden are a great choice.
Last update on 2023-06-05 / Affiliate links / Images from Amazon Product Advertising API
Read more of our Gear Guides here:
Ultimate Guide: Best Wading Jackets
Buyer's Guide Best Wading Boots
Guide to the Best Fly Rod under 200$
A Guide to the Best Fly Fishing Starter Kits
Note: If you click on one of the links and end up purchasing a product we earn a small commission at no extra cost for you. We only recommend products for purchase that we tested and believe in. Thanks for your support!