Last updated on August 20th, 2023.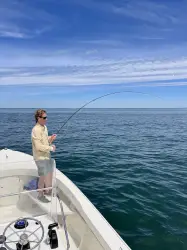 Latest posts by Leonard Schoenberger
(see all)
If you have been angling for quite some time, you will know that bass fishing is easily the most popular among all other catches out there.
They are the most sought fish species not only in North America but all over the world as well, as they are the perfect target for anglers of any skill and experience. You can find them in almost every water body as long as you know where to cast your bait, and they can easily be caught using various lures and methods so it's the perfect way to experiment while out on the water.
However, one of the best ways to catch them would be through fly fishing. There are certain times in a year when bass fish species feast on insects, so a fly line would be the perfect thing to help you gain all those great catches. Using their accessibility to your advantage will help you gain significant experiences as a fly fisherman, no matter what level of skill you are in.
That being said, you would need to invest in a quality fly rod if you want to take your bass fishing experience to a whole new level. Bass fishing might be a lot of fun, but you still need to learn how to choose the right setup. But how would you know how to purchase the best and most suitable fly rod for all your angling needs?
Table of Contents:
Best Fly Rods for Bass Quick Answer List
Important Features When Choosing The Best Fly Rods for Bass Fishing
Top 10 Best Bass Fly Rods In 2023 Reviewed
Best Fly Rods for Bass Quick Answer List
2. TFO Mangrove
6. G. LOOMIS NRX + SWIM FLY (SF)
7. THOMAS AND THOMAS EXCETT SS
8. SAGE PAYLOAD
10. DOUGLAS DXF
Important Features When Choosing The Best Fly Rods for Bass Fishing
Before scrolling through the selection and figuring out which fly rod appeals to you, you must first determine what your goals are once you head out there searching for bass. There are a lot of things you need to consider before buying one that will suit your needs best, and it all starts with figuring out what you are trying to accomplish. 
Consider your skill level and experience when choosing one, especially if you are just starting out. If you are still testing the waters of fishing for bass on the fly, choose rods that are easier to cast, so you would get some decent practice at first. The size of bass species you will be targeting is also an important detail to consider, so try to determine whether you would focus on largemouth or smallmouth species beforehand. 
To get you started, here are some of the most important features that you need to look for when choosing a fly rod for bass fishing:
Balance
Some anglers wouldn't quite agree that balance should be an important factor when using a fly rod, but for most people, it does matter, especially when you are just starting out. You must be able to balance the rod set up on one of your index fingers, just an inch below the rod's grip. Note that the fly lines and reels must be balanced as much as possible on your rod.
Action
Fly rods have what we call "action", or in a more laid down term, their flexibility. Fly rod actions come in three: slow-action, medium-action, and fast-action. To determine which one you would need, it's important to determine first what kind of fish you would be targeting, or the techniques that you would be using. 
Each of these has its own pros and cons. Here's what you need to know about their differences:
Fast-action rods 
These ones provide more power in your cast because of the rod's stiffness, since it is built straight. Its tip is just slightly bent, and it allows the angler to easily cast even on days with harsh winds. It also does not require much physical effort because of its inherent power. However, fast-action rods may be quite difficult for beginners to learn, since you have to harness the power in order to have more precise casts. These rods are also not recommended for shorter casts, since you need more flexibility for them. 
Medium-action rods
Medium-action rods are a lot easier to learn compared to fast-action ones, as they are the most versatile choices in the market. The rod starts to bend from the middle part, which makes its design fall between slow and fast-action rods. This type of rod is best recommended for beginners because of its all-around qualities.
Slow-action rods
These ones are the most flexible of them all. A slow-action rod starts to bend starting at the first quarter of the rod, while some models bend to a shallow 90-degree angle. This is best used for smaller water bodies and is ideal for catching small fish species such as panfish, rainbow trout, and brook trout. Because of its flexibility, it's a lot easier to cast, but it does not have the same utility as that of a medium fly-rod.
Weight
To put it simply, the weight of a fly rod is its overall size or strength when used for fly fishing. The smaller the number it has, the weaker or lighter the rod is. Equally so, the larger the number, the heavier and stronger the rod will be. For bass fishing, the following weights are recommended:
6 weight – This one's the best choice if you want something that's great all-around when fishing in freshwater bodies. A rod with a weight of six can easily make you have some pretty decent catches in a bass lake or a trout stream. It is able to throw medium-sized and small flies without any file. This one has enough strength to catch larger bass species.
7 weight – The 7 weight rods are easily the best choices for bass fishing. It is strong enough to haul in large bass species, as well as have the capability to throw in big and medium-sized flies. This weight is also great for trout fishing.
8 weight – If you truly aim to have the biggest bass catches, then an 8 weight rod is the best choice. You can throw in poppers, big flies, and streamers without any worries, as this rod has more than enough backbone to help you land monster fish catches.
Material
Of course, no matter what fishing gear you are trying to choose, the material will always matter and should always be an important thing to consider. Graphite rods are lighter, sensitive, and durable, decent enough for a first-timer. Nano-silica rods, however, are a lot better than traditional graphite. That being said, it is more powerful and stronger compared to the graphite one.
Length
Figuring out the length that you would need for a fly rod is important. However, to be on the safe side, getting a rod that's between 8 to 9 feet in length is ideal since the ones in this range are the most popular choices. Choose 9 feet one if you are planning on making longer casts. 8.5 feet rods, on the other hand, are probably the best choice since they are great for all-around fly fishing in different weather conditions. If you are planning to make shorter and more precise casts when fishing in small streams, go for 8 feet rods or less.
Top 10 Best Bass Fly Rods In 2023 Reviewed
Notice: The Wading List is reader-supported. We take part in various affiliate programs such as amazon associates or avantlink. If you click on one of the links in this article and end up purchasing a product we earn a small commission at no extra cost for you. Thank you!
Now that you have ample idea of what to look for when choosing the most suitable fly rod, check out the Top 10 best fly rods for bass in the market today:
The Redington Predator Rod is also a great choice for fighting aggressive fish and using big flies and heavy lines. It's powerful and intuitive enough to gather enough power to reel in monster fish, whether you may be angling in saltwater or freshwater bodies. This model comes in 5-12 weight variations, depending on your fly fishing needs. 
Its durability is secured with its aluminum oxide stripping guides that have ceramic inserts, as well as hardwire anodized snake guides. The section tips of the pieces are coated with epoxy to prevent sticking. Its surface coating also makes it more resistant to dings and scratches.
The TFO Mangrove Fly Rod is a great choice if you need to throw in heavy lines and large, wind-resistant flies, and it guarantees you an optimum experience especially when you are chasing large fish. Its fast-action qualities and ultra-strong design assure durability and reliability as you track down the largest fish species in both freshwater and saltwater bodies.
It's coated with TFO's proprietary TiCr blank coating, which helps the TFO Mangrove avoid splintering when hit by flies, as well as adds to the rod's durability and strength. Its butt section is also designed to increase your lifting power, and its Tactical Series stripping guides will also help you have better casting performance, especially when you are trying to catch those large fish using heavy lines.
This rod's reel seat built with milled aluminum can withstand wear and weathering with its corrosion-resistant properties. Some TFO Mangrove Fly Rod rod models are also embedded with a carbon fiber insert to keep the rods convenient and more lightweight.
The St.Croix Mojo Bass is made with premium quality SCII carbon, efficiently designed to handle wind-resistant flies, poppers, nymphs, minnows, frogs, and crawfish. That being said, its strength and durability are not to be underestimated.
The St.Croix Mojo Bass features a cork handle that ensures you a comfortable and strong grip on the rod. It also has Kigan Master Hand 3D stripper guides accompanied with black frames and aluminum-oxide rings. This rod has a moderate fast action, and comes at a length of 7'11".
Echo Carbon XL Fly Rods are great choices for those who want a well-rounded rod that can be used for different fishing techniques and applications, no matter what skill level they are in as an angler. This one is a step ahead of the brand's BASE and SOLO fly rods, and it's an ideal choice if you want something that's just priced right. Whether you are seeking your first fly rod, or an everyday rod in general, or a backup rod, this one is one of the best choices in the market.
It has a four-piece travel design and has a moderate-fast action. The Echo Carbon XL Fly Rod's new models are about twenty percent lighter than the older ones, which will give you a more responsive and faster casting performance.
If you want something that's both powerful and able to cast at great distances, then the Orvis Helios 3D Fly Rod would greatly satisfy your needs. The brand Orvis is known for its rod models that are able to cut through the wind, shoot line, lift heavy fish, and throw laser loops, and this particular rod is a testament to that. They designed the 3D fly rod with increased hoop strength for a more crisp release with lesser vibration.
The Orvis Helios 3D Fly Rod takes pride in its accuracy with its precise casts, making it the perfect companion for fly fishing. It will also give you no problem angling in various locations and weather conditions because no matter what sportfishing challenges are out there, the Helios 3D Fly Rod would be ready to face it.
Distance and accuracy are the G. LOOMIS NRX + SWIM FLY (SF) FLY ROD's specialty, a great choice as an ultimate all-around rod for fishing streamers. Handcrafted in Woodland, this rod comes at a length of 8'8", with an option for you to choose between 7 and 8 weight lines to ensure you great catches of predatory fish catches in freshwater. If you want something that will guarantee you a successful catch of the largest fish in the water, then consider the G. LOOMIS NRX + SWIM FLY (SF) FLY ROD.
It's crafted with the brand's Mega Modulus + graphite matrix and GL8 Resin System, combined with their Multi-Taper Design that will provide you a lightweight, fast-action rod with equally fast recovery—all while giving you the smoothest feel. With the quality that this rod possesses, you will have everything that you need to have optimum accuracy and the ability to cast any distance where the fish are feeding.
The G. LOOMIS NRX + SWIM FLY (SF) FLY ROD's Titanium SiC Stripper Guides help it be protected from damaged when jostled around. Its custom aluminum reel seat makes it corrosion resistant and ultra-lightweight, all while giving you increased control and fighting power with its fighting butt.
For streamer junkies, this Exocett SS Fly Rod would probably appeal to your needs. It features a mid-flex profile and a stiff tip that will give you a cast-friendly performance and versatility. The brand's StratoTherm tech ensures that the rods never disappoint when it comes to accuracy and performance. Its blank is responsive and light and comes with a high recovery speed with reduced vibrations. That being said, the blank's power paves the way for a higher performance even in longer casting distances.
The Exocett SS Fly Rod also comes with two large titanium-framed and corrosion-resistant stripping guides that allow it to withstand even the heaviest fly lines. It also has REcoil snake guides that bounce back when crushed or bent. Its reel seat is corrosion-resistant and weatherproof as well, without sacrificing functionality. It also comes with a premium cork that makes casting and catching big fish a lot easier and more comfortable.
Wield power with the SAGE PAYLOAD FLY ROD designed to handle heavy lines and fight even the largest saltwater and freshwater species. This one is embedded with Sage's Konnetic Technology which makes it a lot more efficient and highly functional especially when casting heavy rigs.
The SAGE PAYLOAD FLY ROD's strong midsection, powerful tip section, and softer butt section pave the way for the rod's leverage capabilities. Its overall length contributes to its lifting power and incredible casting performance.
The HARDY ZANE PRO FLY ROD is steps ahead of the brand's previous Zephrus SWS model, with this one having a reduced rod shaft diameter, lesser weight, upgraded guides, and a reworked blank, making it more powerful and refined. This one cuts through the wind and efficiently delivers flies to the respective saltwater fish targets.
It is built with a classic aluminum Hardy rod tube that is not only stylish but also ultra-durable and functional with a great purpose. Wherever you may be, you can always expect the HARDY ZANE PRO FLY ROD's accuracy and guts to give you a satisfying catch. 
This rod series takes pride in its highest-quality components that will elevate any angler's fly fishing experience of all skill levels. Its high-modulus blanks provide great strength and action that will allow you to have an increase in precision to your presentation skills. The DOUGLAS DXF FLY ROD is one of the most versatile rods in the market nowadays at a mid-price.
Its XMatrix carbon technology gives it a more lightweight and sensitive feel compared to other similarly-priced rods. Whether you may be freshwater or saltwater fishing, the DOUGLAS DXF FLY ROD would be sure to do its job without fail.
Conclusion on the Best Fly Rods for Bass Fishing
The process of choosing the perfect gear to accompany you should never be underestimated because it is always better to research and determine thoroughly beforehand the things that you need to consider before impulsively buying one. Bass fly rods are an investment, and one way or another, it would be best to buy a model that will effectively hit the mark on all your fly fishing needs. 
Notice: The Wading List is reader-supported. We take part in various affiliate programs such as amazon associates or avantlink. If you click on one of the links in this article and end up purchasing a product we earn a small commission at no extra cost for you. Thank you!