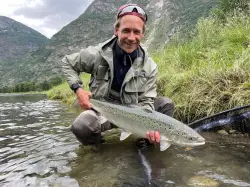 Latest posts by Leonard Schoenberger
(see all)
The pursuit of the ideal pair of sunglasses often means navigating through a multitude of styles, lens technologies, and brand promises.
Oakley, a well-renowned name in the industry, has been at the forefront of innovation, introducing designs that are both stylish and functionally robust. Their Split Shot Prizm Polarized Sunglasses are no exception. Let's deep dive into what these sunglasses bring to the table and how they compare with other top contenders in the market.
Specifications & Features of Oakley Split Shot Prizm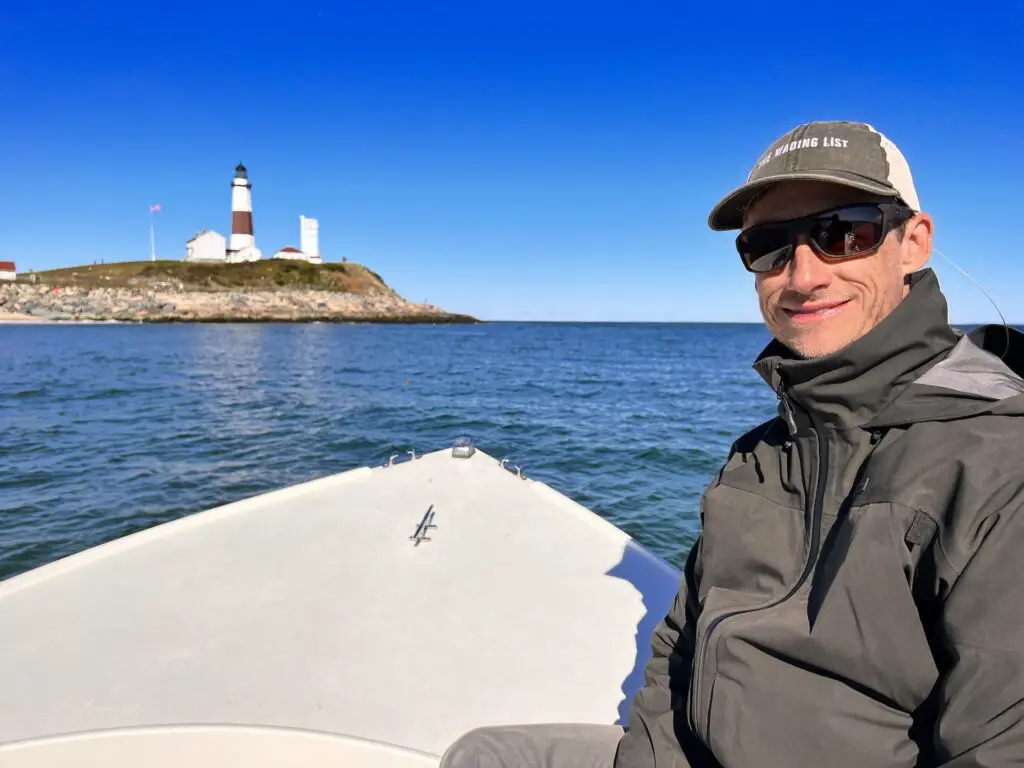 Color and frame options: 7 (with prizm polarized lens)
Size: Medium (132 millimeters)
Dimensions: Lens Height 43.5 mm – Frame Width 132 mm – Arm Length 132 mm – Lens Width 64 mm – Bridge Width 17 mm
Price: USD 260
Integrated leash
Leather case
Disclaimer: Some of the links in this article are affiliate links. If you click on one of them and end up purchasing a product we earn a small commission at no extra cost for you. We only recommend products we believe in ourselves. Learn more here.
Frame Material & Design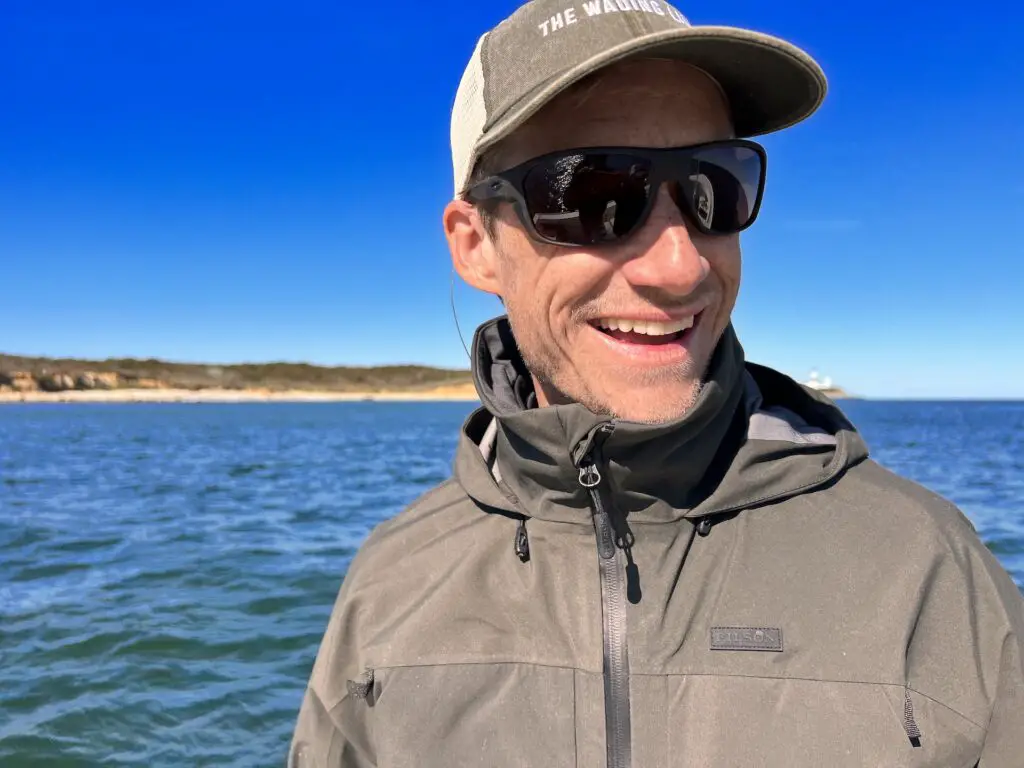 Crafted with Oakley's O Matter™ frame material, the Split Shot sunglasses boast durability without compromising on the lightweight comfort. This ensures they remain snug and easy on the ears, even during prolonged usage and while wearing a hat. The frame's design showcases a wraparound style, ensuring comprehensive eye protection and minimal light leakage from the sides. You can clearly tell that the Split Shot were designed with the fly fisherman in mind. (If you're looking for a more retro style, also make sure to check out the Oakley Clifden).
Lens Technology and Colors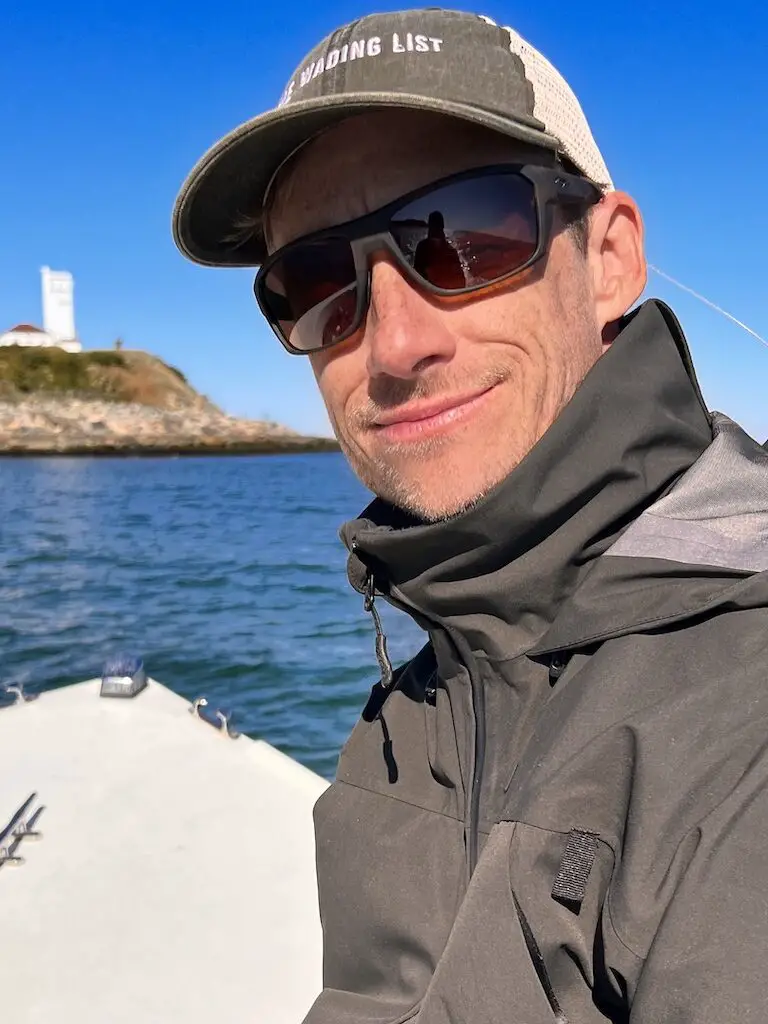 The Prizm™ lens technology is one of Oakley's pride points. Designed to enhance color, contrast, and detail, these lenses promise to elevate visual clarity, ensuring that everything you view is sharp and vibrant. The polarized lenses further reduce glare, making them an excellent pick for activities like fishing, driving, or just casual wear in bright, sunny conditions.
When out on the water, I was really impressed with the color enhancement of the Split Shot. They really bring vibrancy of colors to the next level. The Prizm Tungsten Polarized Lens (pictured above) is a great all-round lens for all sorts of fishing situations. If you're looking for a pair of shades for bright light situations, we recommend going for the Prizm Deepwater polarized lens (pictured below).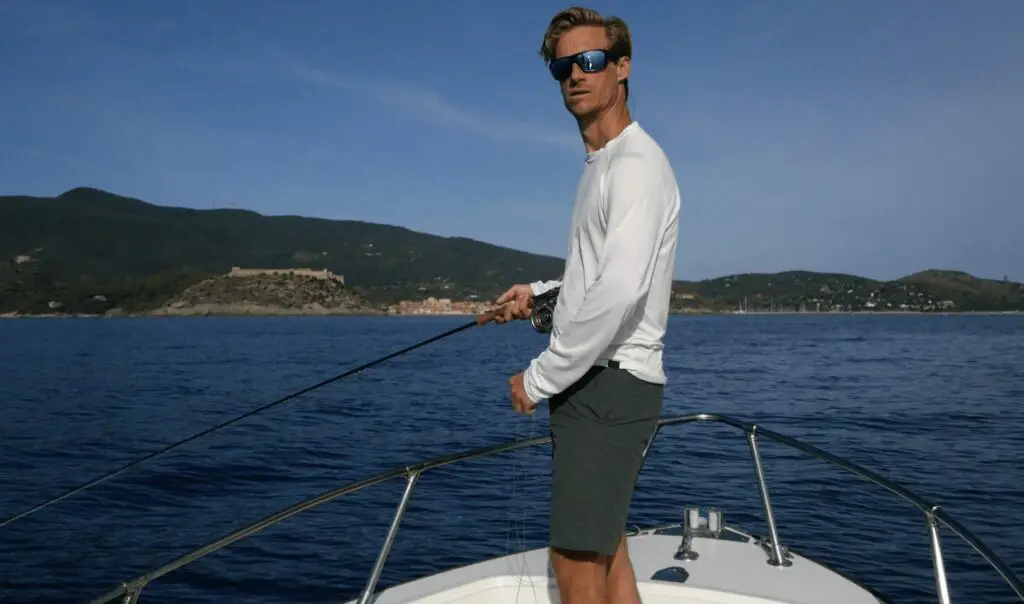 Additional Features
The Split Shot design incorporates an integrated leash, ensuring the sunglasses stay securely around your neck, reducing the risk of accidental drops or misplacement. While this metal leash is a practical idea, I am not quite sure why it's made from metal. I've had a couple of incidents where it cut into the back of my neck. Since it's removable you can consider replacing it for another one.
Another plus of the Split Shot is the fact that they come with a nice protective case made from leather that's very sturdy, plus it feature a little clasp to attach it to a backpack for example.
Comparative Analysis
Oakley Split Shot Prizm vs. Costa Fantail Pro
Frame and Material: While Oakley utilizes its O Matter™ frame material, Costa's Fantail Pro boasts a bio-resin nylon construction. Both materials promise durability and lightweight comfort and their ability to block out glare is very similar.
Lens Technology: Costa's 580 lens technology is a commendable counterpart to Oakley's Prizm. The 580 lenses aim to enhance color clarity and contrast, while also boasting polarization. It's a tight contest in this department, with both brands offering top-notch lens quality. Personally, I think the color enhancement is a fraction better on the Oakley.
Special Features: The Fantail Pro comes with vented frames to reduce fogging, a feature that outdoor enthusiasts might appreciate. However, Oakley's integrated leash offers a unique advantage in ensuring the sunglasses stay put. Plus, the Oakley's case offers even better protection.
Verdict: Both sunglasses cater to users looking for premium quality and performance. While Oakley scores with its integrated leash and wider side protection, Costa's vented frames and 580 lens technology make it a strong contender.
Oakley Split Shot Prizm vs. Wiley X Glory
Frame and Material: Wiley X Glory features a durable plastic frame, ensuring longevity and comfort. The temples on the Oakley are a little wider, offering ideal glare protection. The Split Shot's frame is also a little wider than the Glory making it a good choice for bigger faces whereas the Glory is a great unisex pair of fishing sunglasses.
Lens Technology: Wiley X Glory offers polarized lenses, ensuring reduced glare and enhanced visual clarity. However, when compared to Oakley's Prizm technology, which is tailored for specific environments and activities, I think the colors on the Oakley pop even a little more.
Special Features: Wiley X Glory sunglasses meet ANSI Z87.1 standards for high-velocity and high-mass impact protection, making them ideal for more rugged activities or sports.
Verdict: For users prioritizing impact protection, Wiley X Glory is the winner. However, for those looking for advanced lens technology tailored for specific needs, Oakley's Split Shot Prizm holds the ground. One thing to consider is the difference in price. While the Oakley comes in at $260, the Wiley X Glory can be had for $185.
If you want to compare the Split Shot to other fly fishing sunglasses make sure to head over to our comprehensive "Buyer's Guide on the Best Fly Fishing Sunglasses" in which we discuss a multitude of different shades for different fishing situations and budgets.
Conclusion on the Oakley Split Shot Prizm Polarized Sunglasses
Oakley's Split Shot Prizm Polarized Sunglasses amalgamate style with functionality. Their advanced Prizm lens technology, combined with the convenience of an integrated leash, makes them a prime pick for those unwilling to compromise on either looks or performance. While competitors like Costa and Wiley X offer commendable features, Oakley's holistic approach to design and functionality makes the Split Shot Prizm a standout choice in the premium sunglasses segment.
FAQ Corner
Are the Oakley Split Shot Prizm lenses interchangeable?
Yes, Oakley designs many of its sunglasses, including the Split Shot Prizm, to have replaceable lenses. However, always refer to the user manual or Oakley's official guidelines before attempting to change lenses.
How do I clean and maintain the Split Shot Prizm Sunglasses?
Use a lens cleaning solution and a soft microfiber cloth. Avoid using rough materials that can scratch the lenses. Always store them in a protective case.
Is the integrated leash on the Oakley Split Shot removable?
Yes, the integrated leash is designed for convenience and can be removed if not needed.
How do Oakley's Prizm lenses compare to regular polarized lenses?
Prizm technology goes beyond just polarization. While they reduce glare, they also enhance colors, contrast, and detail based on specific activities and environments.