Last updated on October 5th, 2023.
Latest posts by Leonard Schoenberger
(see all)
When it comes to outdoor adventures, particularly those centered around water, a robust and effective pair of sunglasses is non-negotiable.
They not only protect your eyes from harmful UV rays but also enhance your visual experience, allowing for clearer, sharper vision in an array of conditions. Among the vast selection of outdoor eyewear, Wiley X has etched its name, and the Wiley X Glory sunglasses are one of its flagship products. This review will traverse through the unique features of these sunglasses, and why they might just be the next crucial addition to your outdoor gear.
Specs: Frame width: 130.4mm, Lens width: 63mm, Lens Height: 42mm, Temple Length: 125mm.
Included: Protective case, cleaning cloth, leash.
Disclaimer: Some of the links in this article are affiliate links. If you click on one of them and end up purchasing a product we earn a small commission at no extra cost for you. We only recommend products we believe in ourselves.
The Wiley X Glory Experience
From the very first glance, the WX Glory sunglasses resonate with quality. Designed with a blend of aesthetics and functionality, they promise to cater to both the style-conscious and the adventure-ready.
Lens Quality & Options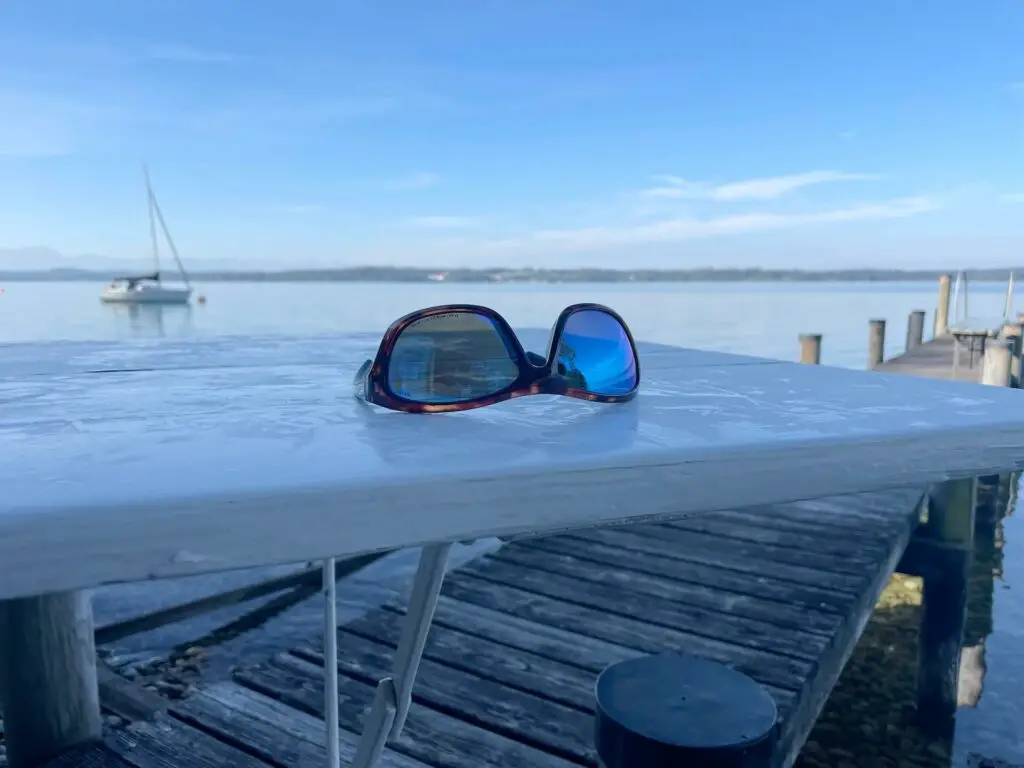 When you first try on the Glory, it's the clarity of those polarized blue mirror lenses that grabs your attention. There's something truly liberating about seeing the world without the annoyance of glare, especially on those uber-bright days (that's the environment where this lens shines which makes it a great choice for saltwater/bluewater fishing).
The color enhancement on the blue mirror lens worked great in bright environment. On top of excellent clarity, these shades also feature a high degree of impact protection and are shatterproof ( It's comforting to realize that even if I'm mountain biking or playing a spirited game of beach volleyball, these lenses have my back (or, more accurately, my eyes). If you want a more low light lens, check out the Polarized Rose Gold Mirror version.
Frame Integrity
The gloss demi frame? It's not just a pretty face. Sure, it has those sleek vibes that make you feel like you've stepped up your style game, but there's so much more to it. One of the best features of the Wiley X Glory when it comes to fly fishing are their rubberised temple ends and nosepads. These provide excellent grip where you need it most – even when it's getting hot and sweaty. I found them to be an absolute game-changer. I can't count the times I've been thankful for it, especially when things got sweaty or rainy, keeping the sunglasses right where they belong. If you want extra peace of mind of not loosing your sunglasses when out fishing, make sure to attach the leash that comes with it.
In terms of the size of these shades I would describe them as medium making them an excellent choice for female anglers as well and a great pair of unisex fishing sunglasses.
Protection Beyond Vision
Wiley X's commitment to protection is commendable. The Glory sunglasses offer 100% UV ray protection, which is indispensable for long-term eye health, especially during extended outings under the sun.
Fit & Comfort
A snug fit without pinching or discomfort is crucial for any eyewear. The Wiley X Glory boasts a medium fit, ensuring they cater to a wide range of face shapes. The inclusion of the double-injected nose bridge ensures that, irrespective of the intensity of your activity, these sunglasses remain firmly in place, offering consistent vision.
Weight and Durability
What I learned when I took a closer look at the Glory was the fact that these shades are made from so-called Triloid nylon which turns out to be the toughest material out there apart from metals. It's a great ingredient for a pair of fly fishing sunglasses since it's tough and lightweight at the same time.
Wiley X's Reputation
I've been around the block with sunglasses brands, and Wiley X holds a special place. If you'd told me back in the day that a brand which started by crafting eyewear for the U.S. military would be my go-to for outdoor adventures, I might've raised an eyebrow. But it makes sense. If they can cater to the rigorous demands of the armed forces, then a weekend warrior like me is no sweat. Every time I sport the Glory, it's not just a piece of accessory; it's a piece of a legacy, a tale of unwavering commitment to quality and protection. And that feels pretty darn good.
Verdict
PROS:
Polarized, shatterproof lenses ensure utmost visual clarity and protection.
Rubberised nosepads and temple insides provide excellent fit
CONS:
Limited lens color options
Temples could be a little wider to prevent glare from coming in on the sides
Conclusion
The Wiley X Glory sunglasses are a harmonious blend of style, safety, and functionality. At $185 they come in $100 cheaper than the Oakley Clifden and the Costa Fantail Pro and still provide all the features you're looking for in a quality pair of sunglasses such as a snug fit, excellent clarity and polarisation as well as scratch resistance and durability.
Whether you're an angler aiming for clearer vision on the water, a hiker traversing sunny trails, or just someone who values quality eyewear, the Glory stands out as a reliable companion. Backed by Wiley X's storied reputation and commitment to excellence, they promise not just clear vision but peace of mind in knowing your eyes are protected in every scenario. The only little downside that I've found on these shades are the temples that could be a little wider in my taste to prevent sunlight from coming in on the sides.
Frequently Asked Questions
Are the Wiley X Glory sunglasses suitable for all outdoor activities?
Absolutely. Whether it's fishing, hiking, or simply driving, their polarized lenses and durable construction make them ideal for a myriad of outdoor pursuits.
Is there any warranty on these sunglasses?
Yes, Wiley X offers a limited warranty against any defects in material or workmanship for the lifetime of the original purchaser.
How do they fare in overcast conditions?
While the Blue Mirror lenses are optimized for bright conditions, they still offer enhanced vision in overcast scenarios by cutting down glare.
Can I get prescription lenses for the Wiley X Glory?
Yes, Wiley X offers a prescription lens service, ensuring even those with vision needs can enjoy the benefits of their high-quality eyewear.
How should I clean and maintain these sunglasses?
Using a soft cloth and lens cleaning solution is recommended. Avoid abrasive materials to ensure the longevity of the lens coating.