Last updated on November 30th, 2023.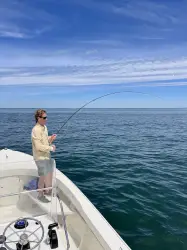 Latest posts by Leonard Schoenberger
(see all)
Fly rod combos are a great choice for any fly fisherman or woman. We'll show you what to look out for in the best fly fishing combos.
Disclaimer: All products in this guide are independently researched by our team. We only recommend products we believe in and never get paid for the reviews. Learn more about our review process here.
For most beginners, picking a fly rod and reel is one of the hardest tasks. Which rod works well with which reel? Don't worry – almost all manufacturers have realised that fly fishermen and women are looking for advice here. In this guide we want to give you an overview of the options you have. flWe will take a look at entry level rod and reel combos that often even include a line, a leader and tippet and flies as well. Our mid-range section will include higher quality rod combos from established manufacturers that don't cost a fortune but will last for many years if you decide to stick to the sport.
In the last part of our combo review we'll show you our hand end favorites. Yes, they aren't cheap but they feature some of the best fly reels and rods money can buy. No matter which rod and reel combo you end up purchasing, they are all worth the money. Generally speaking, most fishermen and women will probably target species such as trout in the beginning. Hence, the focus in this guide is on rods and reels in the #5 to #6 range.
Table of Contents:
How to Choose the Best Fly Fishing Rod Combos
Best Fly Rod Outfits on the Market
Best Fly Fishing Outfits for Kids
How to Choose the Best Fly Rod Combo
The great thing about fly fishing combos compared to buying a rod and reel separately is the fact that they are well matched to each other. This comes in handy when you are fairly new to fly fishing. Some people also have fishing friends they can ask for advice. If that is not the case and you want to make sure your equipment is well balanced, fly fishing combos are a good option.
As mentioned before, a rod combo in the range of a 5 or 6 weight rod and reel will work well for most people. If however, you already know you'll be targeting bigger species such as salmon or pike you can look more towards the 8 or 9 weight range. Generally speaking, the stronger the species, the higher the rod and reel on a range from #1 – #12 (There are even rods beyond #12 for species such as Tuna).
Best Fly Rod Combos for the Money
1. Best Overall: Redington Original
2. Best Value for Money: L.L. Bean Quest Combo
3. Best Value for Money: Cabelas Bighorn Fly Combo
4. Best Travel Fly Rod Combo: Echo Traverse Kit
5. Best Saltwater Fly Rod Combo: Penn Battle
6. Best New: Cortland Guide Series Combo Outfit
7. Best Exclusive Fly Rod Set – Sage Fly Fishing – FOUNDATION Outfit
8. Best Premium Value for Money – Orvis Clearwater
Before making a purchase you should think about how you are going to use your rod combo. Is it just meant for a weekend fishing trip with some buddies? Are you fairly new to the sport of fly fishing but want to get some advanced tackle to improve your skills? Or are you looking for high quality gear?
Comparison Table
| | | | | | |
| --- | --- | --- | --- | --- | --- |
| Fly Fishing Set | Price | Action | What's in the Kit | Warranty | Our Rating |
| Redington Original | $199 | Medium-fast | Rod, reel, backing, line, leader | 1 year | Best Overall |
| L.L. Bean Quest Outfit | $150 | Medium | Rod, reel, backing, line, leader | 1 year | Best Value for Money |
| Echo Traverse Kit | $270 | Medium-fast | Rod, reel, backing, line, leader | Lifetime (rod), 1 year (reel) | |
| Penn Battle | $249.95 | Medium-fast | Rod, reel, backing, line, leader | 1 year | Best Saltwater |
| Cortland Guide Series | $190 | Fast | Rod, reel, backing, line, leader | 1 year | |
| Sage – FOUNDATION Outfit | $695 | Fast | Rod, reel, line | Lifetime | Best Made in the USA |
| Orvis Clearwater | $419 | Medium | Rod, reel, backing, fly line | 25 years | |
| Cabelas Bighorn | $100 | Medium | Rod, reel, backing, line, leader | 1 year | |
All information based in manufacturer info
Best Mid-Range Rod and Reel Sets
In the first part of this review, we want to take a look at mid-range rod and reel combinations. These are well suited for beginners and intermediates who want a quality rod and reel from respected manufacturers. The great thing about this segment is the fact that you will enjoy such a fly rod and reel combo for years to come.
1. Best Overall: Redington Original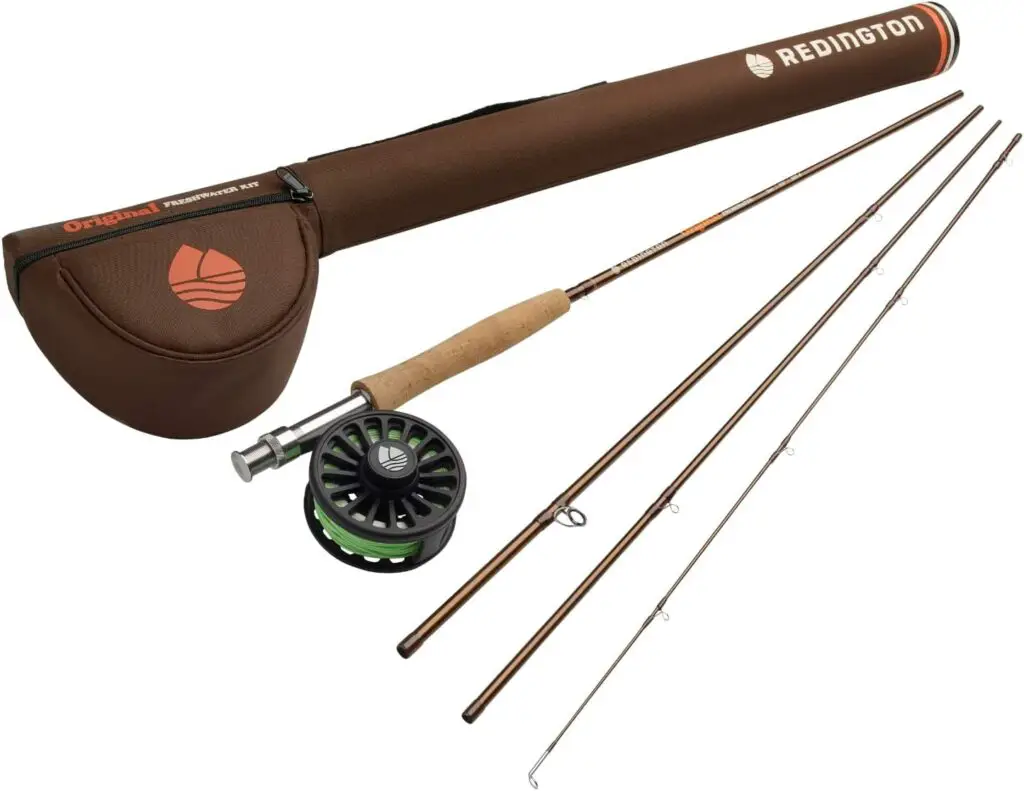 Why we picked it:
Brand new for the 2023 season, Redington premiered a range of new fly rod combos such as the Redington Original (read our in-depth review here), the Redington Wrangler Kit and the Redington Field Kit. With their new range of fly fishing combos, Redington acknowledges the fact that more and more fly fishermen and women, particularly beginners and intermediates, value these ready to fish sets. And even I have to admit that these fly rod and reel combos are not what they used to be anymore but can really compete with advanced fly rods and reels.
For their new Redington Original fly rod combo, Redington stepped up their game when comparing it to its predecessor, the Redington Path. The path was a really popular fly fishing set already, but the Original is a nice evolution of what was good already, and is just a little better overall. But let's dive into why I really fell in love with the Redington Original right away when I recently got my hands on this combo.
It all starts with their retro design paired with state of the art technology. Out of all their new fly rod combo options, I think the Redington Original is the best value for money which made it score "best overall" in our fly rod combo guide. The medium-fast action blank is a great allrounder which enables you to fish a classic dry fly setup but will also get the job done when you decide to go for a nymph setup or cast a bigger streamer. Its length of 9′ is the gold standard in trout rods and still long enough to fish nymph rig. Considering this set comes in at $199, the anodised reel set is a plus and elevated this rod in terms of looks and design – normally you wouldn't get this feature on an entry level rod.
But it doesn't end there: also the Crosswater reel on this set was upgraded compared to its predecessor (Redington Path) and now features a carbon disc drag – again, here, it's worth mentioning that such a drag is powerful and far beyond entry level. To round it all off, the Redington Original features a Rio Mainstream 5wt fly line and a Powerflex 4x leader. To protect the reel, Redington included a cloth reel bag and even better for transport, the entire set is protected by nylon case that features an integrated reel protection which means you can leave the fly rod combo assembled for transport. It's also a great feature if you like keeping your rod rigged and ready in the car. For beginners I would recommend the 5wt set since it covers all trout fishing situations. But if you're more into big bass and pike or muskey, make sure to check out the Allwater Version that comes as a #8 setup.
Pros:
– Comes with a one year warranty
– Anodised reel seat for high end looks
– Great casting performance due to excellent balance of the setup
Cons:
– A small selection of flies included in the set would be the icing on the cake
2. L.L. Bean Quest Outfit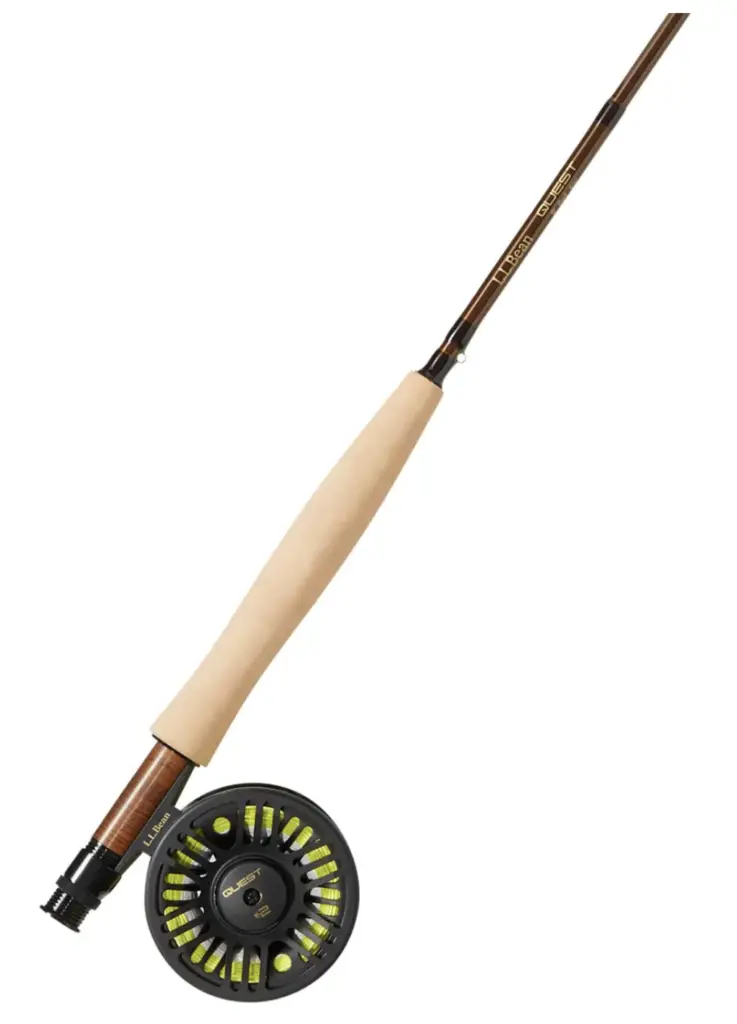 Why we picked it:
With the L.L. Bean Quest Outfit you can cover species ranging from trout (#6) to steelhead (#7) to pike and salmon (#8). This set comes with almost anything to get started at the river. Besides a rod and reel, the set includes a fly line, backing and a very nice rod and reel case that even allows you to leave the reel attached while travelling.
The L.L. Bean Quest Outfit features a medium action rod that has enough backbone to cast even bigger streamers. A fighting butt from #7 upwards makes it easier for you to play and land bigger fish. The reel on the L.L. Bean Quest Rod Outfit also features a large arbor that makes picking up line quickly easy. A very nice set that also makes for a great fly fishing gift.
Pros:
– Like the Redington, the L.L.Bean features a rod tube with an integrated reel case
– Powerful rod that can handle bigger flies
– Large arbor reel is a great allrounder to get started
Cons:
– A #5 option would be nice to have
3. Best Value for Money: Cabelas Bighorn Combo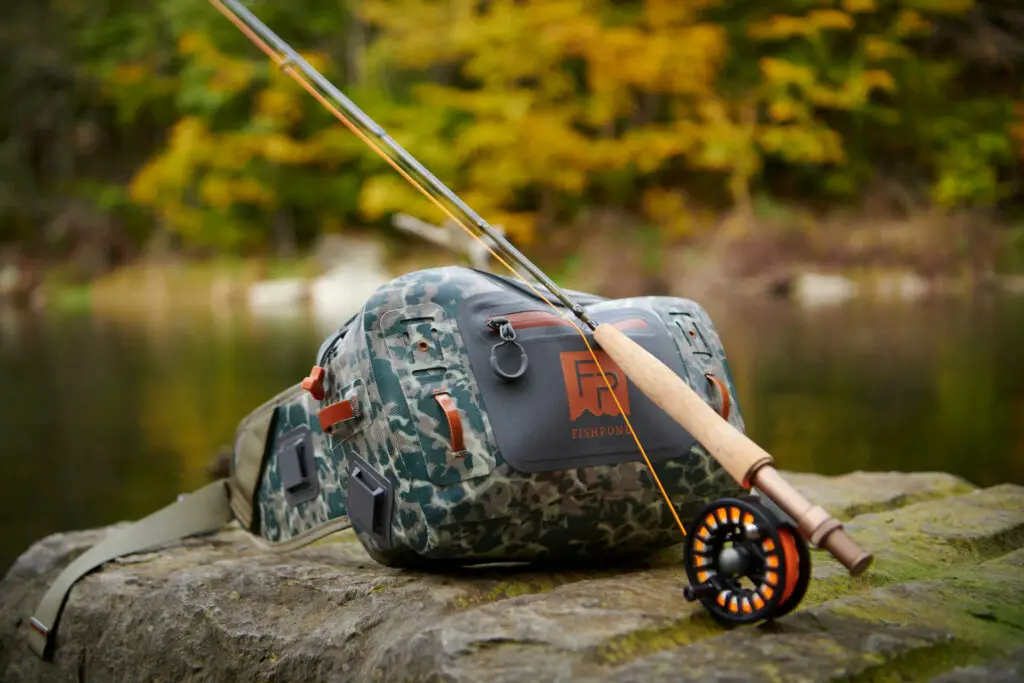 Why we picked it:
The Cabelas Bighorn Combo (read our full review here) is our favorite choice when it comes to value for money. At only $99 you get a quality reel and rod. This combo comes in several different weights ranging from #5 to #8 and two different lengths (8'6″ and 9′).
The moderate action of the Cabelas Bighorn Combo is a good fit for beginners and even intermediates. An aluminum reel seat and chrome snake guides are great features for a combo that costs less than $100. The large arbour reel makes it easy to pick up line quickly when you've hooked a fish. The reel comes with a disk drag to slow the fish when it's making a run. Also a very nice feature in this price range. The Cabelas Bighorn Combo even comes with a WF (weight forward) line and backing. All you have to do is attach a tippet and a fly and you're ready to catch your first fish.
Pros:
– Solid build quality considering the price range
– Makes for a great gift
Cons:
– Tippet and a couple of flies would improve this set and allow you to get out on the water right away
4. Echo Traverse Kit
Why we picked it:
Tim Rajeff is the man behind Echo Fly Rods and one of the most respected casters in fly fishing. His knowhow has gone into the Echo Traverse Kit. This rod combo is targeted at trout fishermen as it comes in weights ranging from #4 to #6.
All rod weights of the Echo Traverse Kit are medium fast action four piece rods. This makes them a good choice for intermediate fly fishermen and women. The drag on the ION reel that comes with the set is very sensitive and definitely feels like a higher end product. It comes pre-spooled with an Airflo line (a premium manufacturer of fly lines). Comes with a rod and reel tube case and Echo's lifetime warranty.
Pros:
– Lifetime Echo guarantee
– Reel is already pre-spooled
– Airflo line is included in the set
Cons:
– A wider weight selection than #4-6 would be great
5. Best Saltwater Combo: Penn Battle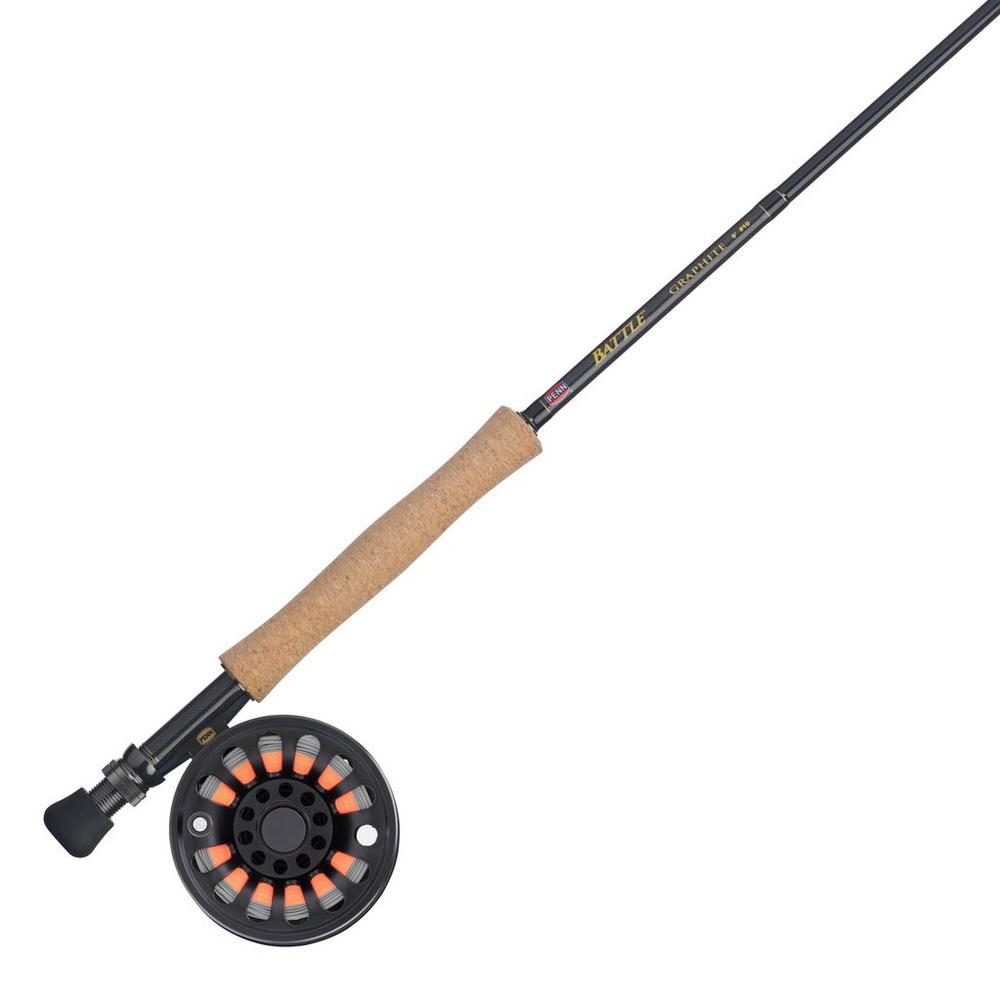 Why we picked it:
The Penn Battle Fly Outfit (read our in-depth review here) is an excellent choice if you want to hunt predators in the salt or also in the freshwater. Available as an #8 or #10, both variants come as 9ft 4 piece rods in a rod and reel protective tube (which makes this combo also a good choice for travellers).
The rod on this kit is a medium fast action rod that is well balanced with the weight forward line and has no issues whatsoever in transporting bigger streamers precisely to the target, even when you're casting into the wind. I also found the reel on this combo to be of a high manufacturing standard. With their nice dark greyish look, rod and reel form a nice modern combo. The reel features and adjustable drag and since its made from aluminum its a good choice for the salt. This kit also comes with a tapered leader, so literally all you have to do is tie on your favorite pattern and you're ready to catch a fish.
Pros:
– Excellent choice for the salt
– Beautiful dark grey colouring on the reel and rod give this combo a nice, modern look and feel
– Comes with a protective cordura rod and reel case
Cons:
– A trout weight option (#5) would be a cool addition to the set
– A small streamer selection would be the icing on the cake for this combo
6. Cortland Guide Series Combo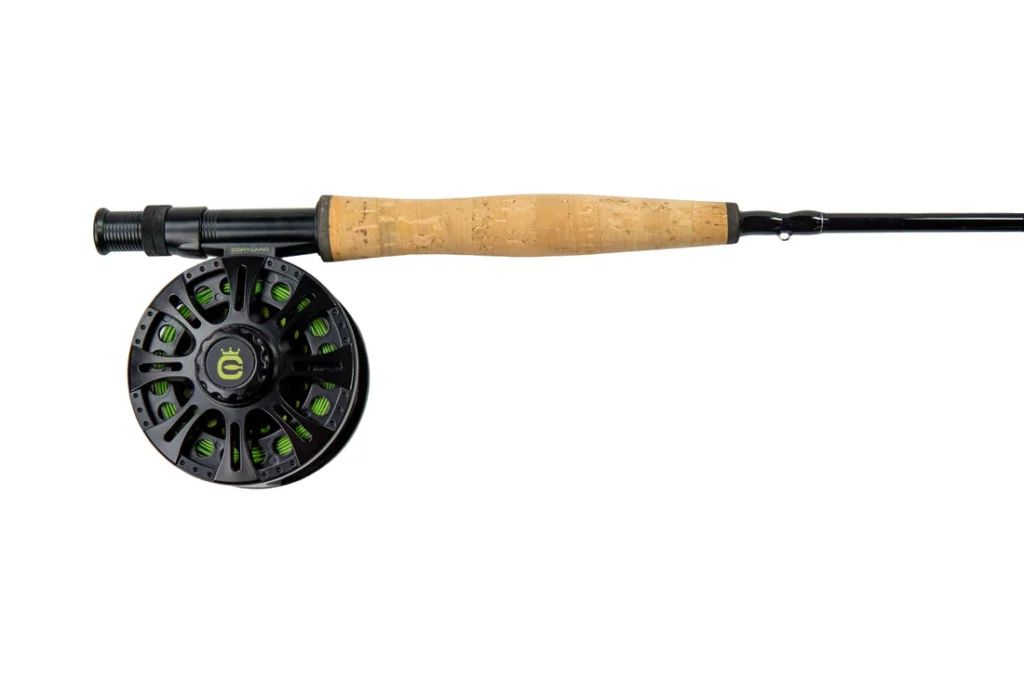 Why we picked it:
Cortland has been in the business for more than a century and they produce some of the finest fly lines on the planet. Now they have entered the world of fly rod and reel combos with their Cortland Guide Series Combo (read our in-depth review here). This set aims to deliver top performance at an affordable price.
We liked the lightweight graphite rod with a fast action in the Cortland Guide Series Combo. The mid arbor reel comes in combination with a weight forward (WF) fly line with a welded loop. All these features make it easier for beginners and intermediate to set up their gear and make sure that the different components work well together. A cordura rod tube with an integrated reel carrier department rounds off this great set.
Pros:
– Great looking rod and reel give it a very modern touch
– Fast action makes casting easy for beginners and intermediates
Cons:
– The handle of the rod is on the shorter side
Best High-End Combos
You can't go wrong with any of the mid-range fly fishing rod and reel combos in our test. But if you want to buy a set that will last you a lifetime there are two high end options out there, both from some of the most respected manufacturers out there.
7. Best Exclusive Fly Rod Set – Sage – FOUNDATION Outfit

Why we picked it:
American manufacturer Sage produces some of the finest fly rods on the planet. The Foundation rod included in the Sage – FOUNDATION Outfit is handcrafted on Bainbridge Island, USA. Here again it holds true what we've said about Orvis and Redington before. The quality of Sage's high end rods trickles down into the Foundation series. We found everything on this rod from the blank color, to the wraps and snake guides to portray premium quality.
The Sage – FOUNDATION Outfit also includes a Sage Black/Platinum 2200 reel. It comes with a Rio Gold Line (including backing) and a tapered leader. Rod and reel case are included in the set as well of course.
Our verdict: This is a premium fly rod combo for any fly fisherman or woman who wants the best in quality. Comes with the well-known Sage guarantee. A great investment if you are serious about fly fishing.
Pros:
– Made in the USA
– Large-arbor reel for fast line pickup
– Sage guarantee
Cons:
– A set of flies is the only thing missing in this Sage Fly Rod Combo
8. Orvis Clearwater Fly Rod Combo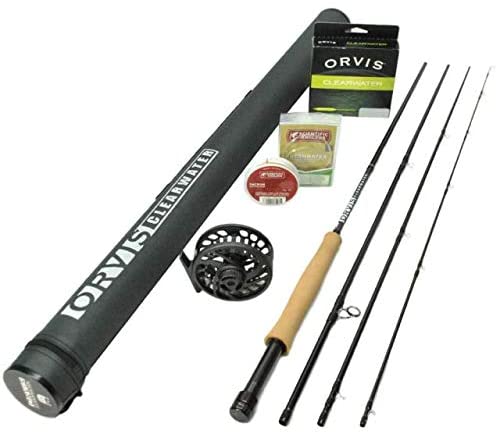 Why we picked it:
The Orvis Clearwater Combo is our choice when it comes to advanced fly fishing sets. This rod and reel combination is gear that you will be able to use for many years. In the Orvis Clearwater Combo the American manufacturer combines its mid-range top fly fishing rod and reel. Choosing is easy since this rod and reel combo only comes as a 5wt 4 piece rod of 9'0″. Anybody who is looking for a great trout set up can't go wrong with this fishing combo.
Besides rod and reel, the Orvis Clearwater Combo comes with an Orvis Clearwater WF line (plus backing) and an Orvis tapered leader. All you need to do is tie on your favorite fly. Comes with a cordura rod tube for safe transport.
Our verdict: This is a great rod combo for the advanced fly angler who wants his equipment to last for a few years. The Orvis Clearwater Combo provides excellent value for money.
Pros:
– Powerful rod can deliver even big trout streamers
– Clearwater line shoots nicely on this setup
Cons:
– A few more line weight options to choose from would be a nice evolution for the future
Best Fly Fishing Outfits for Kids
If you are new to fly fishing, chances are you want to try it with somebody else. Maybe you have kids that you want to take along to the water to give it a try. If that's the case, here are our favourite outfits for the youngsters.

Why we picked it:
The Echo Gecko Kids Fishing Kit is a fantastic way for youngster to give fly fishing a try. Echo is a well respected brand in the world of fly fishing and has created a great rod combo for children.
The action of the Echo Gecko Kids Fishing Kit's rod is moderate so that even young children from around 6 years old can make their first casts. The grip even allows double handed casting which requires even less strength from a kid. This kit comes fully loaded with a rod, reel and line, so that your kids can start fishing right away. The only thing you'll need are a tippet and a fly.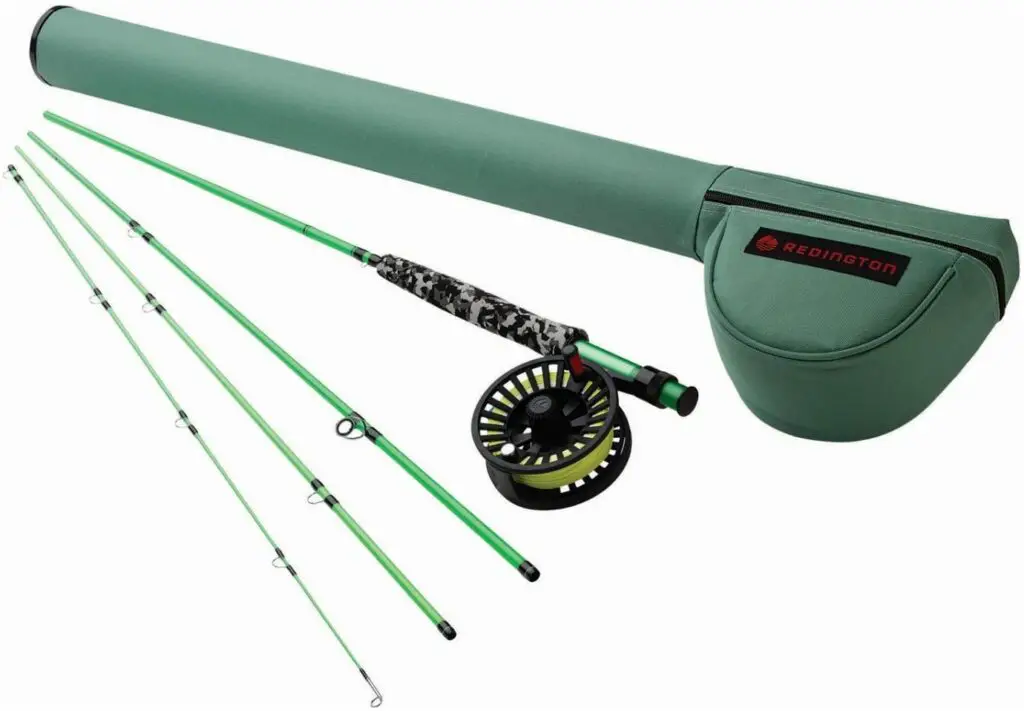 Why we picked it:
The Redington Combo Kit 580 is another great option if your kids want to see if fly fishing is for them. This set is targeted a little more towards teen anglers. At 8 feet, the length of the rod is a little shorter than most trout rods which often come in around 9 feet.
Alignment dots on the Redington Combo Kit 580 make it easy to assemble the rod even for novices. Redington is known to produce high quality fly fishing gear at affordable prices. The Redington Combo Kit 580 is no exception to this rule as the set comes with a Crosswater reel pre-spooled with a Rio mainstream fly line. 1-year warranty included.
Other Equipment You'll Need to Get Started
After reading through our big guide, you might have noticed that most of the fly fishing kits come without flies. Since flies are the decisive piece of the puzzle to catch a fish, you need to take care of getting some to get started. But don't worry, if you have no clue about flies when starting out. Stop by your local fly store to get advice on which flies you need to catch your first fish and get first hand knowledge on which patterns work well during a certain season. Alternatively you can check out a few fly selections aimed at beginners that give you a wide range of option to make sure you cover most fishing situations you might encounter when heading out to the water.
The most common situations you'll encounter are fish either feeding from the surface or underneath the surface (which happens the vast majority of the times). When fish feed on the surface, so called dry fly fishing comes into play. This style of fishing can be incredibly exciting since you see the fish when they take your pattern. This fishing can include caddies flies, stone flies and even terrestrials (bugs, grasshoppers, etc.).
If the fish are not showing on the surface that doesn't mean they're not feeding. Most of their food is consumed sub surface in the form of small nymphs, crustaceans or even small fish. That's when nymph and streamer fishing come into play.
As you can see, there is a wide range of fishing situations that you might encounter. Hence recommending flies out of the box is difficult. If you want to cover most situations you can go for a trout flies set such as the Ventures Fly Co. set that includes dry flies, nymphs, wet flies, streamers and terrestrials or the Bass Dash Assorted Kit.
Important Features of a Quality Fly Fishing Rod and Reel Combo
As the name suggests, a fly rod combo consists of a rod and a reel (and often line). There are a few characteristics in these pieces of gear that are important. For the rod its length, action and weight. For the reel, the most important features are its size and weight and its capacity and drag. Let's dive into these aspects.
Length, Action and Weight of the Rod
If you're new to fly fishing, you might be wondering about the weight, length, and action of a fly rod, and how these factors influence your fishing experience. Let's break it down.
Firstly, the weight of the rod is key as it determines the size of fish you can catch and the type of water bodies you can fish in. For beginners, it's better to opt for weights that are versatile for a variety of fishing situations. Rods with a weight number in the range of 4-5wt are ideal and most commonly used for trout fishing (the type of fishing most people start out with fly fishing since trout are abundant in most of the northern hemisphere). The gold standard in terms of length for these rods is 9 ft. At this length they're very versatile and offer you the chance to perform all styles of fly fishing such as dry fly fishing, nymphing and streamer fishing. They're strong enough to tackle most fish species like trout and small bass and can be used in different water bodies, from tiny creeks to larger rivers.
A common misconception for beginners is thinking that casting your line as far as possible is the ultimate goal. That's not really the case since fish are often holding close to the bank – hence also the bank you're casting from. A 4-5wt rod will keep you casting comfortably around 30ft away, which is sufficient for most situations. You'll still have the capability to reach further targets as you get more comfortable and refine your technique.
Now let's talk about rod action, which basically refers to how flexible the rod is when you cast. As a newbie, it's recommended to go for a medium to fast action rod. This provides the right balance of stiffness for effective casting while maintaining some flexibility to prevent breaking your line. A slow-action rod may seem tempting because of its high flexibility, but without proper casting form, it could lead to a tangled mess of line at your feet (if you want to learn more about slow action rods make sure to check our "Guide to the Best Fiberglass Rods" since glass and bamboo rods have slow actions).
Lastly let's talk about the weight of a fly rod. This is a minor aspect since most modern fly rods are very lightweight. This makes them easier and less tiring to cast. Particularly when starting out, you'll realise that although fly casting looks effortless when somebody knows how to do it, it will tire your arm and upper body when you're new to the motion.
So, in a nutshell, for beginners, a rod with a 4-5wt weight and 9'ft length, and medium-fast action is a great starting point. This setup provides the flexibility to explore different styles of fly fishing as you progress in your fishing journey. Remember, it's all about practice and patience, so don't rush your casts. Medium-fast action rods can help you to slow down and control your line effectively, and they also make casting heavier lures feel more manageable.
What Makes a Quality Fly Reel?
A good fly reel is an essential piece of equipment in fly fishing, and there are several key features to consider:
Drag System: The drag system is one of the most critical aspects of a fly reel. It's what applies pressure to a fish when it's hooked and allows the line to be released smoothly during a fish's run. There are two main types of drag systems: click and pawl, and disc drag. Click and pawl is simpler and lighter, ideal for smaller fish. Disc drag offers stronger, smoother resistance, which is better for larger, stronger fish.
Line Capacity: A reel's line capacity refers to how much fly line and backing it can hold. The necessary line capacity depends on the type of fishing you plan to do. For small stream trout fishing, a modest line capacity is fine. However, if you're targeting big game fish that make long runs, you'll need a reel with a higher line capacity.
Materials: Fly reels are commonly made from either machined aluminum, cast aluminum, or composite. Machined aluminum reels are typically the most durable and the most expensive. They are cut from a single piece of aluminum and hold up well under strenuous conditions. Cast aluminum reels are less expensive but not as durable as machined ones. Composite reels are the lightest and least expensive, but they don't have the durability or the lifespan of aluminum reels.
Weight: The weight of the reel should balance with the weight of your rod. Too heavy a reel will make the rod tip feel light and vice versa. This balance is important for reducing fatigue during a long day of casting.
Arbor Size: The arbor is the cylinder at the center of the reel where your line wraps around. Reels can have a standard, mid, or large arbor. Large arbor reels retrieve line faster and have less line memory, but are larger and heavier.
In summary, when selecting a quality fly reel, consider the type of fishing you'll be doing, the strength and size of the fish you're targeting, and balance with your rod. This will help you choose the right combination of drag, capacity, materials, weight, and arbor size.
Conclusion on the Best Fly Rod Combo
Picking a rod combo is not an easy task. Before making a purchase you should make clear to yourself what you want from the set. If you are new to fly fishing and are not sure you will stick with it an entry level fishing combo is a good idea. In case you have a limited budget but still want a quality product you should be looking at our mid-range options.
If you are sure fly fishing is your thing you should aim at the premium combos. The great advantage of these compared to picking a rod, reel, line, etc. on their own is the fact that they are guaranteed to work well in a set.
Editor's Pick
Orvis Encounter 5-Weight...
KastKing Emergence Fly ...
Orvis Clearwater 905-4...
Orvis Encounter 5-Weight...
KastKing Emergence Fly ...
Editor's Pick
Orvis Clearwater 905-4...
Last update on 2023-11-30 / Affiliate links / Images from Amazon Product Advertising API
How we Tested
Putting together the big gear guides we have on a wide range of equipment takes thorough research and testing. We always start with getting a good overview on the products out there on the market and talk to manufacturers and merchants about new products coming out. We then narrow down to a selection that we feel comfortable testing in depth and reviewing for our readers. Our rule of thumb here is to take out 5 – 15 products for a comparative review.
When it comes to field testing we always rely on the experience and knowledge of multiple experienced fly anglers that are able to spot differences, strengths and weaknesses in each product. We then test the products in different conditions to make sure we cover all aspects that you, the customer, might experience afterwards when you decide to go for a certain product.
Our Expertise
Why you should trust us: Leonard Schoenberger and his team have tried and tested hundreds of rods, reels and other fly fishing gear over the years. We always express our honest opinions about a product to help you make a solid purchase decision. We never get paid for reviews and are proud of keeping our editorial independence. Our focus is on bringing you the latest in gear so you can have a great time at the water. Thanks for being a reader of The Wading List.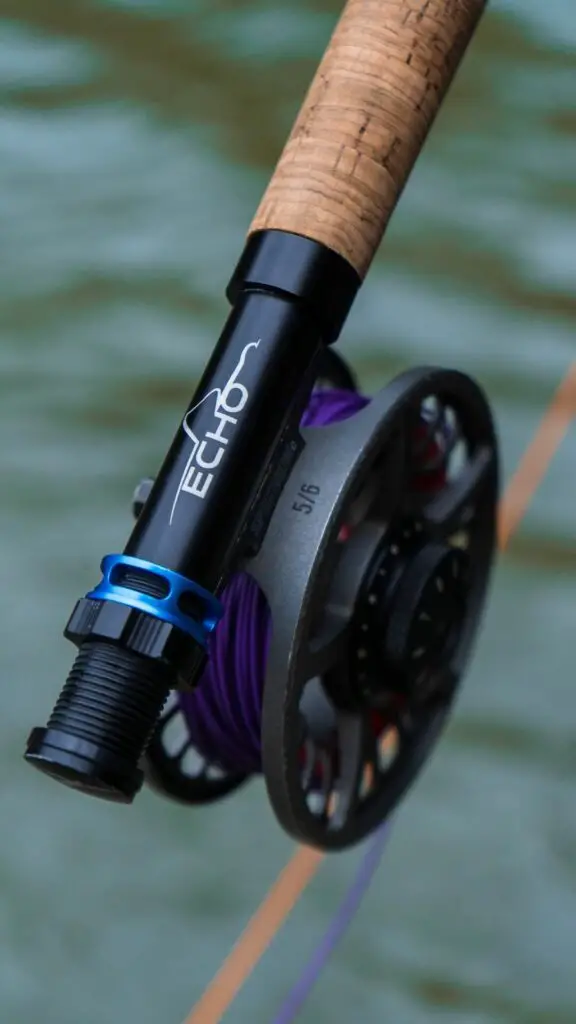 Best Fly Rod Combo: Frequently Asked Questions
A fly rod combo, or outfit, is a package that typically includes a fly rod, a fly reel, fly line, and possibly backing and leaders. It's a great option for beginners as all the components are designed to work well together.
What should I look for in a fly rod combo?
When choosing a fly rod combo, consider the quality of each component. The rod should have a comfortable grip and be the right length and weight for your intended fishing style and species. The reel should be durable and have a smooth drag system. The line should be matched to the rod for optimum performance.
What are some of the best brands for fly rod combos?
Some of the top brands for fly rod combos include Orvis, Sage, Redington, and Temple Fork Outfitters (TFO). These brands are well-respected in the fly fishing community for their quality and performance.
Is a fly rod combo suitable for beginners?
Yes, a fly rod combo is often a great choice for beginners. It takes the guesswork out of matching a rod, reel, and line, allowing new anglers to get started more easily. Many combos also come with a case for easy transport and storage.
How do I maintain my fly rod combo?
To maintain your fly rod combo, rinse it with fresh water after each use, especially if you've been fishing in saltwater. Let it dry completely before storing it. Periodically check the rod for any signs of damage, and keep the reel clean and lubricated.
What's the typical cost of a good fly rod combo?
The cost of a fly rod combo can vary widely depending on the brand, quality, and included components. You can find decent beginner combos for under $200, while high-end combos from premium brands can cost $800 or more.
Does the length of the fly rod in a combo matter?
Yes, the length of the fly rod matters. Shorter rods (6-8 feet) are often used for small streams and tight fishing conditions, while longer rods (8-10 feet) are better for larger rivers or lake fishing. The most versatile length for a variety of conditions is usually around 9 feet.
Can I upgrade individual components of a fly rod combo over time?
Yes, you can often upgrade components of a fly rod combo as your skills and preferences evolve. For instance, you can replace the reel, line, or even the rod itself while keeping other components intact.
Read more of our Gear Guides here:
Ultimate Guide: Best Wading Jackets
Buyer's Guide Best Wading Boots
Notice: We take part in the Amazon Associates Program and earn a small commission at no extra cost for you if you end up making a purchase. We only recommend products we are convinced of and use ourselves.