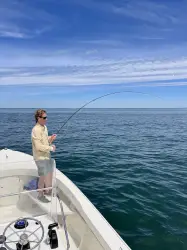 Latest posts by Leonard Schoenberger
(see all)
Fiberglass fly rods have seen a revival in recent years. We'll give you an overview of what's out there and what to look for.
For a long time fly rods made of fiberglass (often also called fibreglass fly rods) were a thing for enthusiasts and specialists. Recently however, the good old glass has seen a revival and more and more fly fishermen and women discover this material.
You can either approach the topic as I did and build your very own fiberglass fly rod using a fly rod building kit such as the Epic Rod Building Kit (read our Guide to Building your own Rod here). Or you can get yourself a fiberglass fly rod and experience a new, delicate way of fly fishing.
Disclaimer: All products in this guide are independently researched by our team. We only recommend products we believe in and never get paid for the reviews. Learn more about our review process here.
Table of Contents:
Why Choose a Fiberglass Fly Rod Today?
Best Fiberglass Fly Rods Quick Answer List
Best Fiberglass Rods on the Market
– Cabela's CGR Fiberglass Fly Rod
– Moonshine Rod Co. The Revival Series
Conclusion on the Best Fiberglass Rods
History of Glass Fly Rods
It was back in the 1940s that manufacturers began making fly rods out of fiberglass. Back then the standard were bamboo fly rods and fiberglass made for a cheap alternative. The new fiberglass rods offered durability and were much more lightweight than their wooden counterparts.
Already back then some fly fishermen described the rods' action as "whippy". Until the 1970s fiberglass rods continued to be the standard and were then replaced by graphite ones.
Why Choose a Fiberglass Rod Today?
Fiberglass rods feel and cast differently than the gold standard of today: fast action graphite rods. If you cast a fiberglass fly rod for the first time you will most certainly immediately feel the high flexibility and response. The action is much slower on a fiberglass one and it loads much deeper into the blank.
The positive side of this kind of action is the fact that you "feel" the cast much more and can make very delicate presentations. Hence I love using a glass one for fishing small dry flies to rising fish for example. Modern day fiberglass rods however allow you to target big species such as redfish or musky as well.
Good casters can easily cover distances of 30 – 50 feet with a fiberglass rod. However, where fiberglass really shines is in tight quarters and when short but precise casts are needed. The deep flexing of fiberglass rods serves as an extra shock absorber allowing you to fish delicate tippets of 6x/7x.
Best Fiberglass Fly Rod Quick Answer List
1. Cabela's CGR Fiberglass Fly Rod
2. Moonshine Co. The Revival Series
Best Fiberglass Fly Rods on the Market in 2023
We now want to take a look at what's out there and recommend a few fiberglass rods to you.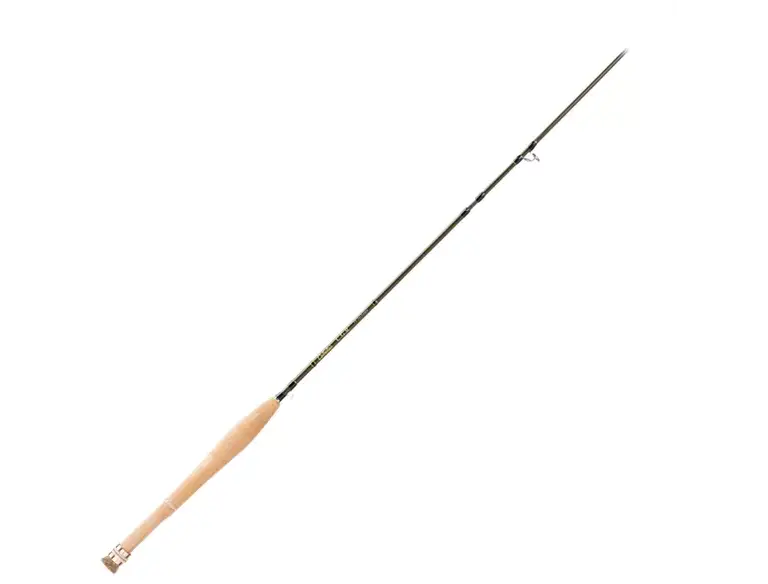 Why we picked it:
If you want to try a quality glass rod without breaking the bank, go for the Cabela's CGR Fiberglass. Despite coming in at well less than $100, this rod has many features of a quality product. As you would expect, the Cabela's CGR Fiberglass has a slow action that makes the blank flex all the way down to the grip. We found it to be a great choice for smaller creeks and delicate presentations.
The Cabela's CGR Fiberglass comes with different grip styles depending on the line weight you choose. You can go as low as a #2 for tiny waters or for a #5/6 if you want to target species like rainbow trout. No matter which option you pick, all the models come with a nylon rod case to protect your delicate rod.
Pros:
– Minimalistic reel seat
– Very classic design
– Slow action across the entire blank
Cons:
– A tube with a higher degree of protection would be a nice feature
Why we picked it:
The Moonshine Rod Co. The Revival Series is a great way to enter the world of fiberglass. It comes in two versions: a 3wt – 7′ – 3pc model for small creeks and streams and a 5wt – 8′ – 3 pc as a classic trout fly rod.
The Moonshine Rod Co. The Revival Series is a beautiful, slow action rod featuring a two tip sections. This can come in very handy since fiberglass is very delicate and a tip can break. The Moonshine Rod Co. The Revival Series features a reel seat made from hand turned burl giving the rod a beautiful, traditional look. Comes with a hard canvas rod tube for save transport.
Pros:
– Beautiful rosewood reel seat
– Ergonomic handle for all-day casting
– Spare tip section
Cons:
– An aluminum rod tube would complement this rod's style
Why we picked it:
With seven weight classes to choose from, the Redington Butter Stick offers a great way to explore fiberglass rods no matter what species you're after. We liked the yellow colouring of the blank which gives the Redington a subtle, modern look.
You can fish tiny streams and rivers using the #1 – #3. The #4, #5 and #6 of the Redington Butter Stick make for excellent trout rods and the #8 enables you to target bigger species such as pike or bass for example. Built on Redington's Heritage Taper, the Redington Butter Stick is a great modern glass rod with a slow action and deep flex. Comes with the excellent Redington lifetime warranty.
Pros:
– Great weight class selection
– Lifetime warranty
– Deep flex on all models tested
Cons:
– Yellow cordura tube can get a little dirty easily
Why we picked it:
Just like the Redington, the Echo Glass River comes in multiple weight variations. On top of that you can choose an alternative color called glacier, which gives the rod a very modern, edgy look.
The Echo Glass River rods are hand-built making each rod unique. The rod's action is medium-fast (that is in fiberglass standards) which still makes it a "slow" rod in graphite standards. The Echo Glass River features alignment dots and comes with a very sturdy rod tube.
Pros:
– Very sleek, subtle design from reel seat to wrappings
– Features alignment dots
– Handmade ensures high manufacturing standard
Cons:
– The rod tube looks nice but is not the most sturdy one in the game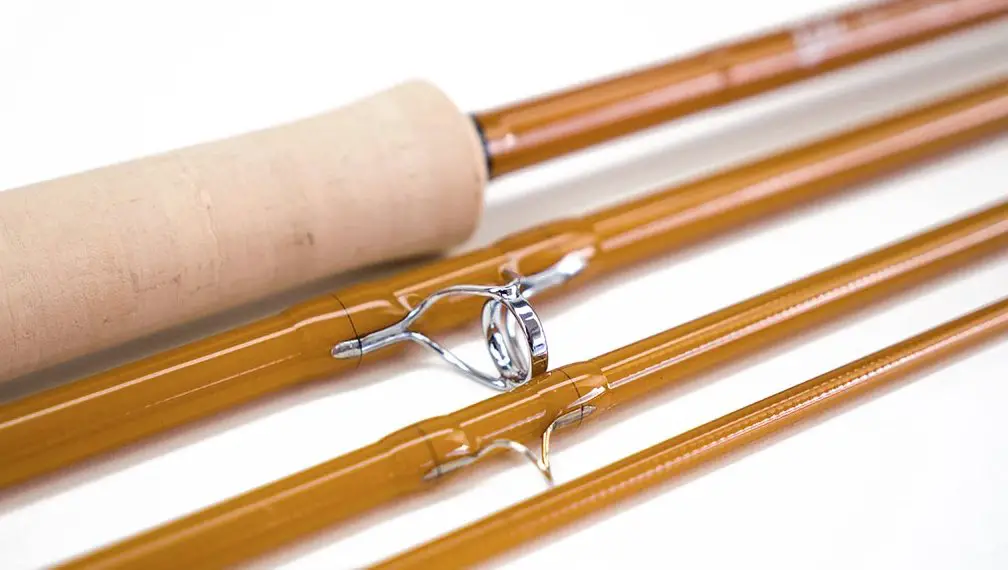 Why we picked it:
In recent years Epic has become one of the leading brands in fiberglass fly rods. Their rods don't come cheap but are some of the finest fiberglass rods you can get. Their rods shine when it comes to precision and delicate presentations. We particularly like the Epic 580 for small dry flies. This is where this rod sets itself apart.
The Epic 580 FastGlass comes in multiple color, grip and reel seat variations allowing you to create your dream rod. The 580 casts extremely smooth and allows for delicate presentations. As mentioned above, Epic enables you to build your very own fiberglass rod with their Rod Building Kit. The Epic 580 FastGlass is a #5 weight but Epic offers glass rods ranging from #3 all the way to a #12 to target big saltwater species.
Pros:
– Beautiful attention to detail
– Great casting performance, especially at short to mid range
– High degree of customisability
Cons:
– Ferrules seem a little oversized at times
Why we picked it:
The Orvis Superfine Glass is another of our high-end glass favorites. Everything about this rod portrays quality and craftsmanship.
The Orvis Superfine Glass is available in weights ranging from #2 for tiny streams all the way to #8 for big rivers and stronger species such as pike or bass. The Orvis Superfine Glass has gotten a lot of praise from fly fishermen and women around the world for its feel and accurate casting. The rod comes in a beautiful olive color and features a metal rod tube that contributes to the traditional, classic feel.
Pros:
– Incredible attention to detail from reel seat to aluminum rod tube
– Beautiful, classic moss green blank
– Orvis guarantee
Cons:
– The #7 is missing as a weight option
Why we picked it:
Here's a great fiberglass fly rod if your focus is on fishing small creeks, the Moonlit Lunar S-Glass. It's a #3 rod that comes in at only 6'8″ making it a great small stick for tight quarters. The rod features a medium-fast action that makes it a delight to cast a light trout line.
The Moonlit Lunar S-Glass is a four-piece rod which makes it a great travel fly rod as well. The rod is available in many more weights giving you the option to target bigger species as well. But we particularly liked the short #3 which has a surprising amount of power considering its compact dimensions.
Pros:
– Great choice for tiny creeks
– Surprisingly powerful
– Great travel fly rod
Cons:
– Only one weight and length to choose from
Conclusion on the Best Fiberglass Fly Rods
From personal experience I have to "warn" you that you might not go back to graphite rods after you have tried a glass rod. That is at least for delicate dry fly fishing in my case. I love the feel and feedback of a these rods and the delicate presentations that come with them.
Notice: We take part in so-called associate programs and earn a small commission at no extra cost for you if you end up making a purchase through one of the links in this article. We only recommend products we are convinced of and use ourselves.
Best Glass Fly Rod: FAQ
What is a fiberglass fly rod?
A fiberglass fly rod is a type of fishing rod made from fiberglass material. Known for their durability, sensitivity, and slower action compared to graphite rods, fiberglass rods are enjoying a resurgence among some fly anglers.
What are the benefits of a fiberglass fly rod?
Fiberglass fly rods are known for their superior durability, flexibility, and slower action, which can provide a unique, enjoyable casting experience. They are also very sensitive, making them excellent for feeling lighter bites and playing smaller fish.
What should I look for in a fiberglass fly rod?
When choosing a fiberglass fly rod, consider the rod's action, length, weight, and build quality. A good fiberglass rod should have a smooth, even flex, and the length and weight should match your intended type of fishing. High-quality components like the reel seat, guides, and cork handle are also important.
How do I maintain my fiberglass fly rod?
To maintain your fiberglass fly rod, rinse it off with fresh water after each use, let it dry completely before storing, and periodically check for any signs of damage. Store it in a rod tube to protect it from damage.
What are some of the best brands for fiberglass fly rods?
Some of the top brands for fiberglass fly rods include Echo, Redington, Orvis, and Scott. These brands are renowned for their quality and performance in the fly fishing world.
Is a fiberglass fly rod suitable for beginners?
A fiberglass fly rod can be a good choice for beginners due to its slower action, which can be more forgiving and easier to learn with. However, the casting style with fiberglass is a bit different from the more commonly used graphite rods, so there may be a learning curve if switching between the two.
What's the typical cost of a good fiberglass fly rod?
The cost of a fiberglass fly rod can range widely depending on the brand, materials, and craftsmanship. You can find budget-friendly options for around $200, while high-end rods from premium brands can cost $700 or more.
Our Expertise/Knowledge
Why you should trust us: Leonard Schoenberger and his team try and test dozens of rods, reels and other fly fishing every year. We always express our honest opinions about a product to help you make a solid purchase decision. We never get paid for reviews and are proud of keeping our editorial independence. Our focus is on bringing you the latest in gear so you can have a great time at the water. Thanks for being a reader of The Wading List.
Read more of our Gear Guides here:
Ultimate Guide: Best Wading Jackets
Buyer's Guide Best Wading Boots
Guide to the Best Rod under 200$
A Guide to the Best Fly Fishing Starter Kits
Notice: We take part in affiliate programs. If you click on one of the links in the text and end up purchasing a product we earn a small commission at no extra cost for you. We only recommend products we are convinced of.