Last updated on September 2nd, 2023.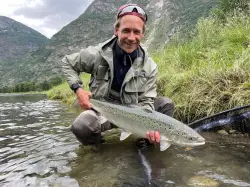 Latest posts by Leonard Schoenberger
(see all)
Fly fishing is a beloved pastime for anglers seeking a unique connection with nature.
To fully enjoy this artful sport, selecting the right equipment is crucial. In this review, we will dive into the Redington Original Kit, a versatile and reliable option for fly anglers. We'll explore its specifications, key features, casting performance, and compare it to other offerings such as the Redington Wrangler Kit and Redington Field Kit. So, let's embark on this journey and discover what makes the Redington Original Fly Rod Combo truly special.
Specs and Key Features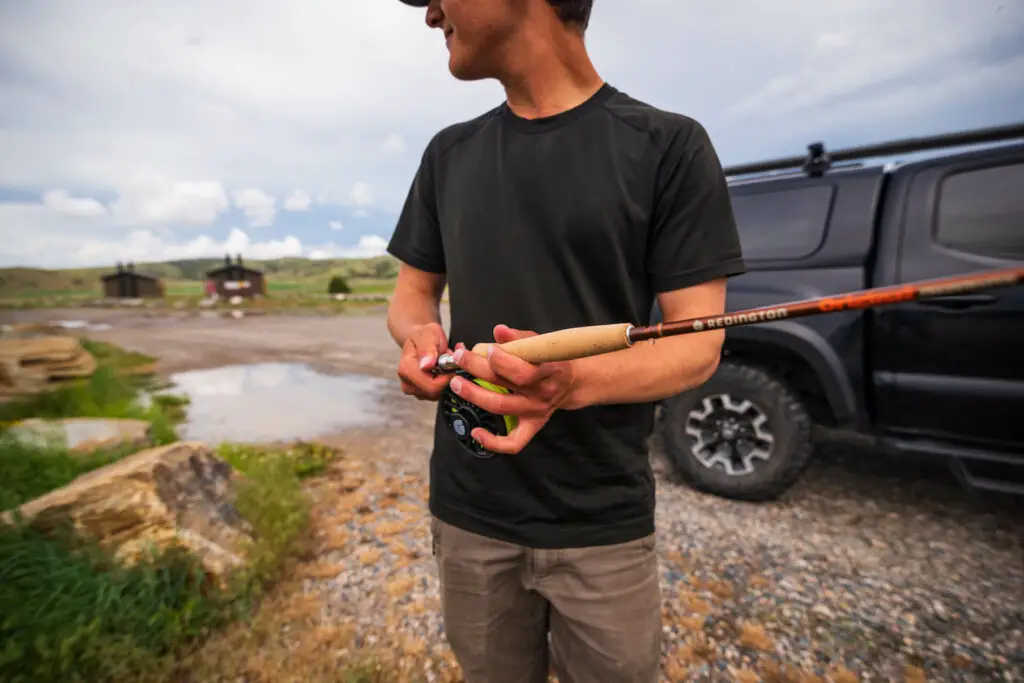 The Redington Original Kit is a meticulously crafted package that includes a fly rod, reel, and line, designed to provide a well-rounded fly fishing experience. Here are the key specifications and features:
Rod: The fly rod is the heart of any combo, and the Redington Original does not disappoint. It is available in various lengths and line weights to cater to different fishing situations and preferences. If you're a trout fisherman, the 590-4 is the way to go. If you want to target bigger predators like pike, make sure to check out the 890-4. We've tested the 590-4 on a river in Montana. It's constructed with durable graphite and strikes a balance between strength and sensitivity, allowing for accurate casts and enjoyable fishing sessions. The first thing that catches the eye, is the old-school brownish color and the matching type face at the bottom of the blank.
The cool, high-end look of the Redington Original is complemented by the anodised aluminum reel seat. In my eyes it works well with the brownish blank color. I would have found a wooden reel seat to not match the style of this fly rod combo.
Reel: The combo includes a perfectly matched fly reel that complements the rod's performance. The reel is lightweight, yet robust, ensuring smooth line retrieval and reliable drag control that comes with a carbon disc drag which is definitely a plus in this price range. Its large arbor design allows for faster line retrieval. For years, the Crosswater reels have been known to be workhorses at an affordable price – that hasn't changed for the Redington Original Combo. The startup inertia is pretty good (don't compare it to the best trout reels out there obviously) and makes sure your line is running off smoothly when you're into a good fish.
Line: The Redington Original Fly Rod Combo comes pre-spooled with Rio's popular Mainstream WF5F fly line. It's a classic trout fly line with a weight forward taper (WF) which is easy to cast for beginners and intermediates since it features a heavier head that is easier to turn over consistently. Good thing about the Rio Mainstream is the fact that it can handle many fishing situations well. We've tested it with streamers, dry flies and also a nymph setup. While it doesn't particularly excel at any of these techniques, it's a great allrounder to get started and I have to say it works really well with the 5 wt fly rod of the Redington Original.
Rod Tube and Case: To protect your investment, the combo includes a durable rod tube and a convenient carrying case. The rod tube safeguards your fly rod during transportation, while the case ensures easy storage and organization.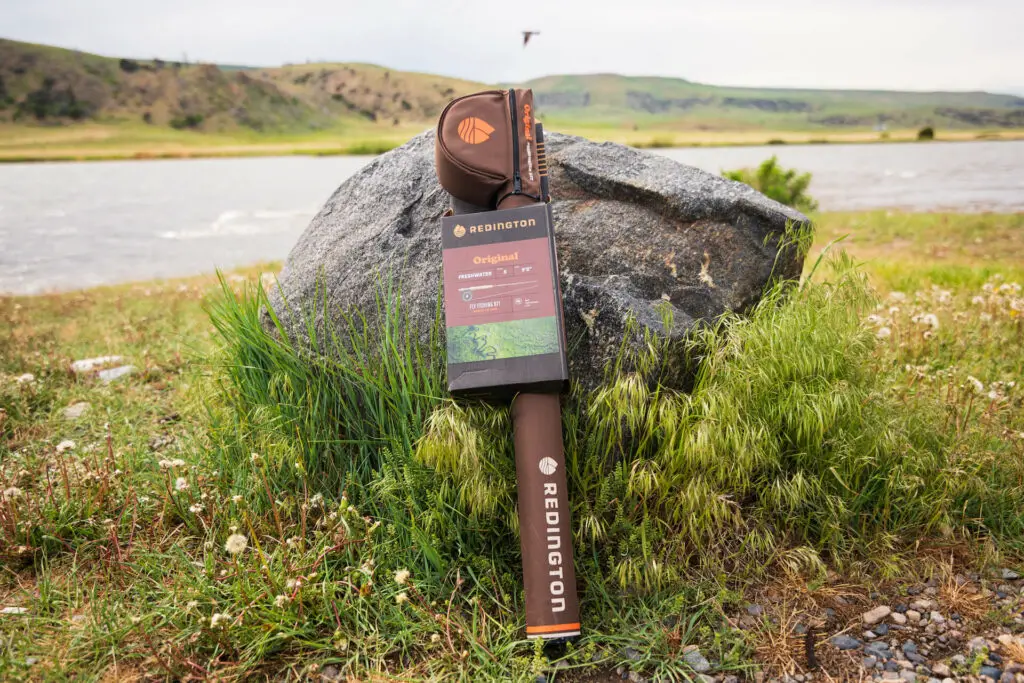 Casting Performance of the Redington Original Fly Rod Combo
One of the most crucial aspects of any fly fishing combo is its casting performance. The Redington Original Fly Rod Combo excels in this area, offering anglers a smooth and responsive casting experience.
Like I said before, we've tested it with a few different setups including streamers, dry flies and nymphs. When it comes to fishing dries, I found the rod's balanced action to allow for accurate presentations, whether you're casting delicate small dry flies or terrestrials. Its forgiving nature helps beginners find their rhythm, while experienced anglers will appreciate its versatility in various fishing scenarios. Just to be clear, it's not the ultimate weapon when it comes to precision. But that's not what this kit is built for – obviously.
I was pleasantly surprised during our test about how well the Redington Original handled bigger streamers. A rod needs quite a bit of backbone to cast bigger streamers precisely, and the Original did just that.
How Does the Original Compare to the Redington Wrangler and the Field Kit
Comparison to Redington Wrangler Kit and Redington Field Kits: Now, let's compare the new Redington Original to the Redington Wrangler Kit and Redington Field Kit, two other popular options in the Redington lineup.
Redington Wrangler Kit: The Redington Wrangler Kit is an entry-level combo designed specifically for beginners. It offers a more affordable option for those new to fly fishing. While the Wrangler Kit is a great way to get started, the Original Fly Rod Combo provides a higher level of performance and versatility. The Original Combo's graphite rod offers better sensitivity and accuracy, making it a more suitable choice for anglers looking to advance their skills. While the Original only comes in two options (#5 and #8), the Wrangler has a wider range of options raining from trout to bass and salmon. Although the Original comes in at $199.99 (compared to the $249.99 for the Wrangler), I've found the performance of the Original rod to be just a little crisper than on the Wrangler rod – but that might be my personal taste).
Redington Field Kit: The Redington Field Kits are designed for anglers who desire a comprehensive package tailored to specific fishing situations. The Field Kits are excellent options if you're looking for a complete setup for a particular style of fishing, such as trout fishing or saltwater fly fishing. However, if you prefer more flexibility and want a well-rounded combo that can handle various fishing scenarios, the Redington Original Fly Rod Combo is the better choice.
Final Thoughts on the Redington Original Kit
In conclusion, the Redington Original Fly Rod Combo is a reliable and versatile option for fly anglers of all skill levels. Its balanced action, combined with a well-matched reel and fly line, ensures exceptional casting performance in a wide range of fishing situations. This combo is suitable for various fly fishing styles, including dry fly fishing, nymphing, streamer fishing, and stillwater fishing.
When compared to the Redington Wrangler Kit and Redington Field Kits, the Redington Original Fly Rod Combo offers a higher level of performance and versatility. While the Wrangler Kit is a great entry-level option, the Original Combo's enhanced sensitivity and accuracy make it more suitable for anglers seeking to advance their skills. On the other hand, the Field Kits are ideal for anglers who prefer a complete setup tailored to specific fishing situations.
With the Redington Original Fly Rod Combo, you'll experience the joy and thrill of fly fishing with a reliable and well-rounded package that helps you connect with nature and unlock unforgettable angling experiences.
FAQs
Does the Redington Original Fly Rod Combo come with a warranty?
Yes, Redington provides a limited lifetime warranty for the Original Fly Rod Combo. This warranty covers defects in materials and workmanship, providing peace of mind for your investment.
Can I upgrade the reel or the fly line in the combo?
Absolutely! While the included reel and fly line are well-matched to the combo, you can always upgrade them to suit your specific preferences or fishing conditions. Redington offers a wide range of reels and fly lines that are compatible with their rods.
Can I use the Redington Original Fly Rod Combo for saltwater fishing?
While the Redington Original Fly Rod Combo is primarily designed for freshwater fishing, it can handle light saltwater applications. However, if you plan to regularly target larger saltwater species or encounter harsher saltwater conditions, it is advisable to consider a dedicated saltwater fly rod combo.
Is the Redington Original Fly Rod Combo suitable for beginners?
Yes, the Redington Original Fly Rod Combo is a great option for beginners since it's easy to assemble, cast and comes at an affordable price.
Why You Should Trust Us
Leonard Schoenberger and his team spend plenty of days out fishing. Their goal is to test and review products for you so you can make a solid purchase decision and improve your fly fishing game. We always express our honest opinions, never get paid for reviews and are proud of our editorial independence.
Disclaimer: All products in this guide are independently researched by our team. We only recommend products we believe in and never get paid for the reviews. Learn more about our review process here.