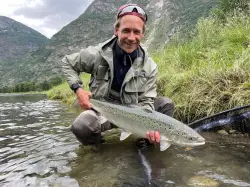 Latest posts by Leonard Schoenberger
(see all)
Fly fishing is not the easiest sport to pick up because there's so much gear involved.
If you're thinking of getting your first rod and reel, a fly rod combo (often also called fly rod outfit) might be a good idea. These sets are perfectly balanced and make sure rod, reel, line and leader work together as they should. We've put the Cortland Guide combo to the test and tell you in this review if it's worth a closer look.
Disclaimer: Some of the links in this article are affiliate links. If you click on one of them and end up purchasing a product we earn a small commission at no extra cost for you. We only recommend products we believe in ourselves. Learn more here.
The Cortland Guide Fly Rod Combo Unveiled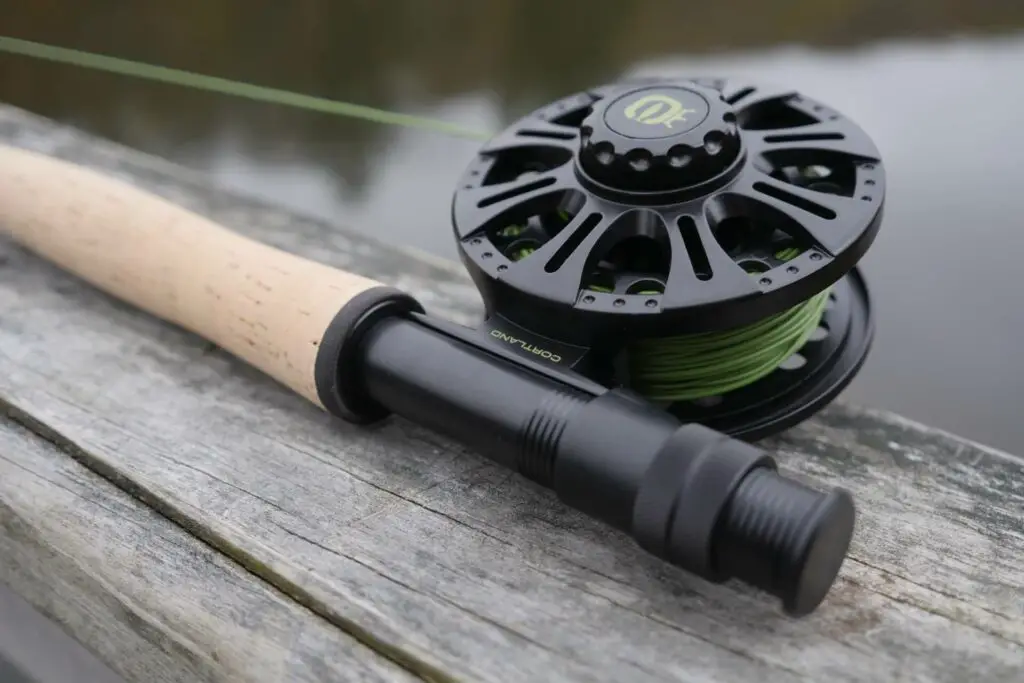 Overview:
Weights: 8′ #4, 9′ #5 and 9′ #8
Set includes: Rod, reel, backing, line, leader, rod and reel tube
Reel features a disc drag
4 piece rod (for all weight classes)
Reel comes pre-spooled with backing, line and leader
Price: $189.95 – 199.95
Before we wade deeper into the waters, let's set the stage. The Cortland Guide Fly Rod Combo is designed to be an accessible gateway into the art of fly fishing, offering an array of features that cater to both newcomers and those looking to refine their skills:
Comprehensive Kit: This combo includes everything you need to get started— a high-quality fly rod, reel, backing, fly line, and a protective rod tube. It's a comprehensive kit that removes the guesswork, making it perfect for beginners. The kit comes in three sizes: 8′ #4 (which is ideal for small creeks and tight quarters), 9′ #5 (the version we tested) is a great allrounder for all types of trout fishing and even small bass and 9′ 8wt which is the right choice if you're after pike, muskey, smaller salmon and even some light saltwater fishing.
Versatile Performance: The Cortland Guide rod's versatile 9-foot length and 5 weight configuration strike an excellent balance between finesse and power. This versatility allows you to explore various fly fishing techniques and target a range of species. During our testing I was surprised that the rod on this combo was rather slow (in modern standards). I'd describe its action as medium fast (although Cortland advertises it as fast). The 9′ 4 piece fly rod can do it all: delicate dry fly presentations, nymphing and streamer fishing (although you can feel the limits when casting bigger streamers). This rod shines in the shorter to medium distances (where about 90% of the fishing happens, particularly if you're a beginner or intermediate).
The fly line that comes with the kit is a moss green WF line with a welded loop. This line is a good allrounder and you can always upgrade if you want. Even a leader is included in the set – all that's missing to catch your first fish are a few flies (which would be a nice addition to the set).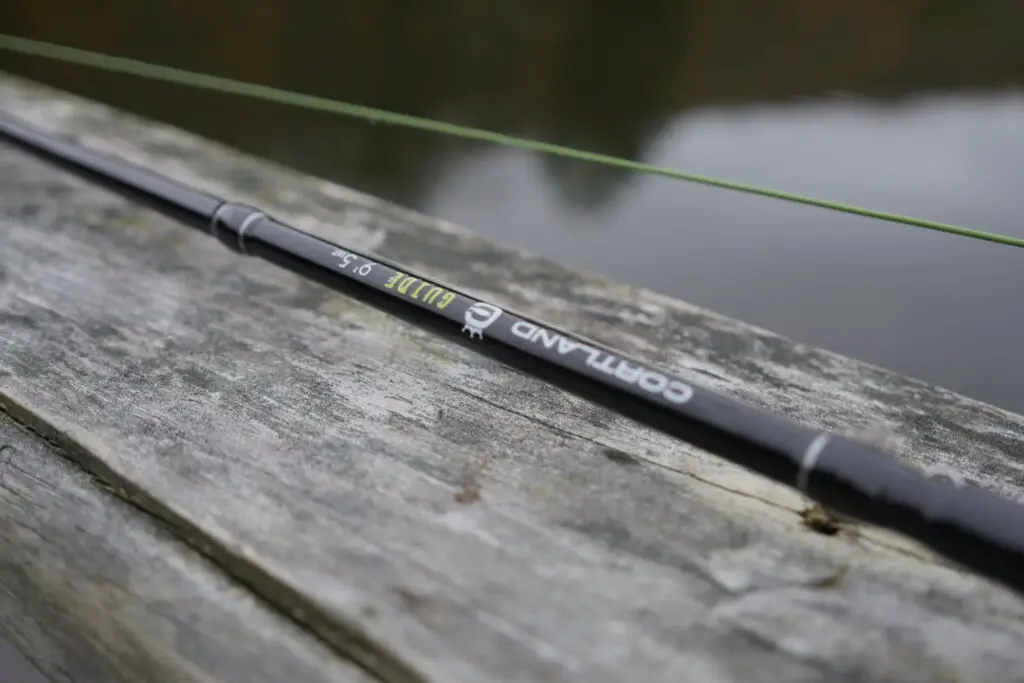 Exceptional Build: The combo features a durable and responsive graphite rod that delivers accurate casts. The reel is pre-spooled with fly line and backing, providing a hassle-free setup. The blank is a deep black one that complements well with the all black design of the reel seat and the reel. This gives the Guide outfit a really sleek and modern look. All guides are well made – a testament to Cortland's manufacturing knowledge.
Comfortable Handling: With a comfortable cork grip and an efficient disc drag system in the reel, the Cortland Guide Combo ensures that you can cast with precision and handle fish confidently. A small hook keeper towards the handle ensures you're always safe when not casting.
Why the Cortland Guide Fly Rod Combo is Perfect for Beginners and Intermediates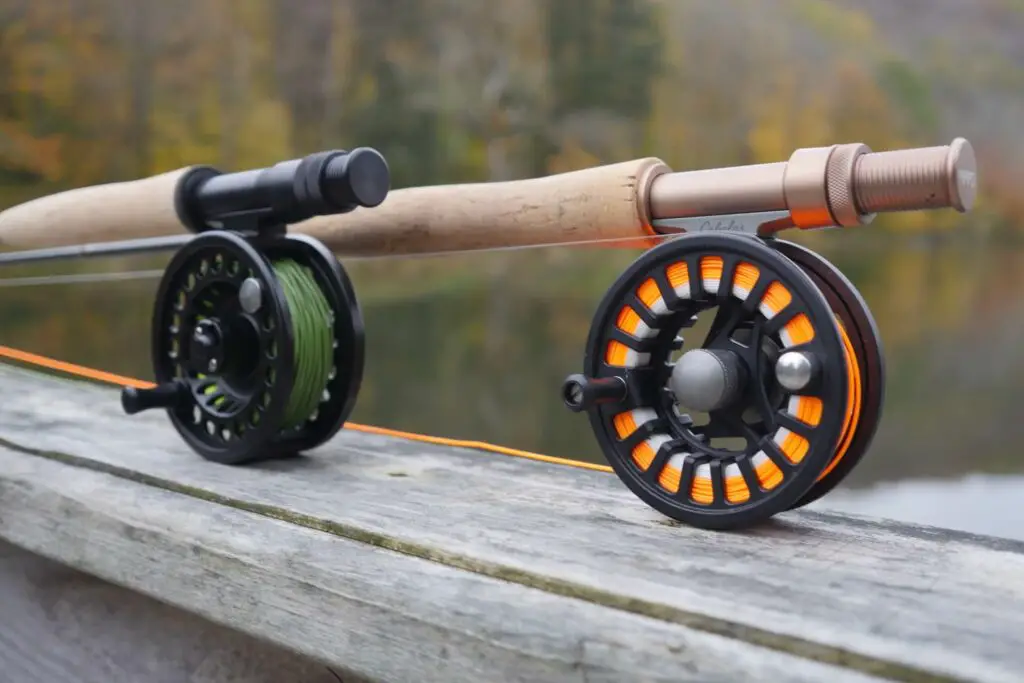 The Cortland Guide Fly Rod Combo offers several compelling reasons why it's an excellent choice for those starting their fly fishing journey or seeking to improve their skills:
Easy Entry Point: For beginners, this combo provides a straightforward entry point into fly fishing, eliminating the complexities of choosing individual components.
Versatile Performance: The 9-foot length and 5-weight configuration allow for versatility in fly presentation, making it suitable for various fishing scenarios and species.
Comprehensive Kit: The combo comes complete with all essential components, so you can head to the water with confidence, knowing you have everything you need.
Exceptional Value: Cortland's reputation for producing quality gear ensures that you receive excellent value for your investment, with a combo that is built to last.
Room for Growth: While ideal for beginners, the Cortland Guide Combo has the performance capabilities to accompany you as you progress in your fly fishing skills, eliminating the need for immediate upgrades.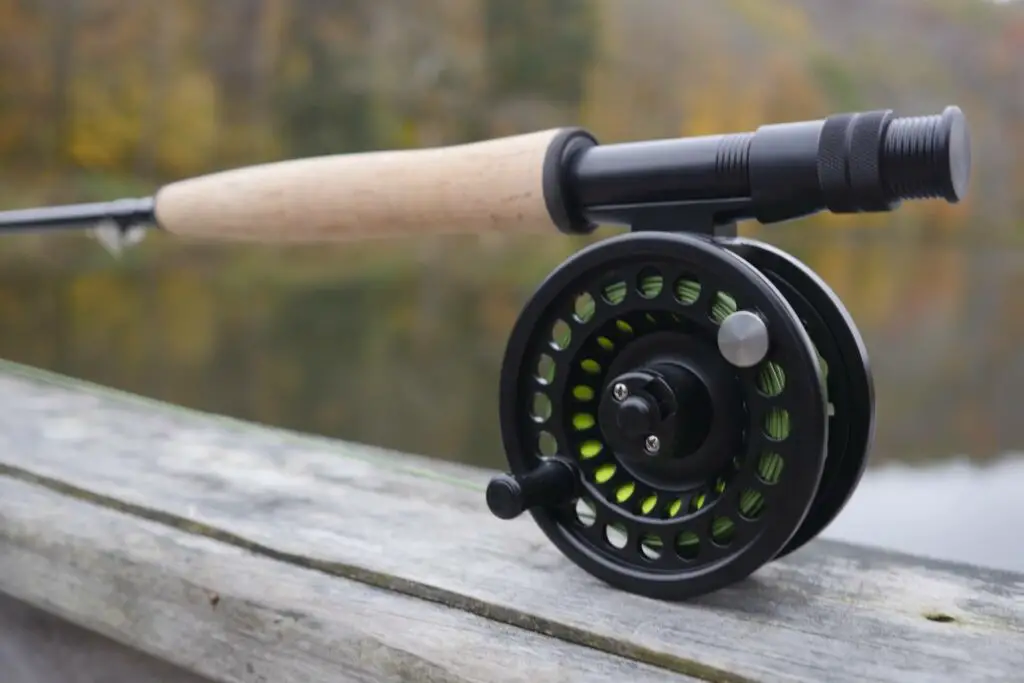 Pros and Cons
PROS:
Rod has enough backbone for medium-long casts
The reel of the Corland Guide combo is sturdy
Well-balanced setup right out of the box
Good value for money
CONS:
The rod is a little on the slower end in terms of action which will need some getting used to but will help you become an accurate caster
A few flies would be a nice addition to the set to be able to start fishing right away
Final Thoughts
The Cortland Guide Fly Rod Combo is more than just a bundle of equipment; it's an invitation to explore the serene world of fly fishing. Whether you're a newcomer eager to cast your first line or an intermediate angler looking to refine your skills, this combo offers an excellent balance of performance, ease of use, and exceptional value. With Cortland's commitment to quality and a kit that includes everything you need, you'll find yourself in good hands as you embark on your fly fishing journey. Only upgrade I could think of would be a few flies to catch your first fish right away. With a price point of around $190 (depending on which weight class you go for) the Cortland Guide plays in a similar league as the Redington Original (which might be a good alternative for you).
Make sure to read our comprehensive guide on the "Best Fly Rod Combos" if you want to learn more about fly rod outfits and alternatives to the Cortland Guide.
FAQs: Cortland Guide Series Combo Outfit
Is the Cortland Guide Fly Rod Combo suitable for saltwater fly fishing?
While the combo is primarily designed for freshwater use, it can handle light saltwater fishing if properly rinsed and maintained after each saltwater outing.
What species can I target with the Cortland Guide Combo?
The combo's versatility allows you to target a wide range of freshwater species, including trout, bass, panfish, and more.
Can I change the fly line on the included reel to suit specific fishing scenarios?
Yes, you can change the fly line on the reel to match different fishing scenarios or preferences, provided you choose the appropriate line weight and type.
What's the warranty coverage for the Cortland Guide Fly Rod Combo?
Cortland offers a limited lifetime warranty against defects in materials and workmanship for the original owner. Be sure to register your combo with Cortland to activate the warranty.
Is the Cortland Guide Combo suitable for Euro nymphing techniques?
While not specifically designed for Euro nymphing, the 9-foot length of the rod makes it adaptable to this technique with the right leader setup and techniques.