Last updated on August 20th, 2023.
In fly fishing, there are two fly rod weights that are typically recommended for experienced and novice anglers – the 5 weight and 8 weight.
The 5 weight fly rod is commonly used for freshwater fish such as trout as they are usually smaller and lighter. The 8w is used to catch considerably bigger fish such as stripers or big bass. 
However, if you're looking for something that can optimally cover the bulkier side of fishing, then the 8 weight fly rod is the way to go. But that can be an overwhelming task given that there are plenty of products available on the market. So, to help make things easier for you, in this article, we're going to talk about the best 8 wt fly rods at different price points. 
Disclaimer: All products in this guide are independently researched by our team. We only recommend products we believe in and never get paid for the reviews. Learn more about our review process here.
Table of Contents:
Best 8 Weight Fly Rod Quick Answer List
What are the Use Cases for an 8 Wt Fly Rod?
Key Factors to Consider When Buying an 8 Wt Fly Rod
Best 8 Weight Fly Rods Reviewed
Best 8 Weight Fly Rod Quick Answer List
4. TFO Mangrove
5. Douglas Sky
8. Echo Trip
9. Loop 7X
10. Winston Alpha
What are the Use Cases for an 8 Weight Fly Rod?
If you're a habitual fisher or an experienced angler, it's important to understand that the 8 weight can typically be described as a medium to heavy line casting rod. And yes, it isn't designed with an all-in-one purpose. But when it comes to power, handling, casting, and reeling, the #8 can provide you with considerable versatility.
You see, 8-weights are designed handle strong winds, different types of flies (bass bugs, saltwater streamers), and you can use a variety of lines. And because the fly rod is made for power, it can easily tackle stronger, aggressive, and bigger fish. With that being said, these are the specimens you can catch with an 8 weight:
Bonefish
Salmon
Big trout
Steelhead
Carp
Redfish
Bass
Juvenile tarpon
Stripers
Key Factors to Consider When Buying an 8 Wt Fly Rod
The Amount of Fly Rod Pieces
It was typically thought that having a lot of rod pieces may adversely affect performance and experience when it comes to rod action and power. But with incredible advancements in fly rod technology, stronger and durable materials have given birth to streamlined tapering and flexible designs for rod pieces.
That in turn helped anglers retain power, balance, and the right action across the total length of the rod. So, today, the primary benefits of adding more pieces to your rod is portability and added versatility.
Materials the Rod is Made With
The modern 8 weight fly rod is manufactured with durable and resilient materials such as fiberglass and carbon fiber weaved graphite. Both these materials are excellent for effective fish catching.
However, it's important to know that fiberglass rods are typically medium-action while graphite rods are fast-action. To increase the durability and power of the fly rod, it's strongly recommended that you go for a product that has nano-resin materials infused with graphite – which boost rod strength without making it bulkier. 
The Grip and Handling
The best and most sought-after material for gripping is cork. But it's vital to understand that cork also comes in a variety of material ratings (A to AAA). A rod with a cork handle rated AAA is the highest quality. You could also go for synthetic and affordable cork handles, but they aren't that popular. 
Fly Rod Action
The action of a fly rod basically refers to how and where the rod bends when force is applied. There are three different categories of rod actions known as slow-action, medium-action, and fast-action.
A slow-action rod considerably bends at the lower point of the rod. The medium/moderate action rod bends right at the top as well as the middle of the rod. Fast-action rods only bend at the very top. Although you can choose different action types for 8w rods, most anglers prefer to use fast-action 8 weights for effective performance and power in windy conditions. It enables them to cast lines at longer distances. 
Best 8-Weight Fly Rods at Different Price Points
Notice: The Wading List is reader-supported. We take part in various affiliate programs such as amazon associates or avantlink. If you click on one of the links in this article and end up purchasing a product we earn a small commission at no extra cost for you. Thank you!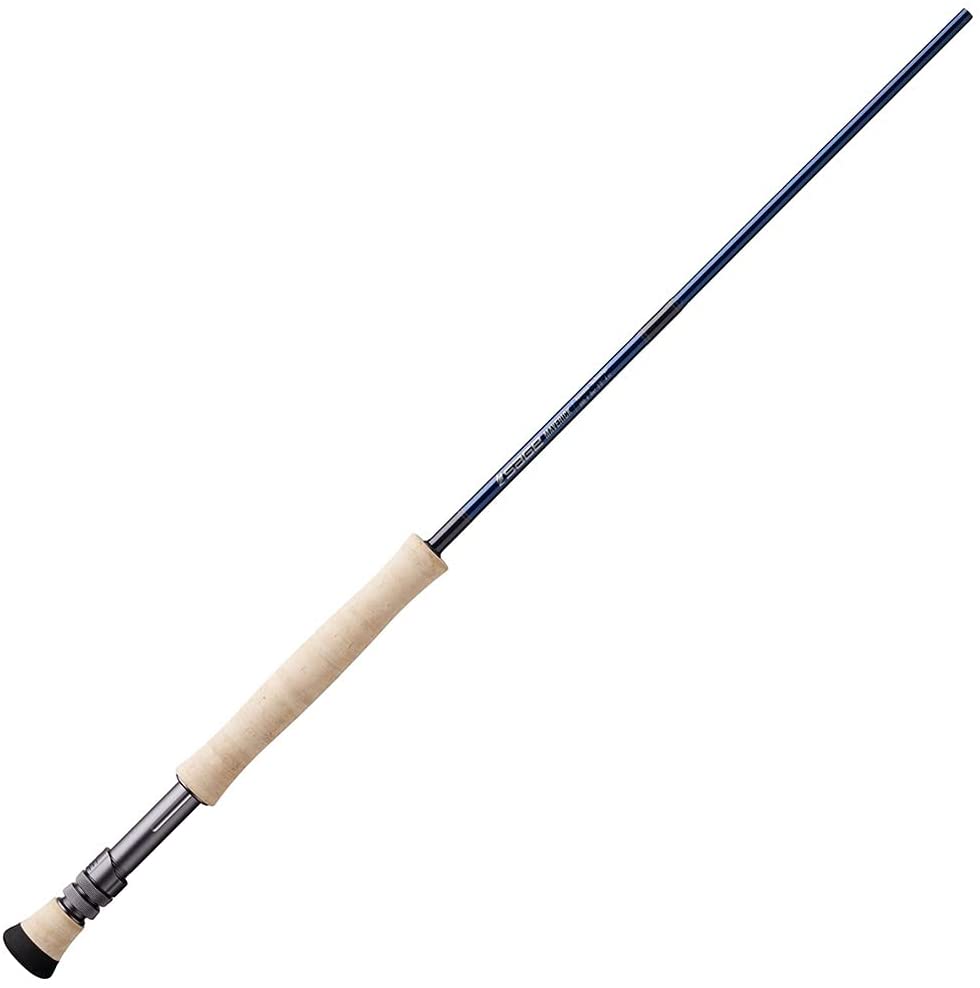 Why we picked it:
The SAGE Maverick comes with a durable frame and provides faster line shooting and enhanced lifting strength. If you're targeting saltwater fish like Stripers or Redfish, the Maverick is the best option to go for. The saltwater fly rod also comes in smaller models, which are specifically designed for catching feisty species such as Bonefish. 
The SAGE Maverick comes with Konnectic blank technology, incorporating quality materials such as high-strain carbon or resin. The rod is built-in with enhanced modulus materials making it durable but lightweight. This can be a pretty sweet combination. Moreover, Konnectic tech is renowned for providing balanced rod wobbling, boosting line casting precision for straighter and accurate tracking. 
The stripping guides are made with Fuji ceramic, allowing both rookie and experienced fishermen to effortlessly cast their lines. Plus, the ceramic built also allows for enhanced durability while also providing powerful anti-corrosive capabilities. Moreover, the SAGE Maverick has a durable handle designed with topnotch ultra-grade cork – providing you enhanced comfortability. 
Pros:
– Fuji ceramic stripping guides
– Lightweight and durable
– Anodized aluminum reel seat
Cons
– Not quite the high end feel of a G. Loomis or Hardy
Why we picked it:
The Redington Predator is a great choice for fighting aggressive fish and using big flies and heavy lines. It's powerful and intuitive enough to pursue strong predators like stripers or small GTs, whether you may be angling in saltwater or freshwater. This model comes in 5-12 weight variations, depending on your fly fishing needs. If you want a great all-rounder for species such as pike, muskey or bass, go for the #8.
The Redington Predator's durability is secured with its aluminum oxide stripping guides that have ceramic inserts, as well as hardwire anodized snake guides. The section tips of the pieces are coated with epoxy to prevent sticking. Its surface coating makes it more resistant to dings and scratches.
Pros:
– A workhorse with solid build quality
– Excellent value for money
– Easy to cast even for intermediates
Cons
– Grip is on the bigger end
– A little heavy when casting all day
Why we picked it:
The Orvis Recon 2 is a serious improvement over its predecessor, the original Orvis Recon. This is especially true since the fly rod is integrated with the patented trickle-down technology, which basically means the Orvis Recon 2 has performance features similar to the company's more expensive fly rods such as the Helios 3. The fly rod is versatile, durable, fast-action, and lightweight – with topnotch performance features. We liked this rod particularly in the 30-50 yard range (where a lot of fishing salt water fishing happens unless you're a master caster).
However, it's important to understand that the Orvis Recon 2 is a bit heavier than the original Orvis but it's also true that this fly rod was specifically designed for enhanced fishability. The total weight of the rod is 3.07-oz with a swing weight of over 66g. 
Pros:
– Great casting performance at mid-range
– Orvis guarantee
Cons
– Full potential won't be realised by novice fishermen
Why we picked it:
The TFO Mangrove is a great choice if you need to throw heavy lines and large, wind-resistant flies. It guarantees you an optimum experience especially when you are chasing large fish. Its fast-action qualities and ultra-strong design assure durability and reliability as you track down the biggest species in both freshwater and saltwater.
It's coated with TFO's proprietary TiCr blank coating, which helps the TFO Mangrove avoid splintering when hit by flies. It also adds to the rod's durability and strength. Its butt section is designed to increase your lifting power, and its Tactical Series stripping guides will help you have better casting performance. Especially when you are trying to catch those large fish using heavy lines.
This rod's reel seat built with milled aluminum can withstand wear and weathering with its corrosion-resistant properties. Some TFO Mangrove Fly Rod rod models are also embedded with a carbon fiber insert to keep the rods convenient and more lightweight.
Pros:
– Cast big streamers well (even into the wind)
– Very durable
– Anodized aluminum reel seat
Cons
– Coating of the stripping guides prevents a shooting of the line at a level of the G. Loomis or Douglas
One of the best things about the Douglas Sky is the material its blank structure is made of. While a majority of fly rods are made with graphite, the Douglas Sky is manufactured with graphene – which is an exceptionally strong material. In fact, it's 10x more durable and stronger than steel along with being 5x less bulkier. This makes the fly rod lightweight and durable. Moreover, the Douglas Sky has a very light swing weight, comparable to that of the Hardy Zephrus. The total swing weight of the Sky is 53 grams with a total weight of 2.86-oz. So no, your hands won't tire during a long fishing trip.  
The Douglas Sky is classified as medium-action and it's worth noting that it doesn't provide as much power when it comes to long distance casting and swinging. So while the Douglas Sky doesn't pack as much power as some of the more expensive fly rods out there, it is by far one of the most accurate. 
Pros:
– Incredibly lightweight
– Aluminum rod tube for extra protection
Cons
– Lacks a bit of backbone when fishing heavier streamers compared to the Sage Salt for example
Why we picked it:
The Hardy Ultralite fly rod is the latest addition to the company's long line of products. The Ultralite is integrated with the patented Sintrix NSX technology, which allows the company to manufacture fly rods that have a considerably reduced prepreg weights. Sintrix is a combination of Hardy's lightweight rod materials that allows for streamlined modifications without compromising the rod's overall performance and strength. We particularly liked the green finish of the blank which gives Hardy rods this special look and feel.
The Hardy Ultralite also features titanium REC coils with ceramic-lined guides, which makes the rod more lightweight and consistently practical. From a casting performance standpoint we were a little surprised as to how much punch this rod delivers – good job, Hardy! Instead of carbon fiber, the reel seat is made from burlwood, which lowers the weight of the blank. 
Pros:
– Exceptionally lightweight
– Burlwood reel seat for classic look
– This rod has power
Cons
– Wooden reel seat is not ideal for saltwater surroundings
Why we picked it:
If you want a fly rod that guarantees speed, precision, durability, and pure power, then there's nothing better than the G. Loomis NRX+. Rated as one of the best saltwater fly rods on the market, the NRX is made for flexibility and versatility. One of the best things about this rod is the fact they're specifically designed with Dynamic Recovery Technology allowing anglers to quickly cast lines and reel in their catch effortlessly and with precision. 
The DRT tech incorporates G.Loomis' innovation along with Mega Modulus, high-strain graphite matrix. Plus, the G. Loomis NRX+ is also built with industry-grade GL8 resin to give you a powerful blank with an accuracy that's streamlined and offers fantastic smoothness. Moreover, the G. Loomis NRX+ comes with an innovative taper build to make the fly rod durable, versatile, and extremely anti-corrosive. The blank on the rod is lightweight and provides unmatched recovery speeds. 
The stripping guides on the G. Loomis NRX+ are made with Titanium SIC, which means that it effectively dissipates friction and boosts performance. With lightweight guides, you'll have increased rigidity and durability – all in one package.
Pros
– Most powerful rod in this test
– Fantastic accuracy
– Built for the toughest saltwater species
Cons
– Not suited for novice fly fishermen and women
Why we picked it:
The Echo Trip is another impressive fly rod that comes in three different line weights (5, 6, and 8). The total length of the fly rod is 9 feet. What sets the Echo Trip apart is the fact that it's made from 8 pieces. This in turn makes the Echo Trip a fantastic travel fly rod as it packs down to a very small size.
The blank of the Echo Trip is made with graphite and features an 8-piece design with an accurate medium-action performance with decent power levels. The fly rod is also integrated with resin systems that makes the product even more durable and lightweight. It's also reinforced with ferrule tech, which means you'll feel as if you're fishing with a 4-piece rod, which is definitely a good thing.  
The Echo Trip also features a durable and stronger butt section ideal for medium to long distance casting and fish reeling capabilities. 
Pros
– Highly versatile
– Great for a trip thanks to small size
– Echo guarantee
Cons
– Not as powerful as its competitors due to high packability
Why we picked it:
The Loop 7X is a solid improvement over the company's Loop Q series. The 7X's stripping guides are made with a unique method known as "Torzite".  Moreover, the rod's snake guides are made with titanium; both factors add to the rod's overall durability and allows fishers to use different types of fly lines.  The reel seat of the rod features a clever seven-sided design made from a blend of carbon fiber and anodized aluminum. The handle is made from top of the line cork, making it comfortable to grip and handle.
The Loop 7X isn't exactly lightweight but won't feel a lot heavier either. The total weight of the swing is 64.5 grams, and the overall weight of the rod is 3-oz. However, when it comes to accuracy, few fly rods come near the Loop 7X. That's because the blank has a heptagonal shape, which is what allows for instant casting and recovery – perfect for mid to long range casting. 
Pros:
– High-end look and feel
– Great accuracy, particularly at mid-range
– Good protection thanks to sturdy rod tube
Cons
– A little heavy when fishing all day
Why we picked it:
There's no doubt Winston's renowned for making impeccably designed fly rods and is reputed for their fine finishing componentry. And it's true that the Winston Alpha is really no different. The fly rod comes with a green blank and has reinforced carbon nanolite guides with high-quality chromed snake guides. The reel seat features a double-locking system and is made with anodized aluminum. The structure of the Winston Alpha consists of topnotch, durable graphite. 
The 8-weight fly rod has a total weight of 4.2-oz and an impressive 87.7 gram swing weight. Sure, this may not seem lightweight, but the Winston Alpha compensates that with overwhelming power levels not to mention, the rod has an ultra-flex design. With a powerful blank, the Alpha will seem like a breeze to use over distances of 80-feet and above. 
Pros
– Most high end feel of all rods tested
– A little slower action is a delight for experienced casters
– Winston guarantee
Cons
– Not the lightest rod in the test
Best 8 Wt Fly Rod Combo
Now that you've got a good overview of some of the best 8 weight fly rods out there on the market, we'll also take a look at the best 8 wt fly rod combo. Fly rod outfits have the advantage that they come perfectly balanced right out of the box. No need for you to think about which rod to combine with which reel. That guesswork is taken out of play for you by the manufacturers. Here are some of the best 8 weight fly rod outfits money can buy.
Why we picked it:
The Redington Field Kit is an impeccable fly rod combination for beginners, especially those who want to cast lines in hope of catching big game fish such as salmon and trout. A medium fast action fly rod, the Redington is designed to help novice anglers gradually perfect their casting skills and techniques, making the experience both fun and testing. You can pair the field kit with a reliable run reel, such as the recommended RIO Gold reels that are specifically designed to catch trout. You can use the kit to fish for trout in rivers and lakes. 
Moreover, the Redington Field Kit is designed with a cork grip (half-wells) along with a durable reel seat insert made from wood. For easy handling and placing, its reel seat (up-locking) is made from anodized aluminum, which ensures longevity. 
Pros
– Great value for money
– Well balanced combination of rod and reel
– Excellent rod tube with reel protection
Cons
– Rod lacks a bit of stamina when casting bigger flies
Why we picked it:
One of the key indicators of an impressive fly rod combo is that it comes with a balanced set of tools such as the backing, reel, and fly line. And this is where the Orvis Clearwater Fly Rod Outfit clearly knocks much of the competition out of the park. When it comes to intermediate or entry level angler fishing, nothing can beat the Orvis Clearwater kit. Why? Well, it comes with a staggering twenty different types of fishing configurations. Plus, the combo can be used in both saltwater and freshwater. 
As for performance and accessibility, the rods for freshwater fishing are designed to be more lightweight and handle softly with medium-fast action. The rods for bigger fish are designed for fast-action and are slightly more stiffer and bulkier. 
Pros:
– Set includes everything but flies
– Combo is available in different weight classes
– Comes with the Orvis guarantee
Cons
– Lacks a bit of power for the bigger saltwater species
Why we picked it:
The Sage Foundation Outfit's manufacturing process involves 27 specialist craftsmen at the production site – and it's safe to say that no other company does this. The Foundation Outfit is by far one of the most elegant and impeccable fly rods money can buy. A fast-action, high-performing fly rod that has a blank made with reinforced, topnotch graphite. The entire fly rod combo comes ready to use, all you need to do is pick a spot to fish and you're golden! 
The main components that make up the Sage Foundation Outfit include the 2000 Sage Series fly reel, a top of the line RIO Gold fly line weight, Dacron backing, tapered RIO leader, and the Cordura tube manufactured by Sage itself. One of the best things about the Sage Foundation is that it's designed for both novice anglers and veteran fishers. However, beginners will need to do some practice before fully utilizing the power of the Sage. 
Pros:
 – Made in the USA
– Powerful rod delivers even big flies
Cons:
– Included fly line is not the right one for the salt
Why we picked it:
If you're a beginner and are looking for a mid-priced, performance fly rod combo, it doesn't get any better than the TFO NXT Black Label Fly Rod Kit. The fly fish outfit was designed for both novice and experts anglers. The product comes packed with quality features. For example, the rod is built-in with a durable, alternating disc drag function. In addition, converting it from left hand use to right hand use is quick and seamless. The fly rod is made with machined aluminum, which means it will never rust. The rod is also ported to help considerably reduce weight and maximize performance. 
The TFO NXT Black Label Fly Rod Kit comes with three different categories of reel seat and each category has some impressive features depending on your preference and the amount of weight and type of rod action you're looking for. 
Pros:
– Excellent value for money
– Great for travelling thanks to cordura rod tube with reel case
Cons:
– Not made for the harshest saltwater conditions
Why we picked it:
The Sage Payload 889-4 Fly Rod Outfit is another formidable fly rod combination designed to tackle and catch big game fish. The product features a durable and reinforced structure with considerably large components made specifically to catch and wrangle larger species of fish. Moreover, the rod can be used for both saltwater and freshwater fishing. In addition, the Payload 889-4 series is also integrated with the company's patented Konnetic technology. Built with a durable and powerful midsection, the Sage Payload 889-4 Fly Rod Outfit is certainly a go-to option for anglers looking for effective and highly responsive heavy line casting over longer distances. 
The total weight of the rod is 4.48-oz, which is considered slightly heavier than normal, and has a swing weight capacity of 91.7 grams. 
Pros:
– A workhorse for any fishing situation
– Great line for big streamers
Cons:
– Rod is a little heavy when casting all day long
Bottom Line
So there you have it, 11 of the best 8 weight fly rods and combos at various price points. The products mentioned on this list combine a balanced blend of impeccable features that suit both experienced anglers and novice fishers alike. 
Frequently Asked Questions
How does rod length affect rod weight?
Well, it doesn't really. Length has everything to do with your technique, it doesn't matter how long the rod is. You see, you can choose from a wide array of weight categories when it comes to fly rods (from 5w to 16w) and a majority of these rods are up to 9 feet in length or more. 
Does the size of my rod reel have to match the weight?
Absolutely. The size of your fly rod has to correspond with its weight to give you a more balanced and precision-based result. For example, if the reel is bulky or too lightweight, you will have a difficult time casting a line over moderate to larger distances. Moreover, if your reel is super light, your fly rod won't be able to hold an adequate amount of fly line. 
What is a balanced rod weight to catch Salmon?
Salmon are big and aggressive fish and are typically caught with sinking lines on large streams. For optimum performance and responsiveness, it's strongly recommended using an 8w fly fish rod. An 8w will give you the liberty to cast heavier lines over larger distances with heavy flies. 
Notice: The Wading List is reader-supported. We take part in various affiliate programs such as amazon associates or avantlink. If you click on one of the links in this article and end up purchasing a product we earn a small commission at no extra cost for you. Thank you!