Last updated on November 16th, 2023.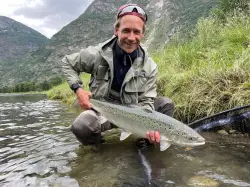 Latest posts by Leonard Schoenberger
(see all)
I recently got my hands on the new Signature Series from Atlas Fly Rods.
In this review I want to spill the beans on what makes it tick. Picture it like finding that perfect fishing spot—it's all about the experience. So, grab a seat, and let's dive into the nitty-gritty of this fly rod.
Note: Some of the links in this article are affiliate links. If you click on one of them and end up purchasing a product we earn a small commission at no extra cost for you. We only recommend products we believe in ourselves and would recommend to our friends and family. Learn more here.
First Impressions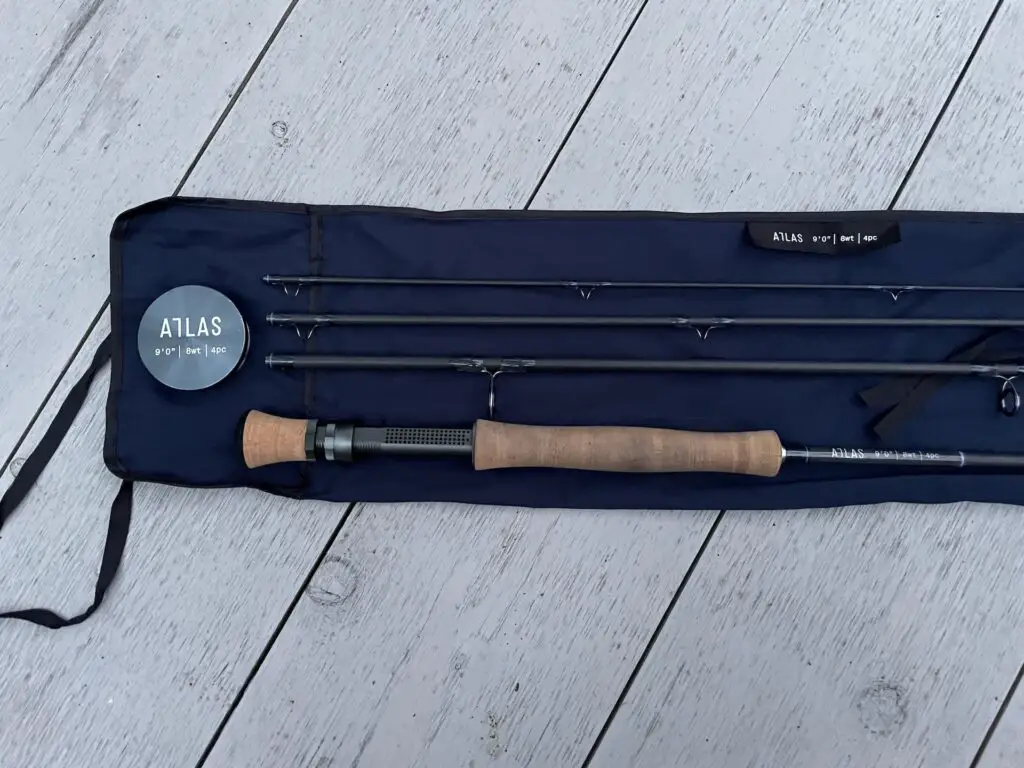 Length: 9 feet
Weight: 8wt
Construction: Meticulously crafted from graphene for a perfect balance of strength and low weight.
Versatility: Ideal for various fishing scenarios, from freshwater trout to challenging saltwater species.
Action: Medium fast to fast
Guides: Snake guides for smooth line flow, contributing to longer, more accurate casts.
Warranty: Three years
Price: $499.99
Atlas is a new fly rod brand that's been launched by Ben Freeman of Trident fly fishing. Ben's been in the game for years and certainly has seen and cast a lot of fly rods. Recently, he turned his dream into reality and launched his own series of fly rods: enter the Atlas Signature fly rod. Clearly aimed at the (saltwater) predator fly fisherman, these rods come as #8, #9 and #10. They all feature the same length of 9ft. We got our hands on the #8 which we took out to fish for striped bass and false albacore off Long Island, NY.
Craftsmanship and Design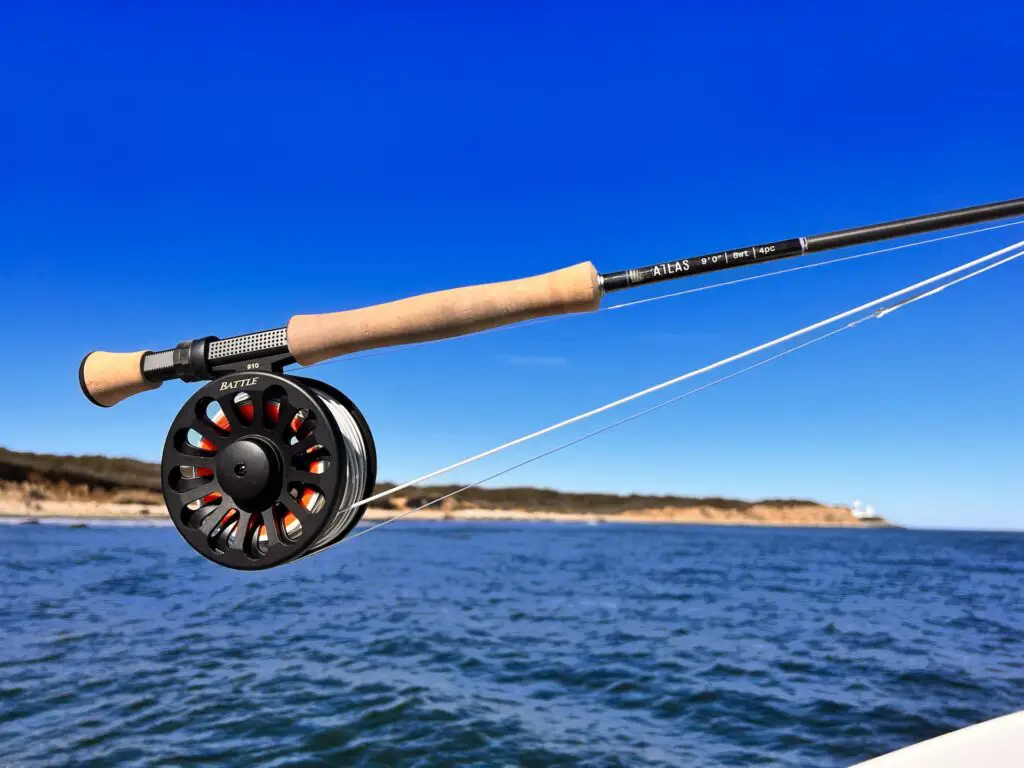 Let's talk about the looks—sleek, elegant, and discreet branding. This rod is not just about catching fish; it's about doing it with style. The 9′ length and 8wt rating give it that sweet spot of versatility, making it a go-to for various fishing scenarios, whether you're chasing stripers and albies (like we did) or pike and musky in freshwater.
Right off the bat I liked the blank color of the Atlas which I'd describe as a subtle blue/grey. Paired with a blue rod sock and a sturdy aluminum tube, the Signature definitely has a premium appeal. What caught my eye as well was the slightly oversized fighting butt which comes in handy when playing bigger fish. Also, the reel seat proved to be bullet proof during our striper fishing. It's something that's often overlooked in my eyes but least thing you want when hooking a good sized fish is having to worry about your gear.
Quality construction is the name of the game here. Atlas Fly Fishing went for high-quality materials that give the rod that perfect balance between strength and feeling every nuance of the water. The action, taper, and flex are dialed in to make sure you have the control you need for those tricky casts and fighting fish. I was pleasantly surprised about the low weight of the rod which (when casting all day) can make quite a difference in keeping your focus and precision.
Performance on the Water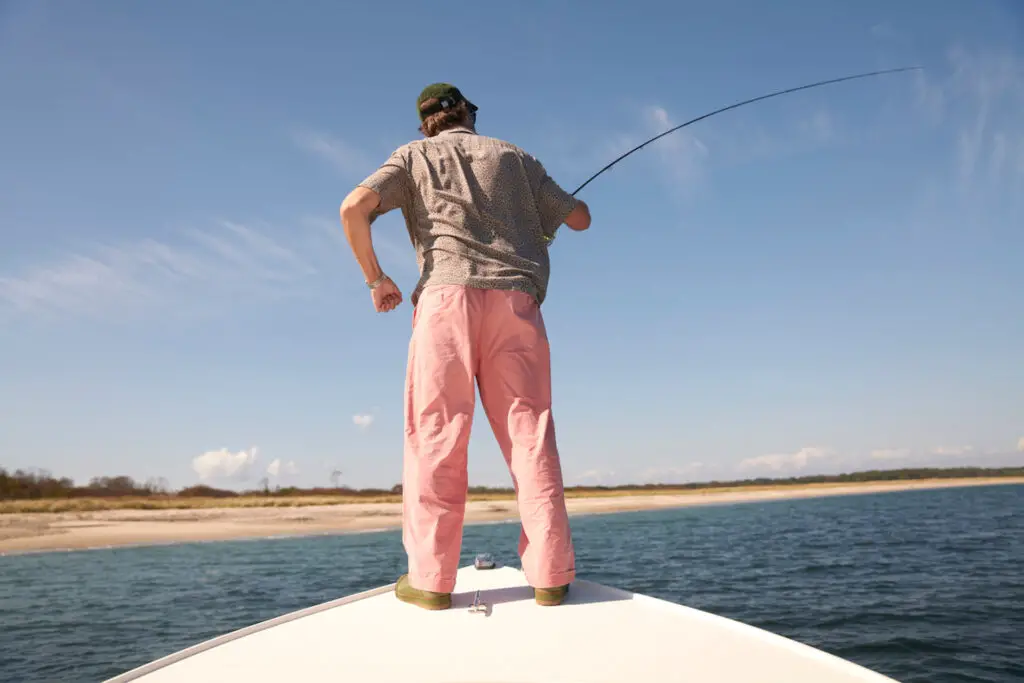 Now, let's talk about the real deal—the performance. This rod isn't just for show; it delivers where it matters most. The 8wt rating means it's ready for larger flies and some serious fish battles. Sensitivity? Check. Power? Double-check. It's the kind of rod that makes you confident in your casts and ready for whatever the water throws at you.
But it's not just about power; it's about finesse too. Spot on presentations? Absolutely. The Atlas Signature Series lets you dance that fly right where you want it. And when it comes to fighting fish, the mid and lower sections of the rod have your back. It's like having a reliable friend on every fishing adventure. In my eyes, the sweet spot of this rod is where most of the fishing happens: the 50 to 60ft range. Where the Signature really shone during our testing though was casting into the wind. This is crucial in my opinion since there's hardly ever a day in the salt without a breeze.
Pros and Cons, Because Let's Be Real
Pros
Bang for the buck: Don't be fooled – this is a premium rod for a mid-range price
Versatile Player: The 9′ length and 8wt rating make it a go-to for various fishing scenarios hunting predators in freshwater and the salt
Classy looks: The dark greyish blank with blue accents makes for a classy, yet modern look
Go Anywhere Attitude: Versatile enough for both freshwater and saltwater adventures
Cons
Limited weight classes: I'd like to see the Signature series extended both upwards and downwards
Performance: The only area this rod could improve in is at short distance
Final Verdict on the Atlas Signature Fly Rod
I was quite impressed with the Atlas Signature #8. In my eyes it can keep up with the big names in the business. If you can do without the brand name, the Atlas will offer you a premium rod at about half the price of most rods in this performance class. Plus, its design is timeless and will still look great a few years down the road.
FAQs—Because We All Have Questions
Is this fly rod good for someone just starting out in fly fishing?
Absolutely. While it's a high-performance rod, the versatility makes it accessible for anglers at various skill levels. But if you're just starting, keep in mind it's got some power, so be ready for a wild ride!
Can I use this rod for both freshwater and saltwater fishing?
You bet. Whether you're hitting up your favorite trout stream or going for the big ones in the salt, the Atlas Signature Series Fly Rod is ready for the challenge.
What's the warranty situation with Atlas Fly Fishing? 
Atlas Fly Fishing offers a three year warranty on this rod.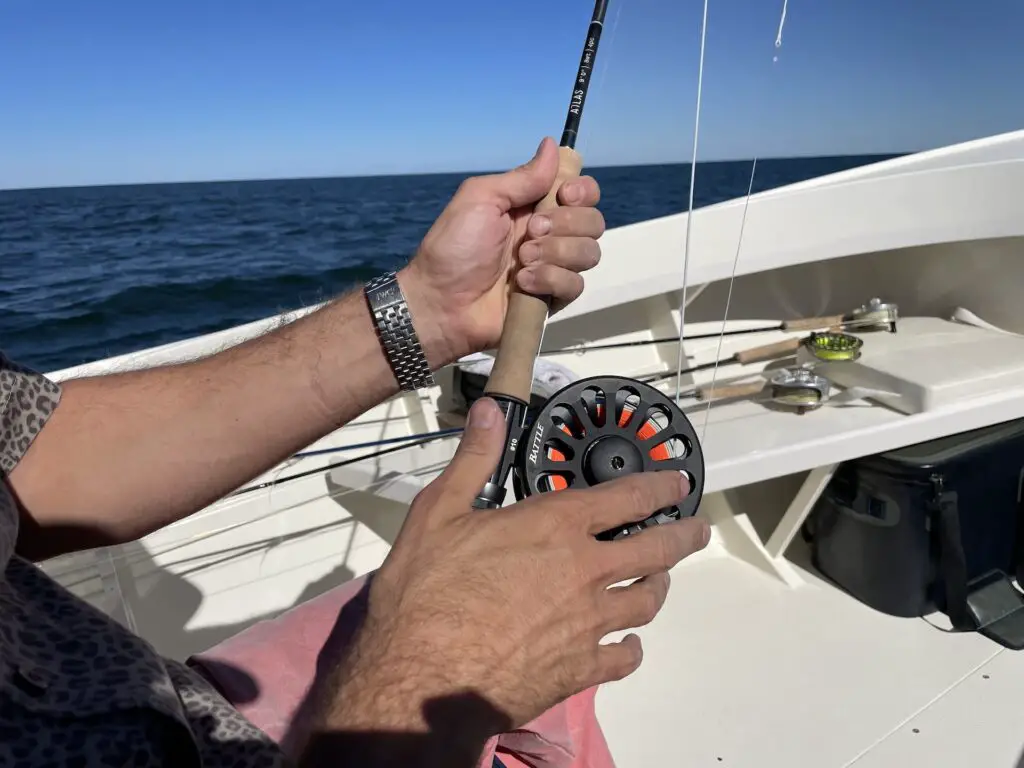 Our Expertise
We spend dozens of days out on the water testing and reviewing new gear for you. We always express our honest opinions and never get paid for reviews. We do get products to test and review for free, as was the case with the Atlas fly rod. Our goal is to give you all the facts you need on a product to make a solid purchase decision.