Last updated on August 24th, 2023.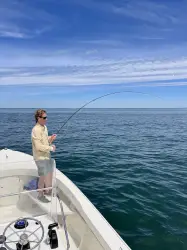 Latest posts by Leonard Schoenberger
(see all)
A fly tying kit can be a great way to start tying your own flies. We'll show you what to pay attention to.
Disclaimer: All products in this guide are independently researched by our team. We only recommend products we believe in and never get paid for the reviews. Learn more about our review process here.
Fly tying kits make it easy if you are new to fly tying as they include all the gear you need to tie your first fly. Before making a purchase though, you think about what kind of flies you plan on tying. Is your focus going to be on classic trout flies, streamers for pike or bass or maybe even on big saltwater flies?
A fly tying kit is not only for the beginner though. It can also come in handy for more experienced fly tiers. For example when you want to tie flies on the go on a trip, a kit with all the "ingredients" is a good way to make sure you don't forget any essentials.
Table of Contents:
How to Choose the Best Fly Tying Kit?
Best Fly Tying Kits Quick Overview
Best Fly Tying Kit on the Market
– Best Overall: Orvis Fly Tying Kit
– Best Entry Level: WETFLY Deluxe
– Best Mid-Range Kit: Dr.Fish Tying Material & Tools
– Best Traditional Set: Creative Angler Wooden
– Best for Travelling: Zephr Travel Kit
Essentials Tools for Fly Tying
How to Choose the Best Fly Tying Kit
In this guide we want to give you an overview of the different tying kit options out there. As is most often case, you can make a decision depending on your budget. Also if you are not sure if you are going to stick with fly tying, you might opt for a more entry-level kit to see if it's for you.
If you've made your first steps in tying already, you might aim for a mid-range product that offers good value for money. Last but not least there is a high-end option from a well-known fly fishing brand. After the review of the top fly tier kits out there, we compiled a little guide with the essentials you should know about tying tools.
Best Fly Tying Kits Quick Overview
1. Best Overall: Orvis Fly Tying Kit
2. Best Entry Level: WETFLY Deluxe
3. Best Mid-Range Kit: Dr.Fish
4. Best Traditional Set: Creative Angler Wooden
5. Best for Travelling: Zephr Travel Kit
6. Best Wooden: Colorado Anglers Z797
Best Fly Tying Kit on the Market
We now want to dive into our big review of the best fly tier kits money can buy in 2023. We show you our favorite in each category and tell you what we like and dislike about each one.
The Orvis Kit is our overall favorite and also a great gift idea (read our full guide on fly fishing gifts here). Everything in this set portrays quality. This starts with the way the fly tying tools are arranged in the case. It's the small things that matter. The Orvis Kit takes it up a notch with materials for more than a dozen patterns. This enables you to tie up to a 160 flies. This kit also features a DVD with exact instructions for multiple patterns.
With the Orvis Kit comes a vise that you can attach to any table and get going. All the tools you need are included as well. Amongst them are a ceramic lined bobbin, scissors, a bodkin, a half-hitch tool, hackle pliers, hairstacker, and to round it off a whip finish tool. The larger hooks are great for creating your first streamers and the beads come in handy when creating nymph patterns.
Our verdict: You can't go wrong with the Orvis Kit. The hard case makes it easy to take the kit along. However, it doesn't stow away as nicely as the Dr.Fish for example.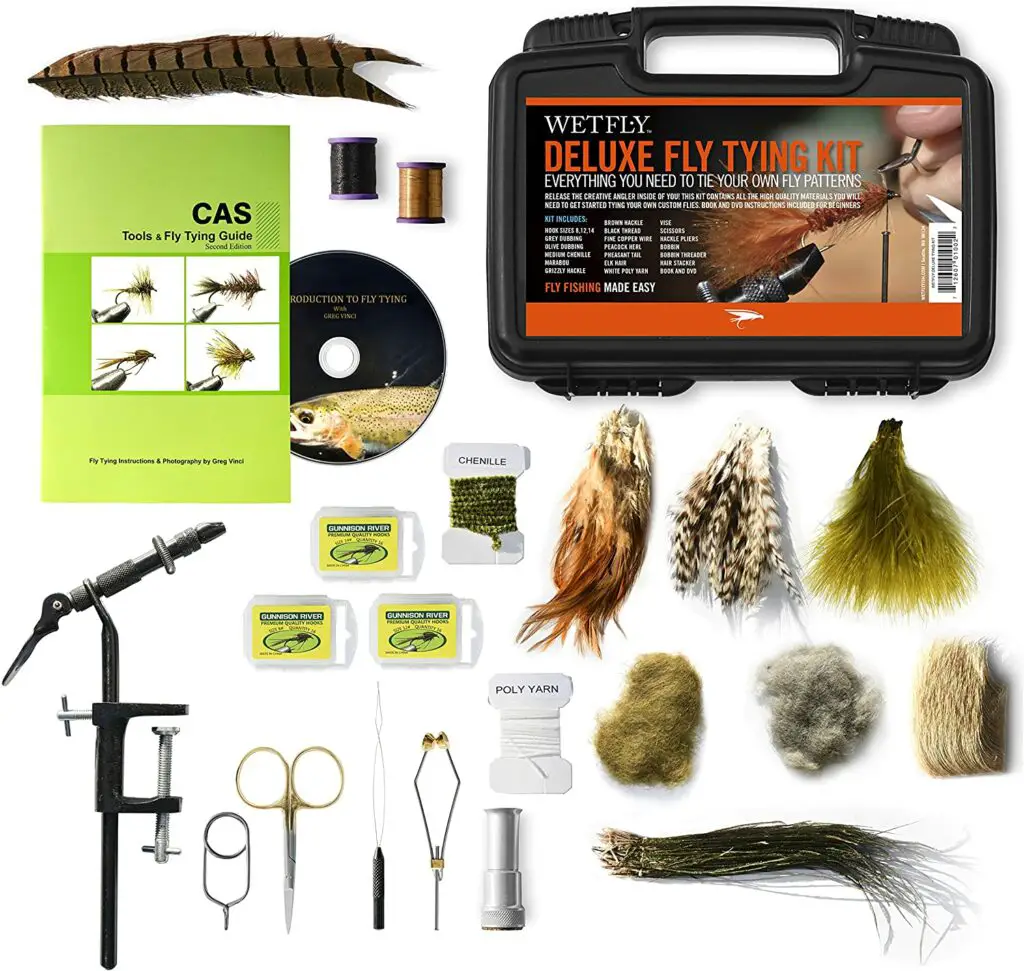 The WETFLY Deluxe is an excellent choice for beginners. It comes fully loaded with most of the things you need to kick things off. There's even an instructional DVD included – who does still watch DVDs though?! Nevermind, the booklet has some instructions for the beginner as well. The WETFLY Deluxe features 48 hooks in three sizes to get you going. Beware however that lead wiring for example that is required for some nymphs that are in the instruction book, is not included.
The vise that comes with the WETFLY Deluxe is not the most stable one either. If you are interested in quality vises check our guide "Best Vises". This set is great for beginners. If you are looking for higher quality materials you should opt for another kit in our review. For example the Orvis Kit or the Creative Angler Wooden Station.
Our verdict: If you just want to see if fly tying is for you, the WETFLY Deluxe is worth considering. You could spend a little more money though and get a kit that will make you happy for longer. Comes with a convenient travel case.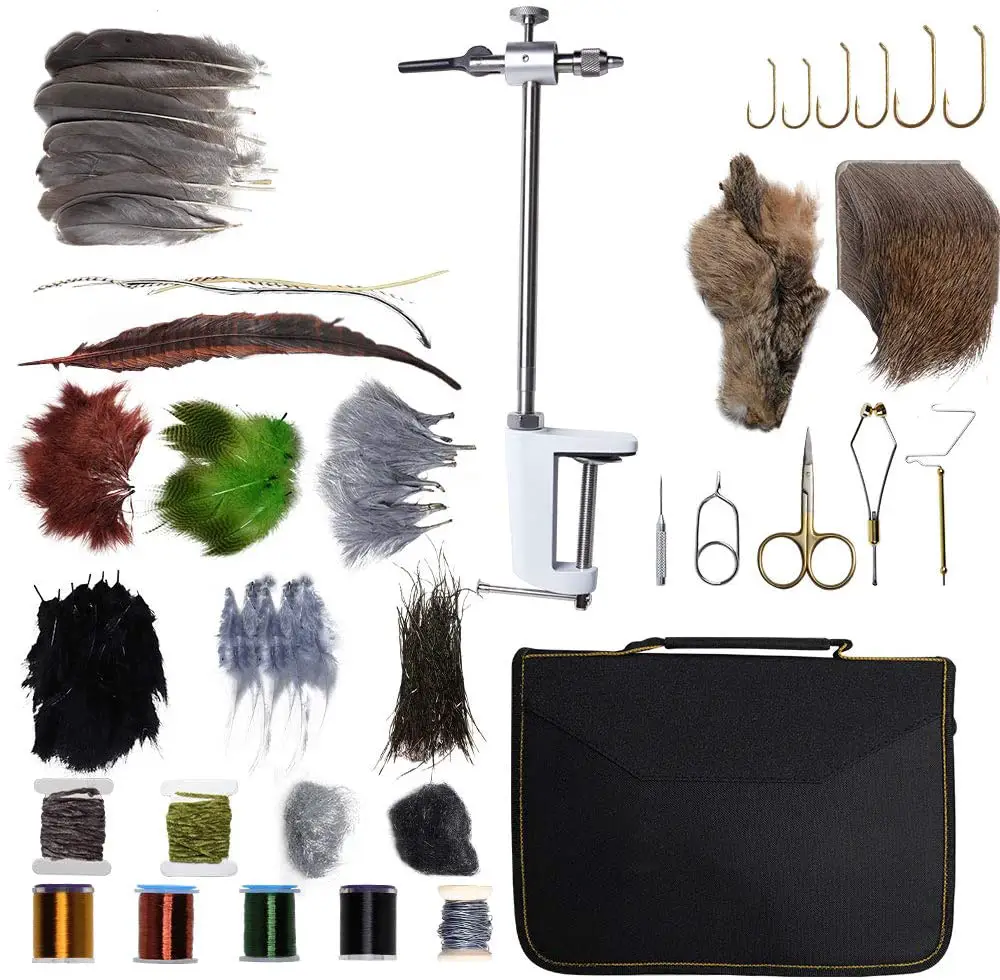 At a little over $100 the Dr.Fish is a good choice if you think that fly tying is for you but don't want to spend a fortune (yet). The Dr.Fish comes with all the little fly tying tools you need for tying flies. This includes a bobbin holder, metal scissors, a hackle plier, a bodkin and a whip finisher. The vise that comes with the set is made of Aluminum and features a 360 degree rotation.
The Dr.Fish comes with a variety of threads and wires to give you flexibility in tying your first flies. 55 hooks in three different sizes allow you to tie dry flies, nymphs and streamers.
Our verdict: The Dr.Fish is a quality tying set. The slim, yet durable case makes it a great choice for on the road. Only downside: no instructions included which might make it difficult for beginners to get started.
The Creative Angler Wooden Station is the right option if you plan on setting up your fly tying bench at home. Since it doesn't come with a case it's not a good option if you also want to tie on the road.
At home the Creative Angler Wooden Fly Station works great. That's because it allows you store all your gear once you're done for the day. The wooden box features cutouts for the different tools. It also holds the tying vise which works ok but is not ideal. When pressure is applied it is not always rock solid in the socket. To make it easy for beginners, the Creative Angler Wooden set features instructions on a DVD and a booklet.
Our verdict: Nice looking kit. The Creative Angler Wooden Station has a few weaknesses with the vise sometimes not being 100% stable. Yet, if you are looking to get started with tying and plan on creating flies at home, this set is a good choice.
As the last option in this review we want to give you our top choice if you plan on travelling a lot: the Zephr Travel Kit. In contrast to the other tying stations, the Zephr Travel does not come with tying materials such as hackles or hooks. You will have to get these separately. A good option would be a fly tying material kit such as the Hareline.
One of the things we like about the Zephr Travel Kit is the versatility of the EZ rotary vise. You can use it with the clamp to attach it to any table or with the base to put in onto a table. The travel case of the Zephr Travel Kit is nice and slim and holds all the little tools such as a hair stacker, two bobbins, rotating hackle pliers, two scissors, a whip finishing tool, bodkin pick, bobbin threader, dubbing twister and tweezers.
Our verdict: If you are planning to tie on the road a lot, the Zephr Travel Fly Kit is your way to go.
Here comes another set that includes everything to tie your first patterns and hit the water: the Colorado Anglers Wooden Z797. The first thing that hits the eye is the beautiful wooden case that stores all the tools that come with that kit: don't underestimate the value of such a box as it keeps everything neatly in order and ensures no hook, threads or tools get lost along the way.
We found the Colorado Anglers Wooden Z797 to be a good option if you want to pack your fly tying kit into your backpack and bring it along on a trip to have the flexibility to tie a pattern that can perfectly match the hatch of the insects at the water you're fishing. A downside that we discovered though is the fact that the vise cannot be removed from the case. This means the case can slide on the table if you apply a little pressure.
In our test, the tools that come with the kit and the fly tying materials did a decent job. If you want the ultimate in quality this kit is not for you. The Colorado Anglers Wooden Z797 is meant for beginners, intermediates and fly fishermen who want to have the flexibility to bring their kit to the water.
Our verdict: Great fly tying kit with all the essentials needed. If you want to stick with fly tying after getting into it, you will want to upgrade for a more premium product.
Essential Tools for Fly Tying
If you are just getting into fly tying it might seem like a daunting task. But like most things, you will get better quickly once you start practicing. Don't expect your first creations to come out perfectly. Instead, take joy in catching fish with flies tied by yourself. Here is an overview of the most essential tools for making your own flies.
Bobbin Holder
A bobbin holder is a tool that (as the name suggests) holds your thread that you wrap around the shank of a hook to create a fly.
Dubbing Twister
A dubbing twister is a tool that helps you make clean and fast dubbing loops.
Fly Vise
The vise is the tool that firmly holds your hook. There are different models with different features and characteristics.
Scissors
A quality pair of scissors is another essential tool for fly tiers. With it you can cut threads and other tying material such as feathers or fur.
Bobbin
Bobbin is the thread that you tie flies with. It is used to hold the material that make up your fly firmly in place.
Hackle Pliers
Hackle pliers will make your tying life a lot easier. The hold the feather's stem tightly attached to the shank of the hook.
Whip Finisher
With the whip finisher you put the final touches on your creation. It is used to tie off the final knot of your fly.
Conclusion
A fly tying kit can be a great way to see if tying your own flies is for you. Another option to consider getting a tying set is for travelling. In this case you should decide what it is exactly that you are looking for. If you need solid, sturdy protection for your fly tying set you should go for the Orvis Kit as it features a hard shell case.
If you are looking for the utmost experience in travelling light and still want to be able to tie your own flies at night, the Zephr Travel is a good option for you.
Which ever tying station you end up getting, we hope this guide has helped you make a solid choice. If you want to learn more about vises read our guide here.
Learn to tie some great patterns with our How to Guides:
Editor's Choice
WETFLY Deluxe Fly Tying...
Dr.Fish Fly Tying Kit,...
Creative Angler Wooden...
Zephr Travel Fly Tying...
WETFLY Deluxe Fly Tying...
Dr.Fish Fly Tying Kit,...
Editor's Choice
Creative Angler Wooden...
Zephr Travel Fly Tying...
Last update on 2023-11-22 / Affiliate links / Images from Amazon Product Advertising API
FAQs: Best Fly Tying Kits
What should I look for in a good fly tying kit?
A good fly tying kit should contain a variety of tools such as a vice, bobbin, threader, scissors, hackle pliers, and whip finisher. It should also have a variety of materials such as hooks of different sizes, threads, feathers, and fur. The kit should also be durable and compact for easy transport.
I'm a beginner. Is a fly tying kit a good investment for me?
Absolutely. A fly tying kit can be a great investment for a beginner. It not only provides you with most of the tools and materials you'll need to start, but it also allows you to experiment with different types of flies. This can be a fantastic way to learn and hone your skills.
How do I maintain my fly tying tools?
Most fly tying tools don't require a lot of maintenance, but there are a few things you can do to prolong their life. Keep your tools clean and dry when not in use, and store them in a dry place. For scissors, keep them sharp and only use them for materials; cutting wire or other hard objects can damage them.
Are there any online resources to help me get started with fly tying?
Yes, there are numerous online resources available. Websites like Fly Anglers Online and The Fly Tying Forum have step-by-step tutorials and community discussions. YouTube also has many instructional videos that can guide you through the process.
Can I tie flies for any type of fish?
Yes, you can tie flies for virtually any type of fish that will take a fly. However, different species often require different types of flies. Research the species you are targeting to learn what types of flies are most effective. Some fly tying kits even include materials for specific types of flies, so consider this when purchasing.
Is a Fly Tying Kit Worth it?
A fly tying kit is a great way to enter the world of fly tying. They include all the tools to create your first flies. Once you get better and know that fly tying is for you, you can pick the best fly tying materials to tie your flies.
Why You Should Trust Our Reviews
Leonard Schoenberger and his team spend plenty of days out fishing. Their goal is to test and review products for you so you can make a solid purchase decision and improve your fly fishing game. We always express our honest opinions, never get paid for reviews and are proud of our editorial independence.
If you want to learn more about other fly fishing gear and equipment, make sure to check out these articles:
BEST FLY ROD COMBOS ON THE MARKET
FLY FISHING TIPPETS – ALL YOU NEED TO KNOW
BEST WADING BOOTS – THE ULTIMATE GUIDE
A GUIDE TO THE BEST FLY FISHING NETS
Notice: We take part in the Amazon Associates Program and earn a small commission at no extra cost for you if you end up making a purchase. We only recommend products we are convinced of and use ourselves.