Last updated on August 19th, 2023.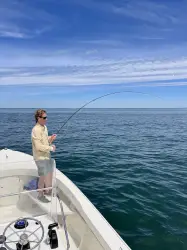 Latest posts by Leonard Schoenberger
(see all)
There's no question that fly fishing for carp has become a sought after activity for a lot of experienced and novice anglers in the US.
Carp are notorious for having a nasty attitude and are quite aggressive. However, you'd also be surprised to know that these fish were once called "trash fish".
 Why? Well, carp can be quite an affordable food option but because they have a pretty tuned up reproduction cycle, they would quickly repopulate the water. So much so that they had to be eliminated and were eventually discarded in different lakes and rivers all across the US. Hence the title "trash fish". 
The primary reason why carp fly fishing has made a full 360 is that they're an especially difficult fish to catch. Most anglers take it as a challenge and acknowledge their strength, agility, and ability to quickly swim away even at the slightest movement. Plus, once hooked, it can be frustrating to reel them in. This has lured in plenty of anglers who want to rise to the occasion and prove their mettle.  
Moreover, carp are known to be extremely cunning and have evolved into being overly cautious. This is why it's vital to understand what you're getting into. Luckily for you, this buying guide is all about learning about the fish and choosing the right fly rod for carp fishing.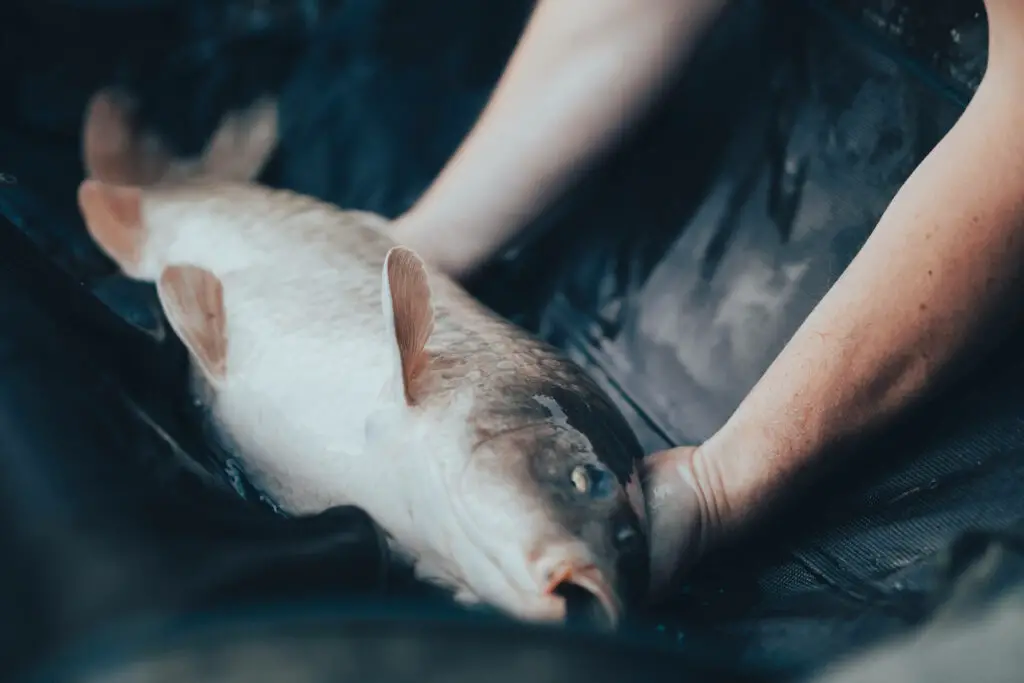 Characteristics that set Carp apart from Trout
Carp Feed Looking Down 
It's been observed that carp spend most of their time looking down while feeding which is in stark contrast to trout, which will always feed pointing towards the surface of the water. And you have to understand that you'll have to be patient because carp typically don't go for the bait that easily. 
They're the Definition of Paranoia 
Carp scare easily – and yes, even the slightest sound will cause them to pause for a microsecond and then quickly scurry away. This is why your boat shouldn't make any noise while fishing. You'll need ninja-like focus and balance to get the better of this species. On the other hand, you'd also be surprised to know that carp are known to have a keen sense of smell. So, if you've applied sunscreen before getting on the boat, get rid of the smell. 
Carp will always be more Patient than You 
Another huge way that carp differ from trout is the fact that carp are overly cautious before they approach the tippet. You'll have to make sure your fly rod for carp fishing is positioned close and low in the water. They're so cautious that they sense the slack in your line and will immediately spit it out if the fish senses any danger. The best way to not let that happen is to keep the tip as low as you can with a firm line on the tip to allow the carp to bite and hook itself on it.  
In addition, don't go for a hard hook because carps are bigger, especially when compared to trout. And believe it or not, they will fight to the end, breaking the aggressive hook right off. 
They're Heavy and Powerful
Despite what you might think, carp are quite big and have a lot of stamina. They'll try to unhook themselves for as long as it takes. So, this means you need to bring a slightly heavier fly rod – heavier than what you use for trout fishing. For example, a 6 to 8 weight fly rod for carp fishing will suffice. Don't forget to keep a rubber net handy so that as soon as you hook and reel the fish in, you can quickly drop it into the net.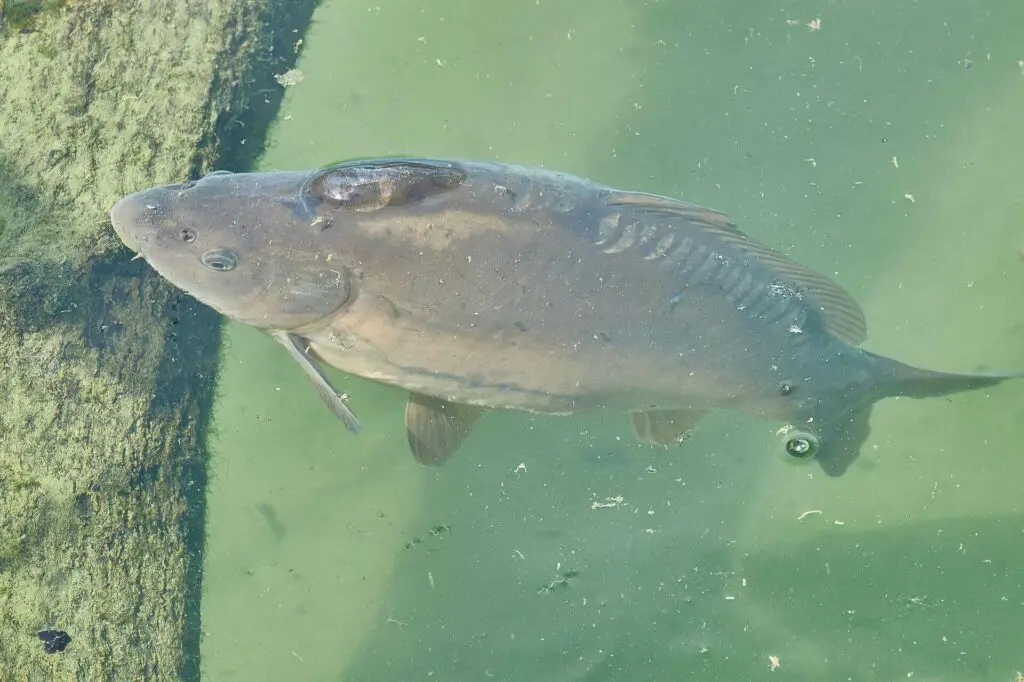 The Best Strategies to Catch Carp using a Dry Fly 
Only Cast a Line When you See the Carp Feeding Close to the Surface
There's no harm in playing coy with the carp but do remember that these fish scare pretty easily irrespective of whether it's suspended or not. Also, you need to keep in mind that an alert carp will also put the rest of the school on high alert 
Track the Bubbles in the Water 
The eating habits of carp and trout are the same – both fish will only eat from a place where there's food piling up – and once they start feeding, you'll see a series of bubble lines in the water. Follow them closely. You need to keep a bird's eye view on the carp, see how it's fed, its movement, etc. for a couple of minutes. Or you could wait until the carp decided to stay low or deep in the water. Only cast when the time is right, but that is easier said than done.
Cast your Line from a Stationary Position
Carps can feel the tiniest vibrations in the water and are also sensitive to sound. This means that they'll be alert as soon as you get on the boat – the sounds you will make are unavoidable. This is why you should cast a line from a stable position (preferably a shoreline).
Selecting a Fly Rod Fit to Catch the Aggressive Species
Choosing the Right Environment 
Carp are warm water fish, which means you'll find them merrily swimming around in the low and warm water conditions, where there's a lot of food. Your setting needs to be exactly in line with the carp's environment. With that being said, carp fishing will never entail huge castings because you won't have the space for backcasting.
Moreover, you won't have to worry about wind and the general weather conditions. This is why it's better to go for a medium-fast action fly rod for carp fishing, preferably a 7 weight. A 7 weight fly rod will enable you to case quickly and just as delicately, avoiding spooking the fish.  
However, if you're fishing for heavier and more aggressive carp from your boat, you'll need something slightly heavier and with fast-action capabilities. We would recommend going for an 8 wt rod because it's going to help you cast longer distances and will be sturdy and flexible enough to wrestle with the fish.
Use the Right Flies 
When it comes to effectively catching fish, you need to consider the diet of that particular fish – and carp is no different. However, what you need to know is that carps have a wide palette, they eat just about anything they can find. So, if you're using dry flies – for example, berry shaped floats, etc. you need to consider the weight of the fly rod. For carp, which scare easily, you need to go with a light fly rod to present heavier flies. 
Best Fly Rods for Carp Fishing at Different Price Points
Note: If you click one of the links and end up purchasing a product we earn a small commission at no extra cost for you. We only recommend products for purchase that we tested and believe in. Thanks for your support!
The Fenwick Aetos is an affordable, durable, and versatile fly rod that can be effectively used for both trout and carp fishing where you should go for a #8. The rod enables anglers to make long-distance casts, with an accurate performance at up to 60 feet. The fly rod comes with a topnotch, fast-action blank, specifically made for fast stroke anglers, offering enhanced lined speeds. Moreover, the Fenwick Aetos blank is fitted with a flexible tip, offering superior short distance casting performance. 
The Fenwick Aetos also comes with bigger stripping guides, which essentially help reduce unnecessary weight, boosting the overall versatility of the AETOS. Both snake and stripping guides consist of black thread wraps. The reel set is made with dual uplocking mechanisms and is made with anodized aluminum for long-lasting performance. 
Pros
Fast-action, high-performing blank made with quick stroking and enhanced line speeds
Gunsmoke stripping guides for weight shedding
Stripping guides are reinforced with black thread wraps
Dual-foot snake guides for enhanced shooting capabilities
Cons
Not for veteran anglers
When it comes to sheer performance and versatility, there's nothing better than the Douglas DXF, especially considering it's a mid-tier production. You won't find anything like it, especially in this price range, in the market. The DXF comes in practically all types of fly rod models manufactured by Douglas – from two-handed fly rods to nymph and one-handed trout rods. The best thing about the Douglas DXF is the fact it combines the power of blank taper innovation with fast-action rod casting and power.
The Douglas DXF features multi-modulus blanks coupled with different rod tapers, which is what makes the fly rod for carp fishing that much more flexible, lighter, and well-optimized for long-distance casting.
Pros
Multi-modulus blank for enhanced versatility 
Models in the lightweight category are designed for enhanced presentations
Heavy models are designed for sheer power and long-distance casting
Stripping guides are made from SIC hard chrome
Uplocking reel seat made from anodized aluminum
Cons
Expensive
The Orvis Helios 3F has two variants with specific capabilities. One is made for casting over long distances and the other is made for superior handling and experience. The Orvis Helios 3F is designed with superior sensitivity for fishermen looking to catch carp at both long and mid-level distances.
This fly rod for carp fishing is made with excellent components and innovation and is great for anglers that prefer using a dry fly for carp fishing. If you want flexibility, power, and a great experience, there's nothing better than the Orvis Helios 3F. 
Pros
Blank is made using the cutting-edge Helios 3 tech, making the rod accurate from a different position and at short and larger distances
Vibration dampening features
Titanium stripping guides
REC recoil snake guides
Carbon insert reel seat made from anodized aluminum
Cons
Very expensive
The Thomas and Thomas Zone is an absolute masterpiece when it comes to fly rods for carp. Although it's pretty expensive the rod comes with a slew of excellent features and indifferent performance variations such as fast-action (for saltwater fishing) and medium-fast action. The Zone is built for accurate casting, has superior handling, and is quite fun to cast.
The Thomas and Thomas Zone features a natural finish, which further boosts the structural superiority of the blank, allowing anglers to cast in different fishing conditions and situations. The Zone comes with cutting-edge StratoTherm Resin technology (patented by T&T) providing anglers with quick response and recovery. Plus, it's excellent for carp fishing as it comes with vibration dampening components. 
Pros
Natural finishing
Cutting-edge StratoTherm resin to make the rod deadly precise 
Vibration dampening characteristics
Power long-distance casting
Zirconium insert for titanium stripping guides
Cons
Pricey
Not for beginners
The Winston Saltwater Air is designed for nothing but power and flexibility. It has consistent recovery speeds along with a durable, lightweight body for increased strength and performance. The Air is made for anglers looking for quick casting experience and short handling.
However, the real magic is in the rod's capability for long-distance casting, which makes it good for bonefish, carp, trout, etc. You can easily cast at distances exceeding 60 feet. Moreover, the Winston Saltwater Air comes integrated with the company's Boron III technology.
Pros
Superior rod strength thanks to the company's Boron III tech and Super Silica resin
Durable and powerful (Boron is stronger than steel)
Nanolite stripping guides (chrome)
The double uplocking reel seat
Graphite rod tube
Cons
Expensive
Not for novice anglers
The Scott Centric is a new edition of fly rods designed for both quick recovery and sheer power and performance. The company recently ended up manufacturing their popular Radian edition with Centric. The new fly rod for carp fishing is designed with fast-action features and is specifically suited for freshwater fishing. The rod is excellent for anglers looking for fast casting and quick strokes. 
The Scott Centric comes with the company's proprietary ReAct tech and innovation, which helps drastically minimize the rod's vibrations, maximizing its rate of recovery. These features are a result of a powerful blend of both ReAct and X-Core rod designs, which consist of durable and high-quality components and tapers.  
Pros
Vibration dampening (the fly rod is built with the company's ReAct tech)
Multi-modulus blank for increased flexibility and stiffness
Arc 2 and Fiberfuse technology for extreme durability body
Titanium stripping guides
Micarta inserted reel seat with uplocking 
Cons
Not for novice anglers
The G. Loomis Asquith is an extraordinary fly rod for carp fishing and features a blend of the best componentry and technology in the market. It's safe to say that the Asquith is perhaps the most advanced fly rod available for experienced and competitive anglers alike. The fly rod comes in both 4 and 6 weight categories and is also available in heavier categories for big game and aggressive fish, like carp. 
The G. Loomis Asquith is built-in with Spiral-X tech from Shimano and is the only product that uses this technology. Spiral X tech makes the rod infinitely lighter without compromising on power and performance. 
Pros
Designed in partnership with Shimano's Spiral-X technology 
Fuji (SIC) titanium stripping guides
Highly durable
Bamboo reel seat with custom design
Cons
Not for beginners
Very expensive
Bottom Line on the Best Fly Rod for Carp Fishing
So there you have it – some of the best fly rods for carp fishing in different price ranges. However,  what works for you will depend on your requirements and personal preference. All of the products mentioned are almost high-end fly rods. This is why it's important to first assess the fishing environment and situation before deciding on investing in a carp fly rod. 
Frequently Asked Questions
Is the fly rod weight an important factor to consider?
Yes, it certainly is. Carp are particularly large and aggressive fish, especially compared to trout. Moreover, once carp get their feeding frenzy on, they will likely not stick to one place but wander everywhere. This is why you must first hone in on the right feeding spot. Moreover, the weight of the fly rod will also depend on the depth of the water.  A 6-w fly rod for carp fishing will suffice.
What is the best time to fish for carp?
The best time to hunt for carp is during summer (from June to August) as these are particular hotter and drier months. The heat of the sun is sufficient enough to warm ponds and smaller river arms, and that's when carp come out to feed.
Note: If you click one of the links and end up purchasing a product we earn a small commission at no extra cost for you. We only recommend products for purchase that we tested and believe in. Thanks for your support!