The last thing you want is your essential gear to get wet.
That's why you need a waterproof fly fishing backpack. Imagine yourself in a remote place on a long planned trip somewhere in the wilderness. What is the last thing you need out here? Worries about your gear being kept dry. The solution is a waterproof fly fishing backpack that you can haul anywhere. Everything inside will stay dry even when fully submerged. This is crucial if you want to bring a camera or other electronic equipment along on a trip.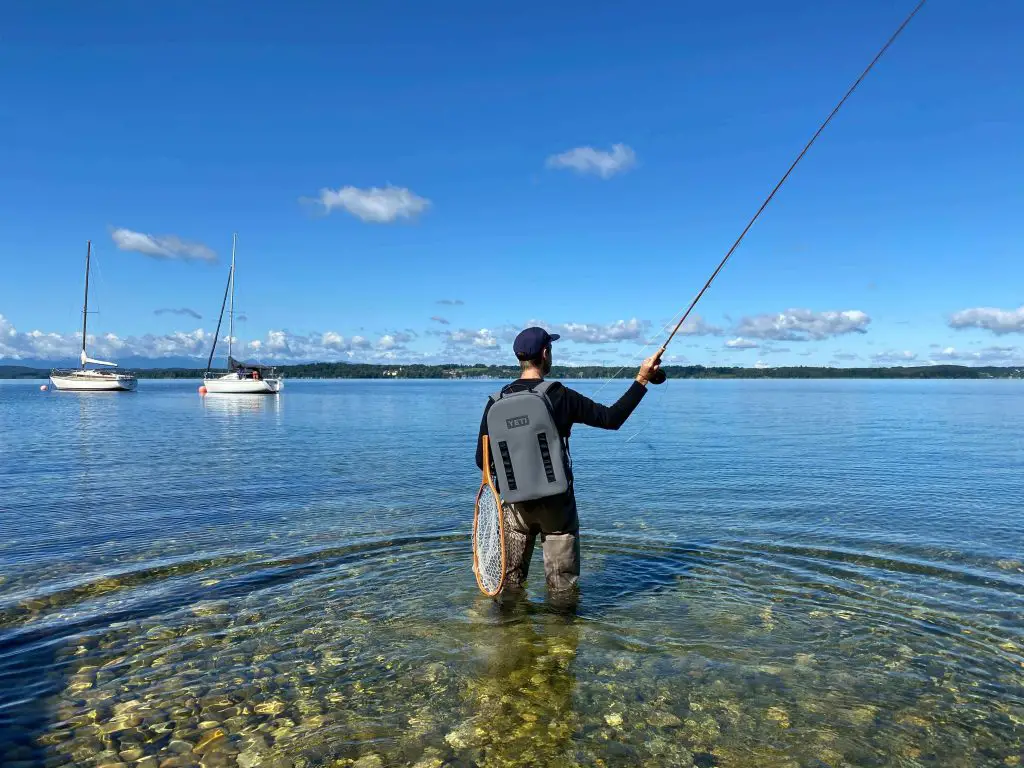 In this review we want to show you three options for great quality products that have different strengths and weaknesses. We will take a look at the:
Why we Chose these Three Waterproof Backpacks
Of course there are other manufacturers out there producing waterproof backpacks. We chose these three for a couple of reasons: they are all fully submersible featuring the T-Zip zippers that have proven incredibly durable over the years. They have different shapes and sizes giving you a choice to select your preferred type of backpack.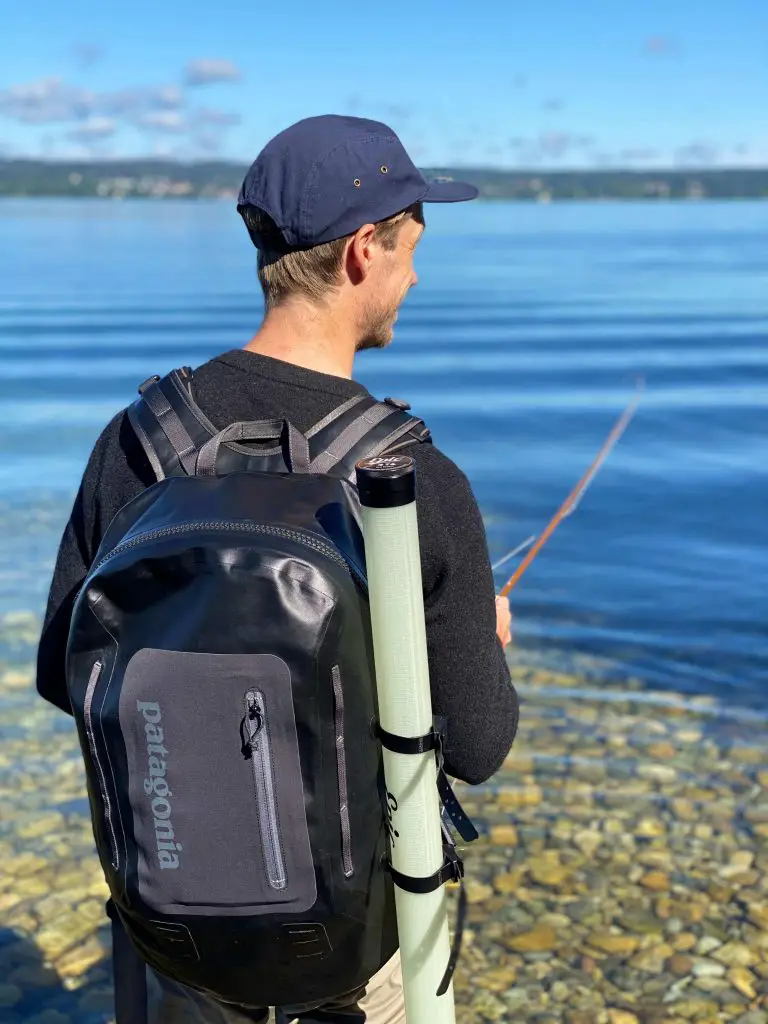 All three brands have proven over and over again how durable their products are. No, they ain't cheap but the products will last a very long time making them possibly cheaper than buying several backpacks within the same timespan.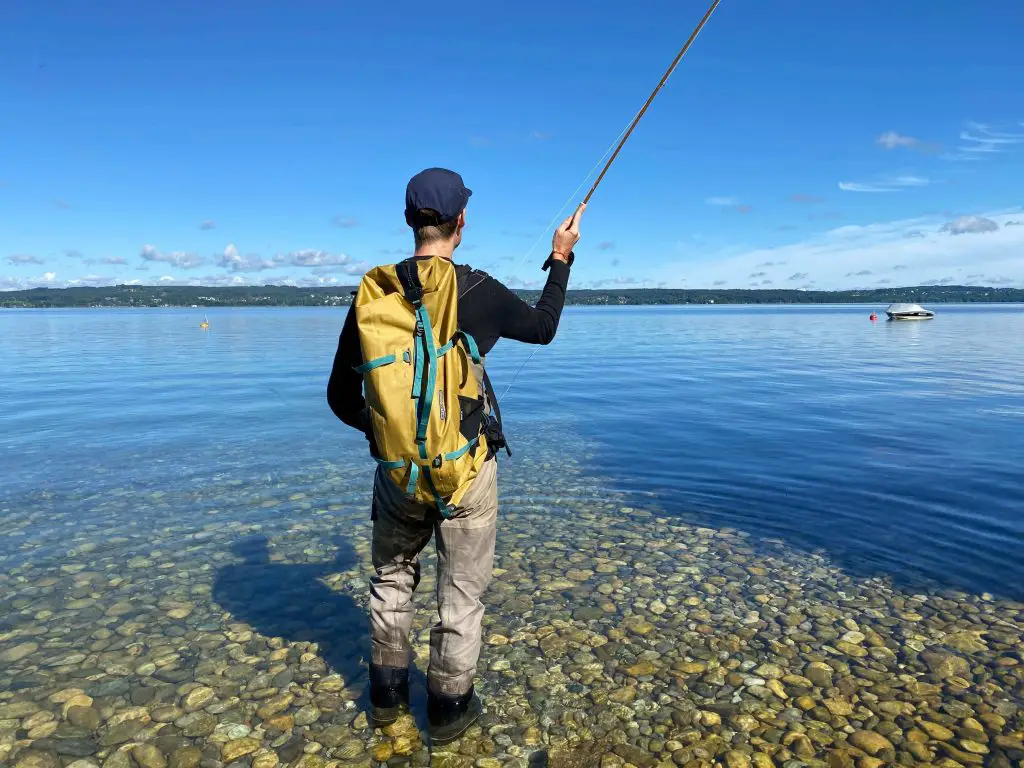 Yeti Panga 28 Fly Fishing Backpack
American brand Yeti has made a big name for themselves in the industry in recent years. They have gained a huge fan base amongst outdoor lovers, in particular for their great coolers. But their bags are not less impressive and are used by fly fishing guides all around the globe. Why is that?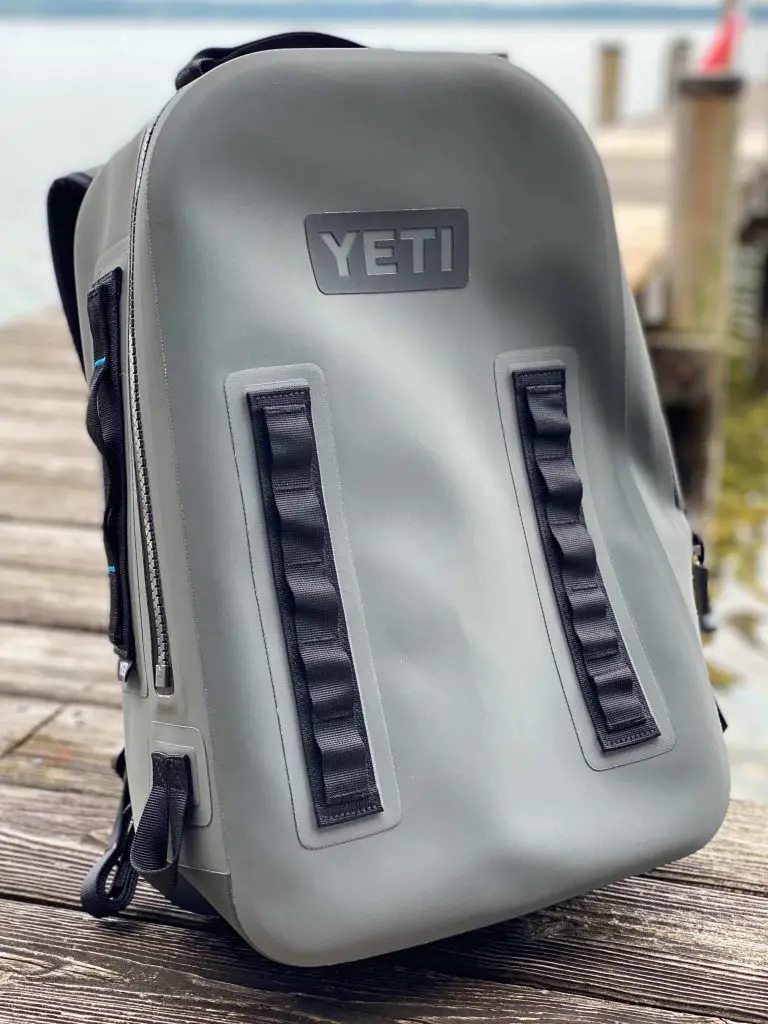 The Yeti Panga focuses on the essentials. Its shape seems a bit bulky at first but the upside of this design is the huge space inside the backpack. Yeti calls the shell fabric "Thickskin Shell" – rightly so. The material almost feels like an elephant skin and is extremely durable. It is highly puncture and abrasion resistant so you can literally haul it anywhere in the wild.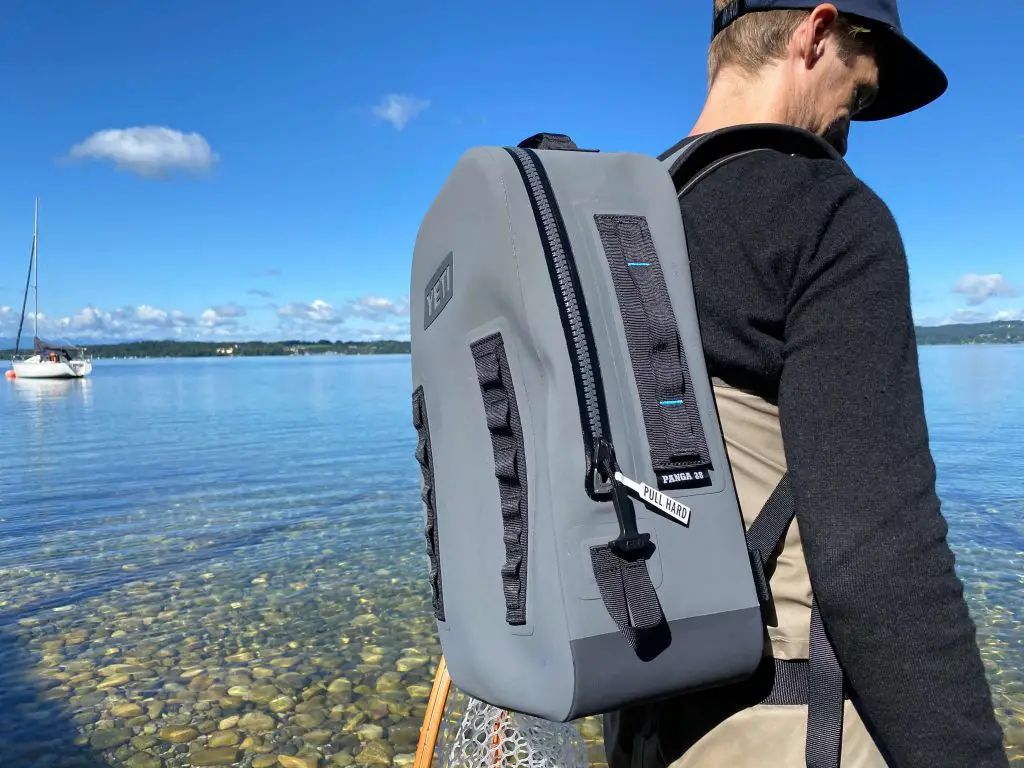 In combination with the HYDROLOK Zipper the Yeti Panga 28 is guaranteed to keep your gear bone dry. To understand how tough the zipper is, Yeti added a little note to the handle reading "pull hard". If you've never used such a waterproof zipper before you will be surprised how hard you have to pull indeed.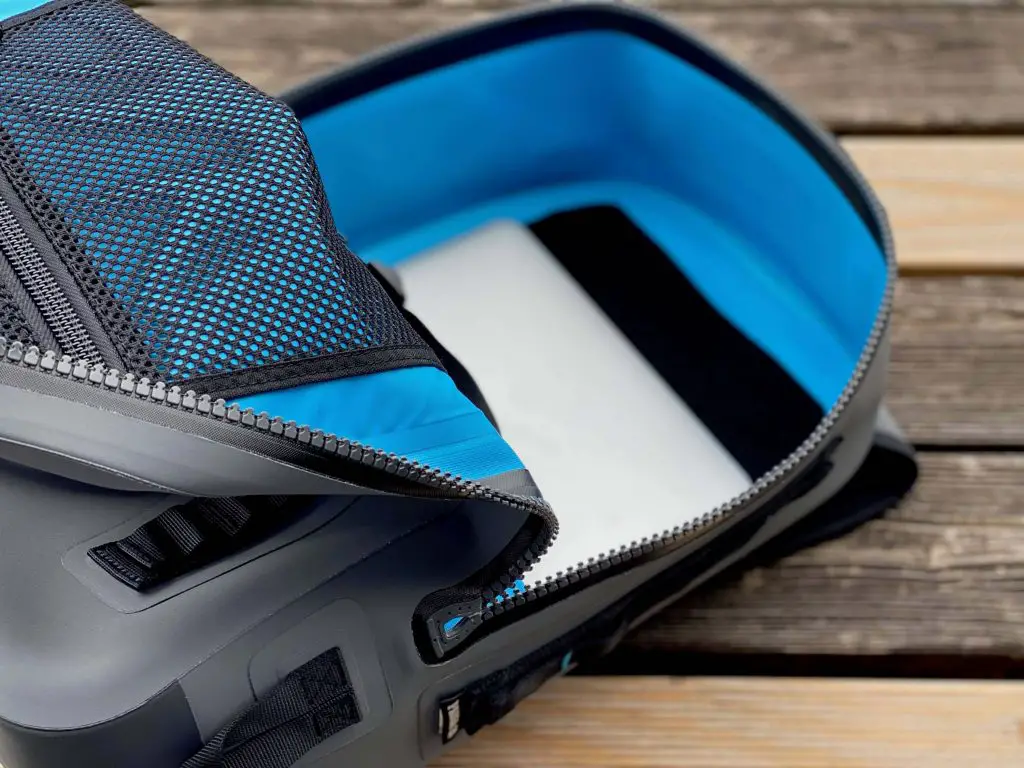 The inside of the Yeti Panga 28 fly fishing backpack is just as simple as the outside. It features a laptop sleeve pocket that can hold a 15″ laptop. You can tell that professionals rely on the Yeti Panga when they absolutely need to make sure their gear is safe from rain and moisture. A small mesh pocket inside can be used to store essentials such as a fishing license.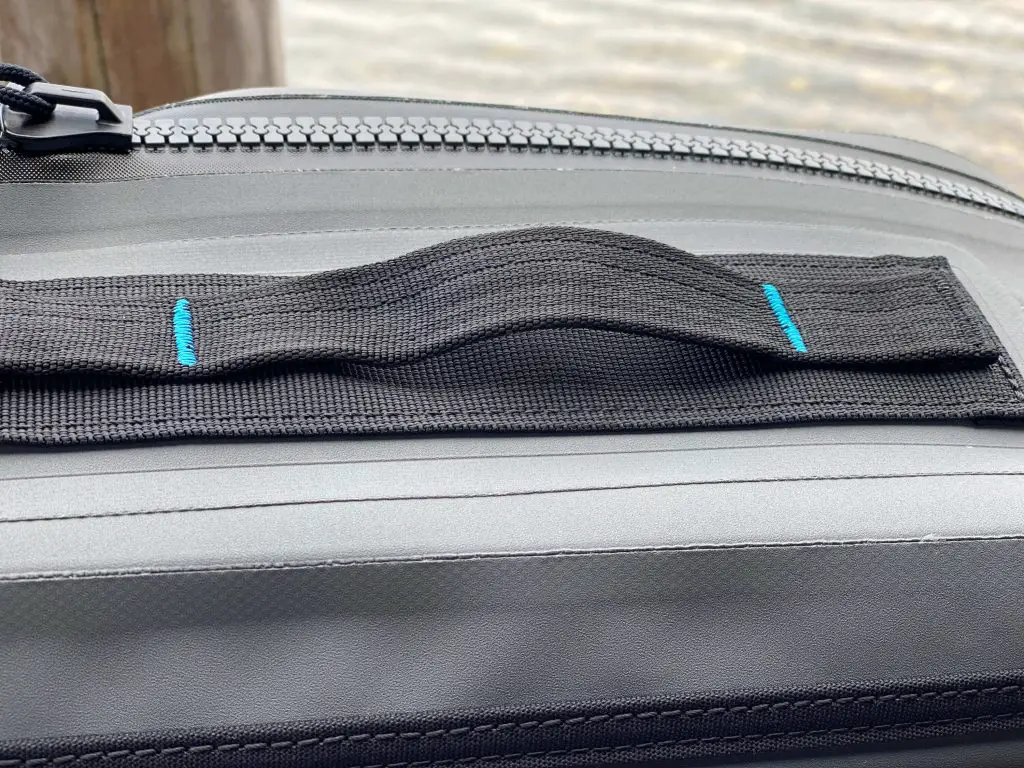 On the outside the Yeti Panga 28 features a number of loops to attach extra gear such as a landing net for example. On the top and side of the backpack are handles that make the backpack easy to carry around when not worn on your back.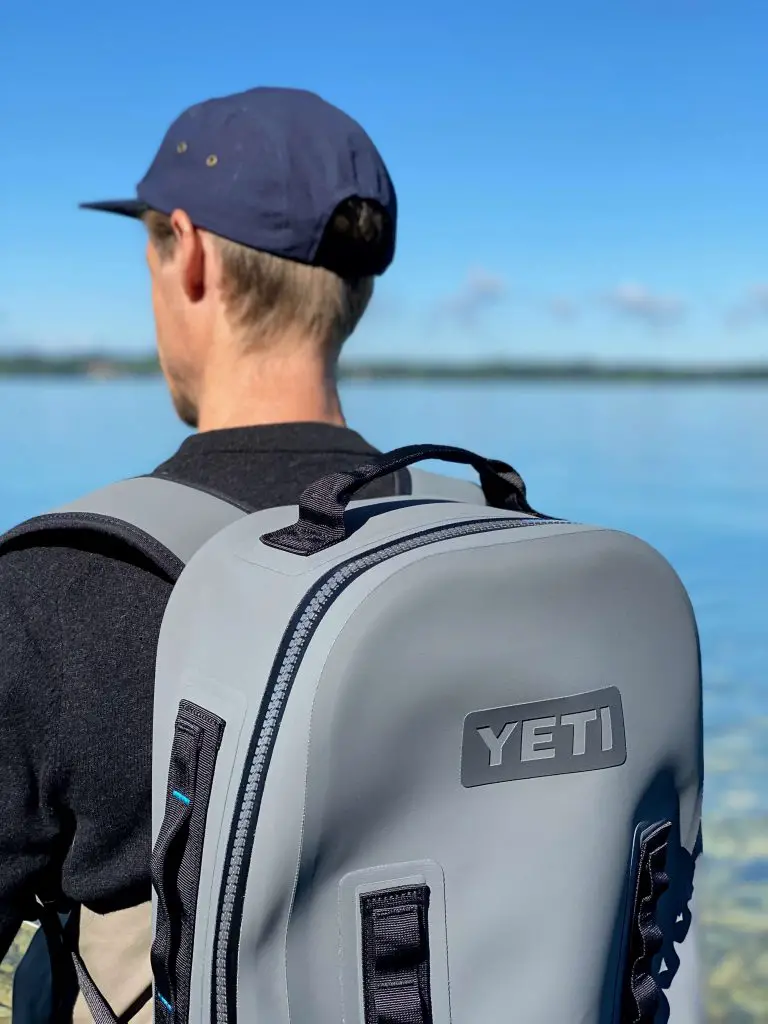 The wide DryHaul shoulder straps make the Yeti Panga 28 very comfortable to wear even after hours on the water. If you need extra support there is a removable waist belt and chest strap.
Verdict: Yeti Panga 28 Fly Fishing Backpack
The Yeti Panga 28 is a great option if you want a large waterproof backpack that can hold a lot of gear. It is the right choice for professionals who want to bring electronic gear such as a camera or laptop on a trip. Due to its rock solid construction it is a piece of equipment that will last you a long time. For smaller people it can be a bit bulky when wearing it while casting. Overall an excellent choice.
Patagonia Stormfront Pack 30l
The Patagonia Stormfront Pack 30l has become a classic fly fishing backpack over the past years. It has undergone small iterations that make it a top waterproof backpack.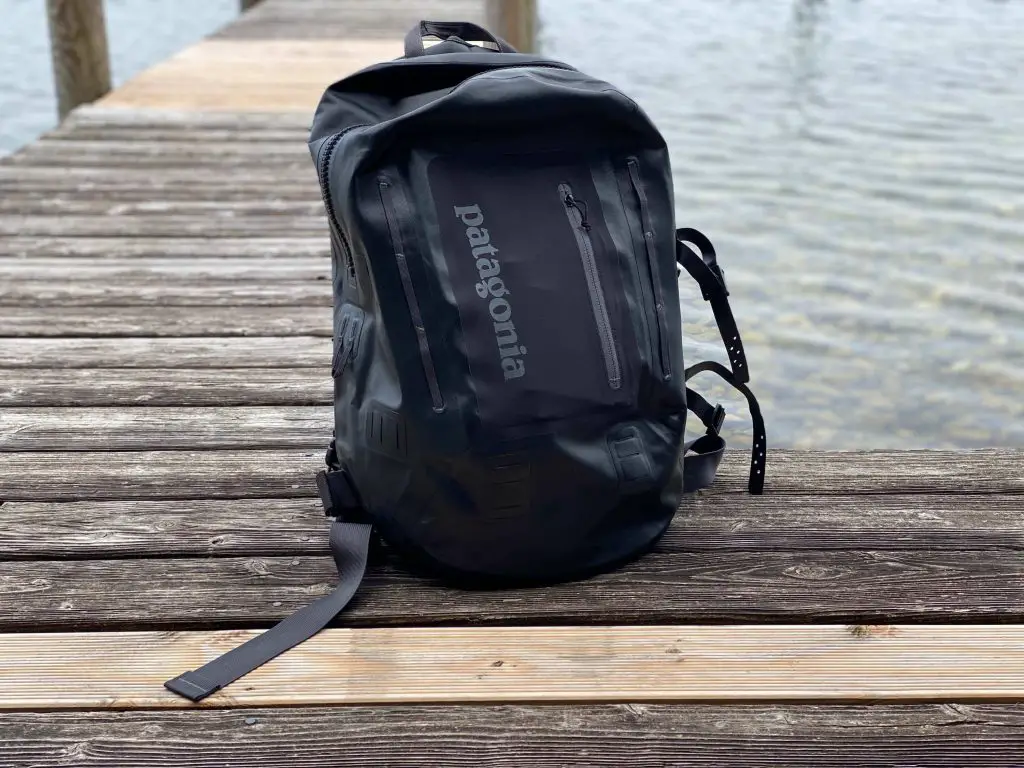 Its shape is a bit rounder and less stiff than the YETI Panga 28. This makes it a bit more comfortable and less bulky to wear. Just like the YETI the Patagonia Stormfront 30l is made of a tough fabric that features a combination of nylon and a TPU coating making it 100% waterproof and fully submersible. The TIZIP Zipper is as sturdy as they come and guarantees that your valuables inside stay dry.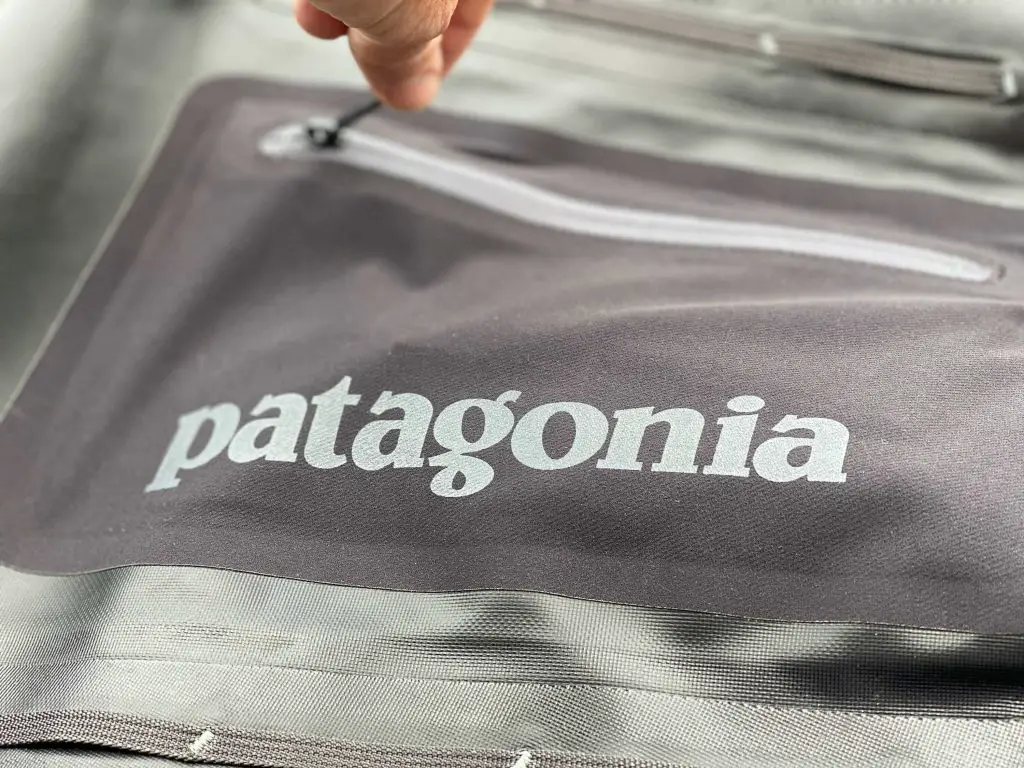 In comparison to the other two models we tested the Patagonia Stormfront 30l Pack is the only one with a small exterior pocket. It is not waterproof but comes in handy to store small items such as a fishing license, a smartphone or car keys.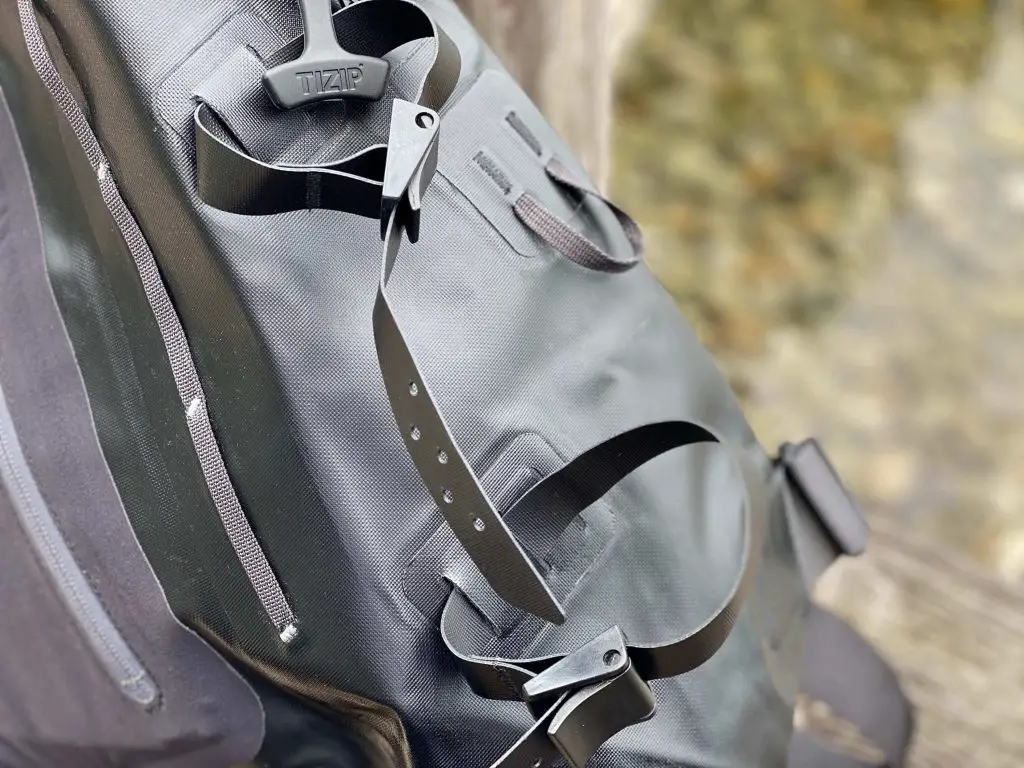 On the side of the backpack the Patagonia Stormfront 30l Pack features two webbing loops that allow you to attach a rod tube – a very nice feature and a standalone on top.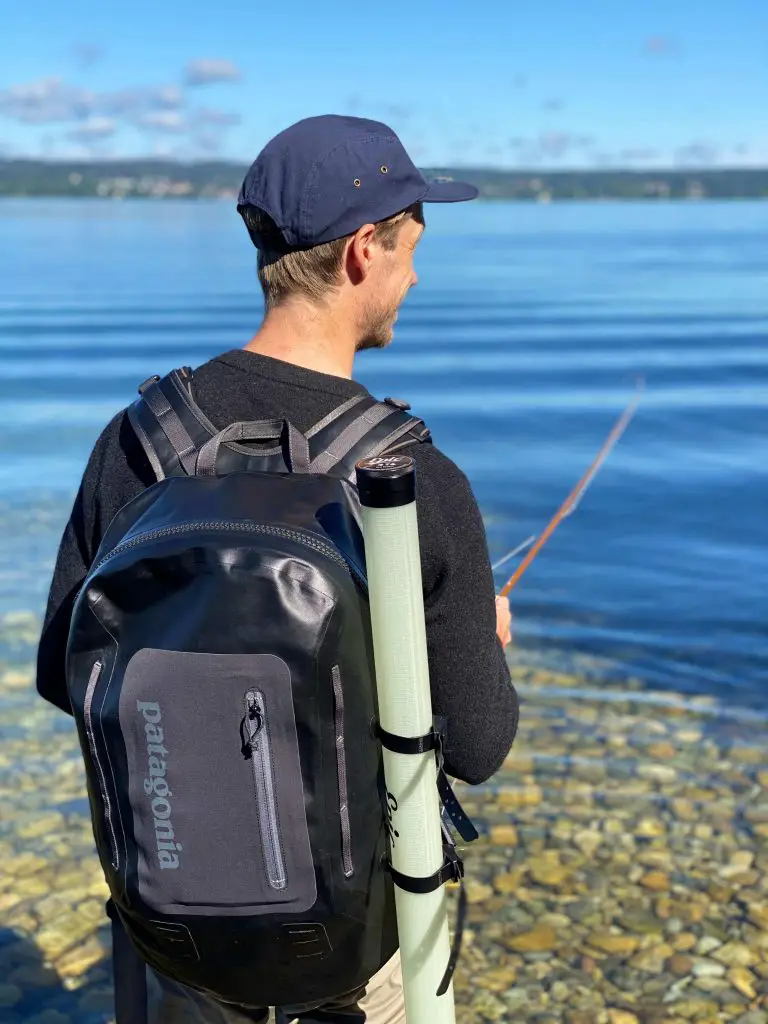 Besides the webbing loops the Patagonia Stormfront waterproof backpack features additional loops on its frontside where you can attach additional gear.
The inside of the Patagonia Stormfront 30l Pack is kept simple like the YETI. There is a mesh pocket that can store essentials like a car key, fishing license, smartphone or wallet. Everything else goes into the one big compartment.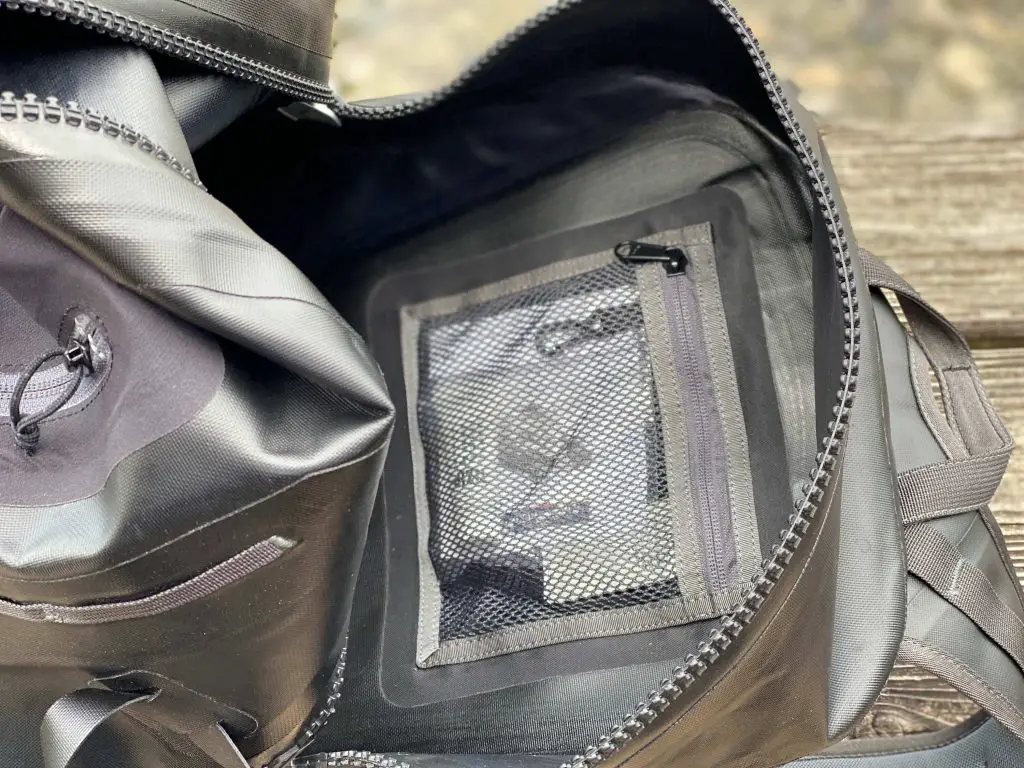 The straps of the Patagonia Stormfront 30l Pack are comfortable and wide enough to distribute the weight. Wearing the waterproof backpack all day is not tiring. The Patagonia Stormfront feels a bit smaller than the YETI overall which is also due to its less bulky shape. This makes it easier to bring along in a duffle bag for example since its pack size is smaller.
Verdict: Patagonia Stormfront 30l Fly Fishing Backpack
The Patagonia Stormfront 30l Waterproof Backpack has been made for fly fishermen and women. Besides its incredible sturdiness we love the webbing rings to attach a rod tube and the handy small outside pocket for easy access. At this level of product quality it's the small things that make the difference. The Patagonia Stormfront 30l Pack is also a great choice for women thanks to its smaller silhouette. Comes in black and grey.
Ortlieb Atrack Waterproof Fly Fishing Backpack
At this year's ISPO (the world's biggest sports fair in Munich, Germany) we strolled by the booth of Ortlieb, the famous manufacturer of waterproof bike bags. I have always been a fan of their long lasting products. When taking a closer look the Atrack caught my eye.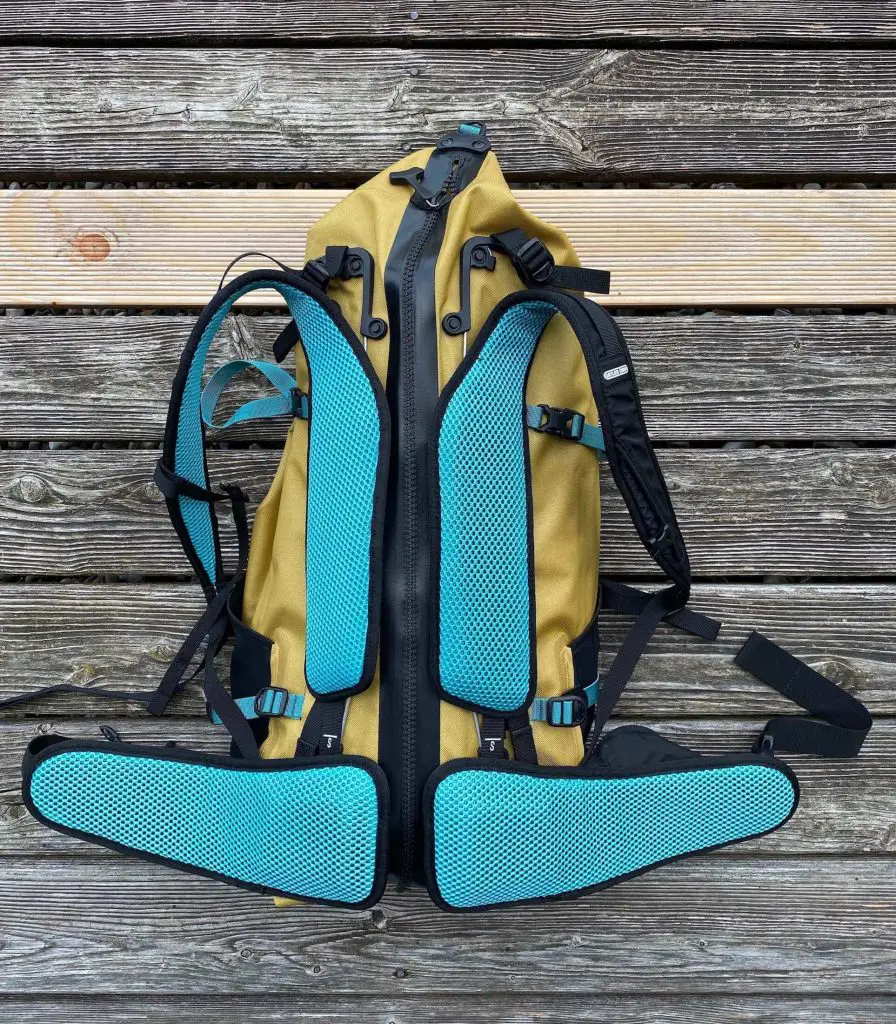 It is the first waterproof backpack that opens like a travel bag taking a completely different approach than conventional backpacks. It makes accessing gear deep down in the backpack a lot easier.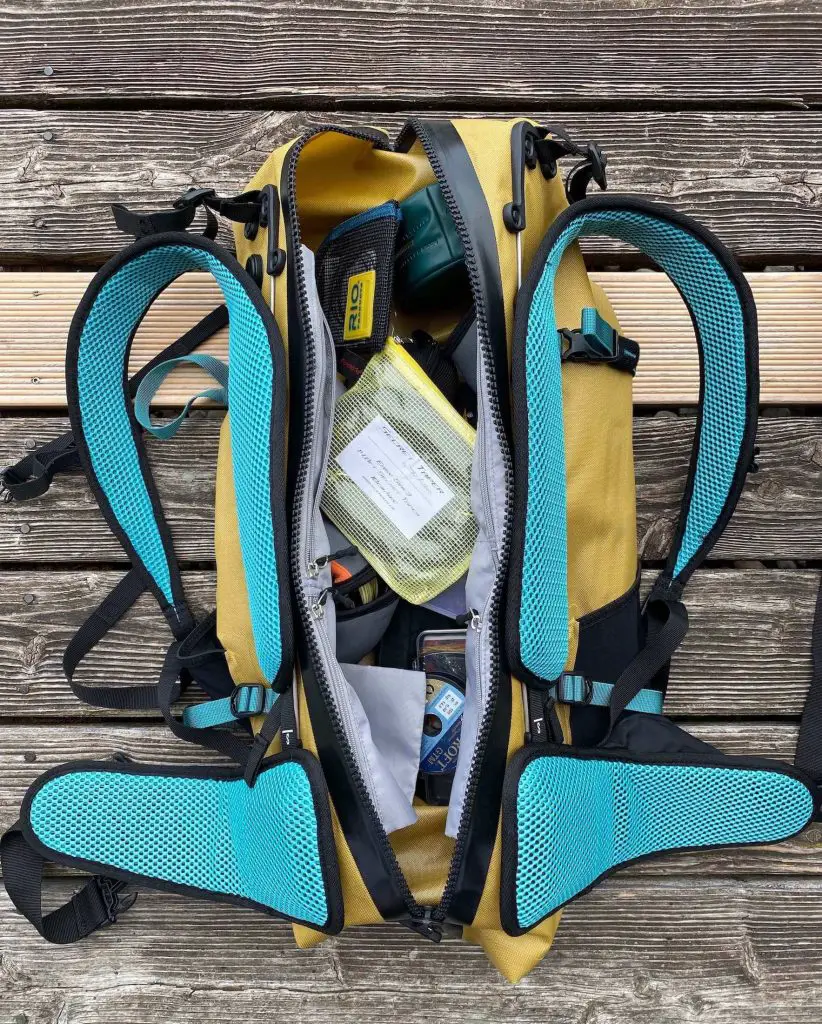 Besides the different access system with a number of zippered pockets inside, the Atrack features a great shoulder and waist strap system making it the most comfortable to wear.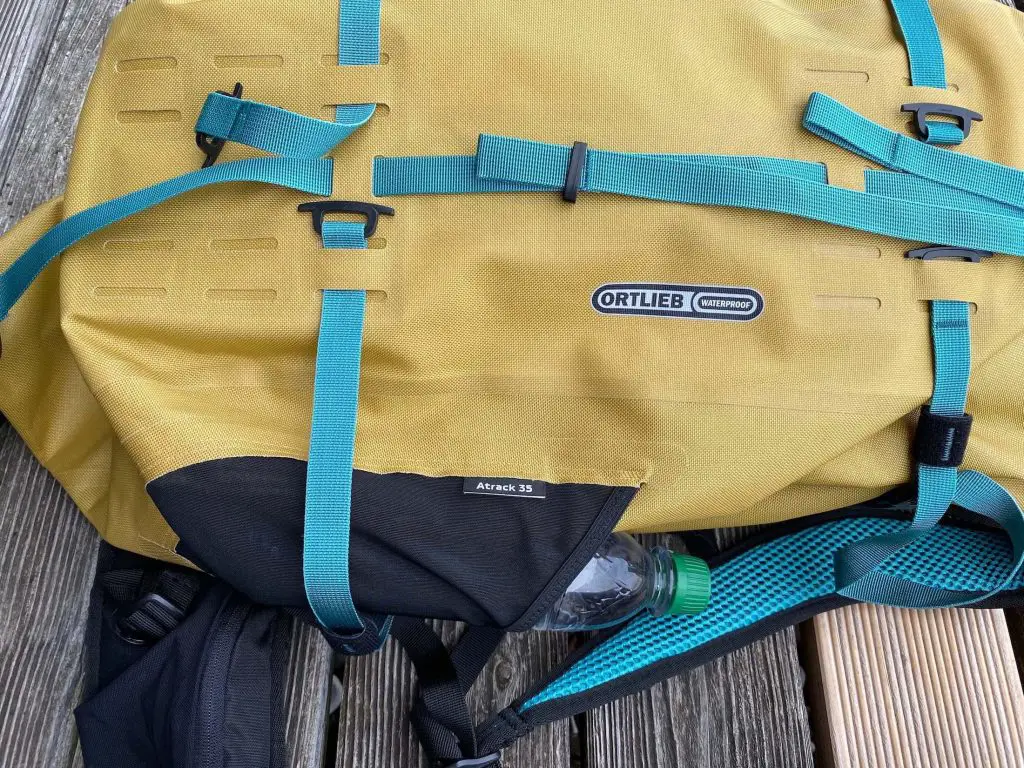 The Atrack boasts a number of outside pockets that are very thought through. A bottle holder on the side, and zippered pockets on the outside of the waist straps to store essentials. These pockets are not waterproof of course but provide easy access to things like a car key, a wallet or smartphone.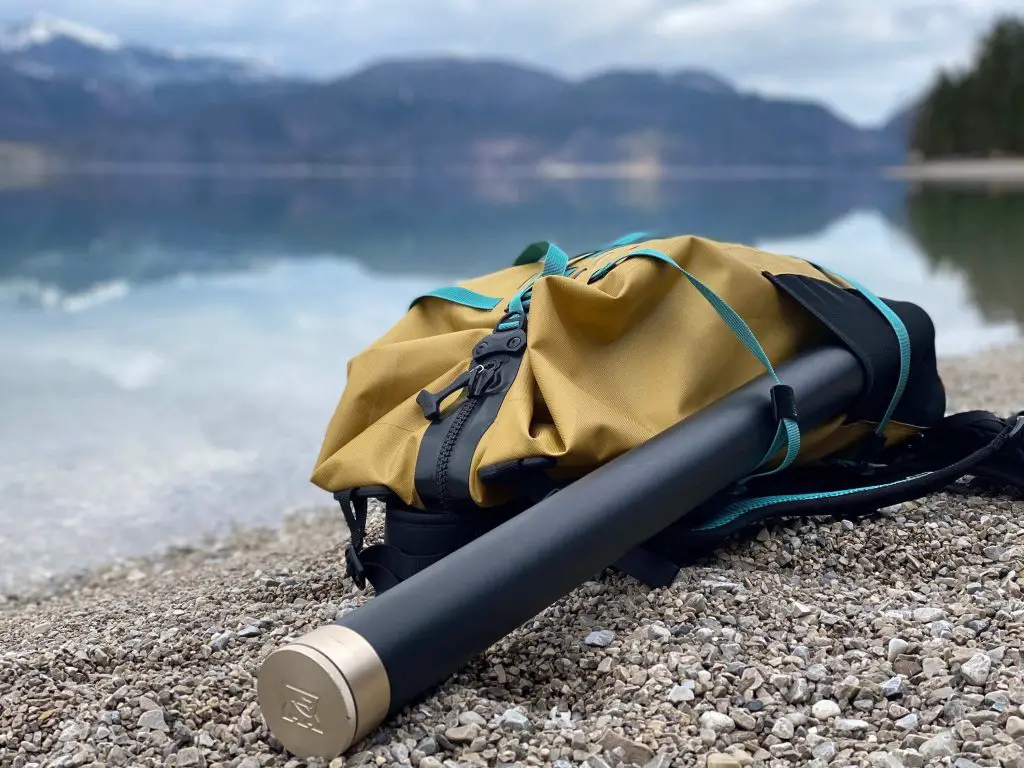 The Ortlieb Atrack was not specifically designed for fly fishing. It features a number of straps that make attaching gear very easy. If you like skitouring in the winter the Atrack is a great choice since you can attach your skis using the strap system. The padded shoulder straps make it a fantastic overall backpack choice for various activities.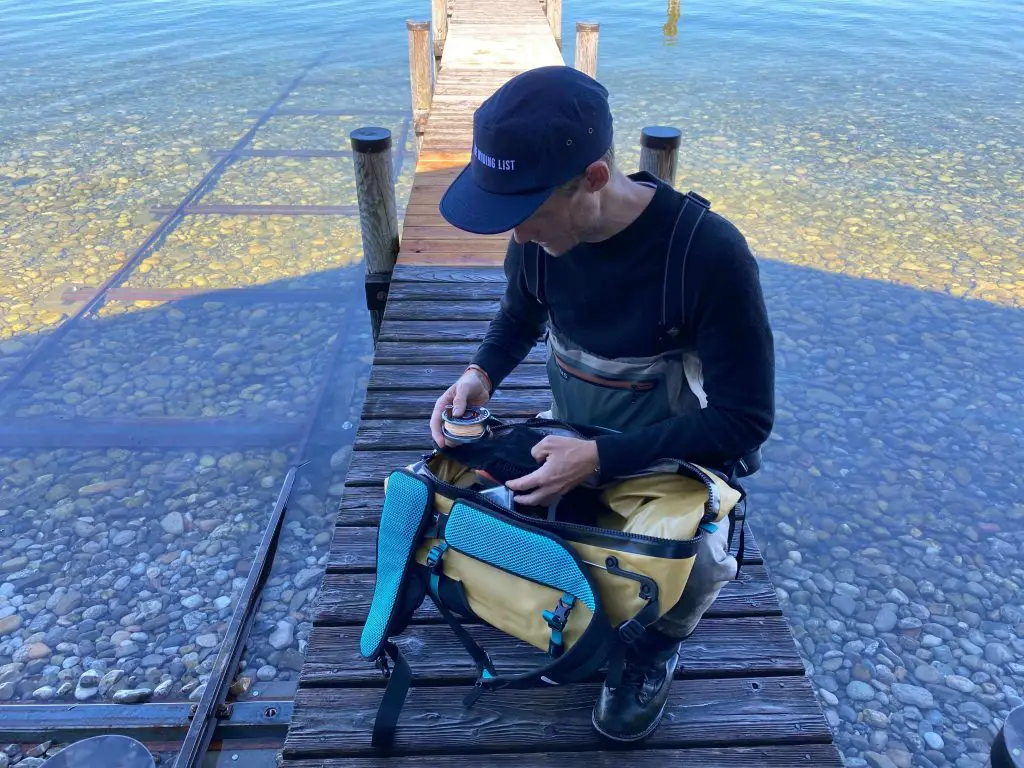 The fabric of the Ortlieb Atrack consists of PVC-free nylon that does not feel as sturdy as the YETI and Patagonia at first glance but the products of Ortlieb are unimpeachable and have stood the test of the toughest conditions around the world. Combined with the TIZIP zipper the Atrack is 100% waterproof.
Verdict: Ortlieb Atrack 35l Waterproof Backpack
The Ortlieb Atrack is a great choice for outdoor lovers that want to make sure their gear stays 100% dry. I am a big fan of multiple use items hence I love the versatility of the Atrack. The revolutionary access system is great for a weekend trip for example. The Atrack's fabric feels softer than YETI's and Patagonia's and hence is a bit more comfortable to wear. The Atrack is available in three different sizes and colors.