Last updated on September 4th, 2023.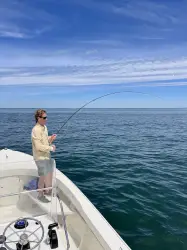 Latest posts by Leonard Schoenberger
(see all)
Many anglers around the globe consider catching salmon the pinnacle of fly fishing.
The Atlantic Salmon is often termed the "King of Fish". For centuries it has attracted fly fishermen and women to travel to remote rivers in search of the mighty silver bars. The wild rivers of Scotland such as the Tay, the Spey or the Dee where the spey technique (fishing with two handed rods) originated have attracted British upper class to hunt this elusive species.
They didn't stop there but started to explore other countries famous for Atlantic Salmon such as Norway, Iceland or Canada to name only a few. To catch an Atlantic Salmon you need endurance most of all. It can take days or even weeks to convince a fish to take your fly. Why they can occasionally be fooled is still not known. Some assume they go for a fly out of a reflex or territorial behavior. Others think they can get annoyed by a fly swinging by them when they are holding in a pool on their exhausting journey up the mighty rivers to spawn.
Another appeal of fly fishing for salmon certainly is the amazing landscape the fishing takes place in. Envision remote places in Northern Scandinavia, Canada or amongst the vulcanos of Iceland. The same holds true for other sought after types of salmon, such as Pacific salmon or King salmon. The one thing all these beautiful fish have in common in their strength. They won't give up without a fight once you've managed to hook into one of them. Hence you need a strong rod and reel that can handle their power. In order to make it easier for you to pick a rod that will suit you, we've compiled this big guide of the best salmon fly rod.
To facilitate your decision making, we have broken this guide down into three sections: first we'll take a look at some of the best double-handed fly rods for salmon on the market. Next up will be a comparison of some of the best single-hand rods for salmon and last but not least we'll take a look at fly rod combos for salmon. These are the best choice if you are a little inexperienced in picking the right equipment and want to make sure you're rod and reel will work together properly.
Overview of Salmon Fly Rods
A salmon setup can get a little complicated when you're just starting out. To make it easier for you, here is the essential difference between fishing for salmon with one two handed-rods vs. single-handed rods.
Double-Handed Rods: Spey Casting
Fishing with double-handed rods originated on the big rivers of Scotland such as the river Spey (hence the name spey casting). The idea behind it was the to cover a lot of water by swinging flies for salmon. This means you cast your line across and a little downstream and then let the current do the rest. This way the fly swings by the salmon holding in the river and ideally prompts them to strike.
Spey casting is done using double-handed rods in the 12ft to 15ft range using shooting heads. Compared to a single-handed rods where a lot of casting is done overhead (apart from the roll cast) , double-handed techniques use waterborne casts a lot. In this review we'll focus on travel fly rods for salmon that most often come in 6 pieces as double handed ones. We have grown fond of these rods since they can pack into a big suitcase and hence make travelling a lot easier than having to bring a rod case as an extra piece of luggage.
Single Hand Rods
The other type of fly rod that is commonly used to catch salmon on a fly is a single hand rod in the #9 range. This means it's a strong rod that can handle fish of 25+ lbs. A single hand rod is a good choice if the river you're fishing is smaller and you don't have to cast too far. Another use case for these rods is fishing from a boat or canoe for example. The rods are fished with integrated fly lines or even shooting heads, depending on your preference.
Now that you know the basic differences between double-handed and single-handed rods for salmon fishing, we can dive right into the review of the best salmon fly rod of 2023.
Notice: We use affiliate marketing in this article. This means we might earn a small commission at no extra cost to you if you click on one of the links provided in this article and end up purchasing a rod. We never get paid for a review and only recommend products we use and are convinced of ourselves. Thanks!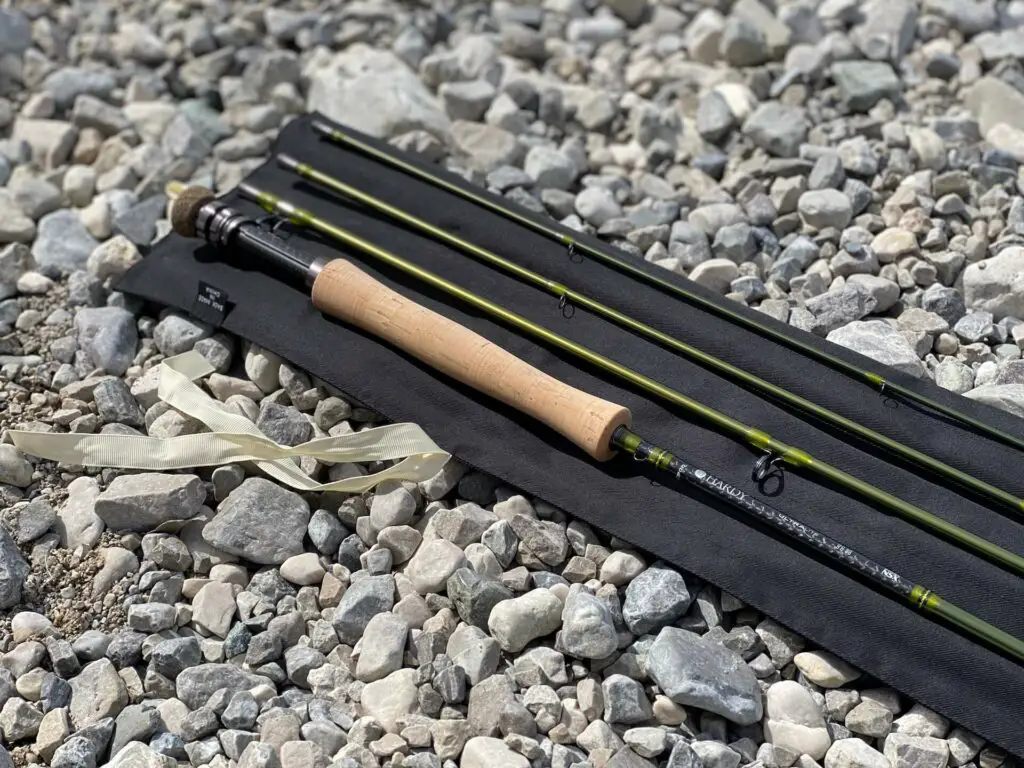 Best Fly Rods for Salmon Fishing

For years Loop has been one of the crowd's favorites when it comes to salmon fly rods. During the pandemic when global travel came to a halt, the brand used the slow down to create a new salmon fly rod series focused on travelling once it would be possible again. The result is the Loop ZT Travel, a series of multi-piece rods that perfectly matches strength and lightness. With its blue design details it also stands out amongst more traditional salmon fly rods.
The Loop ZT Travel is available in five unique models that are truly a showstopper, exceling each other which makes it hard to choose from all of them. The lineup starts with a 12'2″ #6 which is the way to good if you are looking for a delicate presentation and mostly fish smaller rivers and grilse runs for example. The 13'2″ #8 is a great allrounder that we used on bigger Norwegian rivers and had no problems with covering big distances. If you are looking for the strongest rod to catch the biggest salmon, go for the 15'0″ version as this one will take on any challenge.
GET IT AT ZEFIX (if you're in Europe)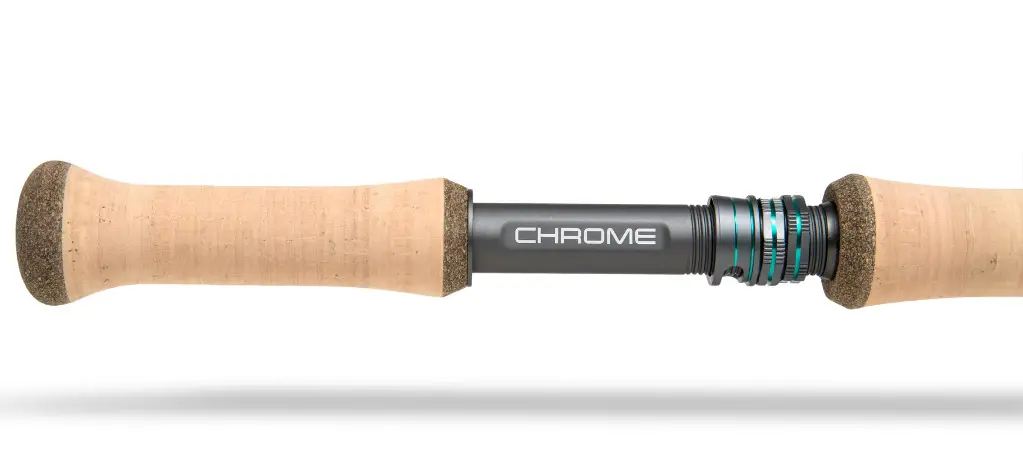 The Guideline LPX Chrome T pack is another great and very versatile salmon travel fly rod that comes in six pieces and different weight and line class options. If you've fished in Scandinavia before, you surely have come across Guideline. The brand has garnered many fans amongst fly fishermen and women across the continent for their high quality products and a good price point.
Salmon fishing is ingrained in Guideline's DNA and the new Guideline LPX Chrome T pack is a masterpiece when it comes to salmon fly rods. We got our hands on the 12'9″ #8/9 version and loved its power combined with a very smooth taper design. If you are looking for an allrounder that can handle basically any situation you'll face when out salmon fishing, you can't go wrong with the Guideline LPX Chrome T pack. Just like the Loop ZT Travel, the Guideline comes in various different sizing options ranging from a 12'3″ #6/7 for smaller rivers and flies all the way up to a 14'9″ if you plan on fishing the biggest and widest salmon rivers of Norway such as the Alta for example.
The Hardy Ultralite NSX Spey works perfectly under a two handed set up as it truly fits "two hands are better than one" perfectly. The traditional brand from the UK has acquired many fans amongst the salmon community and also steelheaders are liking the Hardy Ultralite NSX Spey.
Just as with the Loop and Guideline rods, you can choose from a variety of different lengths and weight classes if you go for the Hardy Ultralite NSX Spey. A highlight of their lineup certainly is the #10/11 that measures in at a mighty 16ft. This is the go to rod if you know the salmon river you're fishing is wide and holds the biggest of fish. If you're looking for a good allrounder, go for the 13'6″ as a #8/9.
Two handed spey
Medium to fast speed action
Suitable for all kinds of rivers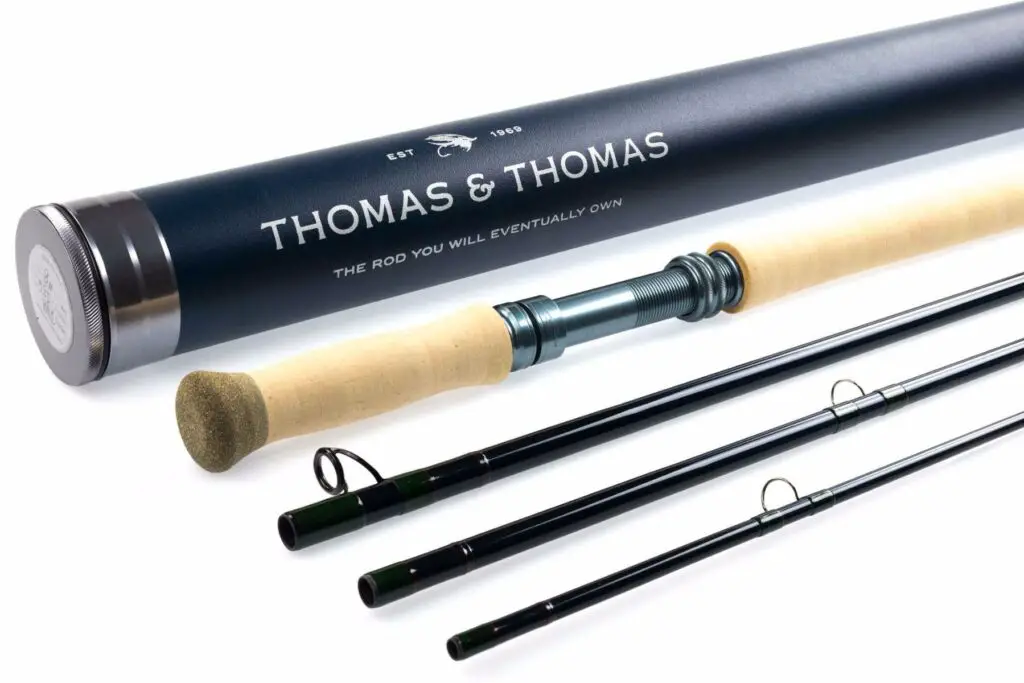 If you're looking for a high-end spey rod to take on Atlantic and Pacific Salmon around the globe, make sure to check out the Thomas and Thomas Spey. The American manufacturer has made a name for itself to build some of the finest and most reliable fly rods on the planet. The Thomas and Thomas Spey is no exception to this rule.
Available in multiple sizes ranging from a #5 (great for sea run brown trout and smaller steelhead rivers as well) all the way up to a #10 (15ft), the lineup includes the right double handed fly rod for salmon for any fly fisherman or woman. Made from the best components such as Fuji stripping guides, Aluminum reel seats and rod tubes, the Thomas and Thomas Spey provides everything you looking for in a high end salmon rod. Comes with a lifetime warranty.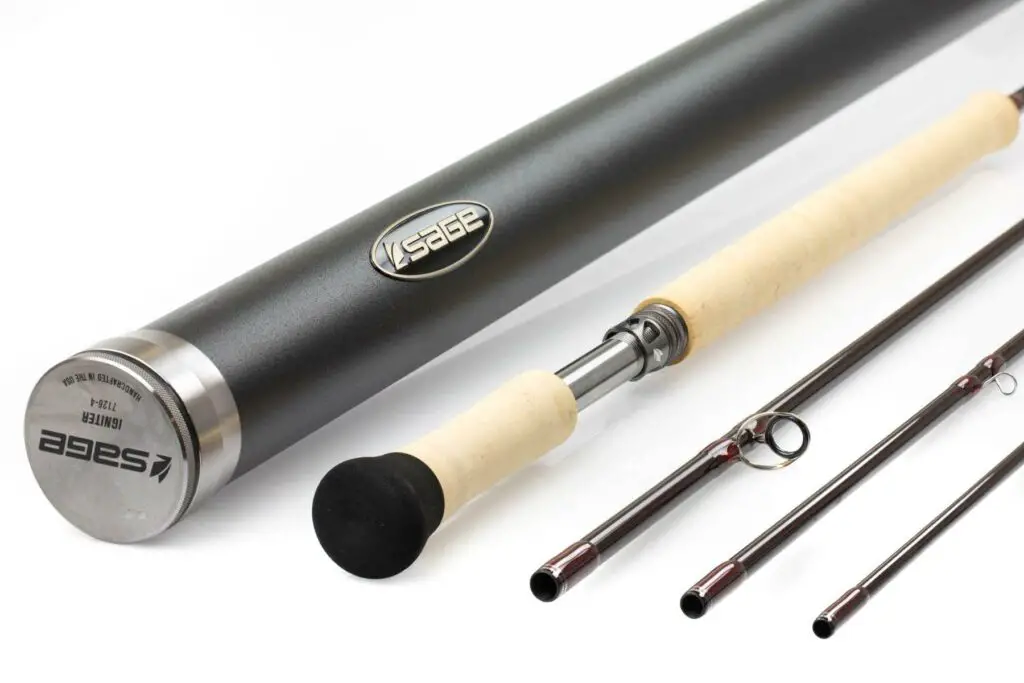 An extra fast-action rod made in the USA: introducing the Sage Igniter Spey. These rods have incredible loading power, making them the perfect companion for any kind of double-handed fishing, no matter if it's happening in freshwater or in saltwater. Made from the best components, the Sage Igniter Spey features the brand's KonnecticHD technology that ensures a great energy transfer throughout the entire cast.
You'll have a hard time finding a Spey Rod that can cast tighter loops and create more line speed. Weight options ranging from #5 to #10. Just like the Thomas and Thomas, the Sage Igniter Spey comes with a lifetime warranty for the original owner.
Powder Coated Aluminum Rod Tube
Lifetime Warranty
KonneticHD Technology
Downlocking with Gunmetal Anodized Aluminum
Ultra-Light Hard Chromed Snake Guides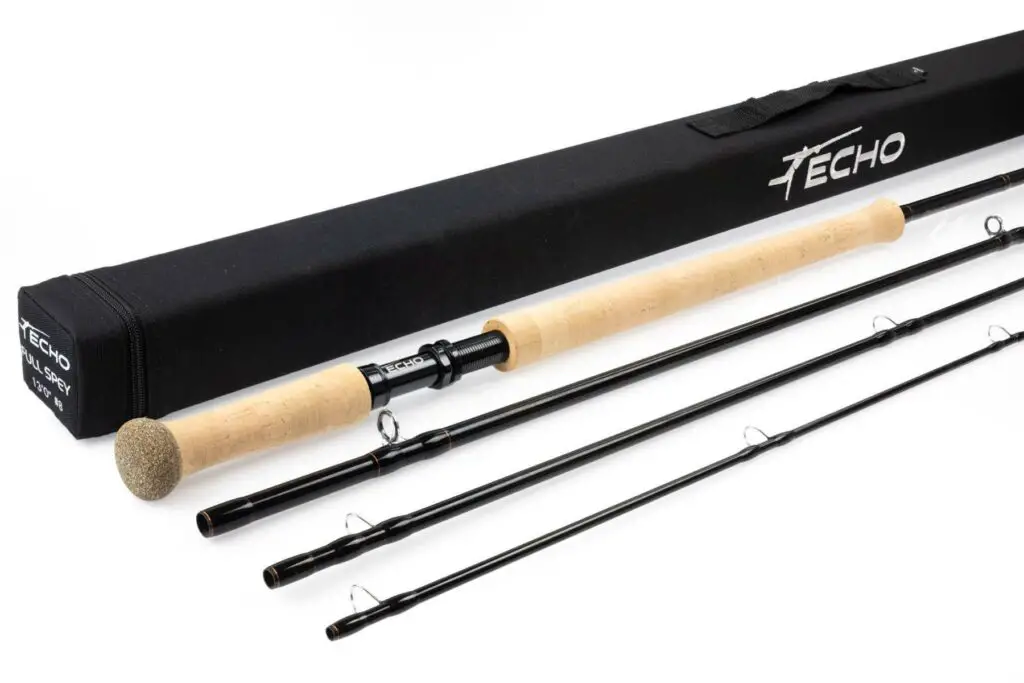 Rajeff Sports have released an allrounder, versatile series that are jaw dropping and absolutely fantastic. Introducing the Echo Full Spey series that have three unique models – a 13' 6wt, 13' 7wt, and a 13' 8wt. A rod of 13′ is a great allrounder that will be able to cover almost any fishing situation you might encounter.
Just like its more expensive competitors, the Echo Full Spey features high-end components such as a reel seat made from anodised aluminum. The lightweight rods are a delight to cast and are a great choice for fly fishermen looking for solid performance at half the price of many of the premium manufacturers.
Lightweight High-Modulus Blank
SiC Stripping Guides
Anodized Aluminum
Fabric-Covered Rod Tube
Medium rod action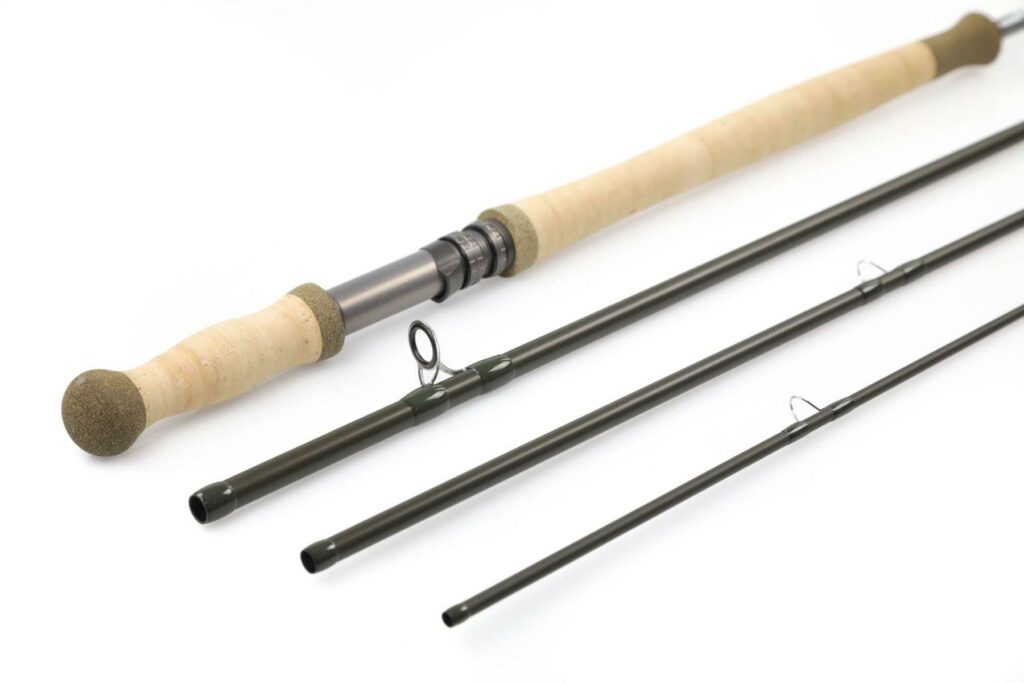 The Orvis Mission Spey is designed especially for beginners as these rods are well made and highly versatile in its usage. Built with Helios 3 Technology, Orvis Mission rods present a medium-fast action blank and cater to a variety of casting styles. Its features include:
Type III Anodized Aluminum with Double Downlocking Component
Aluminum Rod Tube
25-year guarantee
Single Hand Salmon Fly Rods
If you have never fished with a two-handed rod or are intimated by the thought of swinging a fly rod of 13′ or more, don't worry, you can surely catch your first salmon on a single-handed rod. Here are a few options to choose from.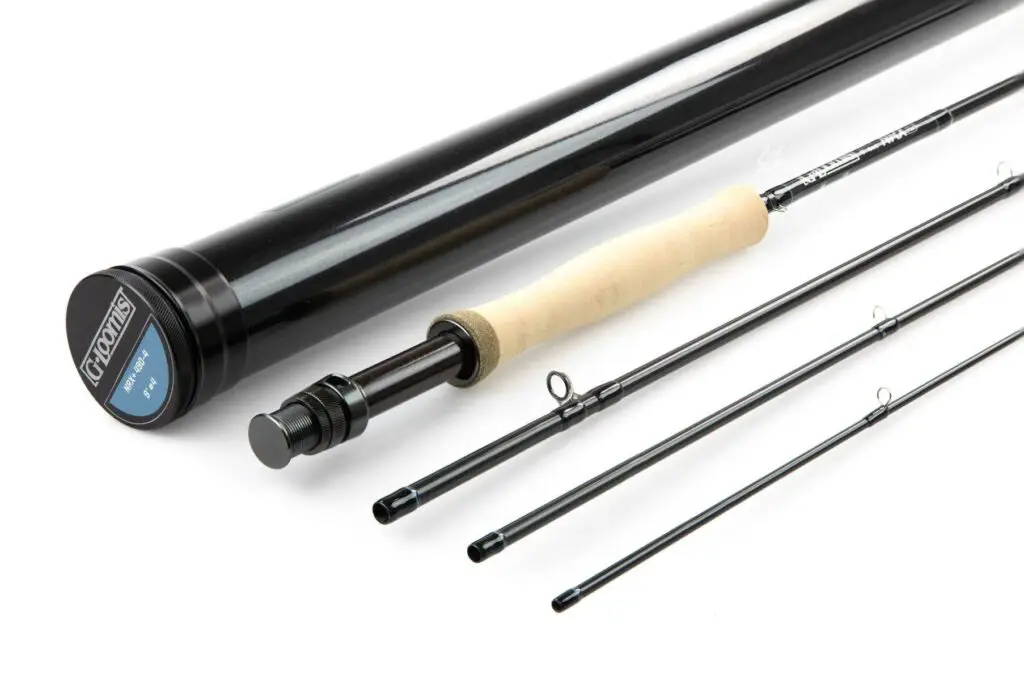 You will have a hard time to find a better, more powerful single had rod to pursue strong predators with than the G. Loomis NRX+ Freshwater. Featuring G.Loomis' Mega Modulus# graphite matrix, these rods have incredible stamina and can handle even the biggest fish with confidence.
Titanium stripping guides, custom reel seats, lifetime warranty – you name it – the G. Loomis NRX+ Freshwater has it all. Go for the #8 (10ft) if you are after salmon but also keen on pursuing other species such as big bass, pike or musky.
Double Uplocking with Custom Reel Seat
Aluminum Rod Tube
Xpeditor Service
Fast Action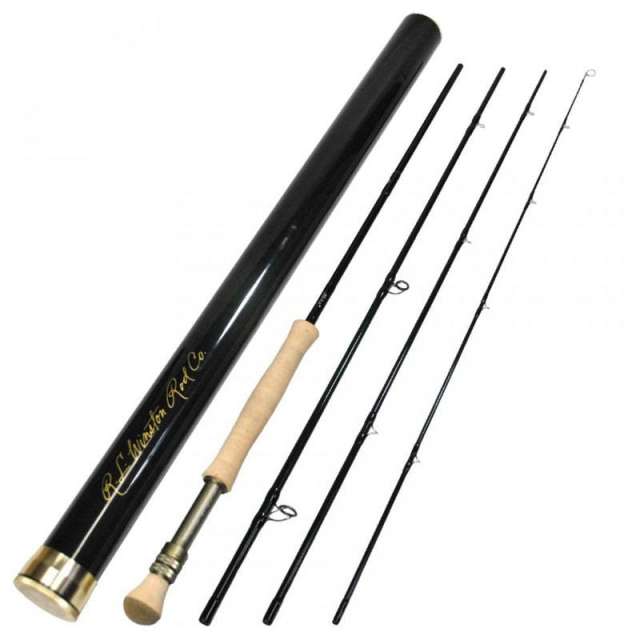 The extra fast action of the Winston Alpha + makes it easy to cast big flies and reel in big fish. The strong butt section helps handling strong salmon with confidence – a crucial characteristic of a quality salmon rod as anybody knows who has fought a big salmon – they don't give up without a fight.
Winston's Boron technology has taken the combination of strength and lightweight to another level. This also helps when salmon fishing since you often have to do a lot of casting to catch one of these illusive fish. Everything on the Winston Alpha + is top notch as you would expect from the American manufacturer. The lifetime warranty rounds-off this list of great features.
Boron/Graphite Composite Materials
Premium Graphite Rod Tube
Lifetime Warranty
Chrome Nanolite Stripping Guide
Hard Chrome Over-Sized Snake Guides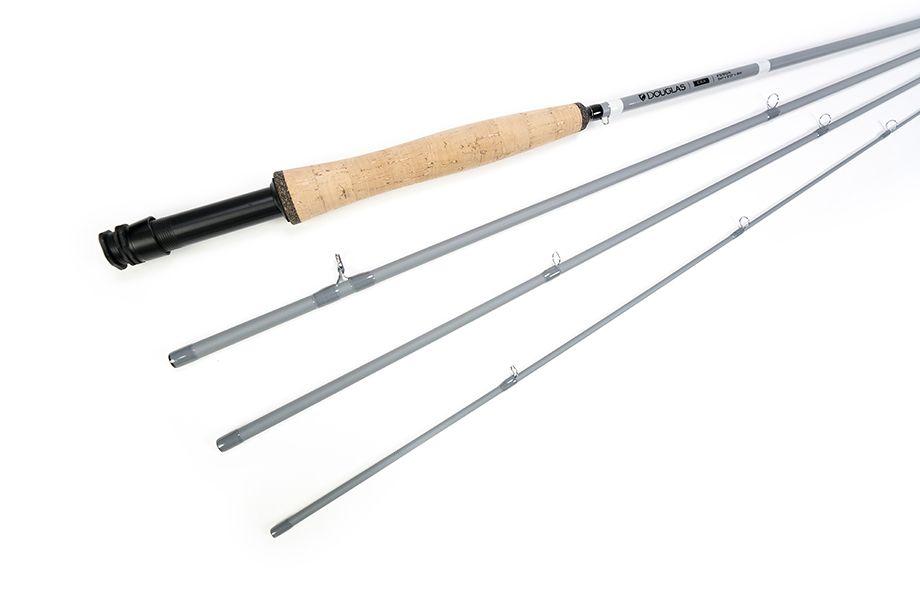 The pocket friendly Douglas Era is a great single-handed fly rod for salmon if you are just getting started with this exciting species. Great thing is that you can use it for other big predators such as pike, carp or musky as well. The NY-based brand has made a name for itself with its already legendary Sky G series that is considered by many to be one of the best trout fly rods on the planet.
The Douglas Era is quite light weight yet delivers quite a fast action parallel to its reliable precision and accuracy. At only $169, the Douglas Era even come with a lifetime warranty. A great entry-level rod that also makes for a great fly fishing gift.
Graphite Blank
Cordura rod tube with an integrated rod sleeve
Best for: Dry flies, Wet flies, Streamers and Nymphs
Fast Action
Salmon Fly Rods and Reels
Picking the right setup for salmon fishing can be a little intimidating at times. If you want to make sure your rod and reel work together nicely, you can opt for a salmon fly rod combo. These sets consisting of salmon fly rods and reels have been put together by expert anglers and will certainly work the way you want them to.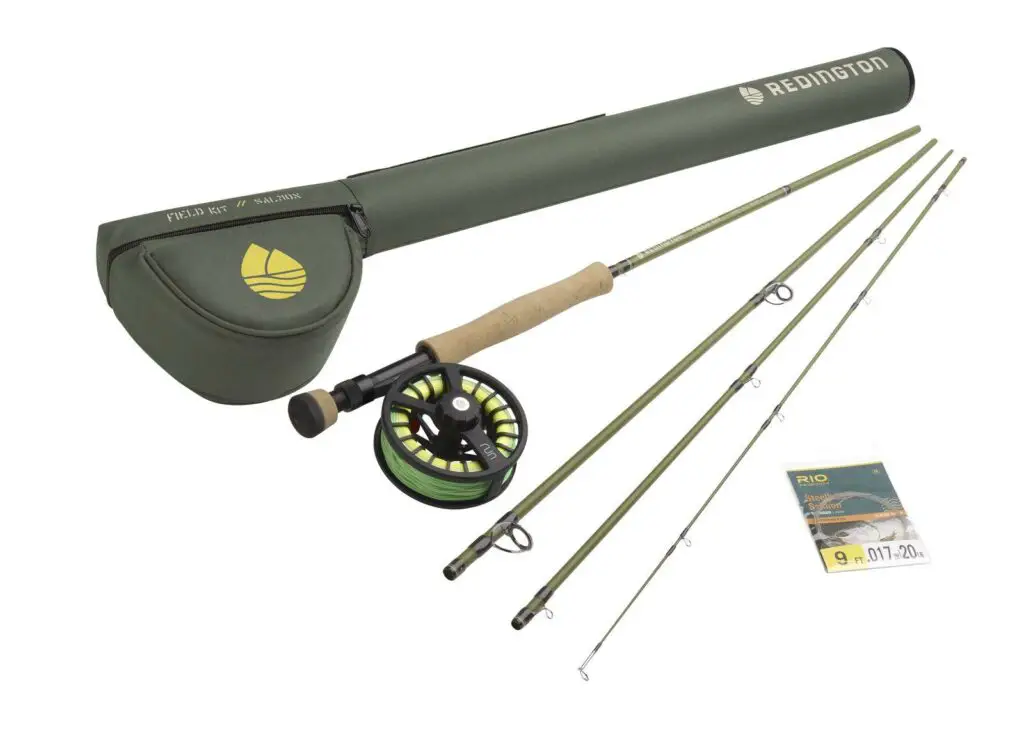 The Redington Salmon Field Kit is a great option if you're just starting out as a salmon fisherman. It's medium-fast action is forgiving and will make sure your first casts with heavier lines and bigger flies will work out. Paired with a Redington RUN reel and a high-quality fly line from RIO, this set will catch fish. It even comes with a 9ft leader, so everything you have to do is tie on a fly and you're ready to catch your first salmon.
Easy casting medium-fast action
9-foot length for optimal performance
Durable anodized aluminum reel seat
RIO Products 9' 20lb STEELHEAD/SALMON TAPERED LEADER
Cordura Carrying Case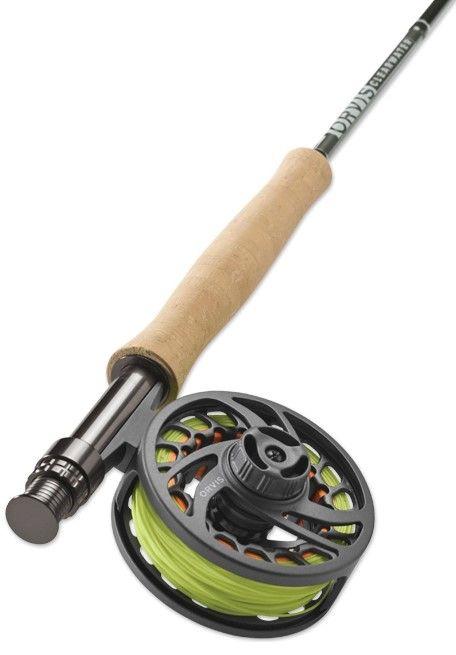 As an #8, the Orvis Clearwater Fly Rod Outfit makes for an excellent entry level rod if you want to try salmon fishing. It has enough power and backbone to stop even bigger fish. Chrome snake and stripping guides are the feature of a high-end rod. This set comes with a Clearwater II reel and fly line and Dacron backing.
All you have to do is pick the leader of your choice and the desired fly. Comes with Orvis' 25 year guarantee in case something should break.
Clearwater fly rod
Clearwater II reel
Clearwater fly line
75 yds. 20-lb. Dacron backing
Rod tube
Conclusion on the Best Salmon Fly Rod
All in all, these are the top picks of the best fly rods for salmon 2023. All you have to do is make up your mind in terms of whether you want to give salmon fishing a try with a single-handed rod or if you want to get into spey casting using a double handed rod.
Frequently Asked Questions
What's the difference between double-handed and single-handed salmon fly rods?
Double-handed (spey) fly rods are longer rods, typically 12 to 15 feet, designed for two-handed casting techniques used in larger rivers. Single-handed fly rods are shorter, ranging from 8.5 to 10 feet, and are used for one-handed casting in various fishing environments.
Which type of salmon fly rod is best for me, double-handed or single-handed?
Choosing between double-handed and single-handed rods depends on factors like fishing location, casting style, and personal preference. Double-handed rods are advantageous for covering large waters, while single-handed rods offer versatility for smaller rivers and different fishing techniques.
What rod weight should I choose for salmon fishing?
For double-handed rods, a common weight range is 7 to 10, while single-handed rods usually range from 7 to 9. The appropriate weight depends on the size of the salmon species you're targeting and the fishing conditions.
What action (fast, medium, slow) should I consider for salmon fly rods?
Medium to fast action rods are generally preferred for salmon fishing, as they provide the power needed for casting larger flies and handling the fight of strong salmon.
Can I use a double-handed rod for single-handed casting or vice versa?
While it's possible to use a double-handed rod for single-handed casting by using the bottom grip, it may not provide the best balance or casting experience. Single-handed rods, on the other hand, aren't designed for two-handed casting techniques like spey casting.
What are the advantages of using a double-handed salmon rod?
Double-handed rods excel in situations where long casts and efficient line management are crucial. They're ideal for covering large rivers, making mends, and managing heavy lines for various casting techniques.
Can I use a salmon fly rod for other types of fishing?
Salmon fly rods can be versatile and used for other species and fishing scenarios, provided they're appropriately sized and weighted. However, keep in mind that their specific design might not be optimal for certain techniques.
Are there different line types recommended for double-handed and single-handed salmon rods?
Yes, the line selection for double-handed and single-handed rods can differ. Double-handed rods often use specialized spey lines, while single-handed rods use traditional weight-forward or specialty lines based on the rod's weight and action.
What about rod length? How does it affect casting and fishing?
Rod length impacts casting distance and line control. Longer rods, like double-handed spey rods, excel at longer casts and mending, making them suitable for larger rivers. Shorter single-handed rods offer more accuracy and versatility for various fishing environments.
What other factors should I consider when choosing a salmon fly rod?
Consider the type of water you'll be fishing, the size of salmon species, the casting techniques you prefer, and the overall balance and feel of the rod. Testing different rods before purchasing can help you find the one that suits your preferences and fishing style.
Notice: We use affiliate marketing in this article. This means we might earn a small commission at no extra cost to you if you click on one of the links provided in this article and end up purchasing a rod. We never get paid for a review and only recommend products we use and are convinced of ourselves. Thanks!