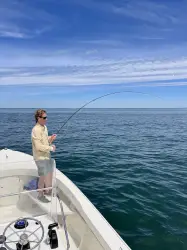 Latest posts by Leonard Schoenberger
(see all)
A good wading jacket makes sure you stay dry and warm when it matters. Some of the best are made by Patagonia. Here is an overview.
The best fly fishing often happens when it's rainy and wet. No need to stop fishing when the gates open. That is, if you are wearing a good rain jacket. Depending on the conditions you are fishing in, a rain jacket needs different features. Patagonia has been in the game for decades and their range of wading jackets ticks all the boxes a demanding fly fisherman or woman is looking for.
In this guide we want to give you an overview of the pros and cons of the following Patagonia wading jackets: The Patagonia Men's SST, the Patagonia River Salt Jacket (also available for women) and the Ultralight Packable Jacket (also available for women).
Patagonia Fishing Jackets: Several Options to Choose from
The Ultralight Packable Jacket is the entry level fishing jacket from Patagonia. The great thing about this wading jacket is its packability. Made from Patagonia's waterproof, breathable 3-layer H2No® Performance Standard shell it packs into a small stuff sack slightly bigger than a tennis ball.
The Patagonia Ultralight Packable Jacket is designed for fly fishing which you can see in the details such as the front fly box pocket, a tool dock or the brimmed and adjustable hood. But the low weight and high packability make it a fantastic choice for sports such as hiking as well.
The Patagonia Ultralight Packable Jacket features adjustable cuffs but they do not prevent water from coming in like the Patagonia SST or River Salt. The Ultralight Packable Jacket comes in two colors (grey and light blue) and is available as a women's version as well. Weighs only 230 g (8.1 oz).
Compared to the Ultralight Jacket, the Patagonia River Salt Jacket feels like an elephant skin. Right out of the box you can tell that this jacket can stand a lot of rain. Patagonia claims the River Salt is its toughest fishing jacket.
The River Salt Jacket is made from Patagonia's 4-layer waterproof/ breathable H2No® Performance Standard shell. It has all the features of a great wading jacket such as multiple pockets. On the side it features zippered hand warmer pockets for cold days and two more big zippered pockets to store essential gear such as fly boxes.
The Patagonia River Salt Jacket features a D-Ring on the back to attach a landing net. Other than the SST Jacket it does not have an extra back pocket to store extra gear (more on this further down).
The Patagonia River Salt Jacket features watertight adjustable cuffs that prevent water from coming in for example when you are releasing a fish. With the zippered front pockets the River Salt Jacket keeps its silhouette slim. This jacket is the right choice if you know you'll be fishing in wet conditions a lot, for example in the Pacific Northwest. Comes in two colors and also available in a version for women. Weight: 641 g (22.6 oz).
The SST Jacket is an icon amongst fly fishing jackets. Patagonia has been making this jacket for decades and always worked on improving the details. Its latest edition comes in a beautiful dark navy color that works well with Patagonia's line of Swiftcurrent waders.
What sets the SST Jacket apart from the River Salt and Ultralight Jacket is the fact that every details is designed towards a wading jacket. The big velcro flip out pockets on the front can hold even the largest fly boxes. Inside they feature even more small zippered pockets for items such as car keys. Behind these big pockets lie the zippered hand warmer pockets.
Made from a three-layer recycled nylon double ripstop with waterproof/ breathable H2No® Performance Standard shell, the Patagonia SST Jacket feels much lighter than the River Salt. It's high back stash pocket tells you that this jacket is made for wading deep. Double belt loops add to your wading security. The hood is easily adjustable for wet conditions.
The cuffs of the Patagonia SST Jacket keep water out safely and ensure the end of your sleeve stays dry no matter what. If you are looking for a fly fishing jacket that gives you ultimate versatility in wading deep and still want to carry a lot of gear, the Patagonia SST Jacket is the right choice for you. It's comparatively low weight of 496g (17.5 oz) makes it a good travel companion as well.
Conclusion on Patagonia Fishing Jackets
As you can see from our comparison, Patagonia has designed a number of fly fishing jackets for different conditions and use cases. If you want the utmost in lightweight and the perfect jacket to take along on your travels, go for the Ultralight Packable Jacket. If you know you'll be fishing where it's wet, opt for the River Salt Jacket. And if deep wading is your focus, you can't go wrong with the Patagonia SST Jacket.
Notice: We take part in so-called associate programs and earn a small commission at no extra cost for you if you end up making a purchase through one of the links in this article. We only recommend products we are convinced of and use ourselves.
Read more of our Gear Guides here:
Ultimate Guide: Best Wading Jackets
Buyer's Guide Best Wading Boots
Guide to the Best Fly Rod under 200$
A Guide to the Best Fly Fishing Starter Kits