Last updated on November 23rd, 2023.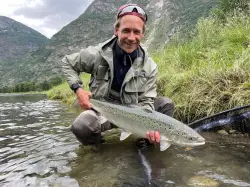 Latest posts by Leonard Schoenberger
(see all)
When it comes to choosing my fly fishing gear I am a big fan of keeping it simple.
What I mean by this is going for equipment that makes your life easier when hitting the water because you want to focus on the fishing. One such as piece of gear is a waterproof backpack. By going for a fully submersible one like the Patagonia Guidewater, you take doubt out of the equation. In this review we want to take a closer look at this waterproof backpack and tell you how it performs in real life.
Note: Some of the links in this article are affiliate links. If you click on one of them and end up purchasing a product we earn a small commission at no extra cost for you. We only recommend products we believe in ourselves and would recommend to our friends and family. Learn more here.
Design that Blends Strength and Style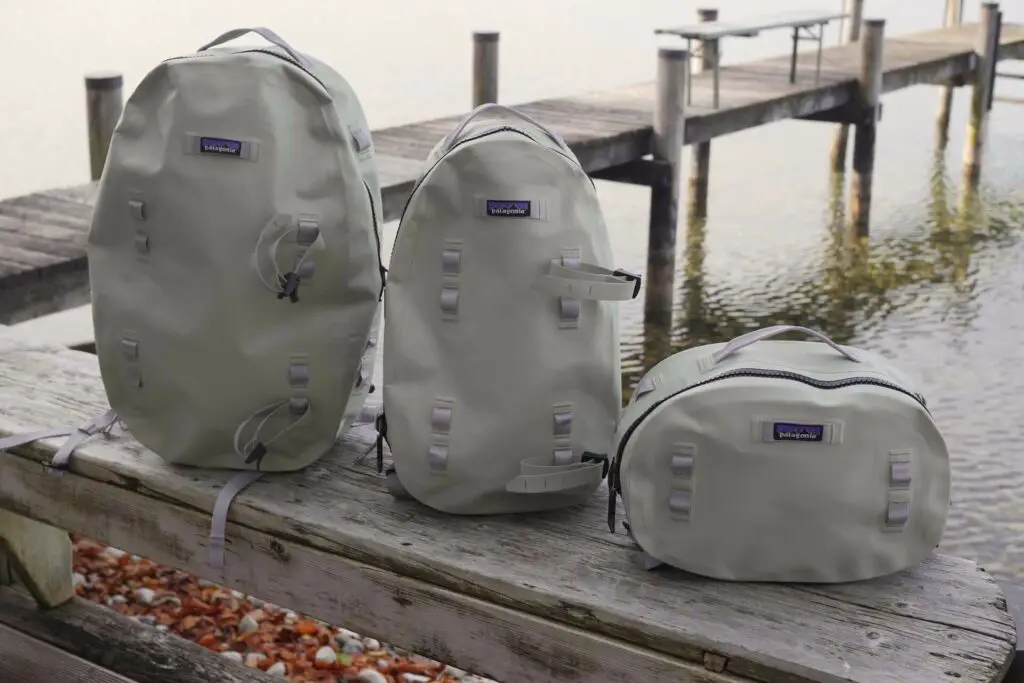 Specs and Features:
Capacity: 29 liters
Material: 100% recycled nylon
Waterproof rating: Submersible
Waterproof zipper: Yes
Weight: 2 lbs and 2 oz (960gr)
Dimensions: 13.5″ x 9″ x 21″
Colors: Pigeon blue and Salvia green (pictured in this review)
A Tough Nut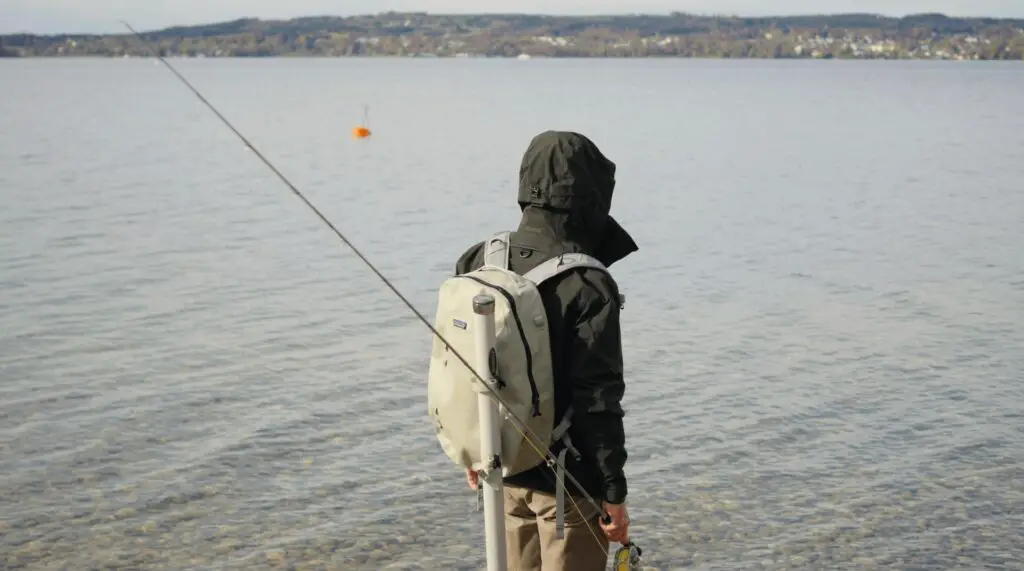 Let's talk durability. The Guidewater Backpack isn't just about looks; it's a workhorse. Constructed from robust recycled nylon, this backpack laughs in the face of wear and tear. Whether you're navigating through thick foliage or braving unpredictable weather, the Guidewater Backpack stands ready. I often like to call the fabric elephant skin since it's so thick and sturdy. You'll find a very similar build on the Filson Dry Bag Backpack and the Yeti Panga.
Compared to the prior version of the Guidewater (see photo at the bottom of the article), Patagonia has dropped the little zippered outside pocket (that wasn't waterproof) in exchange for compatibility with their Stealth Work Station. I have to say I was sad to see the outside pocket go since I think it made quick access to items that didn't require waterproofness a little easier.
Zipper Talks: The Waterproof Marvel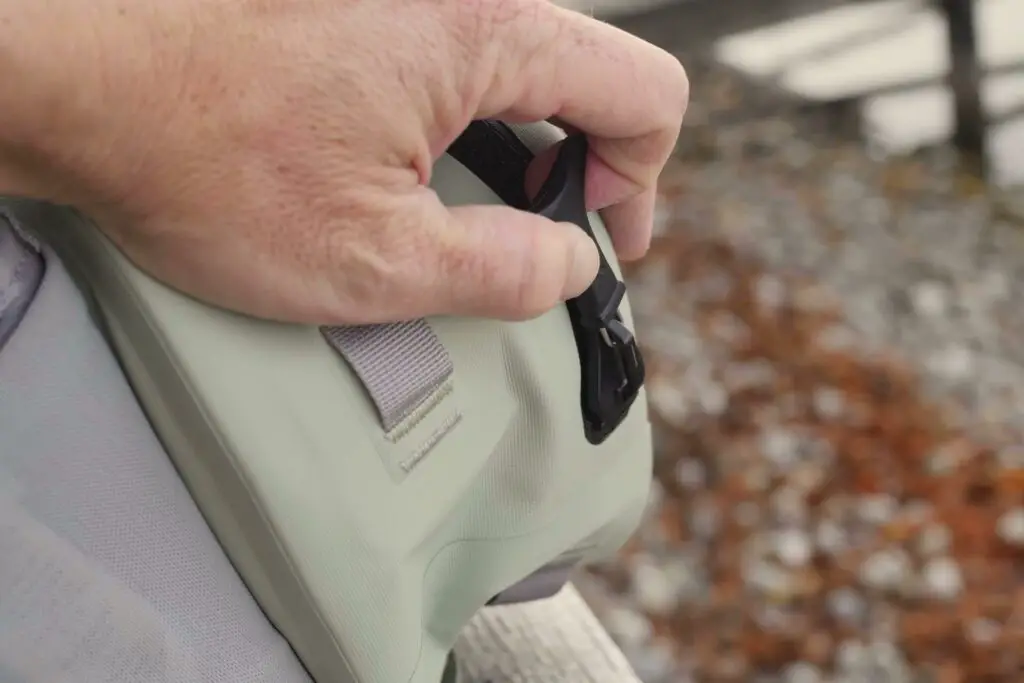 Now, let's talk about the hero of the story—the fully waterproof zipper. This isn't your run-of-the-mill zipper; it's a guardian against the deluge. Whether you find yourself wading through rivers or caught in an unexpected downpour, this zipper seals the deal. Your gear stays dry, your spirits stay high. What's important is closing this waterproof zipper to the fullest (it requires some force sometimes) cause only then will it be 100% waterproof and even fully submersible.
Capacity: Space for Dreams and Necessities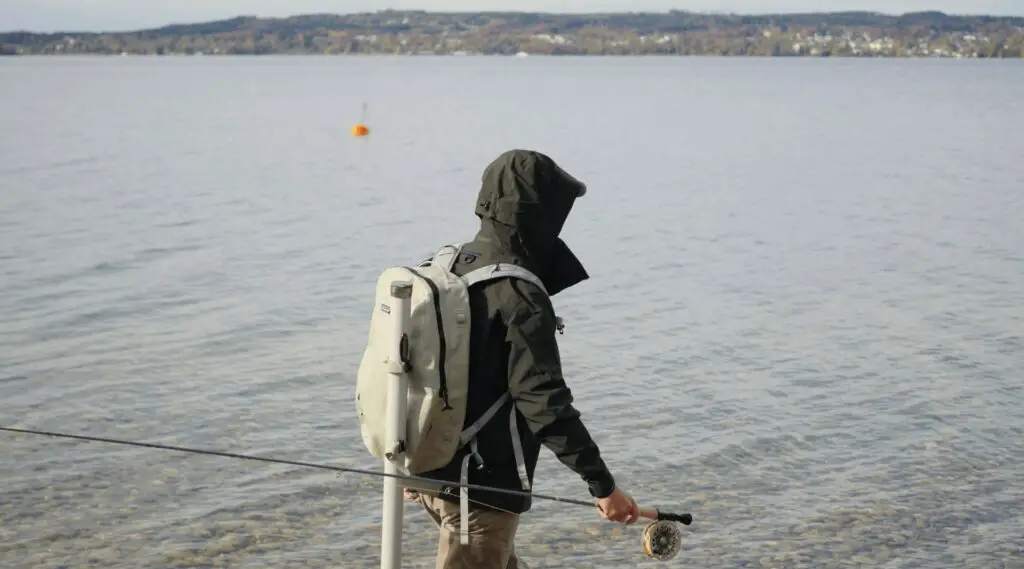 Room to Breathe
Fly fishing demands gear, and lots of it. The Guidewater Backpack gets it. With a spacious 29-liter capacity, it's not just a backpack; it's your portable fishing closet. Fly boxes, reels, spare clothing—there's a dedicated spot for everything.
Organization Zen: Interior Pockets
But it's not just about space; it's about order. The interior pockets are your secret weapon. Keep your essentials at arm's reach, well-organized and ready to roll. Because in the midst of action, fumbling for your gear should be the last thing on your mind. If you want, you can expand the Guidewater's capacity by attaching the Stealth Work Station on the outside for extra storage.
Carrying Comfort: All-Day Happiness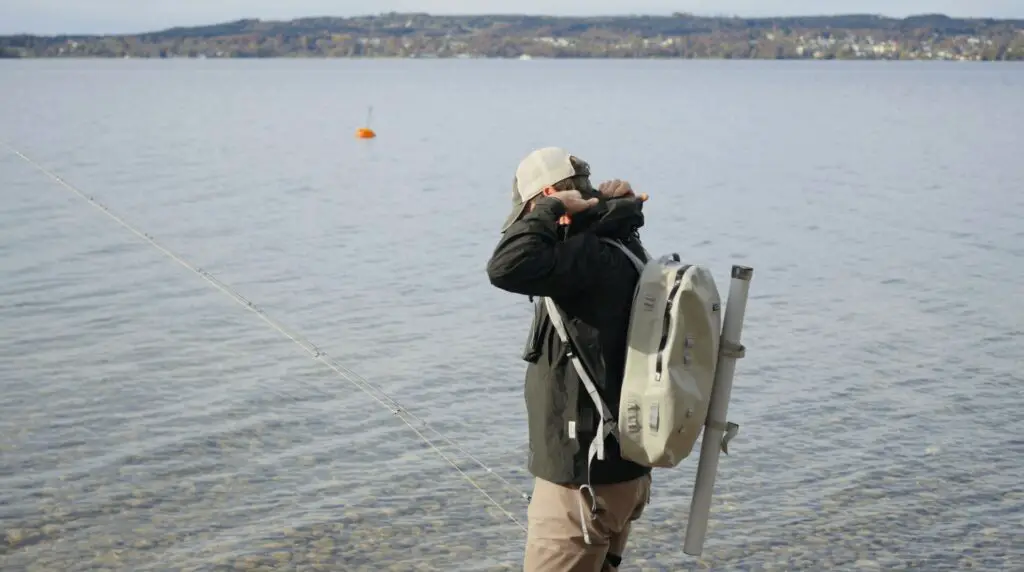 Strap In: Padded Shoulders and a Breathable Back
Fly fishing isn't a sprint; it's a marathon. Comfort is non-negotiable. The Guidewater Backpack gets it right with padded shoulder straps and a breathable back panel. Say goodbye to the discomfort of sweaty backs and sore shoulders. Be aware though that on hot summer days you'll sweat regardless since the fabric of the Guidewater is so thick that the ventilation around your back is limited.
Attachment Options: Customize Your Experience
Multiple attachment points give you the freedom to customize your loadout. Secure a net, attach extra gear, or accessorize to your heart's content. Your backpack, your rules. I'm a big fan of the rod tube holder and the possibility to attach the Stealth work station. It just adds another layer of flexibility since the Guidewater doesn't feature any outside pockets (for waterproofness reasons).
PROS:
Extremely durable and sturdy
Made from 100% recycled nylon
Compatible with Stealth Work Station
CONS:
I was sad to see the little zippered outside pocket go (that was a feature of the Guidewater's predecessor)
Conclusion: A Trusted Companion in Wet Adventures
In the world of fly fishing, where water is both friend and foe, the Patagonia Guidewater Backpack emerges as a trusted companion. It's not just a backpack; it's an ally that laughs in the face of uncertainty. When your journey involves more than casting lines—when it's about embracing the elements—the Guidewater Backpack stands tall.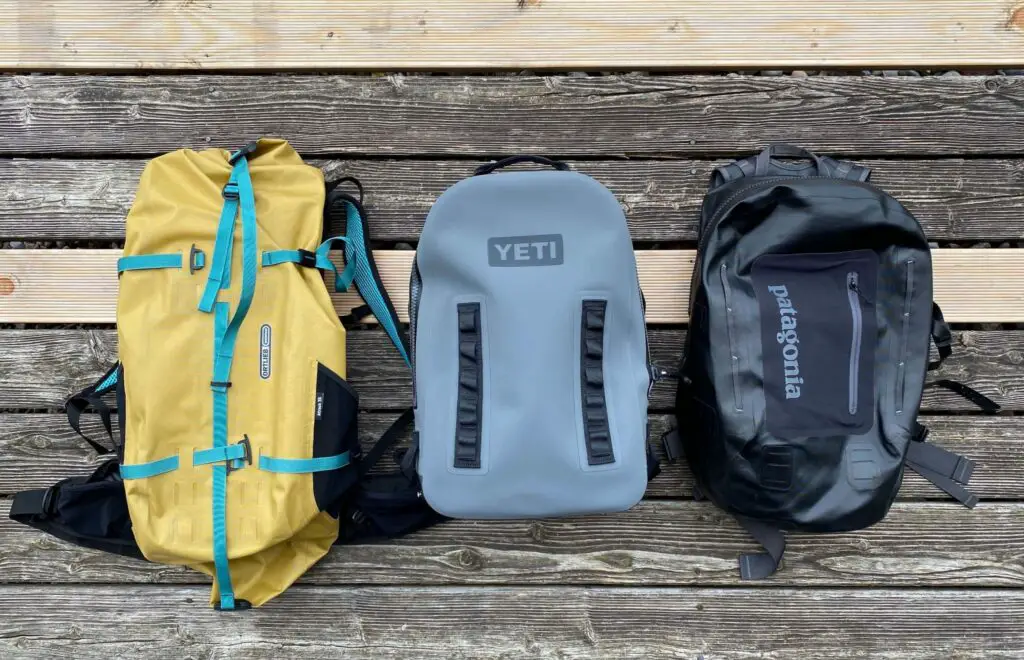 Frequently Asked Questions (FAQs): Patagonia Guidewater Backpack Review
Will the Guidewater Backpack survive the harsh saltwater environment?
Absolutely. Crafted with corrosion-resistant materials and a submersible design, it's an excellent choice for saltwater fly fishing adventures.
Can I comfortably wear the backpack over my favorite fishing jacket?
Yes, indeed. The Guidewater Backpack is designed for versatility, fitting comfortably over fishing jackets without compromising your style or comfort.
How does the waterproof zipper handle heavy rain?
The fully waterproof zipper is a champ in heavy rain, ensuring your gear stays bone-dry even in the most challenging weather conditions.
Is it suitable for day-long fly fishing escapades?
Absolutely. With its carrying comfort, spacious capacity, and organized interior, the Guidewater Backpack is the ideal companion for extended fly fishing excursions.