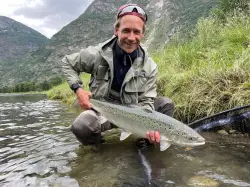 Latest posts by Leonard Schoenberger
(see all)
When it comes to exploring the great outdoors having gear that stands up to the elements is paramount.
Enter the Filson Backpack Dry Bag, a testament to uncompromising reliability in the world of outdoor gear. In this review we want to give you our take on this waterproof backpack after intense testing in various conditions.
Hands on with the Filson Backpack Dry Bag
Disclaimer: Some of the links in this article are affiliate links. If you click on one of them and end up purchasing a product we earn a small commission at no extra cost for you. We only recommend products we believe in ourselves. Learn more here.
What you need to know:
Color: Green
Price: $365
Fully submersible
Two outside zippered pockets, one zippered mesh pocket on the inside
Padded shoulder and sternum straps
Warranty: limited lifetime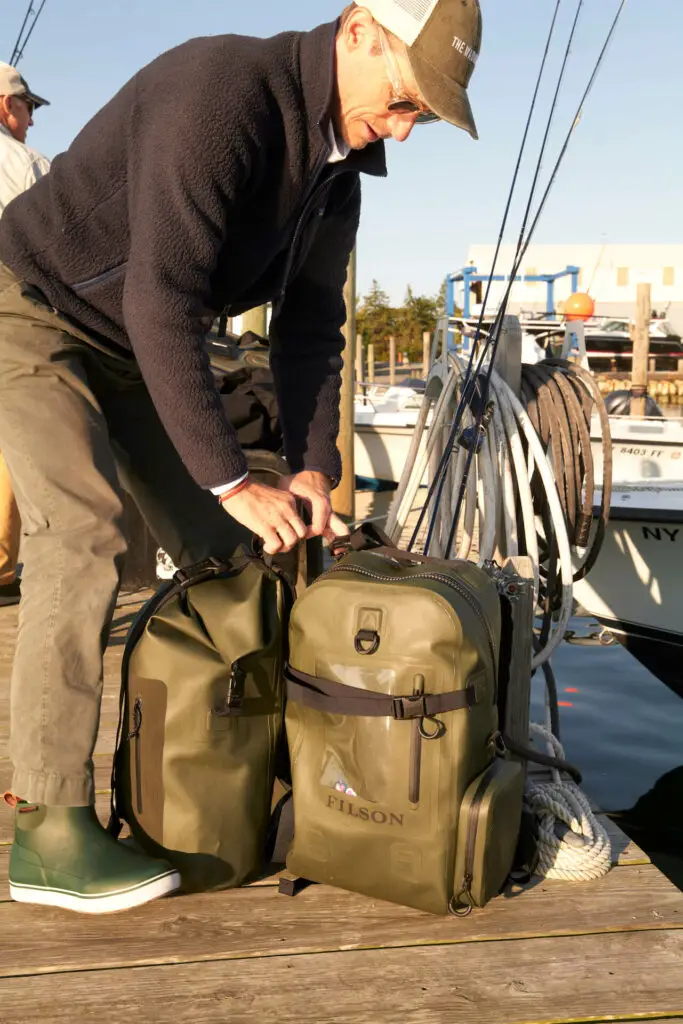 Craftsmanship and Durability
From the moment you lay eyes on the Filson Backpack Dry Bag, you can sense its rugged build. Filson, known for crafting premium outdoor gear since more than century, has once again demonstrated their commitment to quality. The bag is constructed from a very durable nylon fabric that we often call "elephant skin" because it's so thick.It's not just built to withstand a splash; it's designed to thrive in wet environments, shrugging off rain, river spray, and more with ease.
Design and Functionality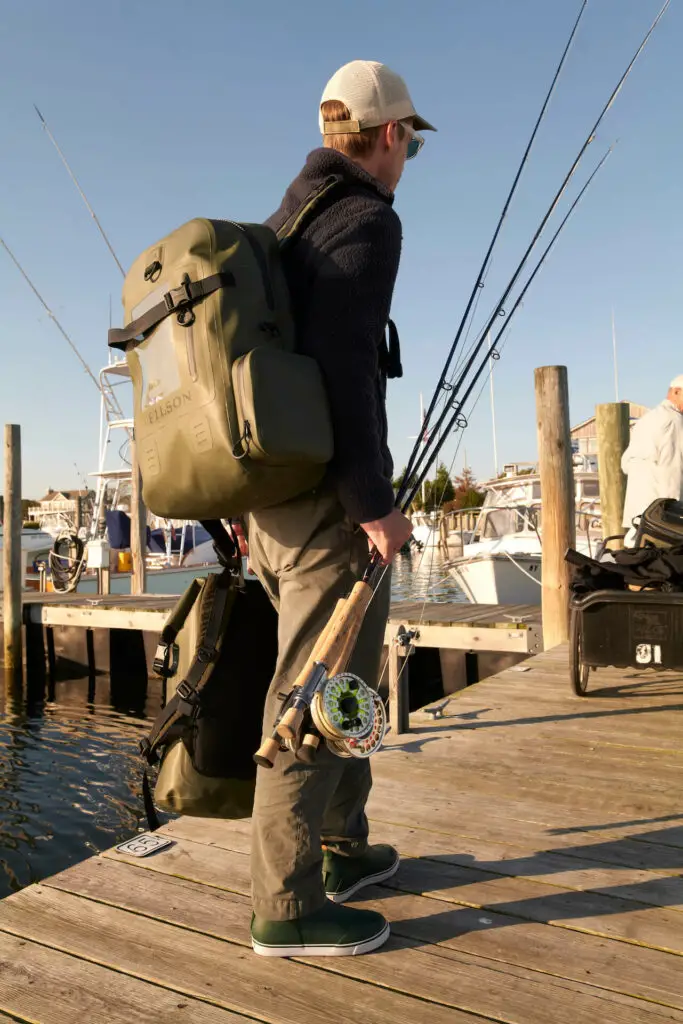 The Filson Backpack Dry Bag boasts a straightforward, no-nonsense design that emphasizes functionality above all else. Its main big compartment is protected by a TIZIP zipper that we've tested in other products such as the Ortlieb Atrack as well and are convinced it's the pinnacle of waterproof zippers. This zipper makes the Filson not only completely waterproof but also fully submersible. Be aware though that the outside pockets are only equipped with water resistant zippers that will withstand a heavy shower but are not as bulletproof as the main TIZIP.
Capacity and Versatility
With a generous 28-liter capacity, this dry bag provides ample room for your gear. Whether it's extra clothing layers, camera equipment, fishing tackle, or camping essentials, you'll be amazed at how much you can fit inside. The bag's versatility shines as it effortlessly transitions from an outdoor adventure companion to a daily commuter backpack, thanks to its padded shoulder straps and back panel. During our testing the Filson's design reminded me quite a bit of the YETI Panga 28 which also features a no-fuss boxy design for maximum storage capacity. Both backpacks can hold 28 litres.
Comfort and Wearability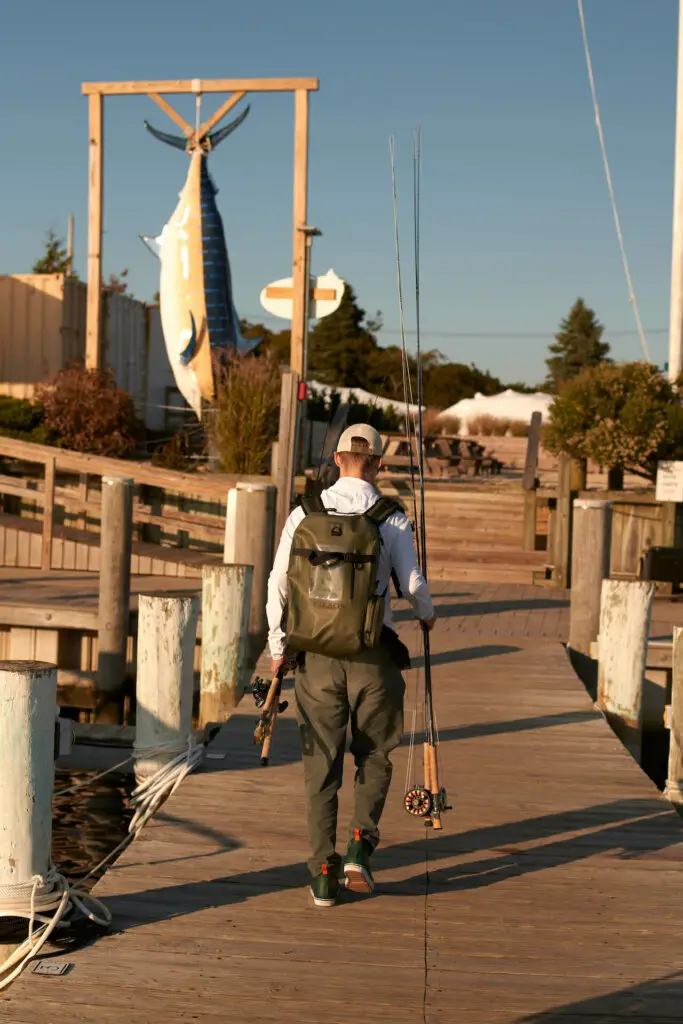 Speaking of shoulder straps, Filson has taken care to ensure that even when you're carrying a substantial load, the Backpack Dry Bag remains comfortable. The padded straps are adjustable, allowing you to customize the fit to your liking. Even during long hikes or extended angling sessions, you won't feel weighed down or uncomfortable. What I like in particular is the fact that the sternum strap is also padded and can hence take on a significant amount of the load – a fact that is often overlooked when a backpack only features a minimal sternum strap.
Attachment options
What's great about the Filson is the vast amount of attachment options and pockets. On the inside it features a zippered organisational pocket. On the outside it comes with two zippered pockets, one of them is a transparent one for example for a fishing license. Since it's transparent you don't even have to take the license out in case of rain. The other zippered pocket on the outside is great for car keys for example. Multiple mesh pockets can hold other small essentials such as an extra tippet spool. Around the entire bag you'll also find various D-rings and other attachment loops for extra gear.
Pros and Cons
PROS:
Excellent build quality from start to finish
Padded sternum strap is a real bonus
Thought-through pocket design
Transparent outside pocket is a neat little feature
CONS:
Its boxy design means the Filson will take up space even when empty
The price tag is hefty. The YETI Panga 28 is $300 already, with the Filson clocking in at $365
Another color would be a nice addition to the lineup
Verdict on the Filson Dry Backpack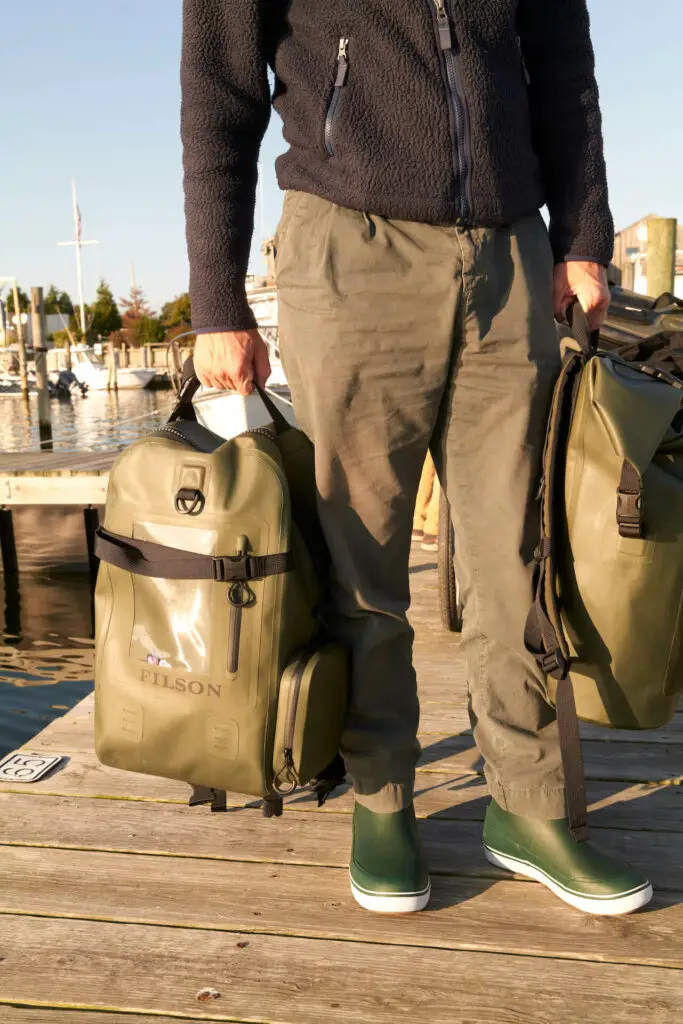 In a world where outdoor gear can sometimes overcomplicate things with unnecessary features, the Filson Backpack Dry Bag stands as a beacon of simplicity and reliability. It's a piece of equipment that doesn't compromise on craftsmanship, durability, or functionality. Whether you're an angler seeking protection for your fishing gear or an adventurer venturing into the wild, this dry bag is a trustworthy companion that won't let you down. What's left up to you is the question whether you want to spend $365 on a waterproof backpack.
FAQs: Filson Dry Backpack
Is the 28-liter capacity sufficient for extended backpacking trips?
The capacity of the Filson Backpack Dry Bag should be adequate for day trips and shorter backpacking excursions. For longer trips, you may need to prioritize essential gear due to the bag's size.
Can I use this dry bag for water sports like kayaking or rafting?
Absolutely. The bag's waterproof construction makes it suitable for various water-based activities, keeping your gear dry even in wet conditions.
Is it easy to clean and maintain?
Yes, durable nylon is relatively easy to clean. Simply wipe down the exterior, and for stubborn stains, a gentle scrub with mild detergent should do the trick.
Can I fit a laptop in this backpack for daily commuting?
Yes you can. However, be aware that it doesn't feature a laptop sleeve. It's best suited for outdoor gear, clothing, and essentials.
Is this dry bag buoyant enough to float in water?
While the bag is waterproof and can float to some extent, it's not designed as a buoyancy aid. It's essential to secure it properly when on or near water to prevent accidental loss.