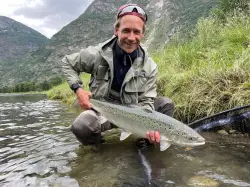 Latest posts by Leonard Schoenberger
(see all)
In the realm of fly fishing, where serene rivers and remote streams often become our canvas, the need for reliable gear takes center stage.
Imagine a day spent navigating the water's edge, casting your fly with precision, and immersing yourself in the natural rhythm of the outdoors. Yet, the beauty of these angling adventures is often tempered by the unpredictable nature of water. For any fly angler, be they a seasoned pro or a passionate beginner, the importance of a waterproof, fully submersible backpack cannot be overstated.
When you're out in the wild, knee-deep in flowing waters, or traversing rugged terrain to find that hidden fishing gem, your gear is your lifeline. It's more than just equipment; it's your connection to the world beneath the surface. The right backpack becomes a guardian of your cherished fly boxes, reels, lines, and personal essentials, ensuring they stay dry and secure amidst the challenges that nature throws your way. In this context, the Atrack Waterproof Backpack emerges as a beacon of reliability—a companion that not only understands the essence of fly fishing but also safeguards your gear against the whims of water and weather. What's best about the Attack in my eyes, is the fact that's it's a great companion for many other sports beyond fly fishing.
Ortlieb Atrack: Submersible Allrounder
Disclaimer: Some of the links in this article are affiliate links. If you click on one of them and end up purchasing a product we earn a small commission at no extra cost for you. We only recommend products we believe in ourselves. Learn more here.
Quick overview:
Comes in three sizes: 25L, 35L, 45L
Weight: 1430 g | 50.4 oz, 1470 g | 51.9 oz, 1560 g | 55.0 oz
Fully waterproof and submersible
Opens like a bag
Excellent organisation options on the inside and outside
Padded shoulder straps with chest and lower back support
Colors: 3
Price: $270-290
The Ortlieb Atrack Waterproof Backpack is engineered with meticulous attention to detail, ensuring it excels in challenging environments. Here's a closer look at its key specifications and standout features:
Waterproof Design: The Atrack boasts a fully waterproof construction, safeguarding your valuable gear from water, rain, and splashes. At the heart of the backpack's waterproofness is the big waterproof TIZIP zipper that opens and closes the backpack like a bag along the backside. You'll need a bit of force to open the zipper. Also, always make sure to really close it all the way since otherwise the waterproofness is down the drain. Personally, I've only had good experiences with the TIZIP zippers – they're basically indestructible.
Versatile Size: With a capacity of 35 liters (there's also a 25L and a 45L version), this backpack strikes the perfect balance between spaciousness and manageability. It's roomy enough to carry your fly fishing essentials without feeling cumbersome.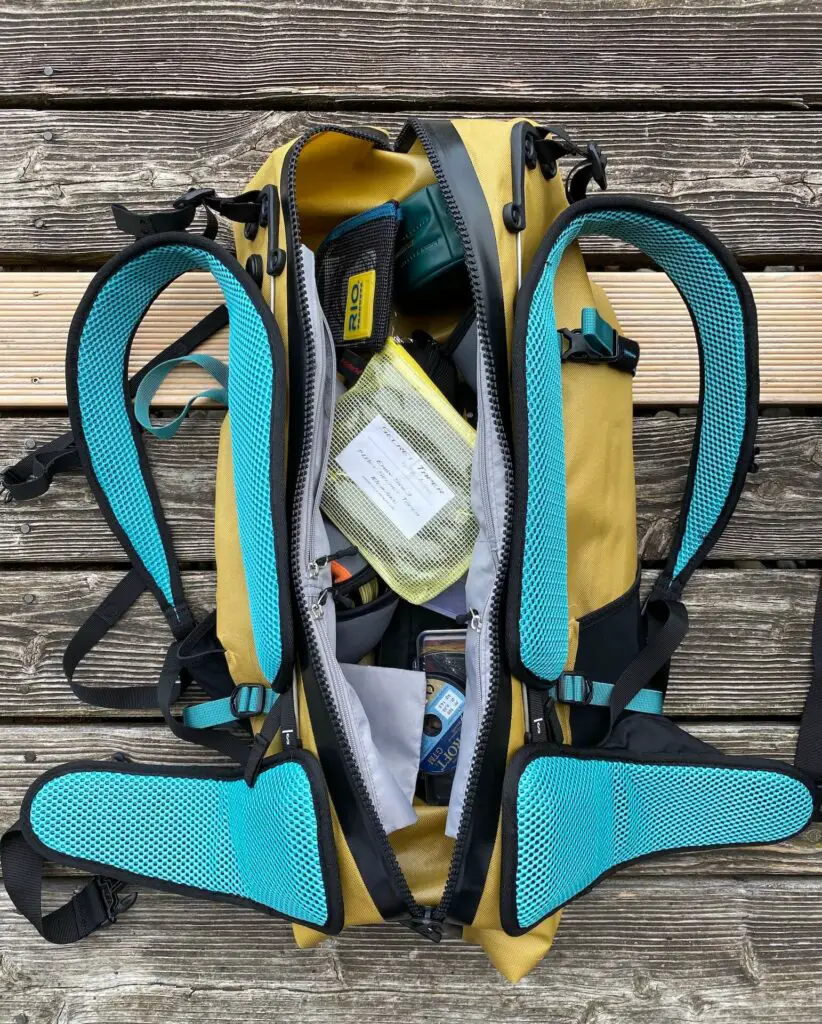 TIZIP Zipper: The backpack's TIZIP zipper provides quick and easy access to your gear while maintaining its waterproof integrity. You won't have to worry about your gear getting wet, even in wet conditions.
Ergonomic Design: The Atrack features padded shoulder straps and a comfortable back panel, ensuring extended wear is a breeze. The backpack's adjustable chest and waist straps offer a secure and personalized fit. I have to say that I've never worn a more comfortable backpack, even when it's fully loaded. The various (support) straps allow for excellent fine tuning. It's also worth mentioning that during our testing, we had taller and smaller people as well as men and women wear and test the Atrack and we were all surprised how well the Atrack "fit" different physiques.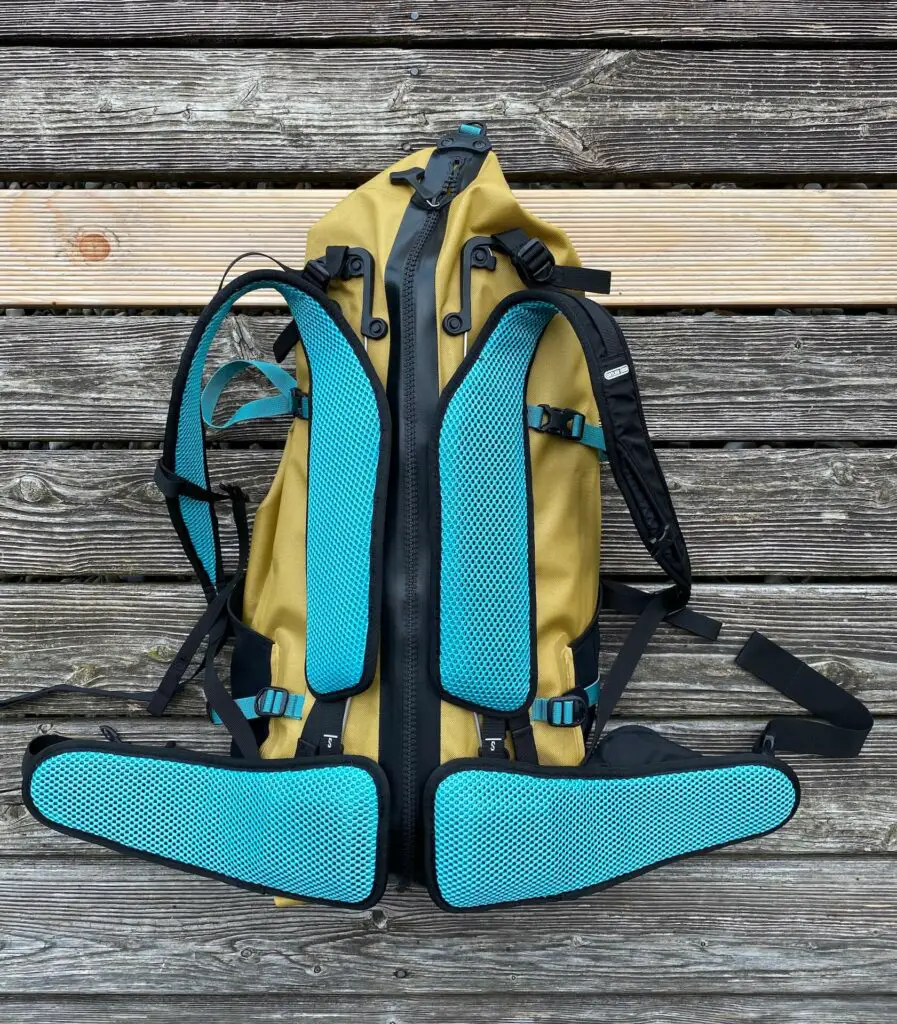 Modular Organization: Multiple internal pockets and attachment points allow you to organize your gear efficiently. All pockets whether on the inside or outside are zippered and hence offer a good degree of protection.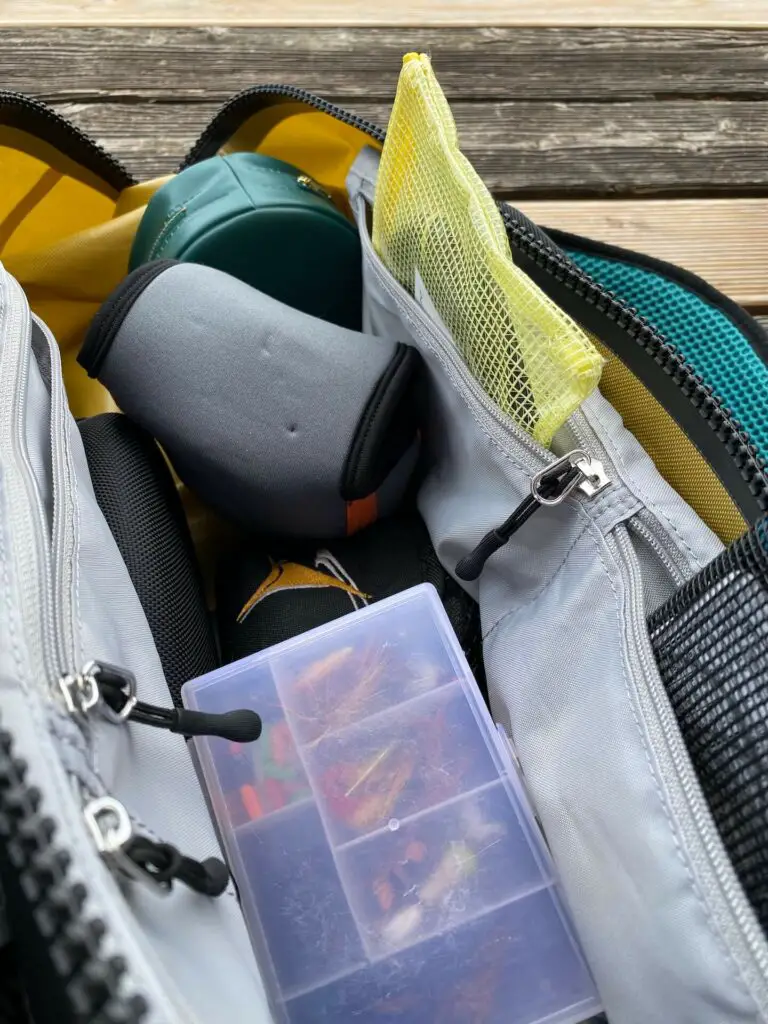 Pros and Cons
PROS:
One of the most versatile waterproof backpacks on the market
Fully submersible
Excellent accessibility thanks to wide opening
Very rugged fabric
Multiple pocket options
CONS:
One of the very products where I can't come up with a con
Verdict on the Atrack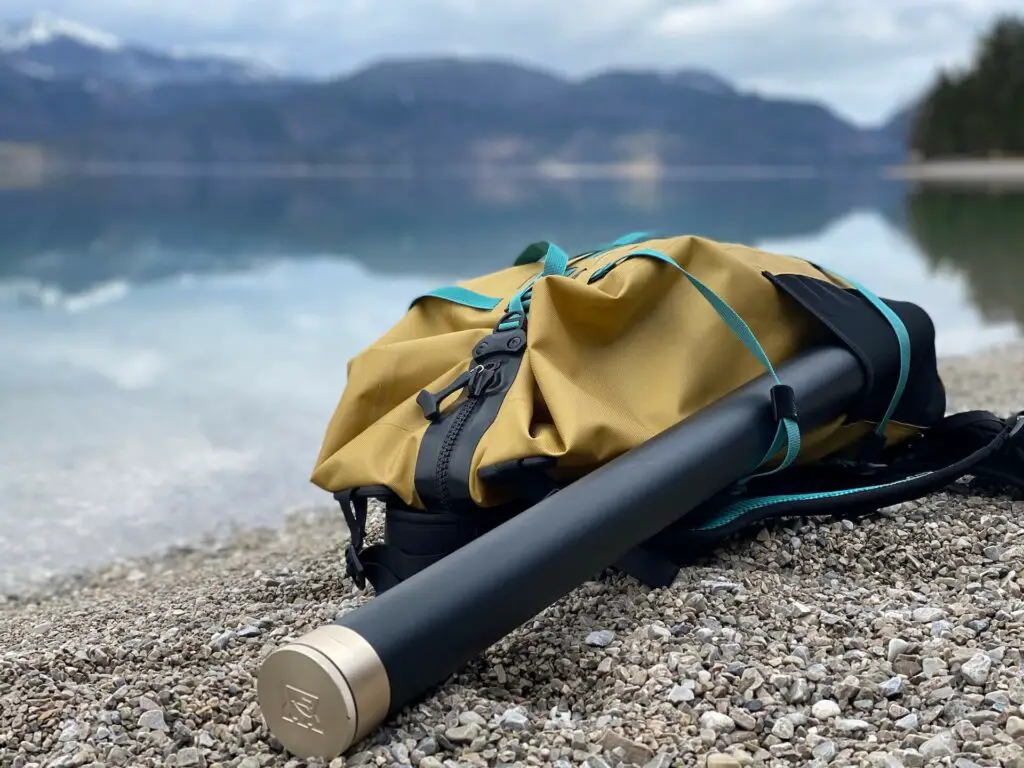 The Ortlieb Atrack Waterproof Backpack isn't just a bag; it's a trusty companion that understands the demands of fly fishing. Its waterproof reliability, easy access, comfortable design, and modular organization make it an indispensable asset on your angling journeys. While it may come at a premium price, the peace of mind it offers in protecting your gear and enhancing your fishing experience is worth every penny.
If you're thinking about getting a waterproof backpack also make sure to check our big "Guide to the Best Waterproof Backpack". The YETI PANGA 28 and the Simms Dry Creek Waterproof Backpack might also be alternatives worth checking out.
Questions you might Have
Is the Ortlieb Atrack Waterproof Backpack suitable for carrying a fly rod or fishing rod?
While it doesn't have dedicated rod holders, the backpack's attachment points and modular organization make it possible to secure and transport a fly or fishing rod with some creativity.
Can I use this backpack for other outdoor activities besides fly fishing?
Absolutely! The Atrack's waterproof and versatile design makes it an excellent choice for various outdoor pursuits, including hiking, camping, and kayaking.
How do I clean and maintain the waterproof integrity of the Atrack backpack?
Cleaning is simple. Rinse it with freshwater after each use, and for stubborn stains, you can use a mild detergent and a soft cloth. Ensure it's completely dry before storing it to maintain its waterproof performance.
What is the maximum load capacity of the Atrack backpack?
The backpack is designed to comfortably carry up to 25 liters of gear. However, it's essential to distribute the weight evenly to maintain comfort while wearing it. There is also a 35L and 45L version.
Can I wear the Atrack backpack while wading in a river or stream?
Yes. The Atrack is not only waterproof but fully submersible making it an ideal backpack for some (deep) wading.