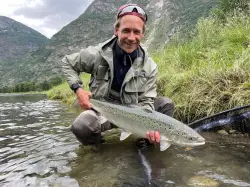 Latest posts by Leonard Schoenberger
(see all)
A reliable backpack is a quintessential part of every fly angler's gear.
Whether you're crossing swift streams or getting caught in an unexpected downpour, the contents of your backpack need to remain dry. Enter the Simms Dry Creek Rolltop Backpack, designed specifically for those wet adventures. In this review, we'll dissect the specs and features of this backpack, provide a comparative analysis with other prominent players in the market, and answer some common queries.
Disclaimer: Some of the links in this article are affiliate links. If you click on one of them and end up purchasing a product we earn a small commission at no extra cost for you. We only recommend products we believe in ourselves. Learn more here.
Specifications & Features
Size: 30L
Colors: black, red, blue
Padded shoulder straps and back
Mesh pockets for water bottlers and rod tube holder
Rolltop closure with velcro and plastic buckles
Price: USD 199.95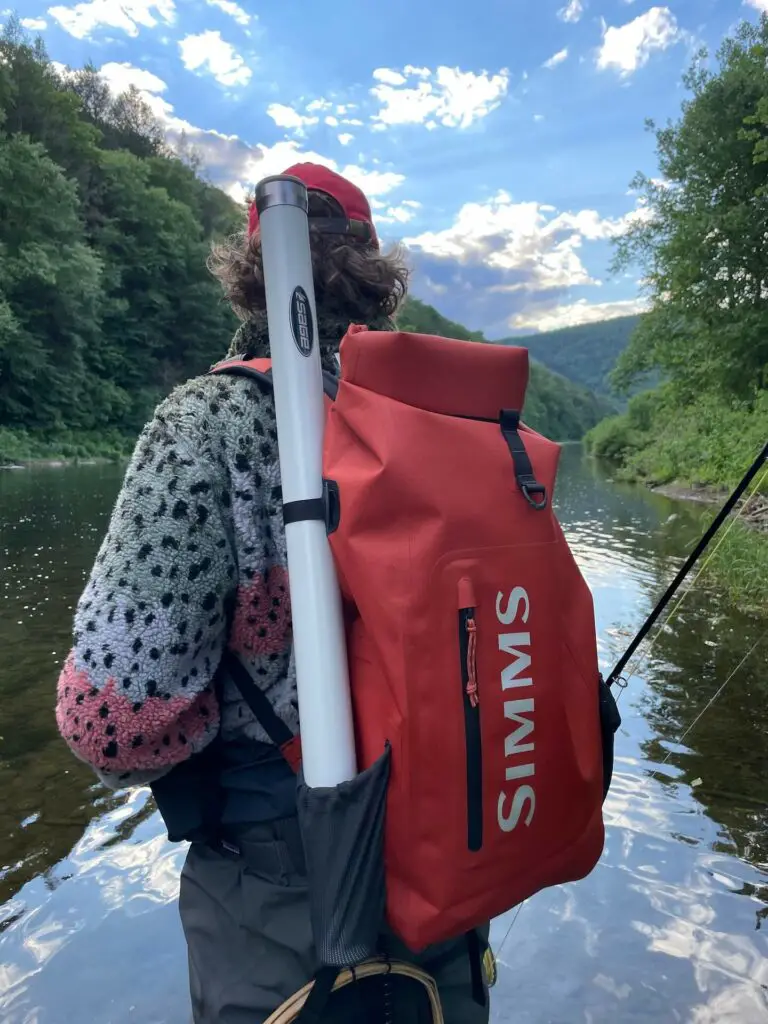 Material
Constructed from a high-quality nylon waterproof fabric, the Simms Dry Creek Rolltop Backpack ensures that all your essentials remain dry even in the most challenging wet conditions. This fabric doesn't just repel water; it's designed to withstand prolonged exposure, ensuring longevity and durability. If you want the added bonus of a fully submersible backpack, make sure to check out the Simms Dry Creek Z.
I've found the material of the Rolltop Backpack to be very durable and scratch-resistant. Even if you play it hard like we did for more than 12 months, the Simms still holds up great.
Size and Shape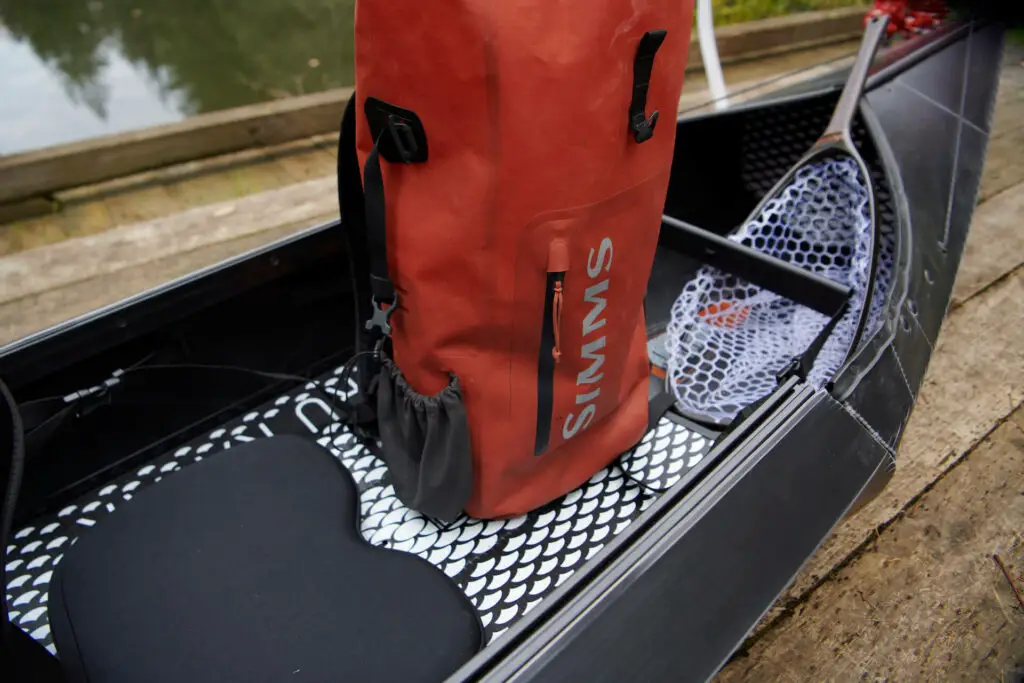 Boasting a 30L capacity, this backpack offers ample space to carry all your gear and then some. It's definitely designed for more extended expeditions where you need to pack a little extra. The roll-top design not only provides an impermeable seal against water but also allows for flexibility in packing volume. You can fill it to the brim or roll it down more snugly for a smaller load.
The backpack features one main big compartment that comes with a small internal mesh pocket to store your essentials such as a wallet or fishing license. The outside pocket provides easy access for small items and comes with a water resistant zipper (be aware though that this pocket is not fully waterproof).
Comfortable Straps
One of the noteworthy features is its padded shoulder straps. For a backpack of this size, the comfort of carrying is crucial, and Simms doesn't disappoint. The straps distribute weight evenly, ensuring that you can wear it for extended periods without discomfort. On the backside of the backpack where it touches your back, additional padding provides extra comfort for long days out on the river.
Extra Features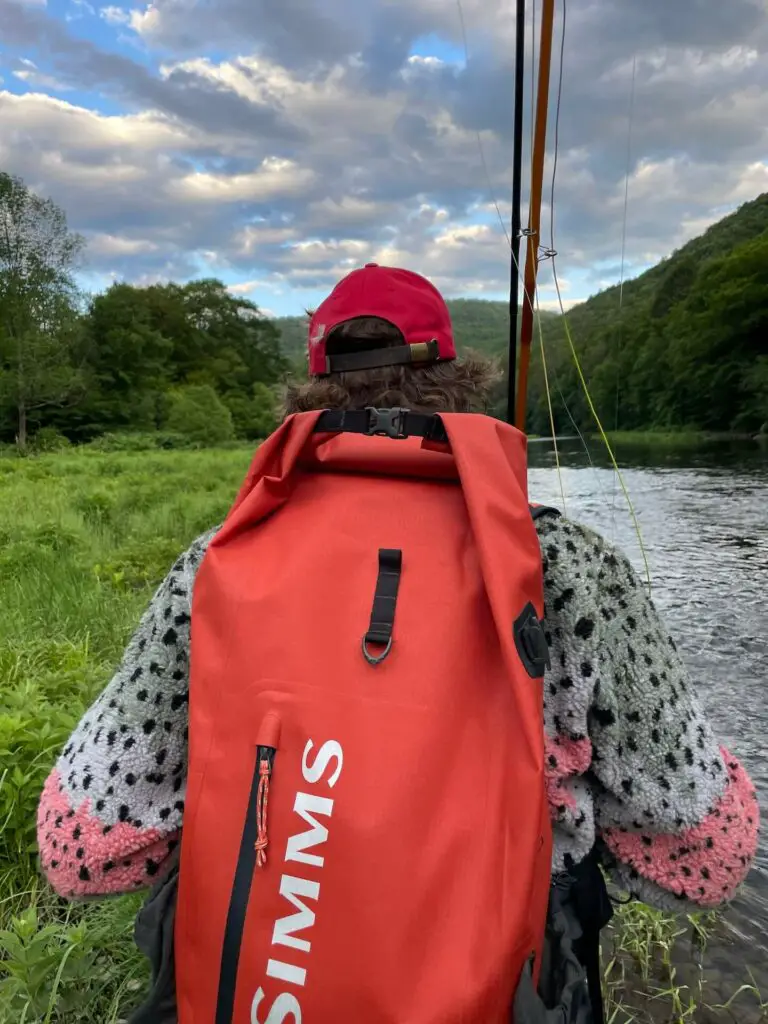 The backpack boasts external lash points, so if you have gear that you'd prefer to hang outside or things you need quick access to, you're sorted. Additionally, the external stretch mesh pocket offers additional space and quick access. You can either use it to carry a water bottle along or it can also serve as a rod tube holder.
Closure System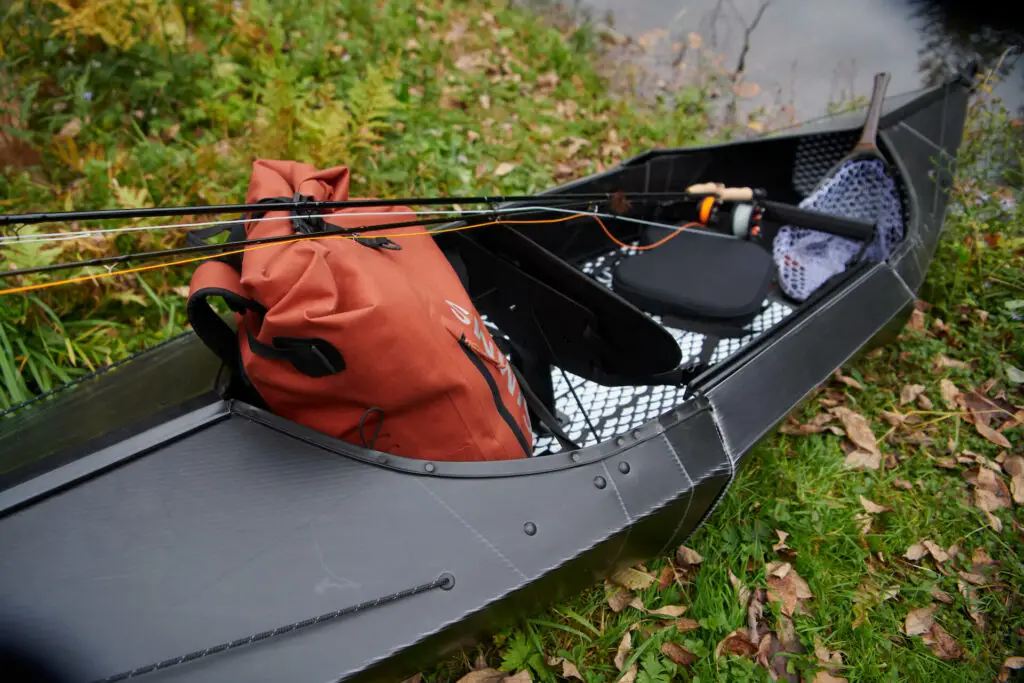 The roll-top design isn't just about aesthetics. Rolling and clipping ensure a watertight seal, safeguarding your gear from any moisture.
Comparison with Other Brands
Filson Dry Backpack
The Filson Dry Backpack, like the Simms Dry Creek, is built for rugged use. Made from 840D nylon with a clear ether TPU, it offers excellent waterproofness. With a 28L capacity, it's slightly smaller than the Simms. While it also boasts a roll-top closure, the Filson includes an additional top buckle for added security. If aesthetics play a role in your choice, the Filson's minimalist design might appeal to some. Plus, the biggest difference between these two is the fact that the Filson is fully submersible – definitely a plus if you bring expensive gear.
Patagonia Disperser Rolltop Backpack
With a 40L capacity, the Patagonia Disperser is still a little bigger in size than the Simms Dry Creek. Made from 100% recycled polyester ripstop, the material is treated with a TPU-film laminate, making it resilient to wet conditions. The Patagonia also comes with a rod tube holder on the side and features even more attachment loops than the Simms Rolltop. Both backpacks feature chest and waist support straps.
Just like the Simms, the Patagonia Disperser also has an internal mesh pocket for organisation. With the added benefit though that this pocket is removable and can be attached on the outside of the back increasing the Patagonia's versatility.
The Verdict
All three backpacks are top-tier in their category. The Simms Dry Creek Rolltop is designed keeping anglers in mind and features a straightforward built. The external lash points, the stretch mesh pocket, and the ergonomic shoulder straps give it an edge for those planning extended expeditions in wet conditions. However, if you're looking for a backpack with a more urban appeal or need to carry your laptop safely, the Filson Dry or also the YETI Panga 28 might be more up your alley.
PROS:
Great versatility with the mesh pockets as bottle holders and rod tube holders
Excellent padding on the shoulder straps
Very sturdy nylon fabric
CONS:
Limited internal organisation options
Not submersible
FAQs: Simms Dry Creek Rolltop Backpack
Is the Simms Dry Creek Rolltop Backpack suitable for daily use?
Absolutely! While it's designed with anglers in mind, its features make it versatile enough for daily commutes, especially in regions prone to rain.
Can I submerge the backpack entirely in water?
While the backpack is designed to be highly water-resistant, it's not advisable to entirely submerge it. The roll-top design provides a watertight seal, but prolonged submersion might allow water to seep in.
Does it come with a warranty?
Simms products are known for their quality, and they usually come with a warranty. It's advisable to check with the seller or the official Simms website for specific warranty details.
How do I clean the backpack?
A simple wipe down with a damp cloth should suffice for most dirt. For more stubborn stains, a gentle detergent and water should do the trick. Ensure it's thoroughly dry before storing it.