Last updated on November 2nd, 2023.
Latest posts by Leonard Schoenberger
(see all)
Today's narrative isn't just about a backpack, but a steadfast companion that accompanied me through rippling rivers and silent streams:
The Yeti Panga 28 Waterproof Backpack. As a fly fisherman, the call of the flowing water is irresistible, and having a reliable backpack is not a choice but a necessity. Let's reel in the details of the experiences this rugged companion and I shared amidst the rhythm of nature's watercourses.
An Armor Against Nature's Fury
Disclaimer: Some of the links in this article are affiliate links. If you click on one of them and end up purchasing a product we earn a small commission at no extra cost for you. We only recommend products we believe in ourselves. Learn more here.
The Panga 28 isn't just built, it's forged with a blend of high-density nylon and thick TPU lamination, embodying a robust, almost invincible feel (we nicknamed it "elephant skin"). The first touch resonated with a promise of endurance. This backpack has journeyed through thorny trails, rested on muddy banks, and even played the role of a trusted seating beside a campfire – and yet, it stood undeterred.
An Unyielding Shield Against Water
Every fly fisherman knows that the waters are both a friend and a foe. The Panga 28 stands as a vigilant guard against the watery foe. Its HydroLok™ Zipper is a fortress against every droplet intent on finding its way inside (make sure to always close the zipper 100%, otherwise the waterproofness is down the drain). Be it rainstorms, river splashes, or an unexpected tumble into the stream, not a single drop breached this backpack's defense. The DryHaul™ Straps join the pact of protection, ensuring comfort even when the backpack is loaded to the brim.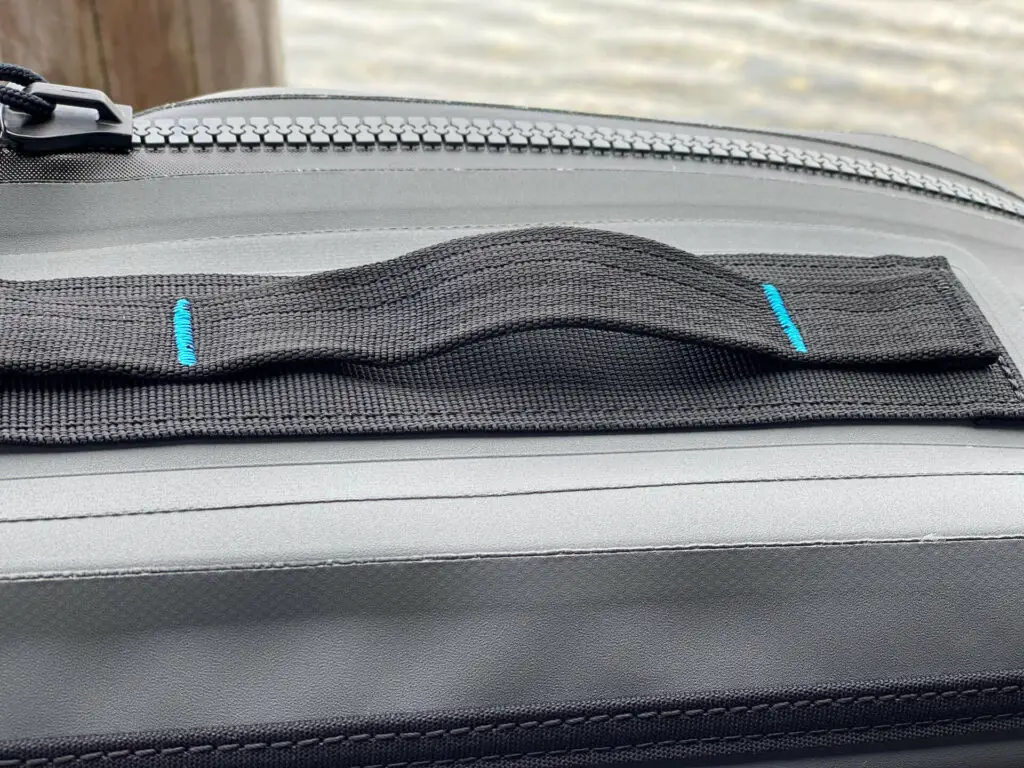 A Vast Haven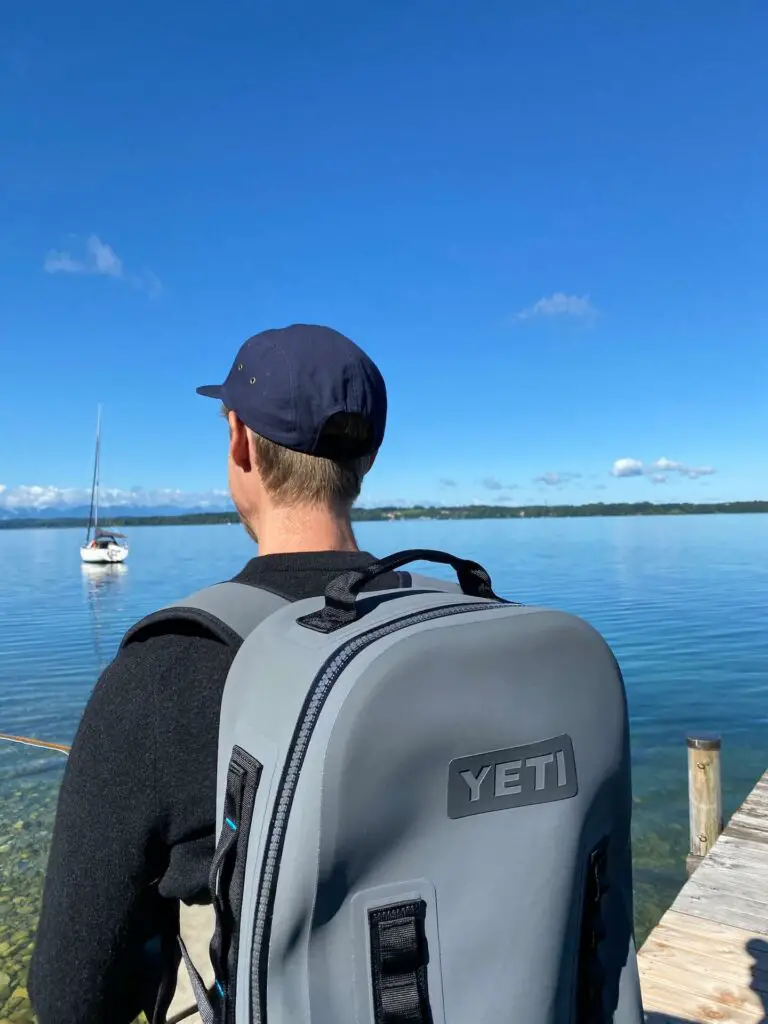 Out here, space isn't just a luxury but a necessity. The Panga 28 is a marvel when it comes to space. It graciously devours the bulky gear, the extra flies, the layers of clothing, and still has room for more. The inner sleeve is a shelter for a laptop or a hydration reservoir, subtly nodding at its versatility for both the angler and the modern-day adventurer.
Every Compartment, A Narrative
The Panga 28 tells stories not just through its exterior, but its interior. Thoughtfully designed pockets (although there aren't many of them since the focus is on simple design, bullet- and waterproofness) become a home for each piece of tackle, ensuring a place for everything and everything in its place.
Tales of Wet and Wild Adventures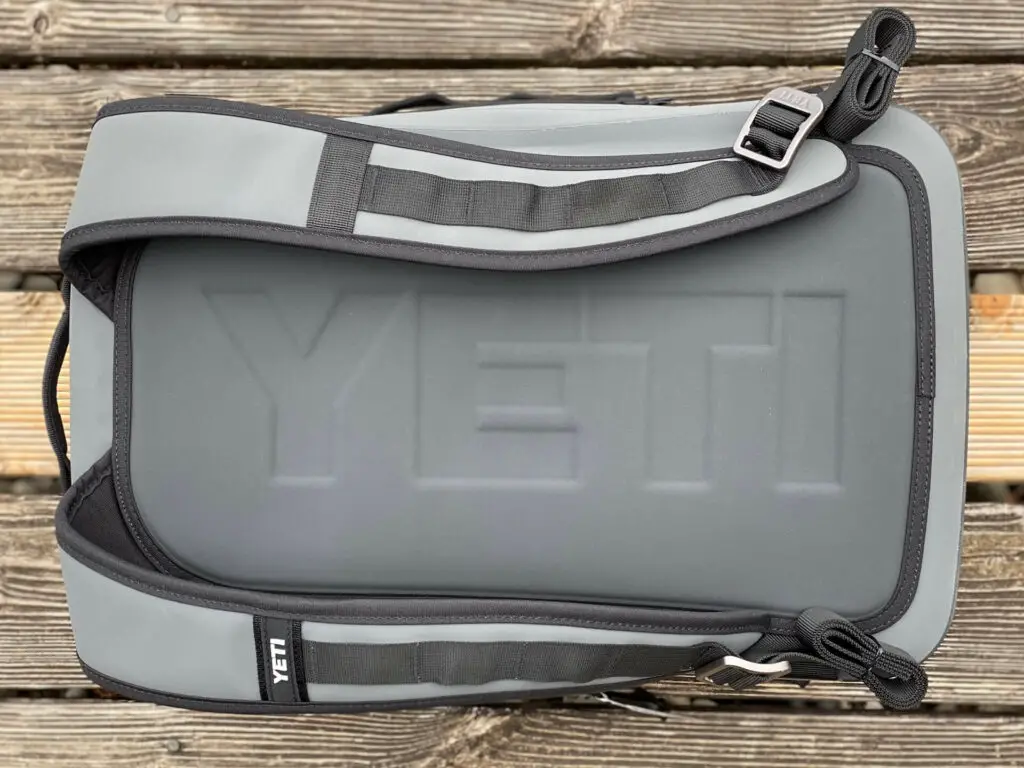 Our stories together aren't just of trails but of endless casting and wading in the river. Each time the skies opened, the Panga 28 stood as a reliable shelter for my gear. The waterproof zipper has faced the wrath of rains and emerged unyielding. Great thing about the Panga is the fact that it cannot only take water from above but you can also fully submerge it (put it underwater) and water still won't penetrate it.
Its abrasion-resistant bottom is a testimony to countless adventures, bearing the brunt of rocky outcrops yet looking as gallant as ever. This backpack isn't just an outdoor enthusiast's desire; it's a fly fisherman's trusted ally.
Specs
Material: High-density nylon coupled with thick TPU lamination.
Waterproofing: HydroLok™ Zipper ensures a water-tight seal.
Straps: DryHaul™ Straps designed for comfortable carrying even when fully loaded. Additional Removable chest and waist straps
Capacity: 28 liters, providing ample storage for gear.
Inner Sleeve: Accommodates a laptop or hydration reservoir.
Interior Pocket: Provides basic storage.
Dimensions: 12.5″W x 7.0″D x 20.0″H
Weight: 3.9LBS (This is a fairly heavy backpack)
Warranty: 3 years
Each of these specifications is a testament to the thoughtfulness invested in designing a backpack that meets the demands of an adventurer, especially one who's spellbound by the rhythm of the flowing waters. The specs translate into real-world benefits that make every fishing trip a bit more comfortable, a tad more organized, and significantly more enjoyable. What I enjoyed most in this regard about the Panga 28, is the fact that it features so many handles and almost carries like a suitcase when needed. It also comes with a variety of attachment loops for additional gear such as a fly fishing net.
How Does the YETI Panga 28 Compare?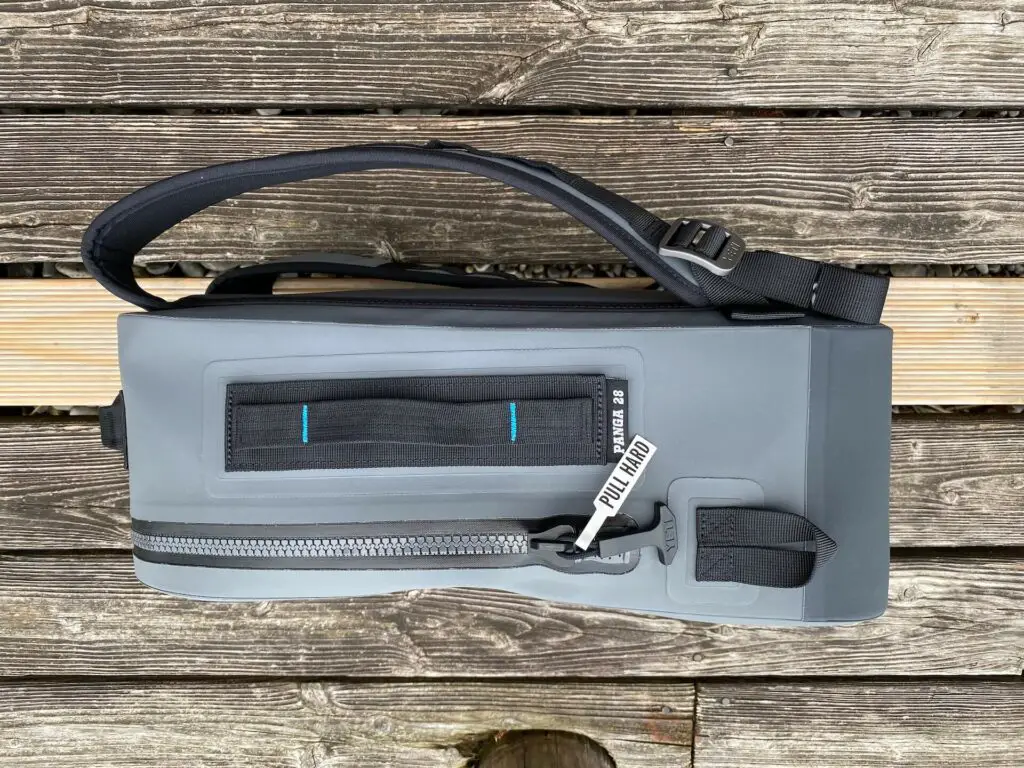 When stacked against its competitors, the Yeti Panga Backpack holds its ground firmly. Let's draw a comparison with the Fishpond Thunderhead Submersible Backpack and the Patagonia Guidewater Backpack 29L, two other stalwarts in the arena of waterproof backpacks (read our Guide on the Best Waterproof Backpacks) tailored for anglers.
The Fishpond Thunderhead Submersible Backpack prides itself on its submersible design, offering an extra layer of assurance when wading through deep waters. While its TIZIP® closure keeps water at bay, I found the Yeti Panga's HydroLok™ Zipper easier to maneuver, especially in hurried situations by the river. However, the Thunderhead scores with its lightweight design and a greater number of external attachment points which can be a boon for anglers with a lot of gear. Plus, it features an exterior pocket and adjustable rod holder straps.
On the other hand, the Patagonia Guidewater Backpack 29L has a slight edge in capacity, providing that extra liter of space which might come in handy on extended trips. Its waterproof construction is commendable, but the Panga 28's thick TPU lamination seemed to offer a bit more in terms of ruggedness and durability. Additionally, the Guidewater's interior organization with multiple pockets is a sweet spot for those who prefer a place for everything.
The Yeti Panga 28, stands out with its tank-like construction, which from personal experience, has endured more rough usage than I initially imagined it could. It balances a streamlined design with sufficient storage space and robust waterproofing capabilities making it a reliable companion for both short escapades and long, demanding adventures.
Each of these backpacks has its set of merits and slight demerits. Your choice would hinge on personal preferences – whether it's the versatility of the Thunderhead, the extra space and organization of the Guidewater, or the ruggedness and reliable waterproofing of the Yeti Panga 28.
A Valiant Companion Worth Every Cast
In the realm of outdoor gear, the Panga 28 Waterproof Backpack stands as a knight loyal to the angler's cause. Whether you're a seasoned fly fisherman or someone testing the waters, this backpack is an investment in peace. It transcends being just a bag; it's a promise of protection against the unpredictable aquatic escapades.
Strengths:
Extremely durable
Fully submersible
Lots of handles and attachment options
Additional support straps
Weaknesses:
Bulky design takes up a lot of space when packed even empty
A few extra pockets would be a nice evolution
Fairly heavy at 3.9 lbs
Frequently Asked Questions
How does the Yeti Panga 28's waterproofing compare to other backpacks on the market?
The Yeti Panga 28 features a HydroLok™ Zipper, which is considered a premium standard for waterproofing. This zipper ensures a tight seal, keeping your belongings dry even in heavy rain or if the backpack is briefly submerged.
Is the Yeti Panga 28 suitable for multi-day fishing trips?
Yes, the Panga 28 has a 28-liter capacity which should suffice for multi-day trips, provided you pack efficiently. It can accommodate essential gear, extra clothing, and a hydration reservoir or laptop.
How comfortable is the backpack to carry on long treks?
Thanks to its ergonomic DryHaul™ Straps, the Panga 28 is designed for comfort even during long treks. The straps distribute weight evenly, reducing strain on your shoulders and back.
Is the abrasion-resistant bottom durable enough for rough terrains?
Absolutely. The abrasion-resistant bottom of the Panga 28 is designed to withstand rough terrains, ensuring the backpack remains undamaged even when placed on rocky or uneven surfaces.
How easy is it to access the contents of the backpack quickly?
The Panga 28's exterior zippered pocket and easy-to-maneuver HydroLok™ Zipper make it relatively easy to access the contents of the backpack swiftly, a feature that can be handy in unpredictable outdoor conditions.
Can the inner sleeve accommodate all laptop sizes?
The inner sleeve can fit most standard-sized laptops comfortably. However, it may have a tighter fit or may not accommodate larger gaming laptops or laptops larger than 15-17 inches.
How do I clean and maintain my Yeti Panga 28 backpack to ensure longevity?
It's advisable to clean your Panga 28 with mild soap and warm water. Avoid using bleach or other harsh chemicals. Air drying is recommended to maintain the integrity of the waterproofing and material.
Are there additional compartments for organizing fishing gear?
The interior pockets and the exterior zippered pocket offer some level of organization. However, the Panga 28 is more focused on providing a large waterproof storage space rather than numerous compartments.