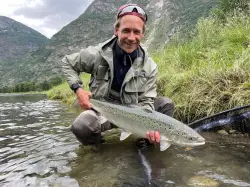 Latest posts by Leonard Schoenberger
(see all)
When it comes to enjoying the art of fly fishing, investing in a reliable pair of waders is essential.
Waders not only keep you dry and comfortable but also provide insulation in cold waters. In this review, we'll take an in-depth look at the Redington M'S CROSSWATER Waders, an excellent choice for anglers seeking dependable entry-level waders. We'll discuss their specifications, features, compare them to other similar options in the market, and address some frequently asked questions.
Key Features and Specs of the Redington Crosswater Waders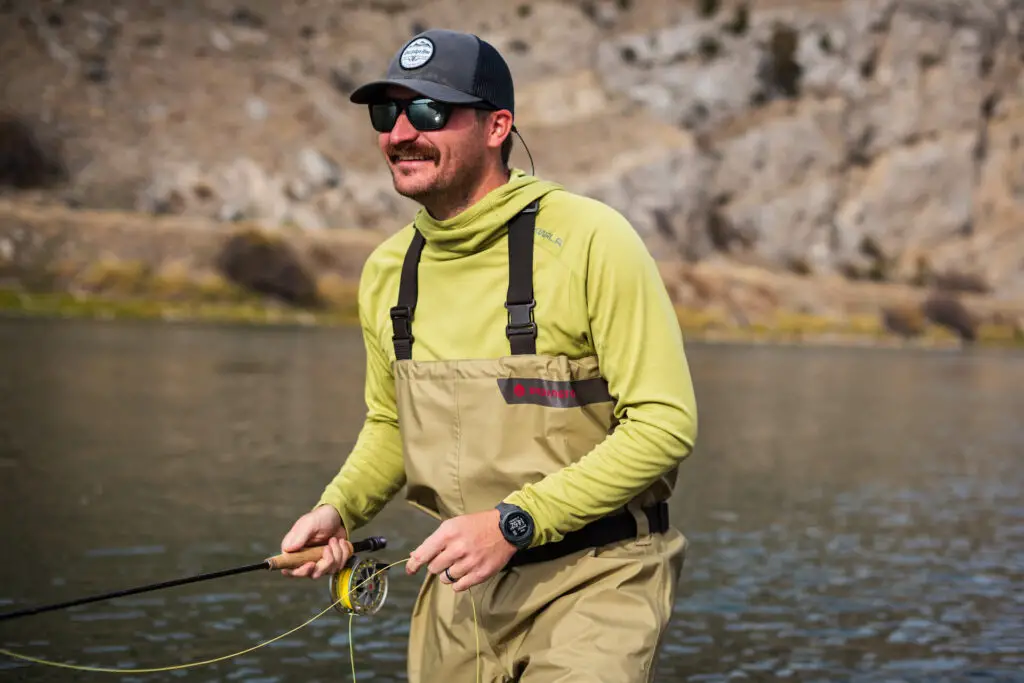 Disclaimer: Some of the links in this article are affiliate links. If you click on one of them and end up purchasing a product we earn a small commission at no extra cost for you. We only recommend products we believe in ourselves. Learn more here.
Price: $149.99
Fabric: 3 layer nylon
Neoprene booties and integrated gravel guards
Adjustable suspenders
Material and Construction: The Redington M'S CROSSWATER Waders are constructed using high-quality 3-layer waterproof, breathable DWR-coated fabric. This material ensures that you stay dry while allowing moisture to escape, preventing you from feeling sweaty and uncomfortable. The entire waders are made from a 3 layer fabric, which means you don't have any areas that are reinforced – from our experience that only becomes necessary when you increase your fly fishing days to more than about 15 year. If you're just starting out, an entry level pair of waders such as the Crosswater will absolutely suffice.
Design: These waders feature a traditional chest-high design, providing ample coverage for maximum protection against water intrusion. The adjustable suspenders with opposing buckles allow for a comfortable and secure fit, ensuring you can spend long hours on the water without discomfort. Sure, these waders are entry level as well and don't feature any padding such as on the Simms G3 for example.
Booties: The stocking feet of these waders are made from high-density neoprene. Neoprene booties offer excellent insulation and comfort while providing a snug fit inside your wading boots. The built-in gravel guards help prevent debris from entering your boots, which is a nice touch for stream anglers.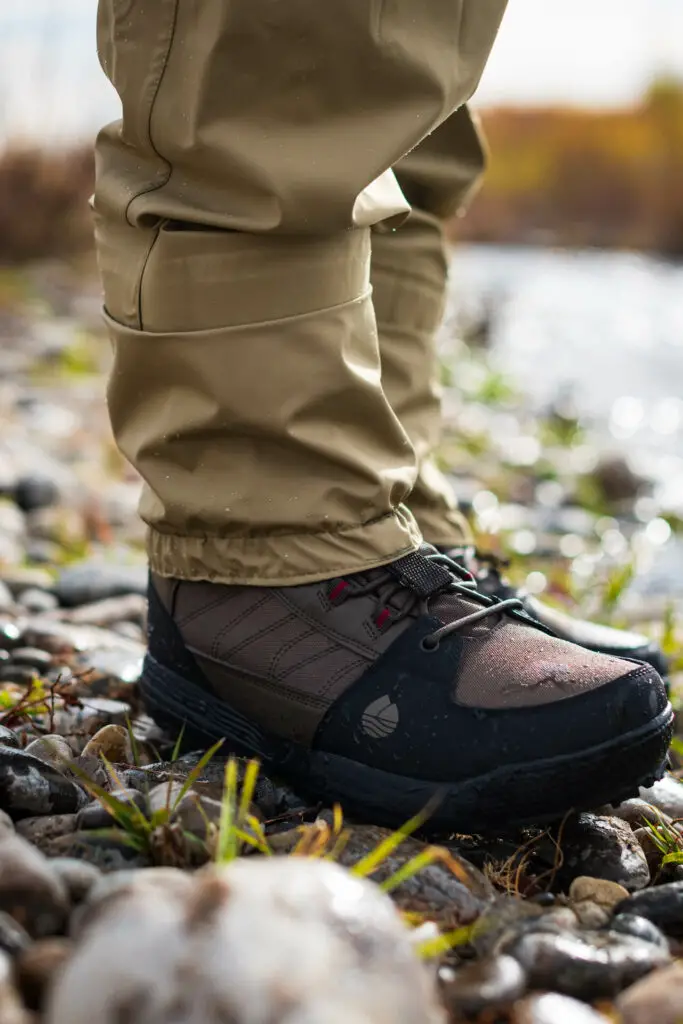 Pockets and Storage: The Redington M'S CROSSWATER Waders come equipped with a flip-out pocket for storing small essentials like tippet spools and fly boxes. If you want to store additional gear, you can consider a hip pack, sling pack or backpack.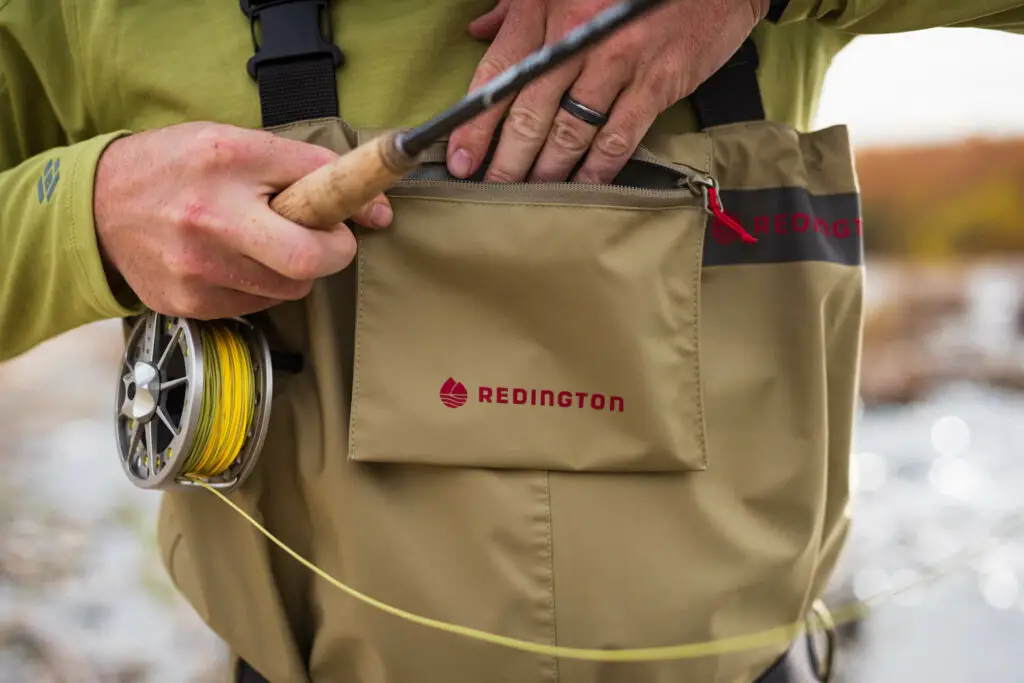 Durability: These waders are meant for your first steps in fly fishing. However, their solid build quality ensures you will be able to get your first few seasons under your belt in them. Like I mentioned before, the Redington Crosswater waders don't come with any reinforced sections that will help against abrasion.
Sizing Options: The Redington M'S CROSSWATER Waders are available in various sizes, ranging from Small to XXL, ensuring a proper fit for anglers of all body types. I would describe the fit as rather loose which gives you plenty of options for layering underneath.
How Do the Crosswater Waders Compare?
Bassdash Men's IMMERSE Breathable Waders
The Bassdash Men's IMMERSE Breathable Waders are another popular choice among entry-level fly fishermen. Let's compare them to the Redington M'S CROSSWATER Waders:
Material: The Bassdash waders also feature a breathable fabric, also with a 3-layer design.
Design: Both waders have a chest-high design and adjustable suspenders, offering similar comfort levels.
Booties: Bassdash waders come with neoprene booties as well, ensuring a secure and warm fit and integrated gravel guards.
Pockets and Storage: The Bassdash waders offer more storage options with multiple pockets, which can be handy for carrying extra gear. First and foremost a big chest pocket plus a flip out pocket. On top, the Bassdash has integrated hand warmer pockets, a feature that I am a big fan of, particularly if you're fishing in colder climates.
Sizes: While the Redington Crosswater Wader comes in sizes from S to XXL, the Bassdash offers a much wider range of sizes.
Price: While the Redington M'S CROSSWATER Waders are competitively priced at $149.99, the Bassdash waders are a great alternative since they come at $40 less than the Redington.
Compass 360 Deadfall Stocking Foot
The Compass 360 waders are another contender in the entry-level category. Let's see how they stack up against the Redington M'S CROSSWATER Waders:
Material: Like the Redington waders, Compass 360 waders are made with breathable fabric, but they use a 4-layer design for added durability which is further increased by reinforced knee sections.
Design: Both waders feature a chest-high design with adjustable suspenders, offering similar comfort and coverage. We found even the padding to be very similar during our testing.
Booties: Compass 360 waders also come with neoprene booties for insulation and comfort. Just like the Redington Crosswater they feature integrated gravel guards.
Pockets and Storage: The Compass 360 waders have multiple pockets such as a big zippered chest pocket and a flip out pocket very similar to the Bassdash.
Price: Price wise the Compass come it at almost the same price as the Redington Crosswater, $139.95 to be precise.
Pros and Cons of the Crosswater
PROS:
Lightweight and waterproof fabric
Exzellent gravel guards
Neoprene booties provide a good fit
CONS:
Very limited storage options
Other competitors in this price range offer hand-warmer pockets
Conclusion
In conclusion, the Redington M'S CROSSWATER Waders offer a reliable and comfortable option for anglers looking to get into fly fishing without breaking the bank. With their breathable and waterproof construction, durable design, and thoughtful features, they compete well with other entry-level waders in the market. From my experience it's always a good idea to go for a brand that also manufacturers higher end products. That's clearly the case with Redington. Plus, the Crosswater come with a 1 year warranty.
The only real downside of the Crosswater waders are the limited storage and pocket options. A big chest pocket would be a nice upgrade for these waders since the small flip-out pocket can really only accommodate essentials.
FAQs: Redington Crosswater Waders
Are the Redington M'S CROSSWATER Waders suitable for all-season use?
Yes, these waders are designed to be versatile and can be used in various seasons. Their breathable construction helps regulate temperature, making them comfortable in both warm and cold weather. However, for extremely cold conditions, layering underneath is recommended.
Do I need to size up my waders to accommodate layers underneath?
It's generally a good idea to choose a size that allows for layering underneath, especially if you plan to fish in colder weather. This ensures comfort and flexibility while fishing.
Are the Redington M'S CROSSWATER Waders compatible with all types of wading boots?
Yes, these waders feature stocking feet that can be worn with a wide range of wading boots. However, it's important to ensure that your wading boots are appropriately sized to fit over the wader booties.
How do I clean and maintain these waders for longevity?
To maintain your Redington waders, rinse them thoroughly with freshwater after each use to remove salt and dirt. Hang them to dry completely before storing. Avoid prolonged exposure to direct sunlight and extreme heat, as it can damage the fabric and seams. Regularly check for leaks and patch them promptly to extend the waders' lifespan.