Last updated on August 20th, 2023.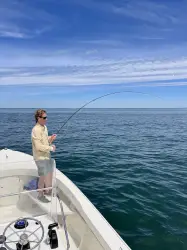 Latest posts by Leonard Schoenberger
(see all)
A well designed and feature-packed saltwater fly box is a great piece of gear to have in your fishing arsenal.
Investing in the right fishing fly box, suited for the right angling activity, can help organize your fly collection and enable you to take them out quickly. 
Sure, we're not really suggesting that you should go on your trips with a briefcase-sized fly box, but one that allows you to store the best flies for the occasion, and one that can fit snugly inside your fishing vest pocket. 
In light of this, we're going to talk about some of the best saltwater fly boxes 2023 to help you make a more informed buying decision. 
But first…
Table of Contents:
Best Saltwater Fly Boxes Quick Answer List
Key Factors to Consider When Buying a Saltwater Fly Box
Best Fly Boxes for Saltwater Reviewed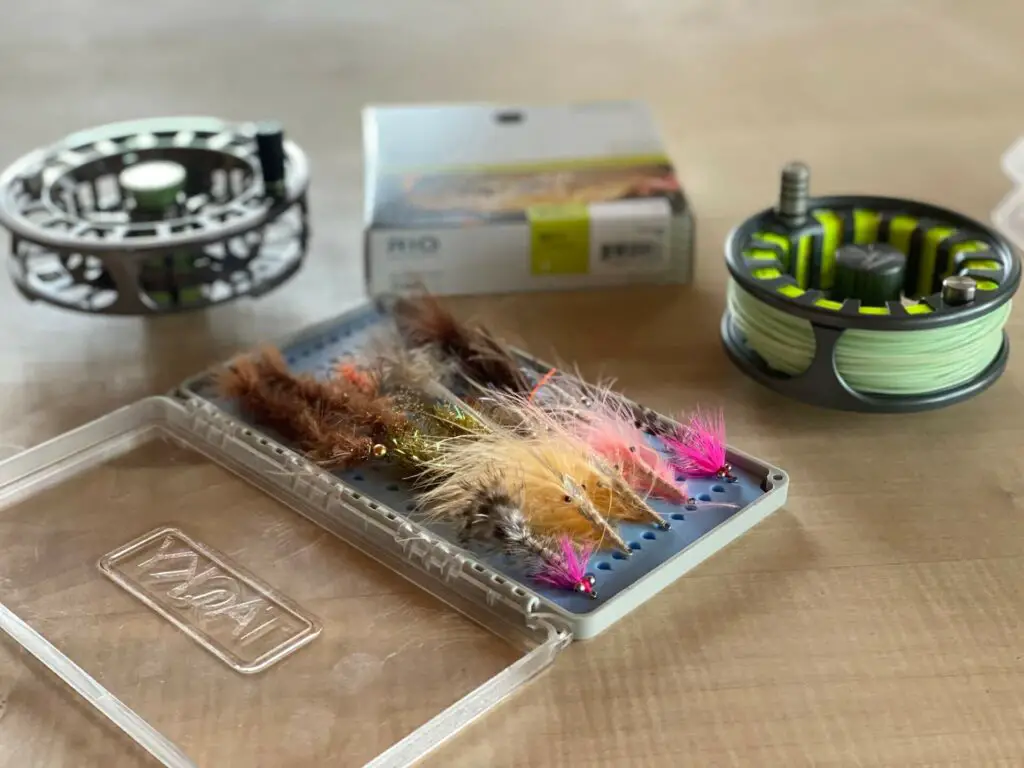 Best Saltwater Fly Boxes Quick Answer List
2. C & F Design Grand Slam Large Waterproof
4. Gamakatsu 12 Piece Bonefish
6. Umpqua Boat Box Ultimate Sage
7. MFC Boat Box
8. Fulling Mill Tactical Max Box
Key Factors to Consider When Buying a Saltwater Fly Box
Durable Built 
When it comes to fly box construction, there are a few aspects that you should think about. For example, the product must be built to withstand impacts and should be waterproof, or at the very least, it should be water-resistant. As for the materials, look for fly boxes that are made with polycarbonate, ABS plastics.
Moreover, also consider how snugly your flies will fit inside the box. Top quality boxes contain tear-resistant, quality foaming that helps keep the flies securely intact and in place.  
Adequate Fly Storage 
The box shouldn't be big enough that it starts to become a hassle – bigger boxes are more suited for anglers that have thousands of flies and go on extended fishing trips. However, compact boxes that can hold hundreds of flies will also suffice. Plus, you also need to consider getting something that can fit inside your shirt or vest pocket without becoming a problem. So, it's better to go for something compact. 
Water-Resistant and/or Waterproofing 
While it's not overly important to get a waterproof fly box – it's also important to understand that accidents happen all time. You don't want to keep buying fly boxes every now and then. So to protect your investment, it's wise to get a product that's built with watertight seals.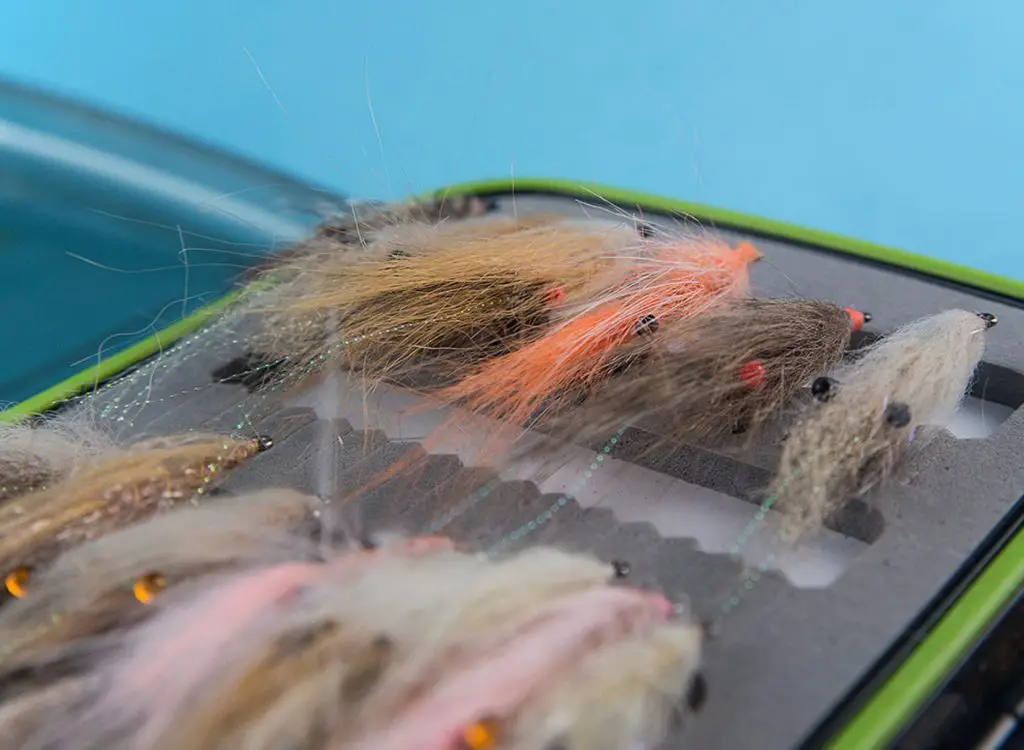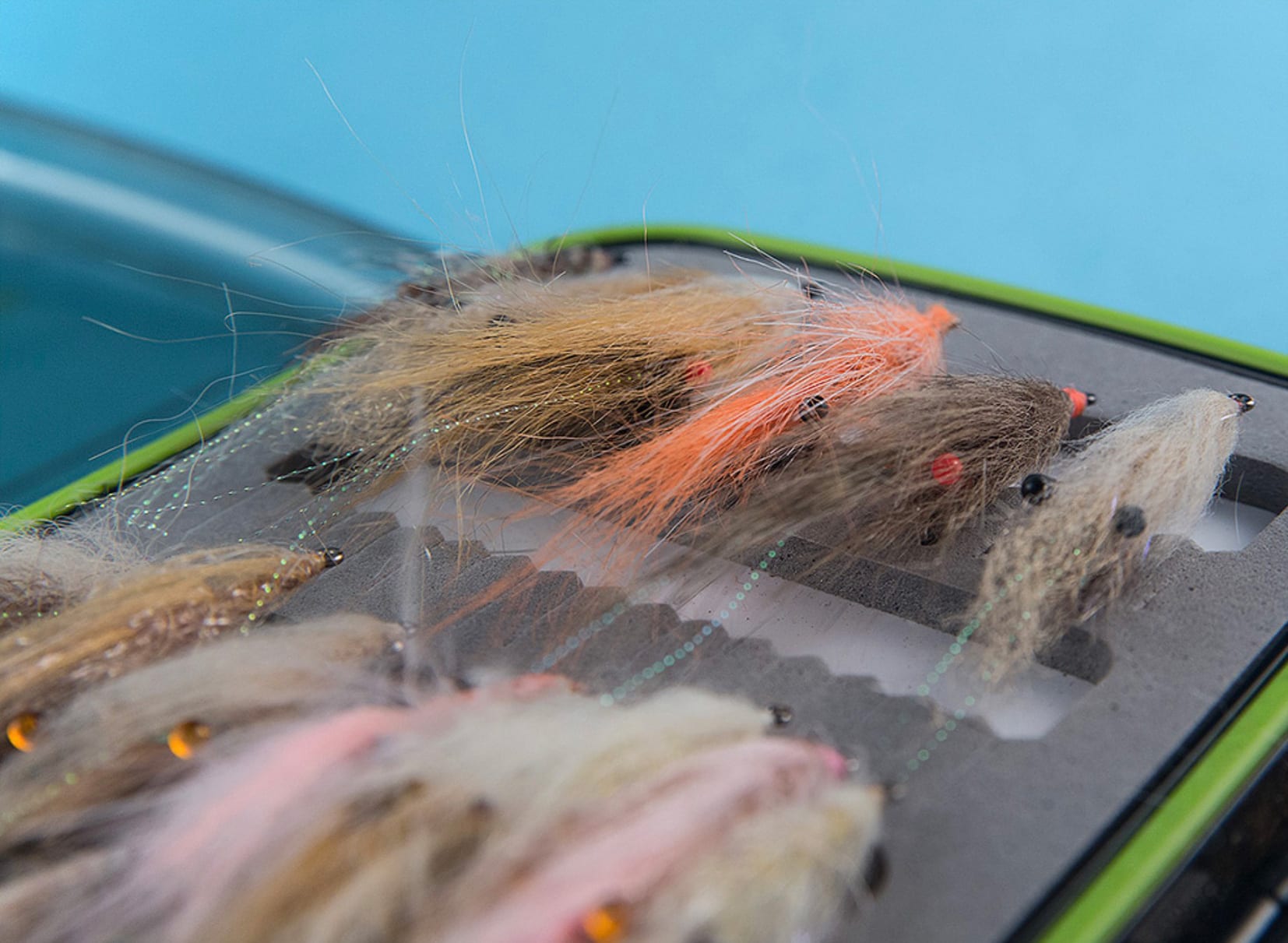 Top 10 Saltwater Fly Boxes at Different Price Ranges
Notice: The Wading List is reader-supported. We take part in various affiliate programs such as amazon associates or avantlink. If you click on one of the links in this article and end up purchasing a product we earn a small commission at no extra cost for you. Thank you!
The Tacky Pescador can be considered one of the best fly boxes 2023 because it can store a myriad of different flies. And what's really interesting is how the company managed to achieve this by designing a relatively compact box. The saltwater fly box is ideal for storing smaller flies, especially if you're fishing with mop flies or nymphs. 
The Tacky Pescador is made from high-grade silicone, which makes the box waterproof, durable, and completely wear and tear resistant. Moreover, on the inside, there are several neatly designed foam inserts to help anglers quickly attach their flies thanks to the Pescador's silicon anchoring. 
In addition, the Tacky Pescador is transparent, which means you'll be able to see where each fly is attached, enabling you to retrieve a fly without wasting time. In all, a great fly box at the best price range and to top it off, some of the parts of the box are made from completely recycled plastic. 
 Pros
Storage for more than 200 flies
Waterproof and airtight design
Silicon build for extra durability
Magnetic fly attachment inserts
Durable construction
Cons
Larger than typical fly boxes 
The C & F Design Grand Slam Large is one of the best looking saltwater fly boxes on this list. Built to contain a large volume of flies, the box is durable and waterproof, making it a versatile combination for both experienced and novice anglers. Moreover, the fly box is made from topnotch ABS plastic and has a more rounded design, which makes it easier to fit in your pocket. 
With a durable construction, the fly attachment system features a rippled surface to help make it simpler for anglers to attach and unhook flies more quickly. The C & F Design Grand Slam Large is excellent for small, saltwater species like the bonefish. Although the box is designed with five slit foam strips, which is great for small fish, it can also hold particularly heavy flies as well, thanks to the top quality foam used. 
To make this even easier, the C & F Design Grand Slam Large is backed with a white high visibility layer that provides a miniature sight board, helping you see the flies more easily.
Pros
White layering allows for clear visibility 
Designed with a small sight board
Can store light and heavy flies
Quality foam and durable build
Ergonomic design 
Comes with threaders 
Cons
The threaders are what really set this box apart from others, but they're easy to lose. 
Not for freshwater fish
The Adamsbuilt Double Sided saltwater fly box is perfect for storing a large volume of saltwater flies, giving you access to a wide arsenal of the right flies for the right fish. In addition, the box is a great way of ensuring you don't lose any of your flies as it's designed for easy attachment and has a more organized look and feel. 
The double sided saltwater fly box is made from topnotch plastic and features a waterproof and airtight design to help keep your flies intact and in excellent shape. So, you won't have to worry about any wear and tear damage or exposure to the elements. 
In addition, the Adamsbuilt Double Sided includes a white visibility component, which basically acts as a small sight board, helping anglers to keep all their flies in sight, accessing them more easily and quickly. 
Pros
You can store more than 100 flies
Transparent, crystal box lids
White layer visibility sights 
Strong build (topnotch ABS plastic)
Stainless steel hinges
Waterproof and airtight design 
Silicone construction to keep it completely weatherproof
Cons
Slightly expensive
The Gamakatsu 12 Piece Bonefish saltwater fly box is another interesting product anglers should consider. Why? Well, the box is designed to store 12 varieties of both Yucatan Peninsula and Bahamas flies, which by the way, come in different shapes and sizes. And you'll also be pleasantly surprised to know that the Gamakatsu box comes with one of each of the twelve flies. 
You have to understand that fly boxes can take up plenty of space, which means you won't be able to bring all your favorite flies on the trip and because it's purpose-built, you'd have to carefully consider the types of flies to carry with you. However, the Gamakatsu 12 Piece Bonefish Fly Box is an excellent solution to this conundrum. 
The Gamakatsu features a durable, top quality foam construction and is designed with bigger hook gauges. In addition, it also comes with a transparent lid, providing a clear line of sight. The box is also water and weather-proof. 
Pros
Great for storing your favorite flies 
Transparent lid
Durable construction
Clear visibility and accessibility 
Cons
Will take up room depending on the size of the fly
When it comes to saltwater fly boxes 2023, this is probably the best one when you talk about bonefish angling. Moreover, it could also be used for storing streamers. The Cliff Outdoors Crab Shack Fly Box is a more compact version of the company's renowned Bugger Barn fly box and is particularly great for saltwater streamers and flies. 
However, as compact as the Outdoor is, you'll be able to easily store slightly bigger flies as well – especially ones that come with voluminous patterns. Moreover, the fly box is designed to comfortably fit inside all type of fishing vest and shirt pockets. Designed with the company's special material, the slits will keep the flies securely in place. 
Pros
Made with company's patented slit blue foam
Easily fits inside vest and shirt pockets 
Durable construction
Made originally for crabs, but can be used for smaller saltwater fish 
Organized fly attachment design
Cons
May not be suitable for extended fishing trips
The Umpqua Boat Box Ultimate Sage is perhaps a more ideal option for anglers looking for a bigger and more durable box to store different types of saltwater flies. The box comes with a slotted foam design to keep the flies organized and secured in place. 
But one of the best things about the Umpqua Boat Box Ultimate Sage, which a lot of other products lack, is the fact that it comes with an additional foam slot that is meant for drying your flies before attaching them. This enables anglers to quickly access their flies. Moreover, the foam attachments are designed with placement indicators to help anglers identify where each fly is located. 
Pros
Easy drying 
Enhanced accessibility
Airtight and waterproof design
Durable internal foam built
Cons
Expensive
The Boat Box by the Montana Fly Company is an excellent product to tackle problems associated with fly mismanagement and organization. The MFC Boat Box is designed to help keep things well-organized, quick to reach, and highly visible for increased accessibility behind the oars.
Moreover, the product comes in multiple vibrant colors and is made with impact-resistant and waterproof materials. In addition, the fly box for saltwater also features a rubber gasket seal, so even if you accidentally submerge it in water, you'll have nothing to worry about. 
However, one of the best things about the MFC Boat Box is the fact that it can hold up to 4,000 different flies. With brilliant fly configuration, you can neatly and securely store all your flies in one place. 
Pros 
Store thousands of flies effortlessly 
Durable and waterproof construction 
You can double the fly capacity by getting an additional leaf insert 
Cons
Expensive
The Fulling Mill Tactical is yet another innovative and feature-packed saltwater fly box that is extremely portable yet can hold more than 1,000 flies. The box is designed with four different sections to store your flies and is made with top-quality, thick slit foam for adequately securing all your flies.  
The Fulling Mill Tactical Max Box also boasts magnetic lid closing and features stainless steel hinges for long-term durability. Plus, steel is anti-corrosive, which is a must-have if you're fishing in saltwater. Moreover, the product is made from topnotch polycarbonate, which makes it impact resistant. 
Pros
Durable construction
Holds plenty of flies
Impact resistant materials
Compact size 
Magnetic lid latch
Cons
Double-sided leaf page may be prone to breaking 
The Double-Sided fly box by Orvis provides ample storage space for anglers to organize their saltwater flies and streamers. The new Orvis double-sided box is an excellent improvement over the company's reputed and standard fly boxes.
The interior of the Double-Sided fly box by Orvis is lined with top-quality microslit foam that adequately fastens all your flies. Its transparent design allows for unhindered visibility and the box includes watertight sealing componentry to keep all your flies nice and dry. 
Pros
Durable latch system 
Opens from two sides
Quality construction 
Water-resistant sealing
Cons
Low storage capacity compared some of the other products mentioned
The Umpqua UPG Light Payload features a sleek design and is built with a magnetic lid latch for easy opening and closing. Moreover, the saltwater box also boasts a transparent lid design, making it easier for anglers to see and access the right types of flies.
The Umpqua UPG Light Payload is made from topnotch, durable materials and is water and impact-resistant to provide anglers with a worry-free fishing experience. 
Pros
Magnetic latch
Transparent lid
Adequate fly storage and handling 
Available in different colors 
Cons
Comparatively lower fly holding capacity
Bottom Line on Saltwater Fly Boxes 2023
When it comes to saltwater angling, investing in the right fly box is going to continuously help you enhance your fishing experience. Choosing a box that's the right size, blended with topnotch durability, and accessibility will mean you won't have to keep on buying new fly boxes every now and then. 
Frequently Asked Questions – Saltwater Fly Box
What type of fly box for saltwater should I use?
While the build and design of fly boxes are mostly the same, some come with added foam durability and accessibility benefits than others. However, to be on the safe side, it's recommended to use a box that's durable, weatherproof, and water-resistant. 
On the other hand, the type of fly box you should go for will also come down to your preferences. For example, when it comes to midges, go for a box that's more compact and portable. Similarly, if you're fishing with wet flies and/or streamers, go for something long and spacious. Lastly, if you're using dry flies, the box should be waterproof and should boast an additional foam slit to dry your flies. 
Are the design and functionalities of all saltwater fly boxes the same?
Yes, but that's true to a certain degree. You see, fly boxes come in different shapes, sizes, and designs. However, the best option will mostly depend on the amount of flies it can store. You'll need several fly boxes that can properly hold your dry flies, nymphs, streamers, etc. So, in reality, there's no cookie cutter answer to this.  
Notice: The Wading List is reader-supported. We take part in various affiliate programs such as amazon associates or avantlink. If you click on one of the links in this article and end up purchasing a product we earn a small commission at no extra cost for you. Thank you!