Last updated on August 19th, 2023.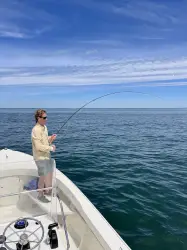 Latest posts by Leonard Schoenberger
(see all)
The right 8 wt fly reel will give you an edge when it comes to hunting big and aggressive gamefish such as bass, salmon, and steelhead.
The best product is going to guarantee casting bigger and heavier flies stays easy. So, if you're out to catch small or big fish species in saltwater environments, nothing can beat an 8wt fly reel. We're going to talk about some of the best 8 wt fly reels on the market and some reasons why you should invest in one. So here it goes.
8 wt Fly Reels Are an Excellent Choice for Saltwater Fishing Excursions 
So, you've decided to go after aggressive and larger saltwater fish species. It isn't going to be a walk in the park. But to make things easier, what you need is something with a particularly large arbor. You see, a big arbor is going to help you reel fighting fishes without exhausting your arms and tiring your hands. And the best thing for a 7/8/9 wt fly rod is a versatile fly reel.
Lucky for you, 8 wt fly reels are designed to be compatible with most modern fly rods and in different weight categories. Furthermore, we can't stress enough that a modern and sealed drag system is perhaps the main ingredient of a high performing fly reel. In light of this, mentioned below are some of the best factors that make 8 wt fly reels the go-to option for saltwater fishing.  
A Quality and High Performing Drag System
When it comes to fly reels, there are two types of drag mechanisms that anglers go for – the click and pawl and the drag disc system. What you need is the drag disc mechanism. Why? Well, there's no doubt it's the most powerful – especially if you want to quickly hook and reel a big fish. Most modern 8 wt fly reels come with a strong and sealed drag disc system, which means you won't have to worry about frequent maintenance.  
The click and pawl system isn't recommended for saltwater fishing, especially if you're after big and aggressive species such as stripers. This drag system is good for one-handed fishing and catching smaller fish in creeks and lakes. 
An 8 weight fly reel is a very versatile weight class. It's also an excellent reel for salmon fishing no matter whether you prefer a single or double handed rod. Plus, an 8 weight is also the right choice if you're after strong freshwater species such as carp, bass or pike.
8 Wt Fly Reels Make the Best Ripping Sound 
One of the best things about 8 wt fly reel drag systems is the fact that they make a classic zipping and ripping sound as soon as you hook the fish. The louder the sound, the bigger the fish. While this doesn't necessarily help you catch any fish, it certainly tells you that you've hooked a winner. So consider this feature as a bonus.  
Some Factors to Consider 
The Weight
8 wt fly reels are a bit heavy. So if you're willing to fish with larger fly rods and reels, understand that casting the reel over longer distances will be a bit of a challenge. And if you don't ensure that the fly reel is the right balance with the rod, you're going to quickly tire your arms. So, if you're looking for long day fishing excursions, keep in mind that 8 weight fly reels are compatible with 7/8/9 wt rods. 
Quality Built and Materials
When it comes to the best fly reel material, nothing beats machined aluminum. It's lightweight and quite durable and strong. However, it's also pricey. 
8 Weight Fly Reel Reviews
Note: The Wading List is reader-supported. If you click on one of the links and end up purchasing a product we might earn a small commission at no extra cost for you. We only recommend high quality products. Thanks for your support!
If you're looking for a powerful drag system then look no further than the Redington Grande 8 wt Fly Reel. The reel is made with machined and anodized aluminum and features the company's patented Super Torque system to completely render the fish helpless.
In addition, the Redington Grande 8 wt Fly Reel has a carbon drag mechanism that's fitted with a larger palming rim and provides anglers with improved backing capacity. The drag and handle knob is fitted just right to help you effortlessly locate and adjust the drag system without losing too much focus. 
Pros
The fly reel construction consists of anodized and machined aluminum 
Powerful and streamlined drag system incorporated with the company's Super Torque mechanism
Minimized line stacking thanks to its V-spool construction
Features a backing canal arbor
Easily adjustable spool stiffness
Cons
Not recommended for aggressive saltwater fish species
When it comes to versatility and compatibility, there's nothing better than the Sage Spectrum LT 8 wt fly reel. Why? Well, the Spectrum LT is designed to effortlessly pair all types of modern 7/8/9 wt fly rods. Plus, it has a lot of tensile strength capable of beating aggressive and large species of fish like steelhead and salmon quickly into submission. 
Moreover, the Sage Spectrum LT 8 boasts a cutting-edge drag mechanism and has a lightweight yet sturdy frame. It's also very easy to adjust and set thanks to the company's One Revolution Drag Knob technology. The power and smoothness of the drag system is high-end. 
Pros
The fly reel boasts SCS Drag technology
One Revolution Drag Knob technology with a dearth of settings (40)
Fast line responsiveness thanks to a large arbor
Improved strength and durability thanks to a concave arbor
Comfortable handle
Made with machined aluminum (aerospace-grade)
Cons
Lacks desirable drag strength
The Ross Animas 7/8 is a superior version of the company's classic series and boasts a totally new design with a sturdy frame. The Animas also features a cutting-edge, super lightweight handle made with phenolic canvas so no matter how wet it gets, it will just keep on getting tackier. In addition, the product also comes with an easily adjustable spool that's virtually maintenance-free. The Ross Animas is the perfect tool for both saltwater and freshwater fishing. 
Moreover, the new Ross Animas 7/8 is also fitted with a composite drag system that's designed to give anglers increased pulling power. Taking on steelheads, carp, or salmon has just gotten way easier!
Pros
Bell shaped arbor 
Bigger arbor design for power and durability 
Made with machined CNC aluminum (aerospace-grade)
Super lightweight with improved torque and strength
Phenolic canvas handle for enhanced comfort and gripping strength 
Composite disc drag system 
Completely sealed and maintenance-free
Cons
Plenty of other products with bigger arbors
Isn't that lightweight 
The Orvis Hydros IV is a completely redesigned 8 wt fly reel that was launched two years ago. The product is quite lightweight and is built with machined bar stock aluminum. The fly reel incorporates a full sealed, maintenance-free drag system with a sturdy spool. One of the best things about the Orvis Hydros IV is the fact that it has a smooth and pretty streamlined startup inertia. And thanks to a narrow spool, you can expect minimum line stacking. 
The sealed and carbonized drag system of the Orvis Hydros IV helps provide excellent weight balance, especially for lighter 7 wt and 8 wt fly rods. The fly reel system is designed to be used for both saltwater and freshwater excursions. 
Pros
Bigger than average arbor helps tweak retrieval rates 
Completely sealed carbon drag system with clutch bearing
Reduced line stacking thanks to thinner spool
Cons
Better alternatives available for nearly the same price
When it comes to brilliant aesthetics and excellent craftsmanship, it doesn't get any better than the Zane Carbon 8000 by Hardy. There really no question that Hardy manufactures world-renowned 8 wt fly reels. The Carbon 8000 is the newest edition of their acclaimed products, designed to tackle, harass, and knock out the toughest fish out there. The fly reel is excellent for catching bonefish and steelhead and is constructed on the company's new and improved hybrid aluminum and carbon fiber, making it extremely lightweight. 
Moreover, the handling and ergonomics of the fly reel don't compromise its performance and structural durability. In addition, the Hardy Zane comes with a maintenance-free, fully closed drag system with rigid indents and a regulated drag responsiveness of 340-degrees. 
Pros
Made with innovative carbon fiber technology and machined aluminum (bar stock)
Type II anodized frame finishing
Dual pad disc drag systems (full sealed)
Cons
Not enough pulling power for bigger fishes
The Abel SDS 7/8 is another excellent saltwater reel you should definitely consider. The award-winning product is designed for sheer power, durability, smoothness, and versatility. Moreover, the fly reel is fitted with a bigger and badder drag system that's specifically made to tackle and hook aggressive and larger fish species. 
You can use it to catch all types of gamefish. The Abel SDS 7/8 also incorporates the company's exclusive and patented dual disc mechanism that gives anglers a staggering 20-lbs + of sheer pulling and braking power. In addition, the drag system is fully sealed, making it virtually maintenance-free. 
Pros
Cold finished body manufactured using machined aluminum (aerospace-grade)
Spool and drag knob also manufactured with aerospace aluminum
Spool can be effortlessly changed 
Retrieval direction is easily convertible 
Beautiful wood handle 
Cons
A bit expensive
Spool isn't that big
The Hatch Iconic 7 Plus Fly Reel is specifically designed for long fishing excursions without compromising on weight – it's a pretty lightweight and ergonomic fly reel. The Iconic 7 Plus consists of a carbon drag system that helps quickly reduce friction. In addition, the Iconic 7 doesn't come with cassette housing like the company's previous fly reels.
They've incorporated the drag system directly into the frame of the reel, which helps considerably enhance stability while minimizing axial runout. In all, the Hatch Iconic 7 Plus Fly Reel is an excellent choice for anglers looking to fish in both saltwater and freshwater, hunting for big game fish such as steelhead and bass. 
Pros
Bigger arbor 
Balanced arbor spool
Body consists of type II anodized aluminum 
Cons
Expensive
The Bauer RX 6 Spey Fly Reel is another excellent spey reel designed with a bigger arbor. Moreover, it boasts a beautiful design, and the frame is made with aerospace-grade, machined aluminum. The 8 wt fly reel features topnotch componentry and is anti-corrosive. The Bauer RX has a full packed drag system for flawless performance and anglers won't have to worry about any frequent maintenance. In addition, the product is specifically designed for two-handed rods, offering excellent balance.
Thanks to the reel's big spool diameter, anglers will enjoy quick line pickups and improved capacity to use different types of spey lines on the Bauer RX. 
Pros
Excellent design aesthetics
Great for two-handed rods 
Frame made with aerospace-grade machined aluminum
Lightweight 
Drag system is self-lubricating
Larger disc drag system form increase strength 
Cons
Expensive
The Tibor Everglades 8 wt fly reel offers excellent line retrieval, which is absolutely essential when it comes to catching aggressive saltwater fish like wahoo and bonefish. The fly reel provides the perfect balance between power and smoothness thanks to its flawless carbon drag system.
You'd also be happy to know that the Tibor Everglades fly reel has been used in 250 world championships and is the go-to choice for many competitive anglers. 
Pros
The fly reel has an open hub design
Quick cooling thanks to a perforated spool
Large arbor
Frame made with quality bar stock aluminum
Cons
Pricey
The Nautilus CCF-X2 8/10 is an excellent 8 wt fly reel, specially designed for hunting saltwater gamefish such as the peacock bass, tarpon, and redfish. The CCF-X2 features the company's patented multi-action drag system providing anglers enhanced strength and exceptional handling with minimum inertia at the start.
Moreover, the Nautilus CCF-X2 8/10 has also incorporated the Activseal technology to fully close the drag system for ultimate performance and zero maintenance. 
Pros
Frame constructed with aerospace-grade machined aluminum 
Award-winning CCF-X2 technology 
Upgraded disc brake system
Low startup inertia thanks to hybrid ceramic bearings
Giga arbor design 
Cons
A bit heavy
Bottom Line on the Best 8wt Fly Reel
So there you have it – 10 of the best 8 wt fly reels money can buy. Like always, make sure to determine the type of fish you want to catch before investing in any of the products. 
Frequently Asked Questions
When is it best to use an 8 wt fly reel?
8 wt fly reels are great for casting large flies, especially when you talk about catching big game fish such as bass and steelhead. The fly reels will provide you with the tensile pulling strength and a smooth drag system for optimal performance. 
Is there a right amount of backing I would need for an 8 wt fly reel?
With an 8 wt fly reel, the recommended backing you would require is around 100 to 125 yards. With this amount, you'll still have a lot of room for line spooling. 
Note: The Wading List is reader-supported. If you click on one of the links and end up purchasing a product we might earn a small commission at no extra cost for you. We only recommend high quality products. Thanks for your support!