Last updated on August 18th, 2023.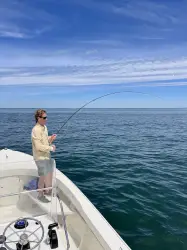 Latest posts by Leonard Schoenberger
(see all)
Fly fishing has gained many more followers during the pandemic. The fact that the sport is en vogue has not gone unnoticed by fashion brands such as Woolrich.
The American manufacturer teamed up with Queens, NY, based streetwear label Aimé Leon Dore, founded by Teddy Santis, in 2014. The idea was a fresh take on essential fly fishing clothing such as shirts, jackets and vests. We got our hands on the collection and bring you our favorite pieces from the collaboration.
The Trout Fleece Pullover is a creative take on one of the essential pieces in any fly fisherman's wardrobe: the fleece pullover – meant to keep you warm no matter the conditions you'll be fishing in. This one comes with a buttoned collar and two big side pockets to keep your hands cozy.
We love the rainbow trout print that gives it a fresh touch and makes you look good no matter whether you're out hunting trout or hitting the streets. We recommend going one size up for a more relaxed fit and a bit of room for casting.
The Fly Fishing Shirt – Aimé Leon Dore / Woolrich has all the features of a great fly fishing shirt. Available in two colors, green (pictured above) and beige, it comes with two buttoned chest pockets to store essentials such as a nipper, a tippet spool or a small fly box. The left chest pocket is surrounded by a mesh pocket that can hold further gear such as a ruler or fishing license.
A zippered pocket can keep your valuables like a wallet or car keys safe. A small D-ring allows for the attachment of further gear, such as a pair of pliers. Made from a waterproof fabric, the Fly Fishing Shirt – Aimé Leon Dore / Woolrich is a great piece of gear for your next outing.
If you're serious about fly fishing, you know about the importance of a solid fly fishing jacket. Getting wet while out on the water, will make your fishing have as much fun. For their fly fishing jacket, the two brands kept it classic. Two big chest pockets can take in all your essentials such as nippers, pliers, fly boxes or a pair of fly fishing sunglasses.
Two D-rings below the pockets allow for the attachment of retractors for example. The waterproof fabric will keep any water out and the wide brim on the stowaway hood will prevent rain drops from hitting your face. If you want to stand out a little more on the water or in the streets, go for the beautiful red color.
The Fly Fishing Multi-Pocket Vest is another piece of gear, for which Woolrich and Aimé Leon Dore stuck to a pretty traditional style: lightweight mesh fabric and lots of pockets, those are the ingredients for a great fly fishing vest.
Multiple buttoned pockets, two zippered pockets and several D-rings make sure all your fly fishing essentials are on board when you head out to the river. The stylish Aimé Leon Dore gives this vest a modern spin as does the color white. But don't worry if you're a traditionalist, the Fly Fishing Multi-Pocket Vest is also available in green.
Our final favorite from the collabo is the Fishing Mesh Bucket Hat since it's a piece of gear that you can wear equally well for a fly fishing trip and to a music festival. The mesh panel on top makes sure you get some ventilation and keep a cool head.
Made from the same waterproof fabric as the Fly Fishing Shirt, the hat is available in two colors: green (pictured above) and a cream/beige colorway.