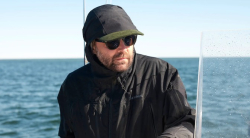 Latest posts by Christian Anwander
(see all)
Fly fishing enthusiasts know that a successful outing relies on having the right gear at the ready.
When it comes to transporting and protecting your valuable rods and reels, the Fishpond Dakota Carry-on Rod & Reel Case takes center stage as a reliable companion on your angling journeys.
Hands on with the the Fishpond Rod Case
Note: Some of the links in this article are affiliate links. If you click on one of them and end up purchasing a product we earn a small commission at no extra cost for you. We only recommend products we believe in ourselves and would recommend to our friends and family. Learn more here.
The facts:
Weight: 5.2 lbs
Capacity: 1,390 cu. in.
Dimensions (external): 31″ x 10″ x 5″
Dimensions (internal): 30″ x 8.5″ x 3.5″
Can hold about four 4 piece 9′ rods
Note: There is a bigger version of this rod case for double handed rods
Craftsmanship and Durability
Right out of the box, the Fishpond Dakota Carry-on Rod & Reel Case exudes quality craftsmanship. The case is made from a durable nylon fabric that is reenforced at the bottom. The main handle reminded me of nautical design since it's made from a thick rope like fabric – a nice little detail.
Design and Functionality
The design of this rod and reel case is a masterstroke in functionality. It can accommodate up to four single-hand, 9 foot fly rods and reels securely. The padded interior dividers keep your gear organized and protected, preventing them from bumping into each other during transit. You can adjust the inner organisation to your liking thanks to the removable velcro patches. The exterior features multiple pockets and compartments for storing additional essentials like leaders, tippets, and fly boxes. It's an all-in-one solution that simplifies your packing process. Personally, I've become a fan of a fly rod case, since you can make sure to not having forgotten something once you can to the river.
Easy to Carry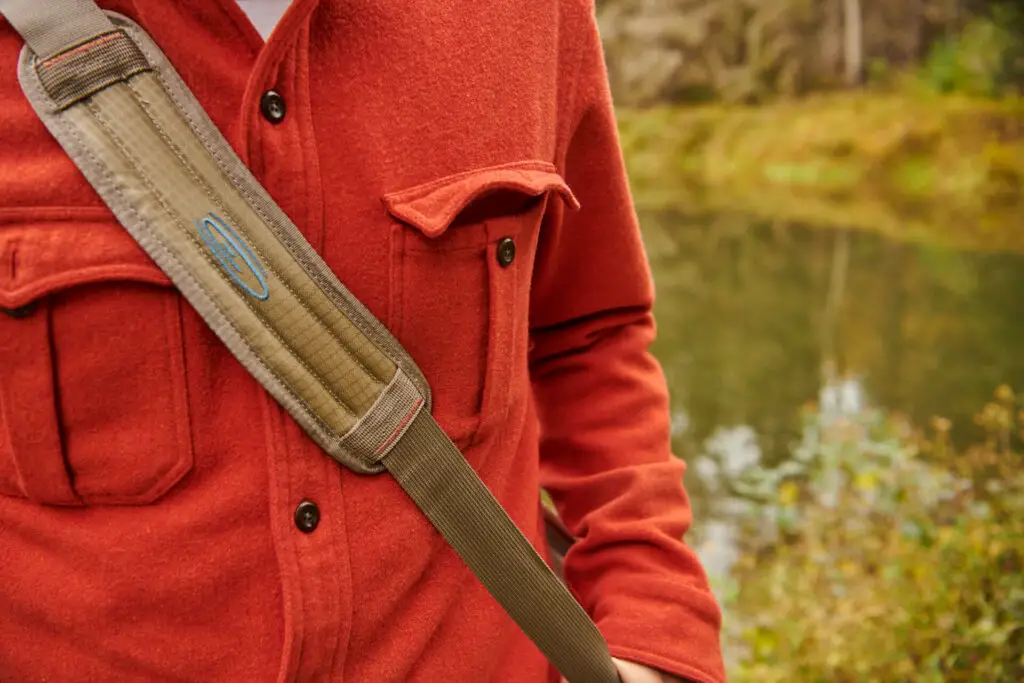 One of the standout features of the Dakota Carry-on Case is its carry-on-friendly design. It fits within the carry-on size limits for most airlines, eliminating the stress of checking in your valuable fly fishing gear. The padded shoulder strap and reinforced carrying handles make it a breeze to transport, whether you're navigating airport terminals or rugged trails.
Protection and Peace of Mind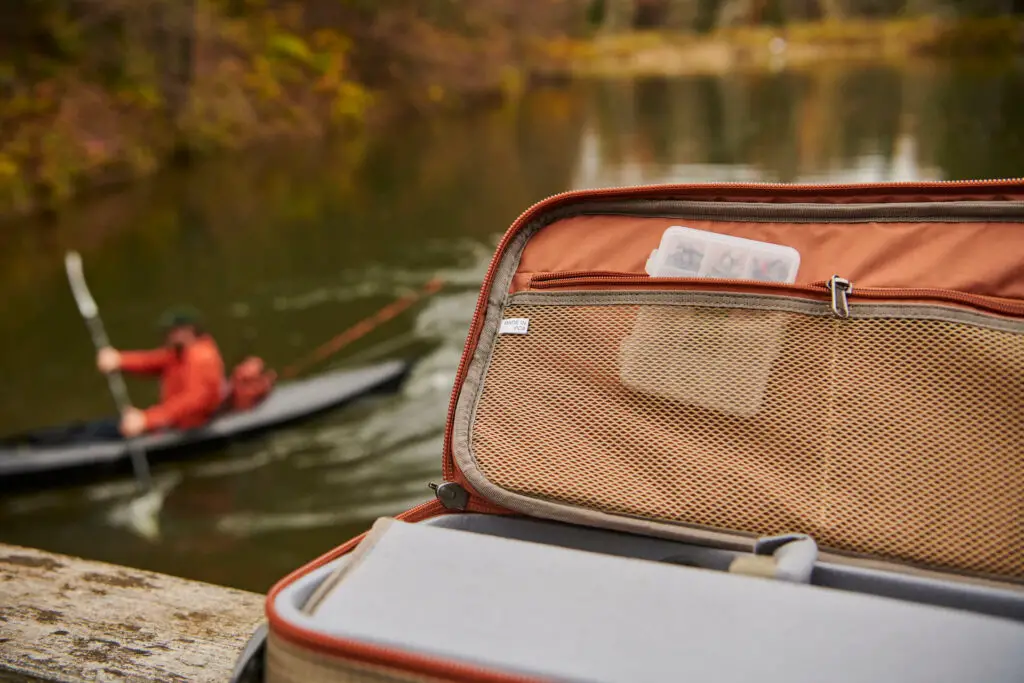 When it comes to protecting your fly rods and reels, this case is a great option. The hard-sided top and bottom offer an additional layer of protection against impacts, ensuring that your gear remains in pristine condition. The case zips securely shut, with lockable zippers for added security, giving you peace of mind during your travels.
PROS:
Efficient Organization: The removable compartments give you lots of flexibility to find your setup
Travel-Friendly: Designed to meet most airline carry-on size requirements, this case eliminates the need to check in your precious fly fishing gear
Lockable Zippers: The case features lockable zippers for added security
Unique design: lovely attention to detail, for example the handle
CONS:
Size Limitation: While the case can accommodate up to four single-hand fly rods, it may not be suitable for those with longer or specialized rods. Note: there is a bigger version available
The color is very nice but we found it to be a little susceptible to stains. Hence, a darker color would be a nice addition to this product line
Final Thoughts
The Fishpond Dakota Carry-on Rod & Reel Case is designed for the discerning angler who demands reliability, durability, and convenience. Whether you're a seasoned traveler or simply looking to protect your gear on local outings, this case proves its worth time and time again. The lovely attention to detail make it a good choice for design afficionados. Also, in terms of value for money it's an excellent choice since it comes in at less than $200.
FAQs: Fishpond Dakota Carry-on Rod & Reel Case
How many fly rods and reels can the Dakota Carry-on Case hold?
This case can securely hold up to four single-hand fly rods and reels, making it ideal for most fly fishing outings.
While the case is highly water-resistant, it is not entirely waterproof. It provides excellent protection against rain and moisture but may not keep your gear dry if fully submerged.
Can I use this case for larger or specialized fly rods?
The case is designed to accommodate standard single-hand fly rods and reels. If you have longer or specialized rods, you may want to check the case's dimensions to ensure a proper fit.
Does the case include a shoulder strap for easy carrying?
Yes, the Dakota Carry-on Case comes with a padded shoulder strap for comfortable and convenient carrying.
Is it suitable for international travel?
Yes, the case is designed to meet most airline carry-on size requirements, making it suitable for both domestic and international travel. However, it's always a good idea to check with your specific airline for any size restrictions or regulations.