Last updated on August 22nd, 2023.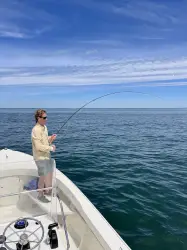 Latest posts by Leonard Schoenberger
(see all)
When you are an outdoor enthusiast, there are truly a lot of risks you are exposed to, especially with sportfishing.
From hooks to teeth, rods to lures, nets to traps, and spears to flies, it is inevitable that you would eventually need a decent pair of fishing gloves to protect your hands on your fishing adventures.
While it may take a while to get used to wearing this protective gear, you will eventually realize the importance of it the more you gain some large catches. If you have ever reeled in a huge fish and grabbed it barehanded, then you most likely know how much damage it poses to your skin. Given that this particular hobby involves sharp hooks, fins, and frisky fish, there are not enough reasons not to wear fishing gloves, especially when you are a regular angler.
Protective hand gear will keep you safe and comfortable against external elements, most especially when you are ice fishing or aiming to catch larger fish. Sportfishing, while indeed a fun hobby to have, involves baring your skin to the threats of line cuts, sun exposure, sharp fins, dorsal spines, and fish teeth, so investing in a good pair will keep your hands protected, and you will appreciate that in the long run.
Table of Contents:
Why You Should Wear Fishing Gloves
Best Fishing Gloves Quick Answer List
Features To Consider When Buying Fishing Gloves
Why Should You Wear Fishing Gloves?
Anglers don't just wear protective gear for no reason other than to look cool, these accessories are also vital in ensuring that you would have the best fishing experience every time you go out into the water. Fishing requires a lot of handwork, and your success is linked with how efficient you are with your hands. 
The best fishing gloves for you will prevent you from having slippery hands, especially that you are surrounded by water and long exposures under the sun will not exactly give you a sweat-free experience. Gloves will help you tie your knots more easily and will aid you in working your way around hooks. Here are a couple more reasons why anglers should wear gloves at all times while fishing:
It will keep your hands water-resistant. For an activity that involves a lot of water, you sure would not want to have your hands wet, especially on longer trips. Having the right fishing gloves will let your hands use your gears more comfortably, even under wet weather conditions. Gloves will give you a better grip and accuracy with everything, including catching and grabbing the slimiest fish out there.
It offers safety. While it is a given thing that gloves offer safety and protection, this reason must still not be overlooked. Whether you are a new or a veteran angler, there is always the possibility of some unexpected things happening, such as flying hooks and slippery rods, among many other things.
It provides protection from harmful UV rays. Like how the right fishing glasses will protect your eyes from sun rays, your gloves will also help you ward off sunburn and the potential formation of skin cancer. Angling with a sunburned hand is extremely uncomfortable and will only cause irritation if you were to keep fishing in the long run.
It protects you from blisters. Blisters can be caused by too much friction, and this can happen in long fishing trips where you fish hard all day long. There is always a lot of gripping going around when fishing, so it's best to have the right set of gloves that will keep you from abusing your skin and triggering discomfort.
Best Fishing Gloves: Quick Answer List
Best Budget: Berkley Coated Fishing Gloves
Best UV Protection: Palmyth Fingerless Gloves
Best for Saltwater: Pelagic Battle Gloves
Best Professional: Simms SolarFlex Guide Glove
Best Overall Protection: Lindy Fish Handling Glove
Best for Filleting Glove: NoCry Cut Resistant Gloves
Best for Cold Weather: Simms Gore-Tex Infinium Flex Glove
Best Neoprene: Palmyth Neoprene Fishing Gloves
Best for Women: DSG Outerwear Women's UPF 50+
Best Waterproof: StrikerICE Stealth Glove
Features To Consider When Buying Fishing Gloves
With those reasons established, you must be able to choose the most suitable fishing gloves for all your sportfishing needs. Investing in protective equipment including this one will truly benefit you in the long run, especially if you find yourself wanting to fish a lot more frequently. Here are some of the most important features to consider when buying your fishing gloves:
Durability
Your pair of gloves must be durable enough to withstand any kind of weather conditions, and they should last you a long time. You would not want to spend good money for a pair that will only rip after only a couple of journeys, so it's ideal that you should be wary of the kind of materials used when choosing one:
Neoprene is good for thermal resistance.
Polyester and cotton are great as backing for coated gloves.
Rubber is great for rip resistance.
Style
There are two kinds of gloves that you can choose from: full gloves or fingerless gloves. Both have their own pros and cons, so it is essential that you assess what you want or need first before buying the first thing you see. 
Full gloves are ideal for usage under freezing weather conditions, and the best ice fishing gloves must always ensure full coverage and protection for your hands. One disadvantage is that full gloves somehow limit your sense of touch to some degree, which can take a while to get used to.
Fingerless gloves are a lot more breathable and lightweight than full gloves, and they allow you full movement and nimbleness because your fingers are free. They are best used in warmer climates. However, they do provide less protection from the sun rays, and won't completely protect you from abrasions. They are also not recommended for colder temperatures because they generally do not have enough insulation.
Thermal properties
If you frequently go or want to experience ice fishing, then it's important to wear gloves that have the suitable thermal protection that you will need under cold and wet conditions. You may want to learn more about neoprene if you want one that is appropriate for winter or ice fishing.
Size and Fit
Last but not the least, your gloves must fit your hands comfortably and you must ensure that they give you the dexterity you prefer. Different brands have different sizing standards so expect this when you go out to buy your preferred pair of gloves. Buying online is more convenient, but for first-time buyers, physical store shopping is recommended, especially when you do not have an initial idea of what your size is. Do also take note of the closure systems, such as Velcro straps. While stretchable one-size-fits-all can be quite tempting to buy, you must also consider that their elastic properties do wear off after multiple uses.
Notice: The Wading List is reader supported. We take part in the Amazon Associates Program and earn a small commission at no extra cost for you if you end up making a purchase. We only recommend products we are convinced of and use ourselves.
A Review Of The Best Fishing Gloves on the Market in 2023
Now that you have an idea of the things to consider when choosing the best pair of fishing gloves, here are some of the best ones on the market that are specifically tailored for different uses. Find which one best suits your needs with this selection!
If you do not want to spend much just to get your hands protected, then the Berkley Coated Fishing Gloves are just the right choice for you. At a cost of only about four dollars, you already get to have a heavy-duty pair with a textured grip that is sure to give you a decent angling experience, even when gripping slippery fish! 
It is also washable and flexible, so you would not need to worry about grease and dirt build-up with these budget fishing gloves.
Breathable and protective — the Palmyth Fingerless Gloves provide certified and organic UPF 50+ and SPF UV protection, even when it's wet. They have an ergonomic design that features a good grip and durability, as well as better control with your fingers. 
The Palmyth Fingerless Gloves are made with a partial synthetic leader, and are great for hiking, kayaking, fishing, rowing, and canoeing, among other outdoor activities. It is also easy to wear with its wrist and finger-tip pull, even when it's damp. It's a great choice for those who want a lightweight pair, all while still giving you the protection you need against the sun's harmful rays.
If you tend to fish on saltwater, then these Pelagic Battle Gloves are a must-have on your overall gear when heading out to fish. With these gloves, you will have an advantage over tackling monster fish with its heavy-duty "Sure-Grip" feature. This pair is ideal for giving you protection when fishing heavy mono, spectra, or wire lines. 
This particular model is also fingerless, which provides you maximum dexterity and maneuverability without giving much exposure to your skin. It increases your endurance and is versatile enough for any offshore purposes.
If you are a highly experienced angler and would like to upgrade your hand gear, then consider the Simms SolarFlex Guide Glove. It has a plush stretch fabric and cuffs that provide full coverage, accompanied by UPF 50 protection. It is made with water-resistant goat leather palms, with material bolsters to protect the index and middle fingers.
Its closure system is pairing snaps, which ensures that the gloves stay on no matter what you are doing. The Simms SolarFlex Guide Glove is also lightweight and quick-drying, just the perfect one to bring every fishing adventure.
For overall protection, this Lindy Fish Handling Glove is your best bet. Its Anti-cut SuperFabric material is puncture-proof and cut-resistant, perfect for fishing hard on long journeys. It is usable in all weather conditions and works with all standard gear. With its versatility and optimum protection, it is one of the best fishing gloves that you should not overlook.
Filleting with bare hands is risky and dangerous, so you will need a strong and highly durable pair that will protect your skin to about four times stronger than leather-made ones. The NoCry Cut Resistant Gloves are made with EN388 level 5 cut resistance, which is the highest level of cut resistant material available on the market.
This pair is also perfect for shucking oysters, dicing vegetables, or anything that involves knives. It also has a great grip, which ensures you premium protection against accidental cuts and blisters. Not only is it great for fishing, but it also can be used in woodworking, carving, and other activities that require a lot of handwork.
The Simms Gore-Tex Infinium Flex Glove is one of the best winter fishing gloves on the market right now, and for all the right reasons. It features a stretch fleece with a single seam construction that ensures optimum dexterity, maneuverability, and comfort onshore or offshore. 
The Simms Gore-Tex Infinium Flex Glove is available in two colors: the camouflage version (pictured above) and a plain black version.
If you prefer neoprene material, then these Palmyth Neoprene Fishing Gloves would be something you'd like to have. It features two flip-back finger caps on the thumb and index finger so you can easily tie knots, manipulate fishing rods, and use your phone or any other touch-screen devices while out in the water.
The neoprene material keeps the Palmyth Neoprene Fishing Gloves breathable and windproof, and its adjustable Velcro straps ensure that it will give you the right fit without the risk of it falling off. It is also great to use under cold weather, but not when it is freezing. 
This new DSG Outerwear Women's UPF 50+ is not only lightweight and protective, but it is also fashionable as well. This is perfect for women who want to go fishing in style. It's easy to wear and get off with its cuff tabs and flexible finger loops that are made with a stretch performance fabric with synthetic suede. 
The DSG Outerwear Women's UPF 50+ also provides UPF 50+ protection against the sun rays, and its length also ensures that your wrists are protected as well.
Ice fishing can be quite challenging, and this StrikerICE Stealth Glove will definitely help you be prepared for the hand-to-fish combats you may have along the way. It offers optimum waterproof protection and it is less bulky compared to the other gloves this particular brand has on the market. 
It is built with a seamless 4-way-stretch fabric, which offers maximum dexterity and breathability. The StrikerICE Stealth Glove also has a water-resistant coating that keeps off moisture and ensures your hands stay warm and dry. All in all, it is a great choice if you frequently go ice fishing.
Conclusion on the Best Fishing Gloves
Gloves aren't only used for aesthetic purposes, they are also essential for making your fishing trip a safe and fun experience. Even if you are just starting out or you are already a veteran angler, you must never underestimate the protection that a good pair of fishing gloves hold. Now with this selection of the best gloves on the market, which one do you think is the right one for you?
Best Fishing Gloves: FAQs
Which are the best fishing gloves?
The answer to this question: it depends. It really depends on the kind of fishing you plan to do. If you are mostly fishing in saltwater under hot conditions you should go for a fishing glove with integrated UV protection. If you are mostly fishing in really cold water, a neoprene fishing glove could be a good option for you. If your primary goal is to protect your hands from hooks and other sharp objects, you can go for a protection glove.
Read more of our Gear Guides here:
Ultimate Guide: Best Wading Jackets
Buyer's Guide Best Wading Boots
A Guide to the Best Sling Pack
A Guide to the Best Fly Fishing Starter Kits
Notice: We take part in the Amazon Associates Program and earn a small commission at no extra cost for you if you end up making a purchase. We only recommend products we are convinced of and use ourselves. All photos courtesy of amazon.