Last updated on September 1st, 2023.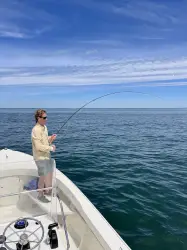 Latest posts by Leonard Schoenberger
(see all)
If you're interested in fly fishing, the most essential tool at your disposal will be your rod.
Everyone is different when it comes to the feel and preference of their particular fishing rod, so it's important to choose the right one that works for you. In this article, you can read all about the best 3 weight fly rods on the market, and make an informed decision about which one to purchase!
3 wt fly rods are a great choice in several fly fishing situations. Shorter 3 weight fly rods of 7 to 8 ft are the weapon of choice for small creeks. Longer 3 wt fly fishing rods are perfect for euro nymphing and last but not least there are #3 rods for so called trout spey fishing. For that technique you fish light double-handed rods.
Disclaimer: All products in this guide are independently researched by our team. We only recommend products we believe in and never get paid for the reviews. Learn more about our review process here.
Table of Contents
Important Features in a 3 wt Rod
What are the Most Important Features of 3 Weight Fly Rods?
Action and Strength of 3 wt Fly Rods
The action of a rod refers to how much it flexes when you cast or when you have a catch on the line. Depending on what the action for a rod is, it can be stiff or flexible. Three weights have a quick or moderately strong action. The term "power" refers to the amount of force required to flex and bend the rod. When the power is reduced, less pressure is required. Usually, three-weight rods are low-power and flex quickly with little pressure.
Weight, Size, and Alignment
When used in conjunction with fly rods, the term 'weight' relates to the ability or density of the line used on that rod. Three weight rods are intended for use with light flies and can accommodate fly line weights 1-3.  While the term "weight" does not correspond to the rod's actual weight, it is worth noting that the majority of 3-weight rods are relatively light. When evaluating the length of your rod, be careful to select a reel that is proportional to the rod's weight. With the reel connected, a properly adjusted rod will rest on your finger while lying one inch below the top of the grip.
Appearance and Usability
Fly fishing is an energetic sport, and if your grip is uncomfortable, you will not enjoy it as much. A strong rod feel may also translate into improved outcomes, as the more receptive rod enables more precision on the water. Prioritize comfort before appearance, as you can always tweak it afterwards to fit your taste!
Cost and Warranty Information
You can locate a rod to meet your demands at nearly any price range, so avoid settling for one you are unsure about. Along with the pricing, be careful to inquire about the rod's warranty. Numerous businesses provide complete lifetime warranties, which may add an additional layer of protection and assurance to your purchase.
The Best 3-Weight Fly Rods
Notice: The Wading List is reader-supported. We take part in the Amazon Associates Program and other affiliate programs and earn a small commission at no extra cost for you if you end up making a purchase. We only recommend products we are convinced of and use ourselves. Thanks!
Key features:
– Small stream rod
– 4-piece
– Comes with a cordura tube
Why we picked it:
The Echo Carbon XL is an excellent entry level to intermediate fly rod. While its range and precision casting skills seem to be ordinary, the grip is considerably above what is typically found on the market. It's difficult to describe, but the Echo Carbon XL gives you the impression that you're a greater caster than you actually are throughout many casts. It's impressive to achieve this sensation with a product at this price range.
Therefore, who is the Echo Carbon most suited for? The Echo Carbon XL is an excellent choice for the majority of starting fly fishermen. While it is not a real fast-action rod, it is quick enough that you won't feel as if you had to wait for it to function. 
Furthermore, I found the Echo Carbon XL provides sufficient casting input to assist a fly fisher in determining when the rod is set and suitable to let the line shoot. It seems to occur somewhat quicker than the average medium-fast action rod in this price range. The final result is a very suitable, adaptable rod that can be cast effectively by the majority of anglers. If you're looking for a high quality 3 wt fly rod without spending a fortune, the Echo Carbon XL is a must-have. At this price, the Carbon XL is a no-brainer.
PROS:
Great value for money
Has the feel of a more pricey product
Classic design
CONS:
Lacks a bit of stamina on longer casts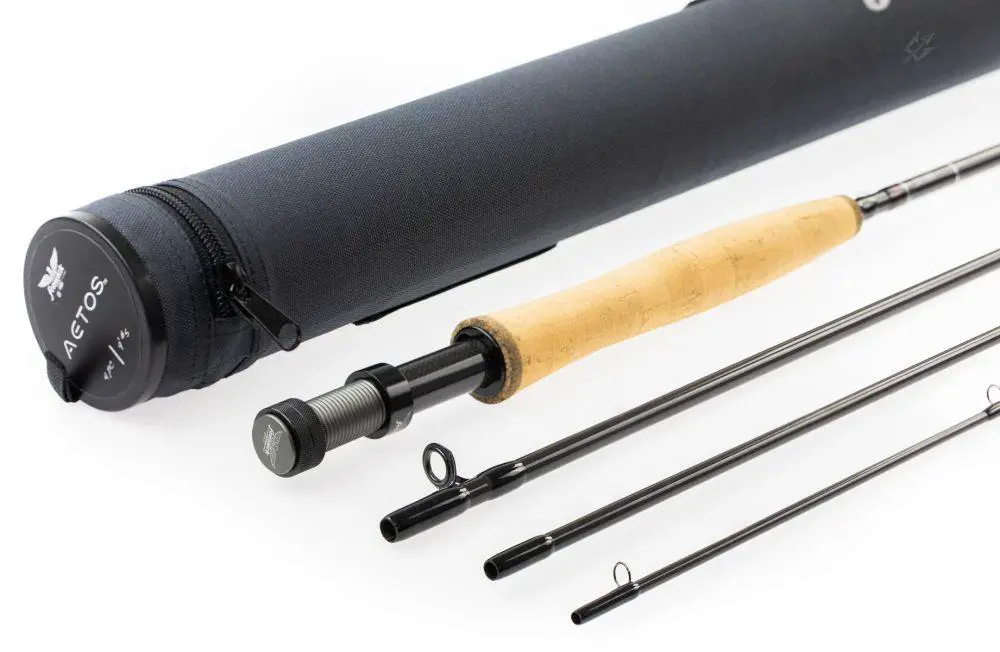 Key features:
– Ideal for small waters at 7ft
– Fast action with anodised aluminum reel seat
– Limited lifetime warranty
Why we picked it:
Fenwick's entry-level all-purpose freshwater fly rod is the Aetos. The Fenwick Aetos is accommodating, caster-friendly, and very adaptable for different casting styles. Fenwick has created a rod that performs much above its price range. 
We found the Fenwick Aetos to be very precise up to a range of 60 feet. The AETOS blank is optimized for anglers with a quick casting motion. The rod's rapid action design provides enough reserve power and enhanced line speeds. 
The Fenwick Aetos blank has a smooth tip for superior quality over short distances and still performs decently at longer distances. The Aetos is an excellent choice if you are just getting started and live in a place where you'll mostly be fishing small streams – tight quarters with limited room to cast is where this rod shines.
PROS:
Enough power to cast even smaller streamers
Very elegant and subtle due to the dark color scheme
Limited lifetime warranty
CONS:
This is a specialty rod only made for small streams and creeks

Key features:
– Traditional look and feel with rosewood reel seat
– Moderate action for precise casts
– Lifetime warranty for original owner
Why we picked it:
The Redington Classic Trout is an economically priced moderate action 3 weight fly rod for trout. It is ideal for spring creeks and tiny streams, and maybe even some drift boat fishing in bigger tail water areas. 
The Redington Classic Trout's medium action makes precise presentations at close distance a delight, and the CT's utilitarian components elevate it to the top of the dry fly rod market. We found everything on the rod to feel more like a mid-range rod than a low-budget rod – which it is considering the price tag. The rod promotes a more deliberate casting stroke and is equipped with real mid-flex technology. 
The mild blank action preserves delicate tippets and assists with carefully landing tiny flies in front of rising fish. The blank is finished in a rich clay brown that complements both the rod tube and the reel seat. If you're a beginner dry fly fisherman seeking to step up your game, the Redington Classic Trout is one of the better 3 weight fly rod options available at this price point.
PROS:
An entry level rod (price wise) that you can fish for years to come
Lifetime warranty is a place for this price range
Classic design that never goes out of style
CONS:
Medium action requires a bit more skill than the Fenwick or Echo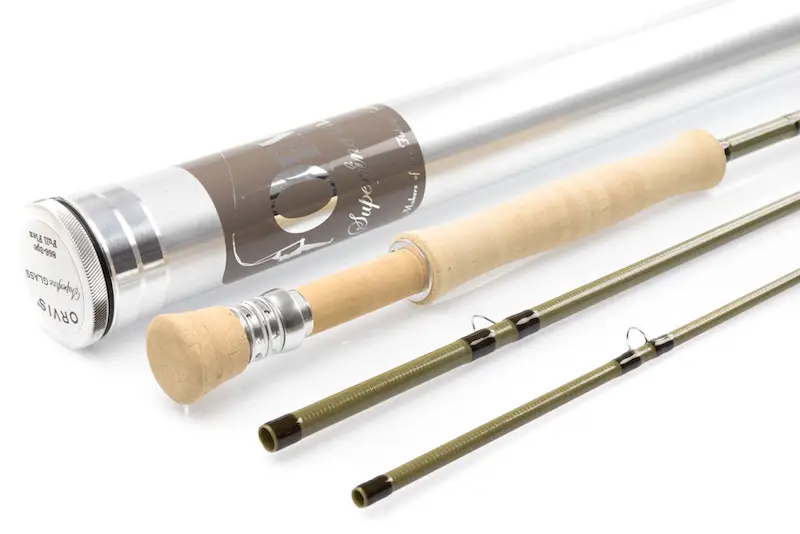 Key features:
– 3 piece glass fly rod
– Beautiful, minimalistic reel seat
– Highend look and feel with aluminum rod tube
Why we picked it:
The Orvis Superfine Glass was designed for primitive woodlands and cold mountain streams, for little streams and indigenous brook trout. The glass rod has a slow action and flexes all the way to the grip. This makes it a good choice if you want to fish light tippets as the flexibility of the glass provides an extra bit of buffer when playing big fish.
The Orvis Superfine Glass' incredibly accommodating nature and speed combine to create a delicate little rod. However, be aware that glass feels completely different than fibreglass rods. It has a slower action (like a bamboo) rod that needs some time to master. But once you've adapted to the slower speed of the blank, a fibreglass fly rod can be a delight to cast and play fish on.
PROS:
A rod for the individualist who is looking for something special
Works well with fine tippets
Excellent dry fly rod for smaller streams
CONS:
Needs some getting used to in terms of timing – not for beginners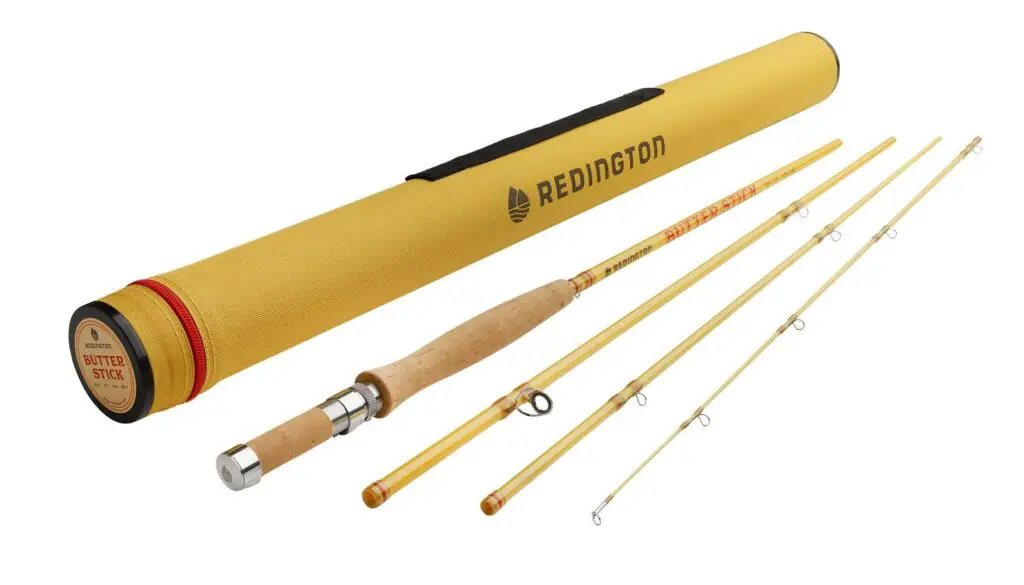 Key features:
– 4 piece glass fly rod
– Modern design and feel
– Great dry fly rod for small streams
Why we picked it:
With seven weight classes to choose from, the Redington Butter Stick offers a great way to explore fiberglass fly rods no matter what species you're after.
You can fish tiny streams and rivers using the #1 – #3. The #4, #5 and #6 of the Redington Butter Stick make for excellent trout rods and the #8 enables you to target bigger species such as pike or bass for example.
Built on Redington's Heritage Taper, the Redington Butter Stick is a great modern glass rod with a slow action and deep flex. Comes with the excellent Redington lifetime warranty.
PROS:
A lot of weight classes to chose from
Modern take on a vintage material
Lifetime warranty
CONS:
Like the Orvis, the Butterstick is a specialty rod for enthusiasts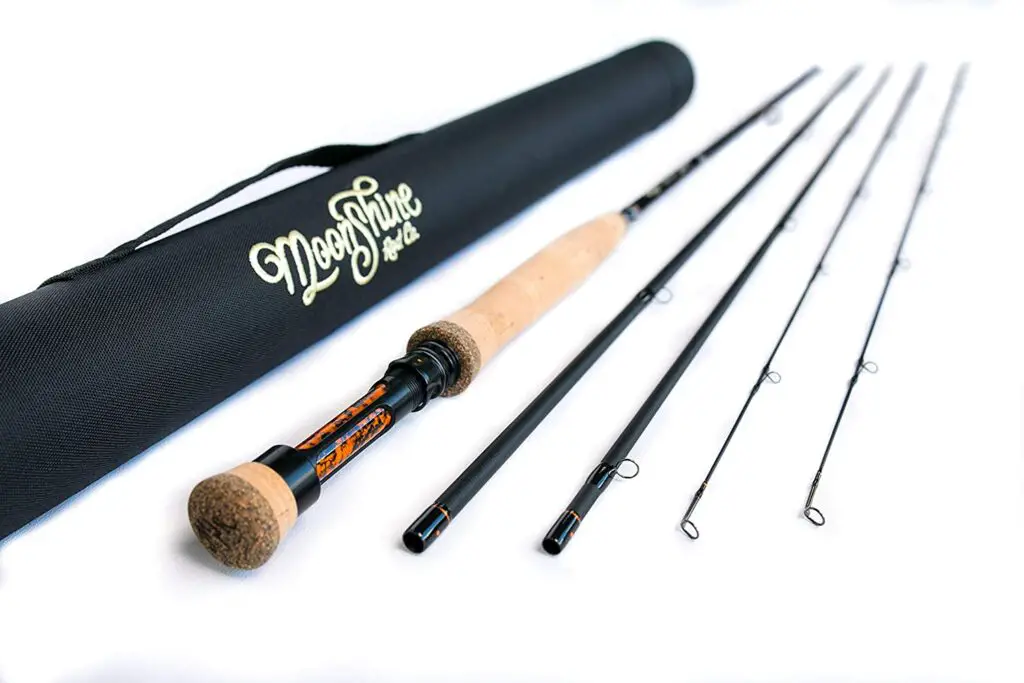 Key features:
– 5 piece rod – great for traveling
– Comes with a fighting butt
– Ideal rod for euro nymphing
Why we picked it:
Moonshine has successfully garnered a large following that has made them a favorite with anglers. The Epiphany series was first released in 2017. Since then the nymphing rod has been redesigned to become even better than before. 
The nymph fly rod is perfectly balanced and is very sensitive. We found the 10'6″ to be a little short in case you need a little reach. On the flip side that means you can use it for streamer fishing as well. This increases the versatility. Moonshine have been able to reduce the weight significantly by making the blank lighter. By using a titanium frame stripping guide, the line sag is reduced. Comes with a lifetime warranty.
PROS:
Alignment dots make it easy to rig
Versatile rod for nymphing and streamer fishing
Comes with an extra tip section in case you break one
CONS:
On the shorter end if you're looking for a rod specifically for euro nymphing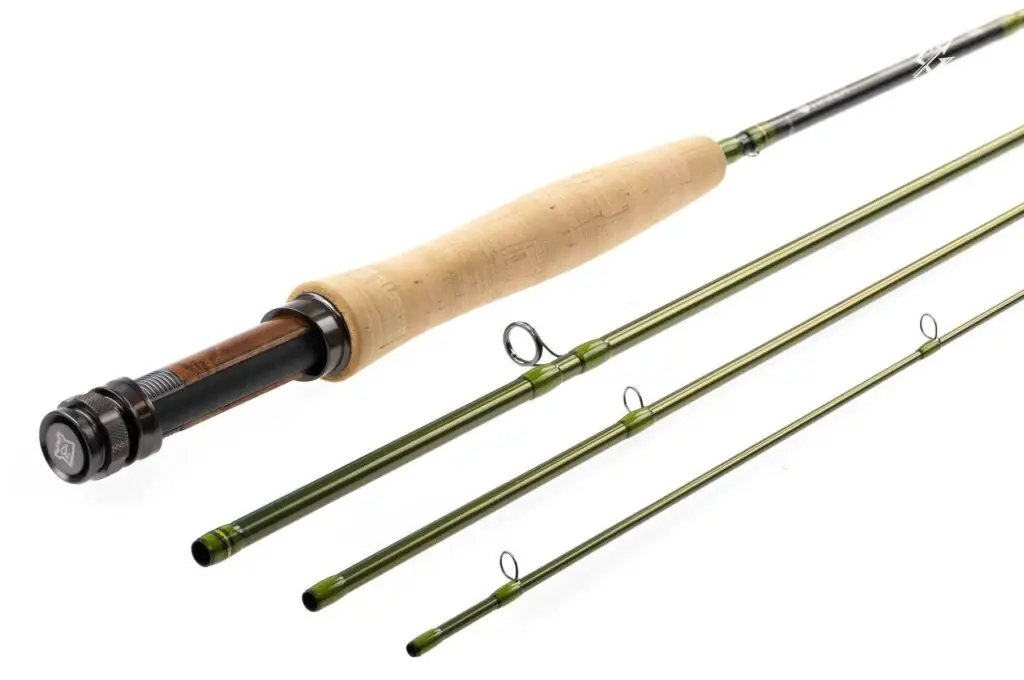 Key features:
– 8ft 3weight 4pcs
– Ultimate lightweight design feature the best components in the market
– Comes with an aluminum rod tube
Why we picked it:
Hardy has been in the game for 150 years and still makes some of the best fly rods on the planet. Their Hardy Ultralite is no exception to this rule and a great choice if you are looking for a premium rod to fish small streams and creeks. We got our hands on the #3 which measures only 8ft, making it the right choice for tight quarters.
As the successor the brand's hugely popular Zephrus series, the Hardy Ultralite features the Sintrix NSX technology making it one of the lightest 3 wt fly rods on the market. Everything on this rod is top notch and the lifetime warranty is the icing on the cake.
PROS:
Incredibly lightweight
Beautiful, classic green blank design
Lifetime warranty for the original owner
CONS:
Only an experienced angler will be able to take advantage of the rod's full potential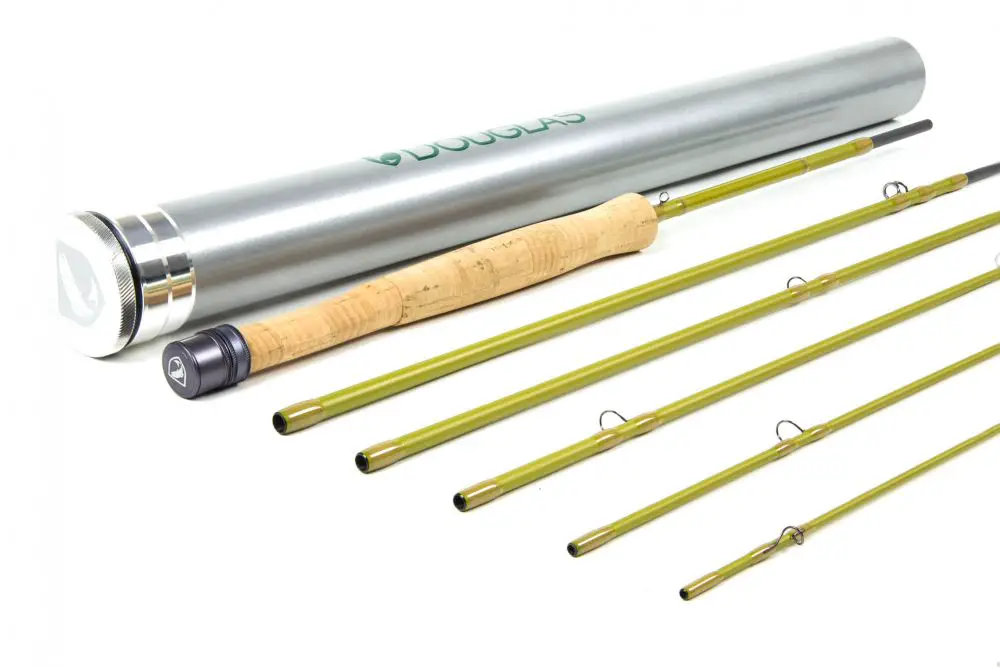 Key features:
– 6-piece rod for traveling
– Aluminum rod tube for ultimate protection
– Full cork grip
Why we picked it:
The Douglas Upstream is a small water and small fish rod. The unusual cane-shaped blank and complete cork reel seat provide an old-fashioned feel to this product. Yet, under its exterior shell is cutting-edge graphite technology that elevates the Upstream to the top of the small water fly rods. 
The Douglas Upstream is very accurate at short distances (perfect for small creeks) and is excellent for protecting light tippets. On shallow streams, little dry flies turn smoothly and softly to trick cautious fish with the Upstream.
Although the rod resembles traditional cane rods, the graphite rod blank is highly efficient on the water. The blank has a somewhat slow action, which protects delicate tippets and maximizes performance within 30 feet. This is a true little water rod designed for the most deft presentations. If you're in the market for a new slow-action short-range dry fly rod, the Upstream is a great option.
PROS:
Highly packable
Delicate presentations
Original owner lifetime warranty
CONS:
Medium-slow action will take some getting used to if you make the switch from a fast action rod
Key features:
– Two handed rod for trout spey style fishing
– A lot power and backbone to cast even bigger streamers or intruder flies
– Fuji stripping guides for utmost line shooting performance
Why we picked it:
The Sage Trout Spey is designed to be used for a variety of spey applications on wider trout streams. Whether you're trying to swing soft hackles on floating lines throughout evening hour hatches or trying to cast streamers on Skagit heads, the G5 can do it all. I've become a big fan of the trout spey fishing and use it to pursue steelhead or big rainbows on wider rivers.
Being headquartered in Burbank Island, Washington, Sage has some experience building spey rods. They've done a good job with the G5 as it has enough backbone to make long casts and yet delivers feedback to the experienced fly angler. I am a big fan of the more traditional blank design with brown and olive colouring. The G5 is the right choice if you are looking for a rod that will deliver effortless casts for all-day fishing in colder conditions.
PROS:
Excellent backbone to deliver even the longest casts
Traditional, subtle design
Hard-chromed snake guides for ultimate line shooting performance
CONS:
Only for experienced fly anglers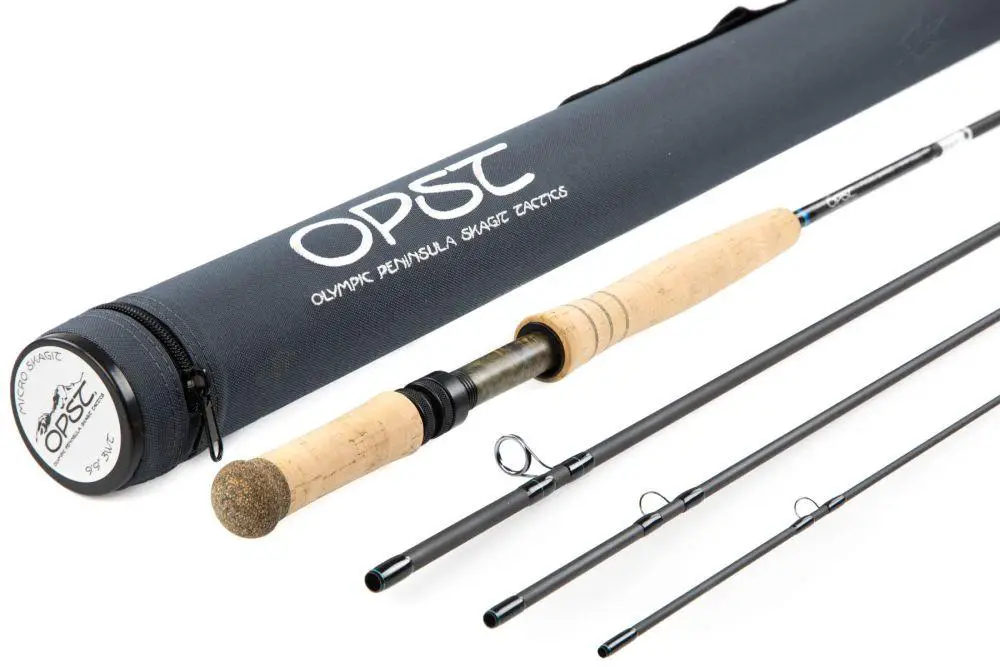 Key features:
– Short trout spey rod
– Powerful rod with great feedback capa
Why we picked it:
The OPST Micro Skagit two-handed rods have been designed to work with single-handed casts and double-handed casts as well. Whether you are on foot, finding your way through small and medium rivers, or fishing off a boat, the hybrid rod should be a part of your arsenal. The rod took five years to develop and is proof of Ed Ward's vision. 
The handles of the OPST Micro Skagit Trout Spey are cigar-styled and offer a good grip on the rod. Its shorter length makes it perfect for overhead casting as well. This allows you to swing with a Skagit head, or opt for a dry fly line. The medium-fast action trout spey rod is perfect for trout and even smaller fish. Make sure to read our in depth review of this fantastic rod. Works beautifully with the OPST integrated shooting heads.
PROS:
Highly versatile rod different casting styles
Shorter length helps in tight quarters
Works beautifully with the OPST integrated shooting heads
CONS:
Compared to the Sage G5, the OPST has a bit more difficult delivering the longest cast because of its shorter length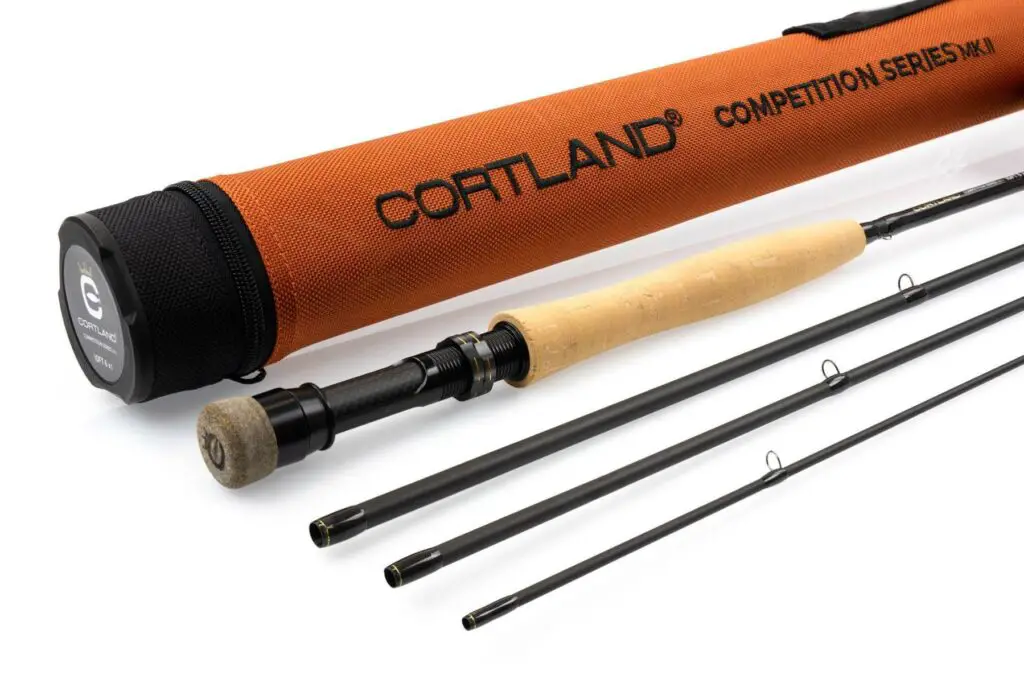 Key features:
– Nymph fly rod in 10'6″ or 11′
– Medium-fast action
– Cordura rod tube
Why we picked it:
For most fly fishermen and women the name "Cortland" is most likely synonymous with fly lines. They have been in the business for decades and produce some of the finest fly lines money can buy. What less people know is that Cortland has become a powerful source in the field of Euro nymphing, thanks to their Cortland Competition MKII Nymph. Made from the highest quality carbon fibres, Cortland's blanks are known to be some of the most sensitive and lightweight in the game – and when it comes to Euro nymphing that's what matters most since it helps you detect the most subtle of takes.
As a #3, the Cortland Competition MKII Nymph comes in either 10'6″ or 11′. The 10'6″ is more of an allrounder, whereas the 11′ gives you that little bit of extra reach for our favorite riffle. Both are equipped with hard chrome stripping guides that are the perfect setup to fish a nymphing rig. The blank color is kept in a subtle grey which helps reduce reflections when the sun's out. You can tell that Cortland made sure to not forget any important aspect to help you catch more fish.
My verdict: The Cortland Competition MKII Nymph is one of the finest rods you can get if you want to enter the world of (Euro) nymphing. It's highly sensitive and has a beautiful medium-fast action. To round the package off, Cortland offers a lifetime guarantee for the original owner.
PROS:
Superb sensitivity
Subtle grey blank color for stealth mode
Lifetime warranty for the original owner
CONS:
It takes some time to make use of the Cortland's extreme sensitivity. Once you've got it figured out though, you won't want to look back
Key features:
– 3 weight fly rod with an adjustable length of 9′ to 12'3″
– Suited for different techniques such as nymph and micro spey
– Protective case
Why we picked it:
Now here's a real multi talent: the TFO Drift. The man behind TFO is legendary fly angler Lefty Kreh. Hence it does not come as a surprise that this rod combines the benefits of different techniques in one rod. The TFO Drift is a 3 weight rod that can be used in different fishing scenarios depending on how you put it together. Out of the box it's a pretty classic 9′ rod. If you add one or two sections you can turn it into a dedicated nymphing rod to fish any style you wish from French, Czech or Polish.
But that's not all. If you are fishing a bigger river where you need to make longer casts to reach the fish, no problem, add another section (and the 3″ lower cork grip) to turn the TFO Drift into a micro spey rod of 12'3′. Wow – that's basically three rods in one. And I have to say, this rod fishes well in all scenarios. Sometimes products that want to do it all end up not doing anything well. But the TFO Drift really performed well during our test.
My verdict: The TFO Drift is the 3 weight rod that can do it all: classic setup, nymphing and trout spey, all in one rod. If you're looking for the utmost in versatility, there's no way around this rod.
PROS:
Incredible versatility
Basically three rods in one
CONS:
Protective case is a little bulky for transportation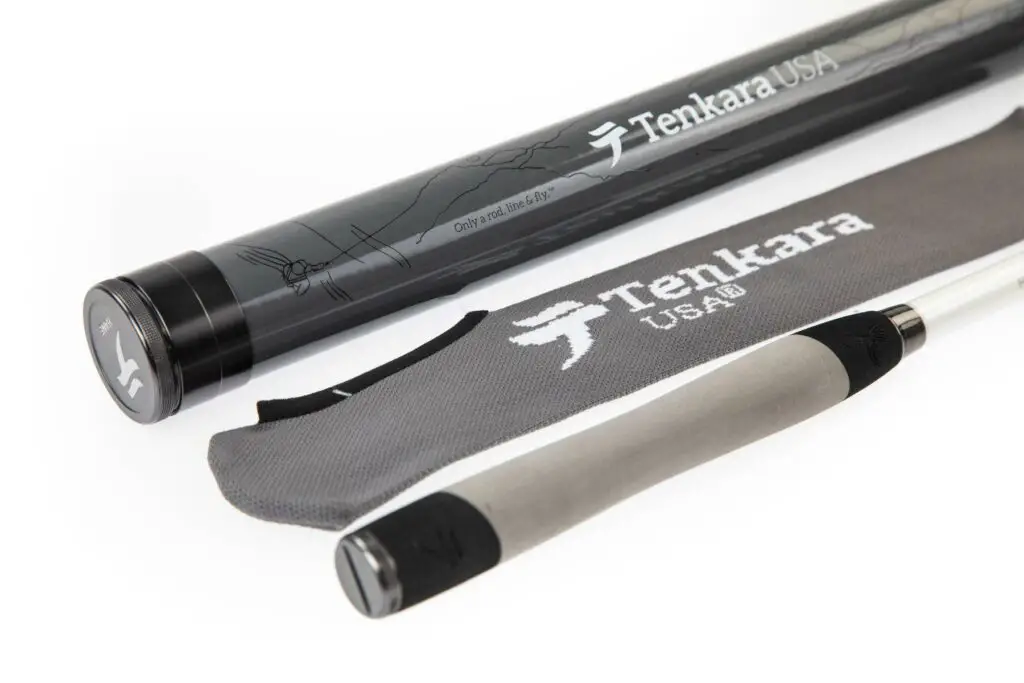 Key features:
– Tenkara Rod
– Collapsible to 15″
– Length: 10'10"
Why we picked it:
As the last recommendation in our big buyer's guide we want to introduce you to the concept of Tenkara. Tenkara is a Japanese sub-style of fly fishing where you use longer rods where the fly line is attached directly to the rod, eliminating the need of a fly reel. The advantage being the fact that you're not tempted (particularly as a beginner or intermediate) to take too much line off your reel trying to make extra long casts while the fish are holding much closer to where you're casting from.
Since the Tenkara USA Hane rod is collapsible to 15″ it is also a great fly rod for any kind of travelling. When fully extended the rod is 10'10" long, turning it into a nymph fly rod (don't worry you can fish dries with it as well).
My verdict: The Tenkara USA Hane is the ideal choice if you're curious about trying Tenkara or if you're looking for a small fly rod to bring along on any travels.
PROS:
Collapsible to 15″
No need of a fly reel
Best 3 wt Fly Rod Combos
In the second part of this review we'll take a look at the best fly rod combos in the 3 weight range. A combo is a good idea if you are fairly new to fly fishing or want to make sure that the entire equipment works well together and don't have a fishing friend to ask for advice.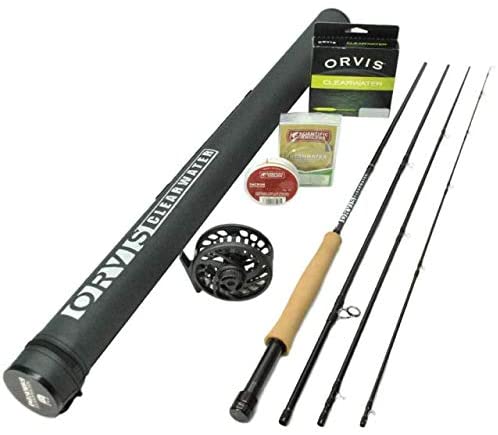 Key features:
– Set includes rod, reel, fly line and backing
– Cordura rod tube for increased protection
Why we picked it:
The Orvis Clearwater 763-4 Outfit is a great setup if you want to get into fly fishing and want to make sure your combo works together well. The clearwater rod and reel are ideal for beginners but you will equally have fun fishing these rods for years to come. This fly rod set also makes for a great fly fishing gift.
The black aluminum reel seat on the Orvis Clearwater 763-4 Outfit gives the rod a high end look and feel. All you need to do is put the rod, reel, backing and fly line together, add a tippet and a fly and you're ready to make your first casts. At a length of only 7'6″, this rod is made for small streams and creeks.
PROS:
Great value for money
25 year Orvis guarantee
Setup is well balanced
CONS:
A tippet and some flies wound round off this great fly rod combo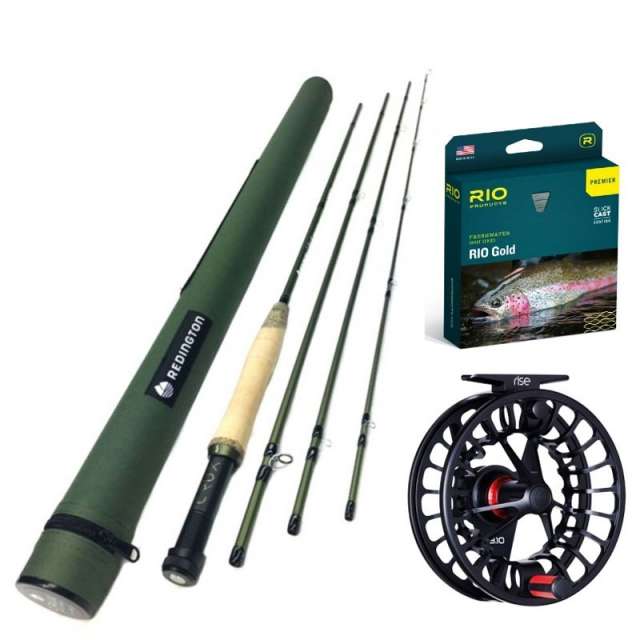 Key features:
– Includes rod, reel, backing, fly line and leader
– Set comes ready to use
– Cordura rod tube for extra protection
Why we picked it:
The Redington Crux is another great set if you want to make sure everything is well balanced out of the box. The fast action rod is ideal for beginners and intermediates. When testing it out on a small stream we were surprised by the punch it delivers. It's no problem casting even bigger streamers with this rod. The set is complemented by the Redington Rise II reel, a CNC machined #3/4 reel made from titanium.
Great thing about the Redington Crux 3 weight fly rod combo is the fact that it comes with a Rio Premier Gold fly line. We found it to be a fly line that is a great allrounder but shines at delicate presentations thanks to its long head. The set is rounded off by Dacron backing and a RIO tapered leader – all you have to do is pick your favourite fly, tie it on and catch your first fish.
PROS:
Well-balanced set
Great all-around trout fly line included
CONS:
A few flies would be a nice addition to this set
Conclusion on the Best 3 Weight Fly Rods
Well there you have it, a comprehensive rundown of all of the best 3 weight fly fishing rods on the market today. As you can probably already tell, there are rods available for various price points, ranging from expensive to affordable, so you will definitely find something that suits your needs, no matter what your skill level is!
You've also learned that the 3 weight rod range is highly versatile in terms of the styles you can fish. A classic three weight in the 9″ range is great as an allrounder for small streams and creeks. But a #3 is also the ideal weight class to try nymphing techniques. And if you want to go explore micro spey style fishing, a three weight is the way to go as well, since that's the rod size you'd pick to hunt trout on such a light two-handed setup. Lastly, let's not forget glass fly rods, which are a delight to cast as well in the three weight range. So no matter which one you end up getting, I'm sure you'll have a lot of fun on the water since three weights guarantee an exciting fishery.
Our Expertise
Why you should trust us: Leonard Schoenberger and his team have tried and tested hundreds of rods over the years. We always express our honest opinions about a product to help you make a solid purchase decision. We never get paid for reviews and are proud of keeping our editorial independence. Our focus is on bringing you the latest in gear so you can have a great time at the water. Thanks for being a reader of The Wading List.
FAQs on the Best 3 Weight Fly Rod
What is a 3 weight fly rod used for?
A 3 weight fly rod is typically used for small stream fishing, targeting small to medium-sized trout, and is also a popular choice for anglers fishing for panfish. It's ideal for making delicate presentations with small flies.
What should I look for in a 3 weight fly rod?
When choosing a 3 weight fly rod, consider the rod's action, length, and material. A moderate to fast action is usually a good choice for this weight class. The length can vary, but 7 to 8.5 feet is common. As for material, most high-quality fly rods are made of graphite for its strength and lightness.
What are some of the best brands for 3 weight fly rods?
Some of the top brands for 3 weight fly rods include Sage, Orvis, Winston, and Thomas & Thomas. These brands are renowned for their quality and performance in the fly fishing world.
Is a 3 weight fly rod suitable for beginners?
A 3 weight fly rod can be suitable for beginners, especially those who plan to fish primarily in small streams for trout or other small to medium-sized fish. However, a 4 or 5 weight rod might offer a bit more versatility for beginners who aren't sure what type of fishing they'll do most.
What's the typical cost of a good 3 weight fly rod?
The cost of a 3 weight fly rod can vary significantly depending on the brand, materials, and craftsmanship. You can find budget-friendly options for under $200, while high-end rods from premium brands can cost $800 or more.
Can I use a 3 weight fly rod for larger fish?
While it's technically possible to land larger fish with a 3 weight rod, it's not generally recommended. This rod weight is designed for smaller fish species, and most larger fish would put too much strain on the rod, potentially leading to breakage.