Last updated on August 19th, 2023.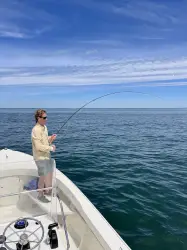 Latest posts by Leonard Schoenberger
(see all)
Any angler would swear by the fact that even the shallowest and narrowest of streams can be a challenging location to take on.
Even if it may not give you the experience of encountering the exciting and harsh currents that a larger water body provides, fishing in small streams pushes you to fish with such precision and attention to detail.
That being said, the best companion for anglers to have when fishing in narrow water bodies is a 3 or 4 weight fly rod. They are lightweight, easy to transport, and are your best bet if you want to successfully catch a lot of small to medium-sized fish species such as panfish and small trout. 
However, you may think that they might be easy to master, given that they have such a light and frail design. Don't be fooled, though, because using a 3 wt fly reel requires as much skill as dealing with the bigger and heavier ones you use in larger bodies of water. They may be quite difficult to get the hang of since you need to have excellent control and power over this type of reel, but rest assured that nothing truly beats the feeling of mastering it once you realize how it broadens your fishing opportunities at a powerful scale.
Mastering a 3 weight fly reel is one thing, but choosing the best one for you is a whole different story. In order to truly realize your angling potential, read on to find out how you should choose your next best fishing companion!
When Should You Use A 3 Weight Fly Reel
As aforementioned, 3 weight fly reels and rods are great for anglers who often fish for trout in smaller bodies of water. When you fish in a small stream, it would technically be impossible for you to do long casts since there are a lot of obstacles in the way such as logs, trees, bushes, boulders, and other vegetation surrounding the water. 
You would be forced to use other techniques such as roll casting and plenty of other ways that don't require you to have heavier rods. Moreover, using a 3 weight outfit in narrow quarters would give you less burden in terms of transport, since you won't have to deal with making your rod fit through the cramped spots. 
3wt fly reels are also ideal for backpacking trips and nymphing. Rods of the same weight are the best ones to use since they are extra lightweight—a feature that you would truly appreciate once you cast for a decently long period of time. The 3 wt fly reel and rod combo would also be your best bet if you plan to cast with dry flies to catch small bass, trout and all other smaller fish species. 
Overview of the Most Important Features of 3 Weight Fly Reels
One way or another, you must still be able to distinguish the kind of features that you would need to examine before buying your 3 weight reel in order to maximize your purchase once it falls into your hands. To help you get started, here are some of the most important features that you need to know in order to determine the best 3 weight fly reel for you:
Weight
If you prefer something lightweight, then machined reels would be the best choice you can make on the market. However, the weight of the reel does not truly necessarily matter if you won't consider the overall balance of your setup. Be sure to match your reel's weight to the rod that you are going to use it with.
Drag System
Reels with disc drag systems would be your best bet here but click and pawl systems are also great if you often target panfish or small trout. The latter is far cheaper so if you are on a budget, click and pawl will do. However, if you would like to truly maximize your fishing performance, go for a disc drag.
Material and Construction
If you are looking for something on the more affordable side, then die-cast reels are the way to go. However, looking back in terms of weight, machined reels are much more efficient and smoother when it comes to performance. 
You may have doubts about die-cast reels, though, due to their reputation of having poor quality in the past, but newer models nowadays are much better in terms of tolerance. One difference that you may want to consider is that machined reels tend to get a nick or bent when it falls, whereas die-cast reels are prone to breaking since they are usually brittle, albeit rather stiff.
Arbor Size
Your arbor size usually just depends on your fishing style and techniques. If you have a shorter rod, then a smaller arbor reel would be the better choice. However, one disadvantage of having a small arbor is that it has a tendency to coil on the water and it has a slower line pickup rate. A good thing about it though is that it generally balances well on a light system. 
Most fly reels nowadays are built with a larger arbor as they help with the line memory. Larger arbors would also give you a higher line pickup rate, perfect for circumstances when a fish makes its way towards you. The larger ones also offer a smoother performance, especially when you fish in saltwater or warm water.  
Review of the Best 3 Wt Fly Reel in 2023
Now that you have an idea of what to look for when choosing the most suitable 3 weight fly reel for your fishing needs, here's a roundup of some of the best models in the market to get you started:
Notice: The Wading List is reader-supported. We take part in various affiliate programs such as amazon associates or avantlink. If you click on one of the links in this article and end up purchasing a product we earn a small commission at no extra cost for you. Thank you!
A reel that can withstand almost anything, this Hatch Iconic 3 Plus is easily one of the best choices you can make, especially when facing saltwater species. Not only that, this reel's drag system has amplified smoothness since it is carbon-filled and quickly dissipates heat, and this is the kind of drag system that you can always rely on wherever you go—from small trout to monster-sized tarpon, this Hatch Iconic 3 Plus won't fail you with the performance it gives.
Compared to the brand's older models, the spool design of this fly reel has been upgraded with machine ported holes for faster drying of the lines. They also took notice of upgrading the placement of their drag system, as their past models had them built on a separate cassette system. With the Iconic 3 Plus, the cassette has been built directly into the body of the real, greatly contributing to the stability and protection of the system.
Given its appearance, the Bauer RVR 2/3 truly lives up to its attractiveness with the kind of smoothness and overall fishing performance that it offers. This brand rarely disappoints, and with their newest 5-axis machines embedded in this reel, you would surely expect the best, one way or another.
The Bauer RVR 2/3 was built especially for anglers that often source out smaller streams and other narrow areas that require strategical and tactical experience. This reel efficiently manages your line without giving any additional burden with its weight. 
With a fly reel that is literally named "The Perfect", you will be guaranteed quality craftsmanship and longevity with this particular click and pawl drag system model that takes pride in the beautiful sound it produces when battling your catch. If you are familiar with other works of Hardy, then you would truly appreciate the updated and modernized design and machinery of this fly reel. The Hardy Perfect Wide 2/4 is built to be paired with bamboo and glass rods, and it serves as a great companion for fishing trout in smaller rivers. 
The Hardy Perfect Wide 2/4 features a rotating polished line guard, an ivory handle, and a deep anodized and gunmetal gray satin finish for additional durability and strength. 
If you are an avid fan of freshwater fishing, then the Lamson Litespeed F -3+ could be the most suitable one for you. This one is built with a basis on the conical system sported by other reels of the same brand, except that it also features a click-stop drag knob and a spring set that produces a linear progression of torque.
Its spool and frame are super-arbor in terms of high scale for higher retrieval. Moreover, the Lamson Litespeed F -3+ is also machine-slotted for easier line drying and a more lightweight feel. This is one of the smoothest and strongest versions from Lamson. 
The Abel TR 2/3 Fly Reel comes in a click and pawl drag system that features a precision-balanced spool clicker that completely erases your need for a counterweight while still retaining the beautiful sound that this system makes. Its palming rim is designed for anglers to conveniently control the drag pressure in whatever fishing condition they may be facing.
The Abel TR 2/3 Fly Reel also has a large-arbor spool built to decrease line memory, and contrastingly, increase the rate of retrieval. It comes with stainless steel accents that give it a sleeker and more sophisticated feel.
If you ever had the opportunity to try the lightweight click pawl reels of this brand, then you would be surprised to know that they still topped that quality with this newer Ross Colorado 2/3 Fly Reel. The classic sound that a click and pawl system produces perfectly merges with the modern design, strength, and durability of this reel, making it a masterpiece even if you are not fishing. 
It's easy to say that the Ross Colorado 2/3 Fly Reel definitely looks different from the ones in the market nowadays, but its appearance is just a fronting sign of the kind of quality and performance that it holds. It has an all-metal external clicker at the back of the reel, with the silhouette of the San Juan Mountains. Its spool appears a lot more spacious than the previous models because it is more open and cleaner. Every single inch of this reel has been carefully analyzed and built, so it truly guarantees optimum performance and experience to any angler that uses it, may it be in small bodies of water bigger lakes and rivers, or just about anything in between.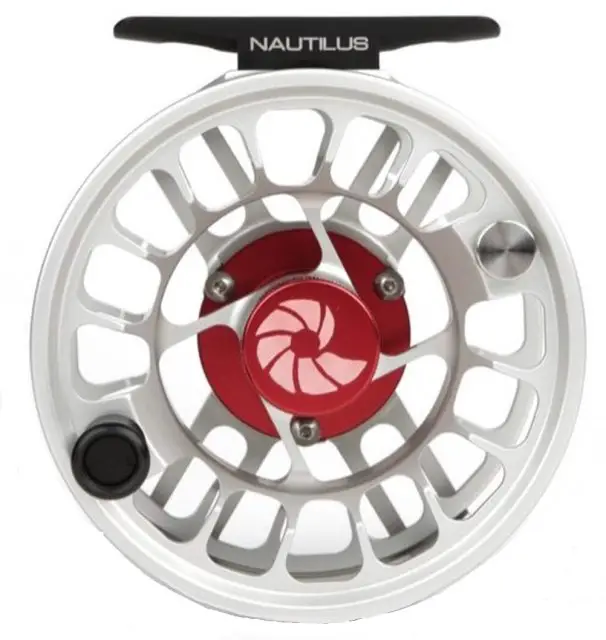 The Nautilus X-Series XS seems to have it all—a lightweight open frame, excellently smooth drag, impressive line pick up, and rigidity. The newer models are Teflon® sealed and feature a carbon fiber disc drag system that's not only low maintenance but self-lubricating as well. The system can be adjusted with a drag knob that provides an easy grip even for cold and wet fingers.
Its dual palming rim greatly contributes to its spool strength by 35%, coupling it with its high ventilated design. Its secondary palming rip keeps it resistant to any form of wear and tear. With no questions asked, this Nautilus X-Series XS is the perfect choice for anglers that want a tough and lightweight companion that can face trout of all kinds and in various conditions.
If you are looking for a fly reel that leans more on to the affordable side, then this Orvis Hydros I may just be the right choice for you to consider. It has a lightweight aluminum-machined frame and a narrow spool that diminishes the stacking of lines. It comes with a fully sealed drag and offers one of the best line pickups. The newer designs also come with improved seal carbon and a stainless drag with less weight balance, making it more lightweight than the past reel models of the same brand.
The Orvis Hydros I is perfect for small stream enthusiasts, especially those who would need optimum stopping power for landing monster-sized trout in the water. The upgraded design also offers a much smoother and more powerful feel.
Also belonging to the cost-effective group of reels, these Redington Rise 3/4 Fly Reel are your best bet when you want something of quality without breaking the bank. These reels are built on CNC machines with the highest quality 6061-T6 aluminum. It comes with a carbon fiber disc drag system that offers dynamic fish-stopping power.
The Redington Rise 3/4 Fly Reel also features a large drag knob for quick and easy drag adjustments when you are on the go. Its ergonomically-designed handles are built to be easily converted from left to right hand retrieve. This model comes in various colors, and as flashy as it may be, they have earned the label as one of the most durable and attractive fly reels produced by Redington. 
At an even more affordable price, the TFO NXT Black Label I series is easily the best option for beginner anglers. It comes in a machined and cast aluminum frame that has been designed to reduce weight. This one comes in an alternating disc drag system that can withstand exhaustive fishing as well as offer more than enough drag pressure, minus the startup inertia.
The TFO NXT Black Label I offers convenient left and right-hand conversion without any tools needed and is the perfect reel for fishing trout and any other warm-water fish species, as well as those populating light saltwater.
Conclusion on the Best 3 Weight Fly Reels
Choosing the right 3 wt fly reel may come off as a no-brainer thing, but if you truly want to maximize your purchase and have something that can last for the years to come, then it is definitely important to research and consider your needs and the situation you often face while fishing.
Budgeted or not, what matters most is that you choose what you think can help you reach your fishing desires and expectations, almost without fail. 
Notice: The Wading List is reader-supported. We take part in various affiliate programs such as amazon associates or avantlink. If you click on one of the links in this article and end up purchasing a product we earn a small commission at no extra cost for you. Thank you!