Last updated on September 2nd, 2023.
Latest posts by Leonard Schoenberger
(see all)
Heading out to the water, everyone has his own rituals of what to bring and how to store his most important items like spare spools, tippets, fly boxes, etc.
I try to keep my gear to a minimum as I like the freedom of movement that comes with it. But there are days when you need a little more equipment or some food or drinks for a long day out fishing. That's when a backpack can come in handy. Of course the big fly fishing brands all have backpack models in their range of fly fishing equipment.
However, as I like multi-purpose items, I took a look beyond the classic fly fishing brands to discover new options for a fly fishing backpack. One model that I came across was the Rains Rolltop Backpack. Produced by the Danish street- and rainwear brand, Rains, it has a modern and sleek feel to it. I got it in black since I like to use it in the city as well in daily life. There is even a more suitable color if you want to primarily use it for fly fishing: green.
In the next few paragraphs I want to give you an idea of what the Rains rucksack can deliver and what it can't.
Rains Backpack Review:
The features
The Rains Rolltop Backpack has a classic minimal design. Its main compartment can be accessed and secured through the rolltop opening on top. Inside the backpack has a nice, mesh-like coating that prevents scratches to any sensitive items you might store inside.
Besides the small front pocket that can hold your wallet, phone, keys or a fishing license, the Rains Rucksack features a slim laptop pocket that can be accessed on the side of the backpack. You wouldn't even realize it if you didn't know it was there. It can hold a 15" laptop.
Water resistance
One of the most important features for fly fishermen surely is the water resistance. This bag has a water repellent coating which works really well but it is not waterproof. If you roll the top of the bag tightly water should be prevented from entering the main compartment. The front pocket however is not waterproof. If you take a look at models offered by classic fly fishing brands such as Simms or Patagonia, there are backpacks that are 100% waterproof. However, they come at a much higher price point than the Rains Rucksack.  
Durability
The build quality of Rains products is very high from my experience. I personally use the Rains Weekend Bag since a few years and it is still going strong. The coating of the roll top backpack makes it unsusceptible, yet again it is probably not as sturdy as some higher priced items from other brands built specifically for situations requiring utmost reliability and waterproofness. However, taking into account that most fly fishermen don't spend 100 days on the water each year, the Rains roll top backpack will most certainly do its job just fine for them.
Style of the Rains Backpack
This is where the Rains roll top backpack can really shine. Since its design is inspired by a classic cycling backpack it has a minimal, sleek look to it that is underlined by the coating. The padded back side makes the Rains Rucksack a comfortable companion for a long day on the water. For more comfort it also features adjustable shoulder straps and a chest strap.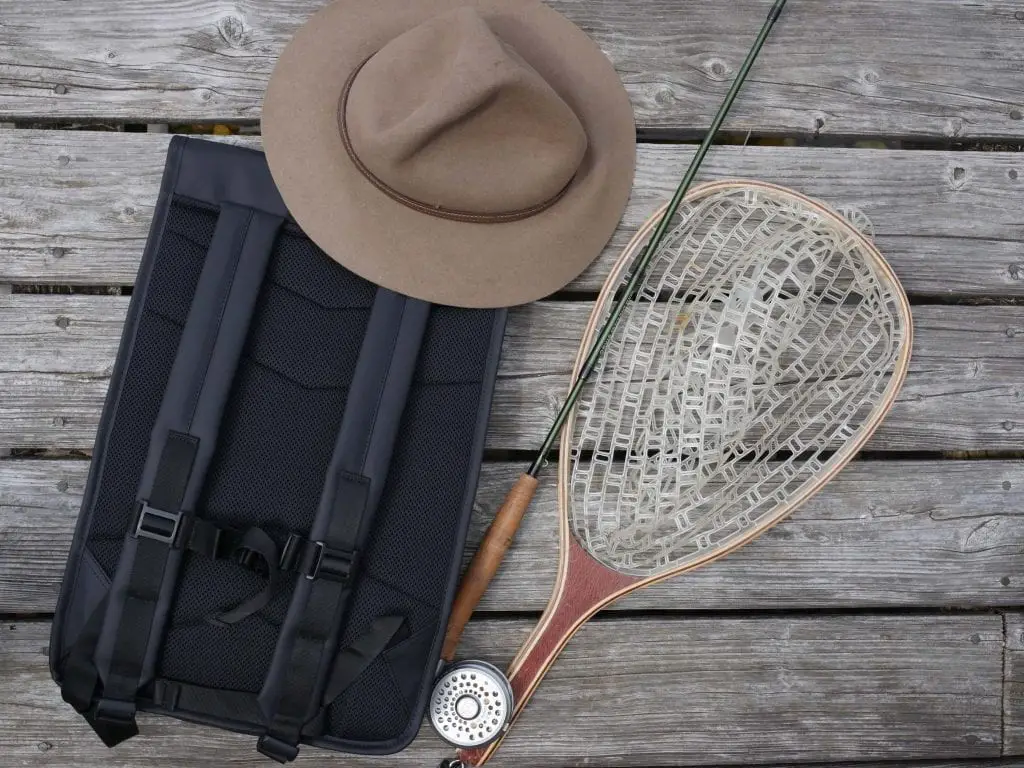 The facts about the Rains Backpack
Roll top closure with adjustable strap
Bike lock loop
Front pocket with zipper
One main compartment
Side-access 15" laptop sleeve
Measurements: H 60 cm (open) / H 49 cm (close) x L 31 cm x W 10 cm
Volume: 18 liters
50% polyurethane, 50% polyester
Fabric column pressure: 8000 mm
Water-repellent zipper
Padded backside
Adjustable shoulder and chest straps
Price: $140
Colours: Black, green, orange