Last updated on November 13th, 2023.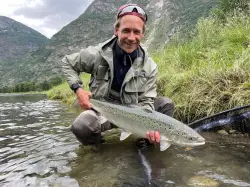 Latest posts by Leonard Schoenberger
(see all)
When it comes to high-quality fishing gear, Simms stands as a benchmark.
The Freestone Z Stockingfoot waders, a new addition to their extensive lineup, promise superior comfort, functionality, and longevity. But how does it fare, especially when compared to its siblings in the Simms family? Let's dive deep into the details.
Main Features of the Simms Freestone Z
Weight: 56 oz
Fabric: 4-layer Toray Quadralam
Zipper: Yes
Disclaimer: Some of the links in this article are affiliate links. If you click on one of them and end up purchasing a product we earn a small commission at no extra cost for you. We only recommend products we believe in ourselves. Learn more here.
Material & Construction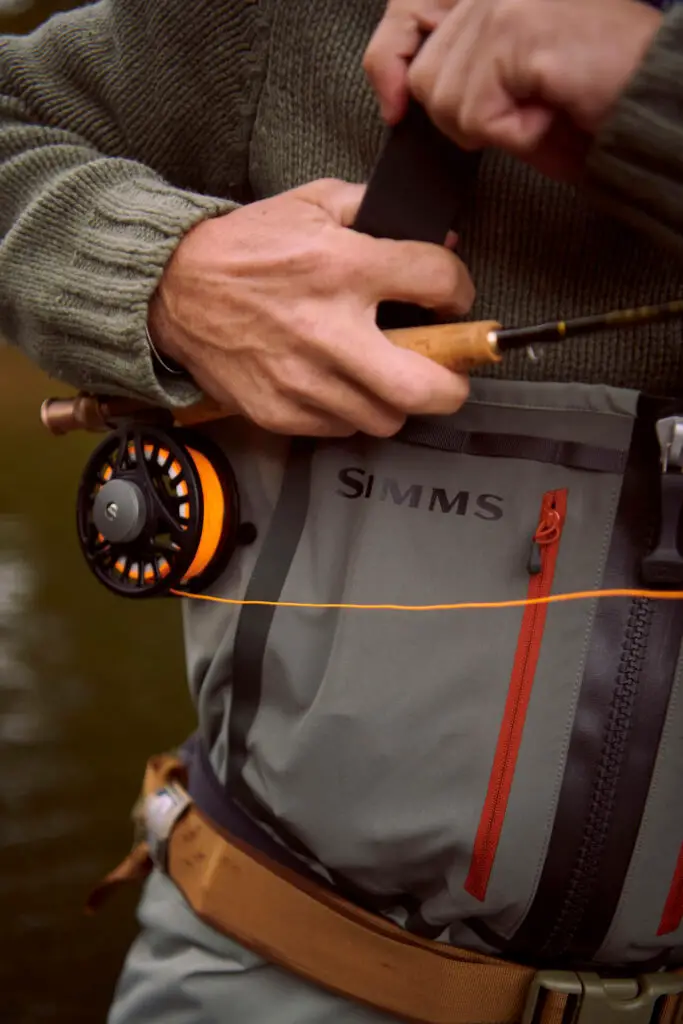 Constructed with a quad-layered nylon fabric that Simms calls QuadraLam, the Freestone Z Stockingfoot waders offer an incredible level of durability. This high-quality fabric ensures that you remain dry without compromising breathability, making it suitable for long fishing sessions. From my first impression this fabric feels a little softer than the Gore-Text layers on the G3 and G4 and increases freedom of movement a little.
At first glance the QuadraLam fabric does not seem quite as sturdy as the Gore-Tex fabrics but the durability test is one of multiple seasons.
Design & Comfort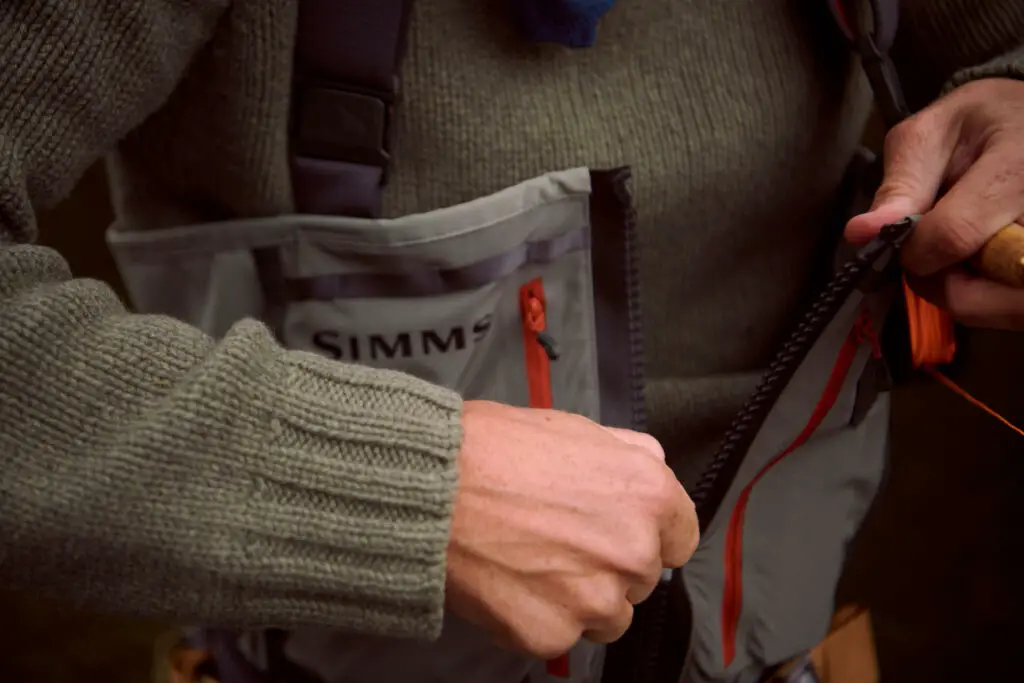 One of the standout features is the innovative TIZIP waterproof front zipper. This addition not only simplifies getting the waders on and off but also provides easy access when nature calls.
The articulated patterning, combined with center-leg seams, provides enhanced mobility and reduces wear points. This thoughtful design ensures that you can move freely without feeling constricted.
Storage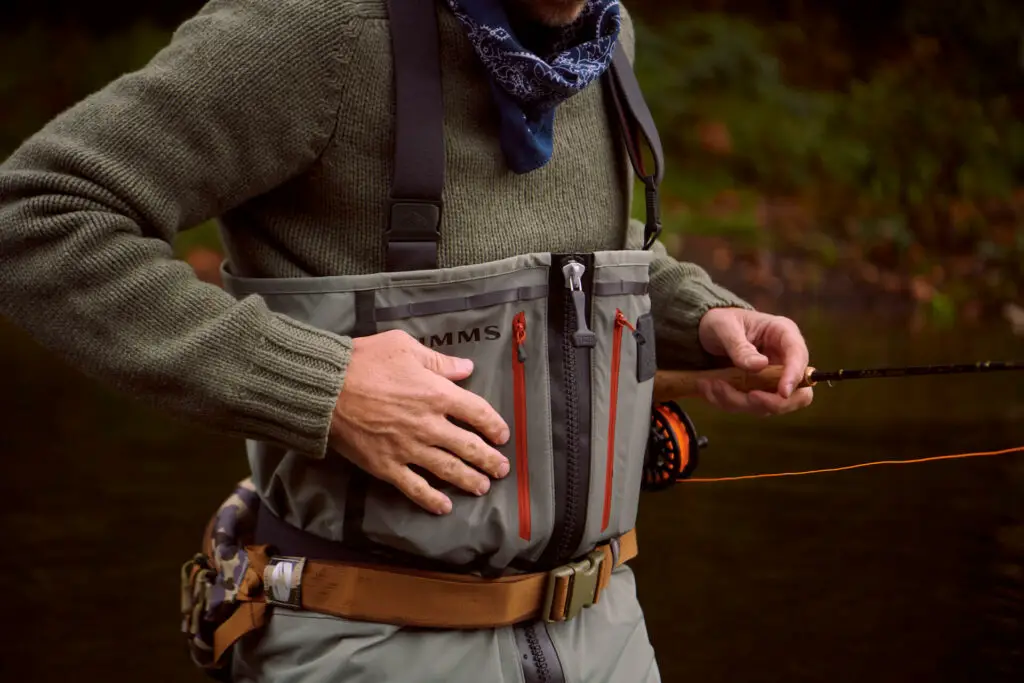 When it comes to storage, these waders come equipped with fleece-lined, handwarmer pockets (that are not reach through because of the zipper), perfect for those chilly mornings. Moreover, the large zippered chest pockets on both sides can store essential items, making them easily accessible.
On the downside, the Freestone Z does not feature any flip out pockets for additional gear. Above the zippered pockets, you'll find small attachment loops for retractors for example.
Comfort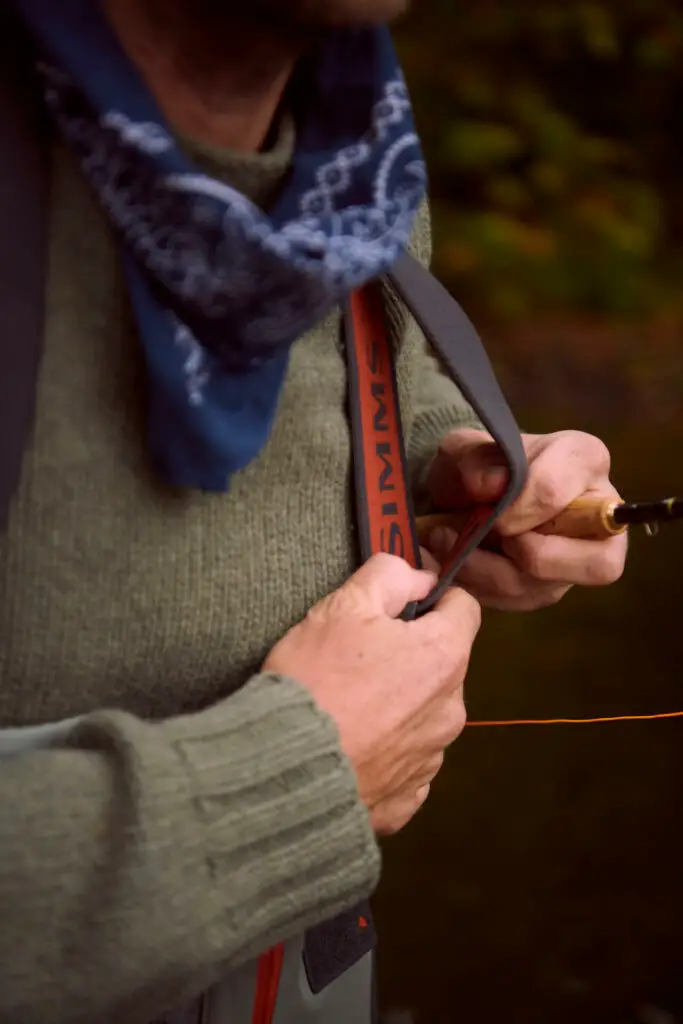 When it comes to comfort, the Simms Freestone Z offer a solid package. The suspenders are fully adjustable even if they don't offer the same level of padding as the G3 or G4. The same goes for the wading belt which does its job but is not as wide and comfortable as on the higher end models and only features one belt loop in the back. On the upside, the Freestone Z is significantly cheaper than its brothers (price of the G3: $699.95 and the G4Z: $999.95).
Comparison with other Simms Models
Simms Confluence Waders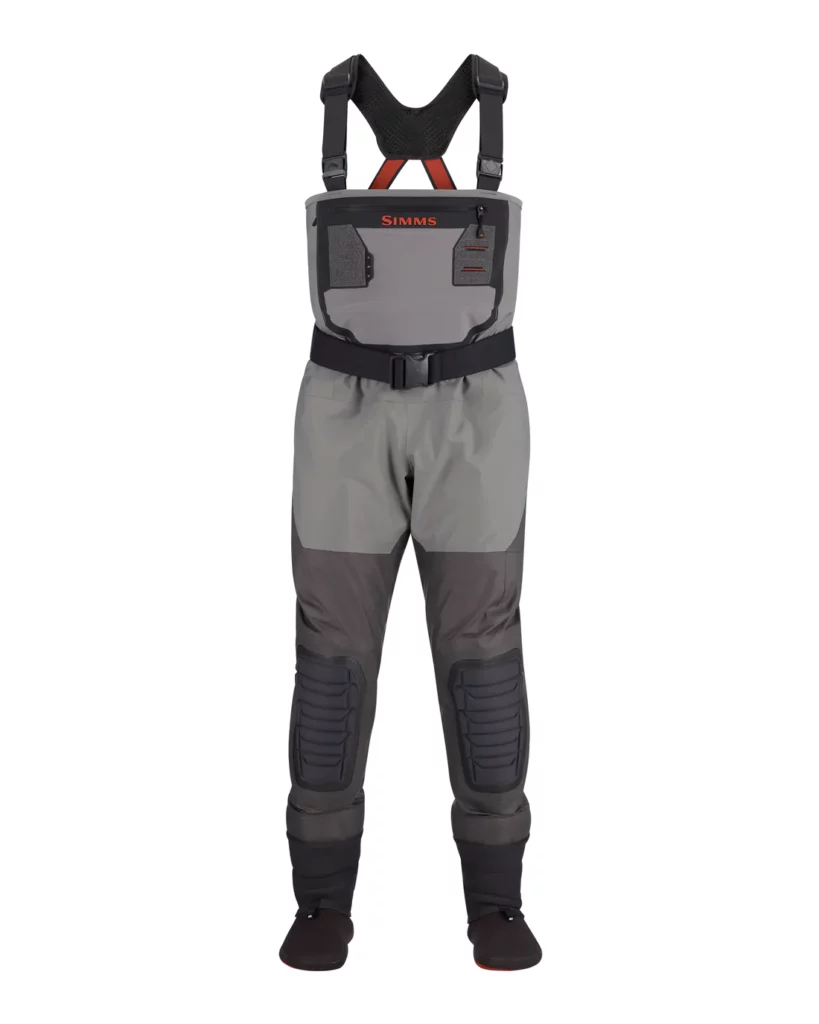 Material & Construction: Both the Freestone Z and the Confluence waders feature the 4 layer Toray Quadralam fabric. The only difference being that the Confluence has a little more stretch in its upper body.
Design & Comfort: Both waders prioritize mobility. However, the Freestone Z takes the lead with its TIZIP® waterproof zipper, making it more versatile and user-friendly. On the other hand, the Confluence features padded knees that make it more comfortable to fish in stealth mode. Also, the suspender system and the wading belt are a little more comfortable on the Confluence.
Storage: The Confluence comes with a zippered top stash pocket and fleece-lined handwarmer pockets. It also features a flip out pocket for smaller essentials such as tippet spools or leaders. The Freestone Z comes with only two smaller zippered pockets and hand warmer pockets. Hence, if you're looking for ample storage in your waders, the Confluence is the better option.
Simms G3 Guide Waders
Material & Construction: The G3 Guide Waders feature a Gore-Tex fabric (4 layer in the lower body and 3 layer around the chest) that has proven its durability time and time again. However, compared to the Freestone Z, they don't feature a front zipper which makes the Freestone Z the winner in the ease of use department.
Design & Comfort: The G3 Guide comes with patented front and back leg seams for increased mobility. While both are designed for maximum comfort, the Freestone Z's front zipper might make it more appealing to those seeking easy accessibility. The suspender and wading belt is more comfortable and padded on the Simms G3.
Storage: In terms of storage, the G3 Guide takes a slight lead with its zippered chest pocket and a flip-out Tippet Tender™ pocket with dual-entry zippers and retractor docking station. This could be a selling point for those who need a bit of extra storage.
If you want to compare the Simms Freestone Z to many more waders, make sure to read our big buyer's guide on the best fly fishing waders.
Why Choose Simms Freestone Z Stockingfoot Waders?
When we look at the landscape of waders available in the market, the Freestone Z Stockingfoot stands out because of its perfect blend of functionality and comfort. The waterproof zipper, combined with its robust QuadraLam construction, positions it as a leading contender for those seeking reliability and comfort in their fishing adventures. While the G3 Guide Waders might offer a tad more storage, the Freestone Z's ease of use and mobility make it a worthy choice.
Pros and Cons
PROS:
Zipper provides comfort and flexibility
Good value for money
Snug fit of the integrated gravel guards
CONS:
Storage options are limited
Suspender system not quite on the level of other Simms' models
No flip out pocket
FAQ: Simms Freestone Z Waders
How do the sizes run for the Simms Freestone Z Stockingfoot waders?
Simms offers a comprehensive sizing chart. However, it's always a good idea to try them on or ensure there's a return policy, especially if you're unsure about your size.
Are the Freestone Z Stockingfoot waders suitable for both freshwater and saltwater fishing?
Absolutely! But remember to rinse them thoroughly with fresh water after saltwater exposure to prevent corrosion of the zipper and prolong the wader's lifespan.
What kind of maintenance do the Freestone Z waders require?
After each use, especially in saltwater, rinse with fresh water. Allow them to dry thoroughly before storing to prevent mold and mildew. Check periodically for any signs of wear or damage.
How does the waterproof zipper hold up over time?
The TIZIP zipper is designed for durability. However, like all gear, it requires proper care. Keep the zipper clean and lubricate periodically to ensure its longevity.
Also make sure to read our guides on wader sizing, wader maintenance and why waders should be breathable.