Last updated on September 2nd, 2023.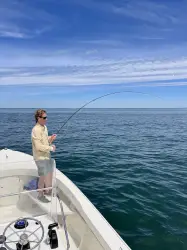 Latest posts by Leonard Schoenberger
(see all)
Fishing will always require a lot of time on and in the water, and that means you need to be well-equipped with the appropriate gear.
It will keep you safe and protected while you are sourcing out for fish to catch. One of the most important pieces of equipment to have while sportfishing is a good pair of wading socks or waders.
Table of Contents:
10 Best Wader Bags Quick Answer List
Important Features of Wader Bags
Waders are important because they make your whole fishing experience a lot more enjoyable, comfortable, and drier, given that you will be out into the water most of the time. Not only that, they are essential fishing equipment because they keep you safe from cold temperatures and will help prevent your feet from getting blisters and skin damage. 
That being said, you will also need a good container or bag to store them for safety and long-lasting use. Waders tend to get wet and muddy because you would spend most of your time using them while navigating through the waters by feet, and while you may not notice it during your fishing stint, cleaning up and preventing the mud and water from spreading everywhere in your car, truck, or even when you get home can be much of a challenge especially when you are already tired to deal with the aftercare of your equipment.
In comes the importance of a great wader bag that will not only keep the dirt and water from going everywhere, it will also serve to protect your waders from damage. Wader bags are made of quick-drying materials with ample ventilation that will let your waders and boots dry out without the dirt spreading everywhere.
It's important to invest in a quality wader bag to ensure that your waders will be able to withstand even more years of usage because of the optimum safekeeping it provides. It's a great and foolproof way to keep your waders in tip-top condition and prevent fast wear and tear!
10 Best Wader Bags Quick Answer List
3. Fly Fishing Chest Waders Mesh Bag
4. FROGG TOGGS Bootfoot Wader Bag
5. Banded Arc Welded Waterproof
8. FishPond Flattops Wader Duffel
10. Patagonia Stormsurge Wet/Dry Duffel Bag 65L
Important Features of Wader Bags You Need To Consider
Like all other gears and equipment used for fishing, choosing the right wader bag for you must come after considering the different factors that you need to look out for when shopping for one. Here are the most important features that you need to keep in mind and check when choosing the bag that will accommodate your fishing needs the best:
Waterproof
You may want to purchase a wader bag that has a separate compartment for your wet gear after fishing. That being said, you must choose one with a material that's big on waterproofing to ensure that the dirt and smell won't infiltrate the other things you put in the other compartments. 
Quick-drying
Along with its waterproofing qualities, a great wader bag must also have quick-drying material that will prevent any bad odors from developing, especially when you finally open your bag when you get home. 
Good ventilation
A wader bag with great ventilation will aid the drying process a lot quicker, and it will also help prevent the formation of mold, dampness, and bad odor. 
Comfort
Wet gear can be quite heavy and after a long day of hard work, you might want to prefer not to haul all this stuff uncomfortably into your trunk. If possible, choose a wader bag that features a carry strap that will help you carry the bag a lot more efficiently and comfortably. It will make the carrying of wet fishing gears a lot easier. 
Purpose
Above all, choosing the most premium and expensive wader bag may be the easy way out, but you must also consider the purpose of it before impulsively buying one. Figure out the features that truly suit your fishing journey criteria so that you won't spend any excess money on features that you won't need. 
Types of Wader Bags
Now, let's talk about the different types of wader bags. Given that the features mentioned above give light to its different purposes, you may also want to check on the specific types of wader bags that exactly give some of these points.
Ventilated wader bags are solely designed for carrying your wet gear. This is perfect if you already have a fishing backpack or a vest that will hold all your other essentials while angling. 
Duffel bags are waterproof bags used for carrying your dry fishing gear. If you don't really wade into the waters and just spend your fishing time on a boat or the banks, then this one can be a great alternative to your chunky backpacks if you're looking for something casual to carry.
Combination bags are wader bags that have separate sections for your wet and dry gears. This is great if you want a versatile bag that will be able to accommodate all your essentials, without the fear of them getting mixed with your dirty and wet waders. 
You must consider the factors and the type you need before thoroughly choosing the suitable wader bag for you. It's easy to be drawn to the more expensive ones, but it's still best to consider your fishing habits before investing in one. 
Notice: The Wading List is reader-supported. We take part in the Amazon Associates Program and earn a small commission at no extra cost for you if you end up making a purchase. We only recommend products we are convinced of and use ourselves. Thanks!
A Review Of The Top 10 Best Wader Bags in 2023
With those features and types laid out, here are the top wader bags for fishing in the market right now. Scroll through and find out which ones could satisfy your fishing needs and appeal to your liking:
The Simms Taco Wader Bag is shaped like a taco, hence the name. It's made of PU-coated 600 denier ballistic nylon-shell fabric with a circular design that forms a changing mat that allows you to put and take off your waders without much challenge. It has mesh vents that help prevent mold and mildew even as you put in your dripping pairs of waders and boots. 
The Simms Taco Wader Bag is large enough to accommodate two pairs of waders and two pairs of wading boots, even with its lightweight build. It's simple, built with quality materials, and gets the job done—the perfect choice to have if you want something good for both your fishing experience and your wallet. 
The Orvis Wader Mud Room is one of the newer products in the Orvis collection, upgraded with an extendable pad for convenient and safe changing of your waders and boots. It provides a substantial floor area to stand on while you change. 
This wader bag also features a flow-through mesh compartment for ventilation and easy transport. It also greatly keeps mud, sand, and water from cluttering in the car, and can hold in most waders and boots of standard sizes. It's also 100% recycled ECO CORDURA® 600 denier polyester with strategic TPU coating.
Do take note though, that the Orvis Wader Mud Room is not ideal for long-term safekeeping so it's best to take out and hang your waders and other wet gears to dry once you get home when you do buy this one.
This Fly Fishing Chest Waders Mesh Bag is designed with quality air drying features that could perfectly accommodate your waders, boots, vests, rain gear, vests, and extra dry clothes. It has a lot of room to serve as a versatile container for all your fishing gears and is made with 600D polyester and a mesh surface fabric with a smooth zipper, nylon padded handles, and securely stitched seams. 
With its durability, it's the perfect go-to wader bag that can withstand any weather conditions you fish in. Its compartment can even hold in reels, boxes, and lines without any hassle at all. 
The FROGG TOGGS Bootfoot Wader Bag is built and designed by tough coated nylon with a size that's large enough to carry your waders, wading boots, and other fishing equipment as well as your personal items. It has one large mesh pocket that measures about 19 inches wide by 6 inches high for ventilation, and pockets that will conveniently hold all your belongings in place. 
The Banded Arc Welded Waterproof Wader Bag is one of the models with the best waterproofing capabilities out there in the market. It's great for keeping your waders from spreading mud and water inside your vehicle, and it's also large enough to accommodate your wader boots along with other fishing or hunting items that are essential for your journey.
It's built with a fully welded 600D armor-coated exterior with a matching 100% waterproof and mud proof carry strap. The Banded Arc Welded Waterproof Wader Bag is one of the most versatile bags out there, and can even be personalized so that your stuff won't get mixed up with other piles of equipment while on your adventure. 
If there's a taco bag, there's also a burrito one. This Fishpond Burrito Wader Bag perfectly holds your dirty and wet waders and boots all while safely separating them from your dry equipment and goods. This is a great choice if you often fish into rivers that are mostly covered in mud. 
The Fishpond Burrito Wader Bag also has a built-in changing mat that you can roll out and effectively use to neatly place and secure your wet and dirty gear just by a simple pull of a cord with its drawstring closure. It effectively holds waders, boots, and gear safely for transport, as it features a webbing shoulder strap and a webbing haul handle on each side of the wader bag. Its 210 Main body is PU Coated with a DWR finish.
If you're looking for a bag that's a guaranteed one-size-fits-all, then this SITKA Gear Waterproof Hunting Wader Storage Bag might be the one for you. While it may lean on more to the expensive side, the quality that it gives is more than satisfactory. If you have or planning to buy a Delta wader, then this bag is the perfect companion for it.
The SITKA Gear features a pull-out mat for convenient and easier putting and removing of your waders. It's greatly waterproof and easy to clean as well—the perfect thing to have if you tend to go all-in while fly fishing. It is also multifunctional, its buckle can be used as a bottle opener if you happen to not have one at hand. It's also a great bag for hunting, aside from fishing, as it is designed for blind hunting in the marsh and is featured with a GORE OPTIFADE concealment that will not only hide you, it will also keep your prey from recognizing you as a predator.
The bag is truly great for its price. It's versatile, multifunctional, stylish, and waterproof—all for just a whopping $150. 
The FishPond Flattops Wader Duffel comes with a U-shaped opening with a large main compartment that's able to store your equipment, clothing, and waders neatly and without hassle. It's made with FishPonds recycled nylon fiber in 420D quality that's able to withstand all kinds of weather conditions. It is also infused with Cyclepond fiber that is reinforced with ballistic fibers in certain points that are exposed to the most stress. 
Not only that, but the FishPond Flattops Wader Duffel bag also features a separate bottom compartment that's ventilated for your wet and dirty waders and shoes—secured with its own zipper. It also has extra pockets to hold your accessories and it comes with a removable padded shoulder strap for comfort and convenience. 
If you want a wader bag that's guaranteed to give you great long-lasting performance, then this Korkers Mack's Canyon Wader Bag – Fly Fishing Bag is your best bet. It features 4500 cubic square inches of storage that is able to accommodate all of your fishing gears and needs, complete with a lot of pocket storage to easily compartmentalize your things. It has a massive top opening that provides very wide access to your belongings, making things a lot easier. 
It also has separate compartments for your wet and dry gears. The main compartment is built with a hydrophobic diaphragm that separates the ventilated wet storage area from the dry one. It also has a pull-out mat that can be easily unfolded and tucked away. 
For comfort and convenience, the Korkers Mack's Canyon Wader Bag – Fly Fishing Bag can also be converted into a backpack with its hidden shoulder straps. With its versatility and great quality, it's one of the best fishing companions currently on the market.
Patagonia's Stormsurge Wet/Dry Duffel Bag 65L is the perfect partner for hunting and fly fishing, with its water-resistant design that's also welded to be resistant to all kinds of weather conditions. This wader bag also features a floating divider that allows you to maximize the compartment and store your wet and dry gear as needed. 
The Patagonia Stormsurge Wet/Dry Duffel Bag 65L also features a removable shoulder strap and reinforced haul handles for an easier and comfortable carry. The bag also has a stash pocket made of mesh to accommodate your fishing accessories. Not only that, but it also features utility keepers that provide easy attachment, without the risk of piercing through the fabric. 
Conclusion
Now that you know how important a wader bag is, it's time for you to set your foot down and choose one that is the most suitable for you. Wading is a great way to elevate your chances of success while fly fishing, and all fly fishers do need a good set of waders and a wader bag to pair it with. Considering all the factors and types that have been laid out, which one do you think is the most appropriate one to choose for all your fishing needs?
Notice: The Wading List is reader-supported. We take part in the Amazon Associates Program and earn a small commission at no extra cost for you if you end up making a purchase. We only recommend products we are convinced of and use ourselves. Thanks!