Last updated on August 22nd, 2023.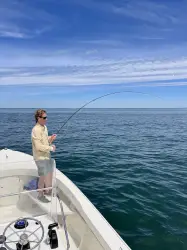 Latest posts by Leonard Schoenberger
(see all)
One thing about fishing: it's not all just rods and lures, what you wear and what you bring is also equally important.
Anglers often overlook the importance of having the right pair of sunglasses to accompany them in their ventures. When heading out into the waters, body protection is a must, especially for your eyes to avoid eye strain. Angling on days with harsh sunlight will always require you to have the appropriate sunglasses to protect your eyes and let you have a more than decent visibility in skimming the waters and spotting fish. 
When you see better, the whole fishing experience will also be a lot better, especially when fly fishing. Reflective glare is harmful to the eye and will only stress your sight in the long run. Buying low-end sunglasses with unpromising quality won't help, and they will only distort your vision. This is why it is better to invest in fishing sunglasses for women in the market that will provide you the best quality fishing experience by making you see your next trophy catch a lot better. Not only will you angle more efficiently, but you will also get to do it in style!
Disclaimer: All products in this guide are independently researched by our team. We only recommend products we believe in and never get paid for the reviews. Learn more about our review process here.
Table of Contents:
Features To Consider When Choosing Fishing Sunglasses for Women
Review of the Best Women's Sunglasses for Fishing
Important Features To Consider
While the aesthetic is certainly important, the features are really what you want to consider. Choosing the perfect women's fishing sunglasses requires you to have the utmost knowledge on what factors you need to keep in mind. There are already a lot of great and reputable brands in the market but you must still be wary of what product is suitable for you. Here are some of the most important factors you need to consider when choosing your fishing sunglasses: 
Choose the right lens color
This one is absolutely essential, depending on the water body you are fishing in and the weather conditions that are usually present in the area. 
Gray lenses are ideal for regular and general use and are also great at minimizing glare. It also aids in reducing eye fatigue when angling for long periods of time and helps with color perception. 
Copper lenses are more popular among anglers, and it is ideal for everyday conditions. It provides preservation of natural color relationships, all while also providing depth perception and contrast enhancement.
Yellow lenses are ideal for foggy conditions. As they offer one of the best degrees of contrast enhancement among the lens colors, it is one of the best choices for sight or fly-fishing.
Red or rose lenses also provide a decent vision for low light conditions, but the contrast enhancement is not as good as the other colors.
Choose glasses that provide you with comfort and protection
Most fly anglers prefer sunglasses with a wrap-around style, as it is helpful in blocking light from entering their peripheral vision, so try to choose one as much as you can. It also provides protection against flying hooks. If not fully styled as a wrap-around, try to choose models with thicker temples, to avoid sunlight, wind, and debris from distracting your sight. Full-wrap sunglasses are also more comfortable to wear, and most of the time, you will feel like they're not even there at all. Above all, always choose the one you are most comfortable with. 
Choose quality materials
Going out into the waters will expose your gears and clothing to a lot of potential damage, and sunglasses are no exception. The heavy moisture created with a combination of salty air and water will pose a lot of corrosion damage, so your sunglasses need to be built with durability. You should also choose one that's lightweight.
Notice: We take part in affiliate programs such as the amazon associates program. If you click on one of the links in the text and end up purchasing a product we earn a small commission at no extra cost for you. We only recommend products we are convinced of. Thanks for supporting our business. All images courtesy of amazon.
Mid Range – Fishing Sunglasses for Women
Dimensions:
Lens Width 52 millimeters
Lens Height 44 millimeters 
Bridge Width 21 millimeters 
Temple Length 145 millimeters
Why we picked them:
If you want to invest more in style and quality, then these Smith Eastbank Sunglasses might be the perfect fit for you. Featuring an upgraded style to the classic sunglasses silhouette with subtle details, it serves as the perfect stylish look for surfing, fishing, hiking, and other outdoor activities without compromising the quality of your vision. We found the ChromaPop filters to provide the highest levels of enhanced color and clarity enhancements, and it also diffuses specific light wavelengths that may cause color confusion. It also provides full protection against UV rays in all lighting conditions. 
Its polarization features eliminate glare off of horizontal surfaces, preventing the occurrence of eye fatigue caused by visual acuity. The lenses are precisely aligned with its polarized visual layers to prevent such conditions from happening. The anti-reflective lenses are also excellent in eliminating distracting glares and reflections from your peripheral vision. The Smith Eastbank Sunglasses' frames are infused with 53% bio-based materials together with its injected-polymer materials. This brand offers one of the largest eco-friendly sunglasses line collections all over the world.
PROS:
Chroma Pop provides great color clarity and polarisation
A lot of colors to choose from

Dimensions:
Lens width: 56 millimeters
Bridge: 19 millimeters
Arm: 130 millimeters
Why we picked them:
Native Eyewear Penrose Square Sunglasses feature great quality N3 technology for their lens filters, which makes it an excellent choice as a blue light filter that will greatly enhance the color, contrast, and clarity of your vision. This brand takes pride in its lenses that excellently filter out light that causes vision and color distortion. Its trilaminate frame construction features the combination of acetate's fashionable aesthetic and nylon's lightweight durability. This particular model also features square lenses and keyhole nose detail and fits best for small to medium profiles. 
While most lenses protect you from UV rays, this brand's lenses offer so much more protection. The Native Eyewear Penrose Square Sunglasses provide protection from ultraviolet to infrared rays that may potentially cause cataracts. I found it's molded frames and cushion nose pads to ensure utmost comfort, as well as their temple grips. 
PROS:
Snug fit
Great value for money
Dimensions:
Lens width: 56 millimeters
Bridge: 20 millimeters
Arm: 135 millimeters
Why we picked them:
Featuring a light and versatile design, Costa Del Mar Women's Panga Square Sunglasses is the perfect large frame for all outdoor activities in and out of the water. Its polarized and patented 580 blue lenses provide full protection against UV rays by blocking harsh yellow and blue lights while still ensuring optimum enhancement of reds, blues, and greens. Its overall effect produces a high definition clarity that produces less haze and blurs with greater contrast. 
The Costa Del Mar Panga Square Womens Fishing Glasses feature a tri-fusion, bio-resin construction, armored with integral hinge and CAM systems that makes it the perfect companion for all your under-the-sun endeavors. Its plastic frame and lens are lightweight, providing hassle-free comfort for all your outdoor needs.
PROS:
Very lightweight
Best lenses on the marke
CONS:
Fit is not super snug: light may come in from the sides
Premium – Women's Fly Fishing Sunglasses
Dimensions:
Lens width: 59.5 millimeters
Lens height: 45 millimeters
Bridge: 19 millimeters
Arm: 120 millimeters
Why we picked them:
With a butterfly silhouette that's sure to lure you in, the Kaenon Women's Avila Polarized Sunglasses truly offer more than just their peculiar sense of frame style. Its curved temples offer full coverage from light distractions even in your peripheral vision and are best suited for medium to large face sizes. It has a lightweight and durable build that features Japanese polarized lenses that are hyper clear and eliminate glares from all surfaces. It is also manufactured with one of the most advanced polarized lenses, the SR-91, which features glass-like clarity, outstanding impact resistance, and a featherweight build. 
The Kaenon Women's Avila Polarized Sunglasses leave no room for uncompromising quality even with their flexible TR-90 frame that provides a comfortable and invisible fit. It also features a stainless steel hinge, hypoallergenic nose pads, and an 8-base curve. This product is easily one of the best in the market and is used and tested by a lot of world-class adventurers and opticians. 
PROS:
Solid polarisation
High quality lens clarity
CONS:
Shape is not ideal for sports
Dimensions:
Lens width: 65 millimeters
Bridge: 9 millimeters
Arm: 130 millimeters
Why we picked it:
If you're looking for something sleek and light, check out the Oakley Women's Trailing Point. Its design is perfect for women who need the performance of sports eyewear, while still wanting to look chic and fashionable at the same time. Its polarized PRIZM lenses offer full protection against UVA, UVB, UVC, and blue light, with materials that provide quality comfort, protection, and clarity against harmful radiation.
The Oakley Women's Trailing Point Round Sunglasses also provide comfort and durability with its lightweight and stress-resistant build. Its hydrophilic nose pads ensure a snug and comfortable fit that also provides security. It is embedded with Prizm Lens Technology that is designed for color, contrast, and detail enhancement that's perfect for off-shore fishing, cycling, running, or just for strolling on the go. 
PROS:
Very lightweight
Excellent polarisation
CONS:
Lenses are a bight fragile around the edges
Dimensions:
Lens width: 59 millimeters
Lens height: 35 millimeters
Bridge: 19 millimeters
Arm: 120 millimeters
Why we picked it:
Like its namesake, the Maui Jim Womens Fishing Glasses Kipahulu Wrap offers a breathtaking experience with its premium clarity, contrast, and brightness features. It features a PolarizedPlus2 lens technology that goes out of its way to protect your eyes from glare and harmful UV rays, all while still providing the most excellent view and colors of the scenery around you with its color-boosting features.
It is also embedded with HCL bronze lenses that provide a warm tinted experience that is ideal for varying light conditions. The Maui Jim Womens Fishing Glasses is also constructed with lightweight, nylon-injected materials that provide extreme comfort even for extended periods of time.
PROS:
Wide shape for large faces
Great polarisation
Entry Level – Womens Fishing Glasses
With those factors laid out when choosing the best fishing sunglasses for you, here are some of the best models in the market that are sure to give you the finest and comfortable fishing experience when heading out into the waters. Check out these collated products from entry-level to premium ones!
Dimensions:
Lens width: 57mm = 2.24 inches
Lens height: 50mm = 1.96 inches
Bridge: 16mm = 0.63 inches
Arm: 145mm = 5.71 inches / Frame Length: 148mm = 5.82 inches
Why we picked it:
If you are looking for a chic look without breaking the bank, then the AVAWAY Women's Sunglasses Polarized may be the perfect one for you. It's built with an acetate frame that has more-than-average durability, accompanied by vibrant colors and patterns. The material used is nylon-based, making the product strong, flexible, and most of all, hypoallergenic. Its polarized lenses feature 100% filtration from UVA, UVB, and UVC, and greatly reduce glares from water, snow, and pavement surfaces.
This model of the AVAWAY Women's Sunglasses Polarized is perfect for those who are looking for a more vintage and elegant style, which you can use when angling or just strolling along the shores. Its color contrast and enhancement properties make it the perfect fit for golf, driving, and fishing. Its overall frame is lightweight and comfortable, with molded nose pads and curved temple tips for a more secured fit. Whether used as an accessory for your maxi dress or a basic tee and denim shorts, this pair of sunglasses will surely complete the look. 
PROS:
Quality polarisation
Great all-around glasses
CONS:
Lens quality is not at the level of the Smith or Maui Jim
Dimensions:
Bridge: 20 millimeters
Arm: 138 millimeters
Overall width: 140 millimeters
Lens width: 53 millimeters
Lens height: 45.5 millimeters
Temple length: 138 millimeters
Why we picked it:
Still in the elegant and vintage category, this Duco Polarized Sunglasses for Women features a simple and classic look that nods to the retro fashion trends that are still rampant nowadays. These unbreakable and flexible acetate frames can be suited for almost all face shapes, and can be paired with any outfit you will assemble when heading out into the great outdoors. Its oversized frame design not only provides ample protection from sun rays but also makes you have the dolled-up look on the beach especially when you are sunbathing. 
The product is made of non-plastic material acetate fiber, ensuring durability, sturdiness, and quality. It's hard to get scratches on this thing, and it's hypoallergenic as well. Its timeless style combined with its quality build is sure to give its user a good wearing experience, no matter if you use it for fly fishing or any other outdoor activity.
PROS:
Classic looks that also look great off the water
Lightweight
CONS:
Fit is not as snug, hence a little less protection from light coming in on the sides
Why we picked them:
Your best weapon for glares at a budget—this Suncloud Polarized Sunglasses give its user a refreshing and strong value with its functional and fashionable frame colors and styles that come with advanced lens technology. This brand of sunglasses is known for its lens filters that eliminate glares and provide superior visual clarity, comfort, color definition, and clarity. All their products, including this one, provide full protection against harmful UVA and UVB sun rays and are ideal to be used in all outdoor activities, especially fishing.
If you like to go green, then the Suncloud Polarized Sunglasses are for you as well. Their products are infused with 53% bio-based material along with the injected-polymer material used to create the frames. It features a multi-layer sienna mirror coating with 15% VLT. 
PROS:
Very snug fit
Quality polarisation
The Takeaway on the Best Womens Fishing Glasses
With a lot of variations and features available on the market, choosing the best women's fishing sunglasses can be quite overwhelming. Just be sure to consider all the most important factors when choosing one, along with the style that suits you best. 
Sunglasses are one of the most underrated and overlooked fishing accessories to have, and they shouldn't be at all, because your eyes will be one of the most vulnerable parts when you are active in the great outdoors. With all these options already laid out for you, which one do you think suits you best?
Notice: We take part in affiliate programs such as the amazon associates program. If you click on one of the links in the text and end up purchasing a product we earn a small commission at no extra cost for you. We only recommend products we are convinced of. Thanks for supporting our business. All images courtesy of amazon.
FAQs
What factors should I consider when purchasing fishing sunglasses for women?
When choosing fishing sunglasses for women, factors to consider include the level of UV protection, the type of lenses (polarized lenses are recommended for reducing glare on water), the frame design for comfort and fit, the durability of the materials, and the aesthetics of the sunglasses.
Are polarized sunglasses necessary for fishing?
Yes, polarized sunglasses are highly recommended for fishing. They reduce the glare from the water surface, making it easier for you to spot fish and underwater structures. They can also reduce eye strain and protect your eyes from harmful UV rays.
Which brands offer the best fishing sunglasses for women?
Some popular brands known for their quality fishing sunglasses include Costa Del Mar, Maui Jim, Oakley, and Smith Optics. These brands offer sunglasses with polarized lenses, high UV protection, and stylish frames designed to fit women.
What color lenses are best for fishing sunglasses?
The best lens color can depend on the fishing environment and weather conditions. Amber or brown lenses can enhance contrast and depth perception, making them good for partly cloudy to sunny conditions. Grey lenses are ideal for bright, sunny days as they maintain color integrity. Yellow or green lenses can enhance contrast in low-light conditions.
Can I wear regular sunglasses for fishing, or do I need special fishing sunglasses?
While you can wear regular sunglasses for fishing, fishing sunglasses offer features that can enhance your fishing experience. Polarized lenses, in particular, can reduce water glare and make it easier for you to see beneath the water's surface.
Are there specific fishing sunglasses designed for women?
Yes, many brands produce fishing sunglasses designed specifically for women. These sunglasses often have smaller, narrower frames to better fit women's faces, and they come in a variety of styles and colors to suit individual preferences.
Why You Should Trust Us
Leonard Schoenberger and his team spend plenty of days out fishing. Their goal is to test and review products for you so you can make a solid purchase decision and improve your fly fishing game. We always express our honest opinions, never get paid for reviews and are proud of our editorial independence.