Last updated on September 28th, 2023.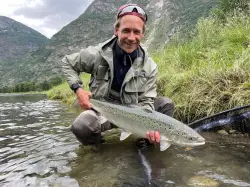 Latest posts by Leonard Schoenberger
(see all)
It's safe to say that you're not going to find a better alternative in terms of its portability, features, and insulation performance than the YETI Roadie 24.
It's small, easy to carry, and hard-sided. Honestly, we found the cooler a pretty robust and cutting-edge enhancement over its predecessor, the YETI Roadie 20. With a slightly bigger build, the company removed a couple of functionalities from the 24, allowing for optimized insulation. In addition, it's lighter and offers greater storage capabilities. For example, just like the name suggests, the new Roadie 24 provides users with 24 quarts of liquid storage. 
In light of this, we're going to take a comprehensive dive into its features, pros, and cons, and why the Roadie 24 could be your next best friend for all your outdoor adventures. So let's begin.
Disclaimer: All products in this guide are independently researched by our team. We only recommend products we believe in and never get paid for the reviews. Learn more about our review process here.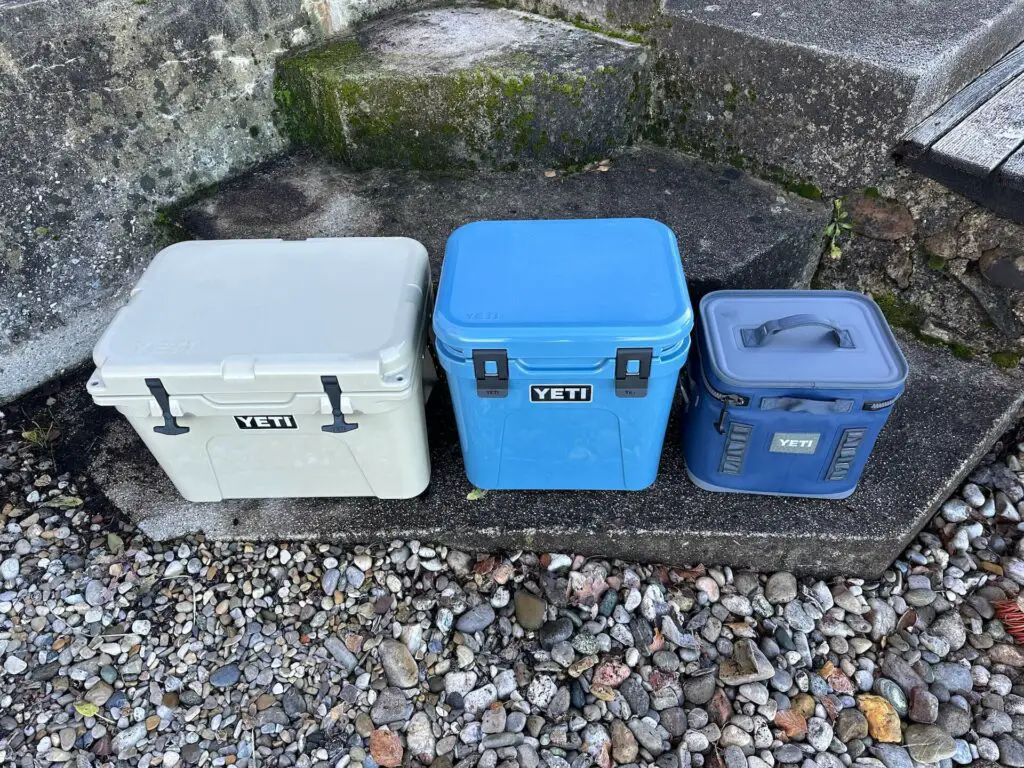 Rotomolded PermaFrost Insulation
When you talk about keeping things cool, it doesn't get any better than the Roadie 24. Considering its size, the cooler does an excellent job of keeping your drinks cool. We tested its insulation by keeping the cooler in a hot room with an average temperature of 40 degrees F. Impressively, the Roadie 24 retained its cooling potential for just under 3 days. 
Sure, you can argue that products bigger than the Roadie 24 can provide even more streamlined cooling capabilities, but considering its size and surface area, the product performed better than what we initially expected. So yes, compared to other products that come with the same built size, the Roadie 24 is a better option. Just like all other YETI cooler builds, the Roadie 24 also features a robust and rugged build. However, the 24 goes a bit further as it's more densely rotomolded, meaning the walls are thicker and fitted with denser insulation. Plus, it also features an interlaced handle hinge. 
Moreover, unlike other YETI coolers, the Roadie 24 is also built-in with a rubber gasket fitting commonly found in freezers, which helps keep the contents well-sealed. However, upon testing the product, we have to say that we weren't as impressed because the cooler showed signs of leaking water and air. We initially thought there may be something wrong with our specific product. 
But upon analyzing other customer reviews, we found that a lot of users are complaining about the same problem. So, it is safe to say that the Roadie 24 isn't as airtight as we would like it to be considering its rubber gasket fitting. 
Solid Build Quality 
Having used a couple of YETI coolers before, we automatically assumed that the Roadie 24 would outshine a lot of other products in terms of build quality. And it appears we were right. There's no question, the 24 comes with a pretty solid, sturdy, and durable construction. 
From the moment you lay eyes on it, you'll quickly know that the product will last you a lifetime. Each build detail is a testament to its durability, and we took turns sitting on it just to see if it held weight – and it did. In addition, the cooler is also fitted with a new latch, which makes it infinitely easier to carry it around considering how bulky and rugged it is. 
However, there is one thing you should consider. First of all, unlike Roadie 24's predecessors, the newer version isn't certified by the Interagency Grizzly Bear Committee (IGBC). This means it isn't as bear-proof as other YETI coolers. However, unless you're planning an outdoor adventure in the grizzly territory, this particular downgrade shouldn't be an issue.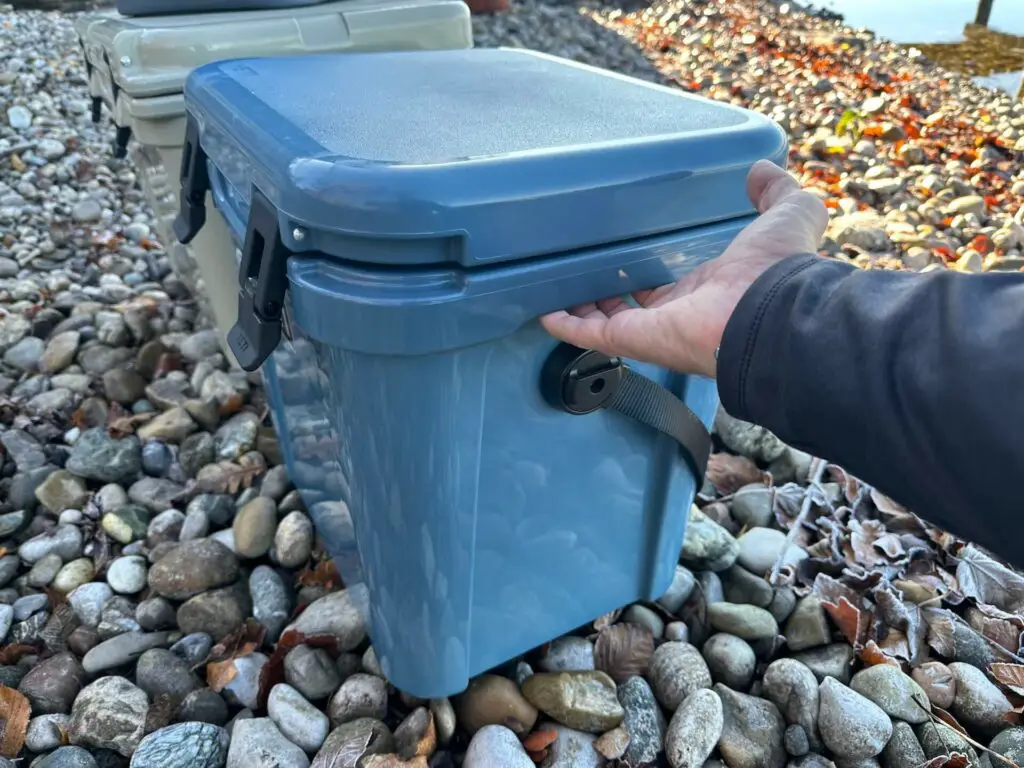 Streamlined Ergonomics and Usability 
Upon rigorous field testing, we can unequivocally say that one of the most unique selling points of the Roadie 24 is its enhanced latches. The company did a great job by removing the traditional rubber T-grip latches found in earlier models, which required two hands to carry the coolers, and ultimately a lot of effort. The Roadie 24, on the other hand, comes with two individual upgraded handle latches that can be combined to turn it into a one-hand plastic clasp. The clasp is intertwined with a rubber arm that helps keep the lid completely shut while you maneuver the cooler. Plus, they're easy to use and while you'd have it to close the plastic clasp, you can easily open and shut the lid using one hand.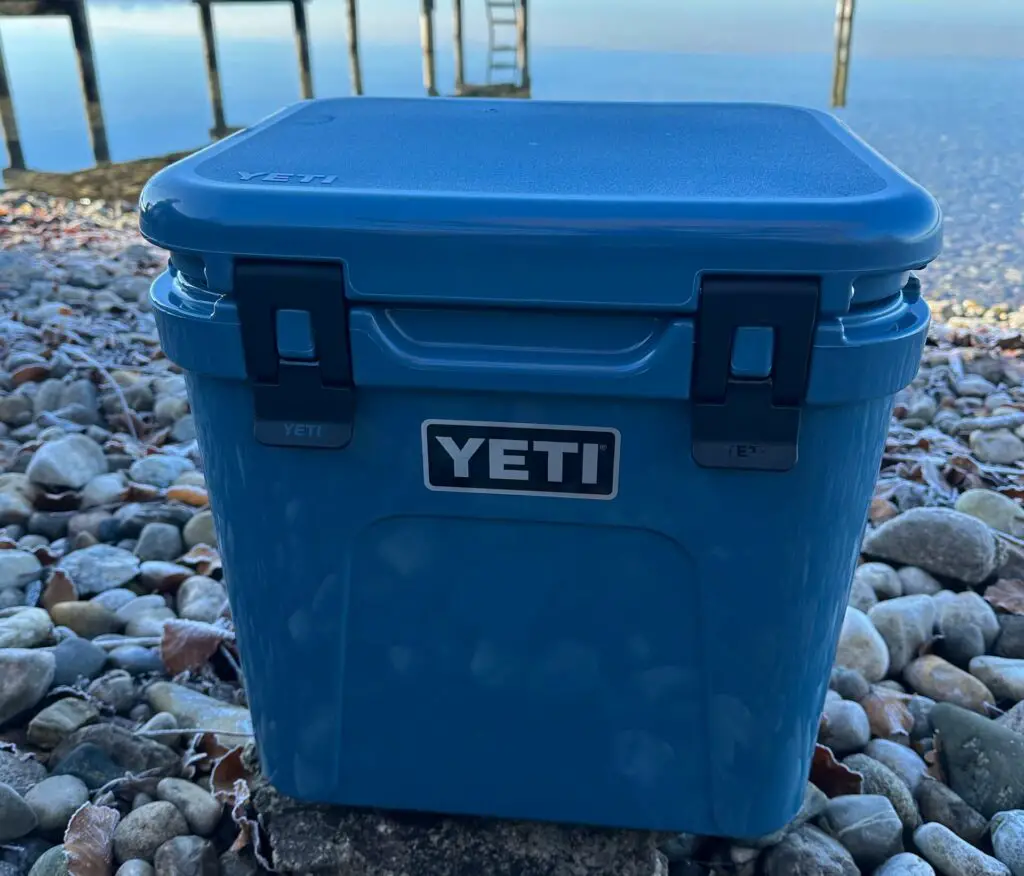 In addition, YETI also replaced the rigid handle at the top with a more ergonomic version. The new handle is webbed and fitted with a plastic grip that can also be moved. We found the new handle is far easier and more comfortable to grip and you can also use the handle to carry the cooler on your forearm. This is something that you couldn't do with earlier models owing to their stiff, metal grips. Moreover, like YETI's earlier models, the Roadie 24 also comes with a perpetually open lid, which means it is easier to load and unload your items without continuously having to keep the lid open. It's also worth mentioning that the product's interior is significantly taller (13 inches) compared to its overall width.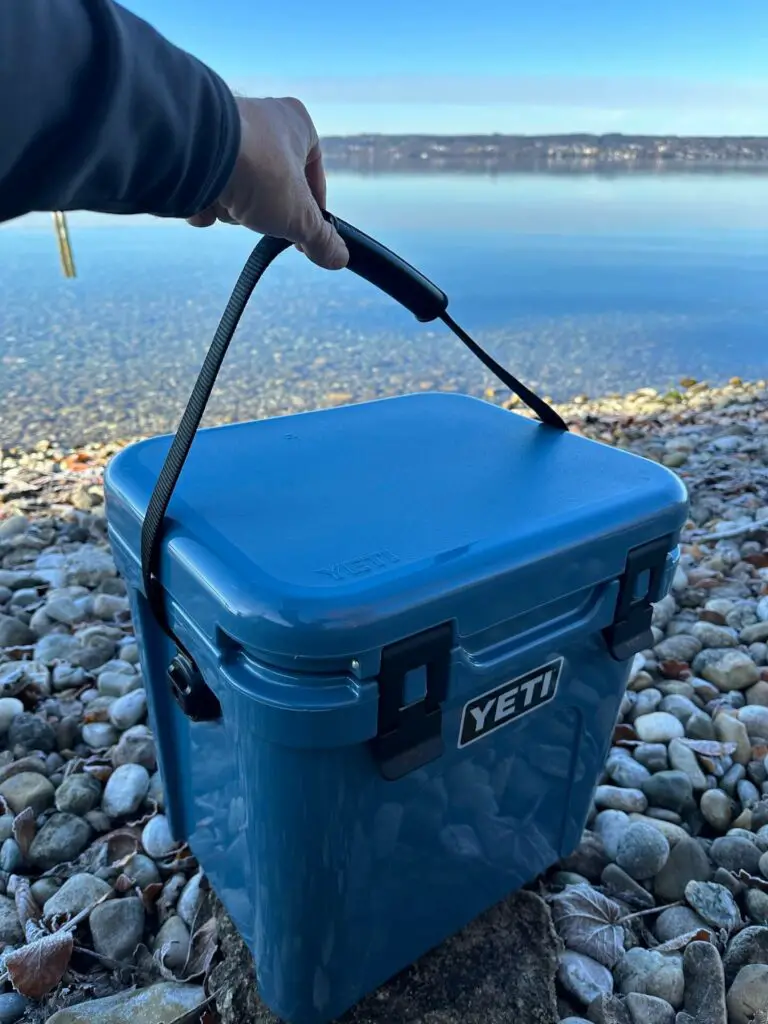 This improvement in height allowed us to store 6-7 bottles (all average-sized), very easily. You can even store a 2-liter bottle of your favorite wine or champagne. Sure, the interior may seem a bit smaller at first, but don't be fooled, the Roadie 24 is designed with a 24-liter storage capacity, which is 4 liters more than the Roadie 20. Overall, in terms of usability, the Roadie 24 is simpler to load and unload. The cooler has great storage capacity and is a pleasure to use, which is everything you need when you're out on a relaxing camping trip with friends or family. However, we did have some issues with the capacity of the cooler that you should keep in mind. 
While the product does come with more vertical storage space (which helps neatly store average to oversized bottles), it's important to mention that the cooler has a cramped horizontal space. For example, it's going to be a slight irritation for you to reach items that fall to the base of the cooler. Another important factor to consider is that the handle, while comfortable and easy to use, lacks adequate length, which means it's going to keep getting caught on the lid. This may make it a bit of a challenge to keep the lid open more than you'd desire.
Additionally, the handle clasp isn't designed to completely collapse when you put the cooler down. While the clasp is shorter in length and more ergonomic, you'll have to move it out of the way yourself, setting the handle down over the corners to fully open the lid. While it's going to take a couple of steps to move the clasp and fully open the lid, in our opinion, this shouldn't be a dealbreaker for you. Annoying, yes, but compared to the overall functionality of the Roadie 24, it's a negligible detail. 
Compact and Convenient 
Compared to the Roadie 20, the 24 weighs in at just around 13 lbs. The product is ingeniously designed to be more lightweight, and at the same time provides a larger storage capacity. However, keep in mind that trekking long distances with the cooler fully packed is going to take some effort. But that is offset by the product's unique, webbed and comfortable handle, which is going to make the walk a bit easier. 
In addition, you can also carry the cooler on your forearms, which further adds to its convenience and comfort. But it is also true that the stiff corners of the cooler will become a bit of a bother as they'll continue to come in contact with your legs. However, this is something that virtually all types of coolers will do.  
Furthermore, because the handles are perfectly sectioned on both sides of the cooler's lid, it makes the product simpler to grip with two hands. Sure, we're not going to say that you'll enjoy the experience of carrying it over long distances but compared to larger and heavier models, the Roadies 24 is truly a godsent. 
Storage Versatility
What's even more important than the Roadie 24's capability for added storage is the fact that the company gave the interior design a lot of thought, ultimately making it significantly more versatile. We're pointing to the product's organizational functionalities. You see, another main selling point of the Roadie 24 is that the company has done an excellent job in making sure users can neatly organize their soft drinks and wine bottles, keeping everything upright. You don't have to lay the bottles down anymore.
Laying the bottles down may inadvertently lead to a lot of spillages. Moreover, if you love your beer, it is important to mention that you can now sectionally store 16-lbs beer cans both vertically and horizontally. This was impossible to do in the Roadie 20. Moreover, another thing that may pleasantly surprise you is that you can also use YETI's dry basket to store various items on the underside of the cooler.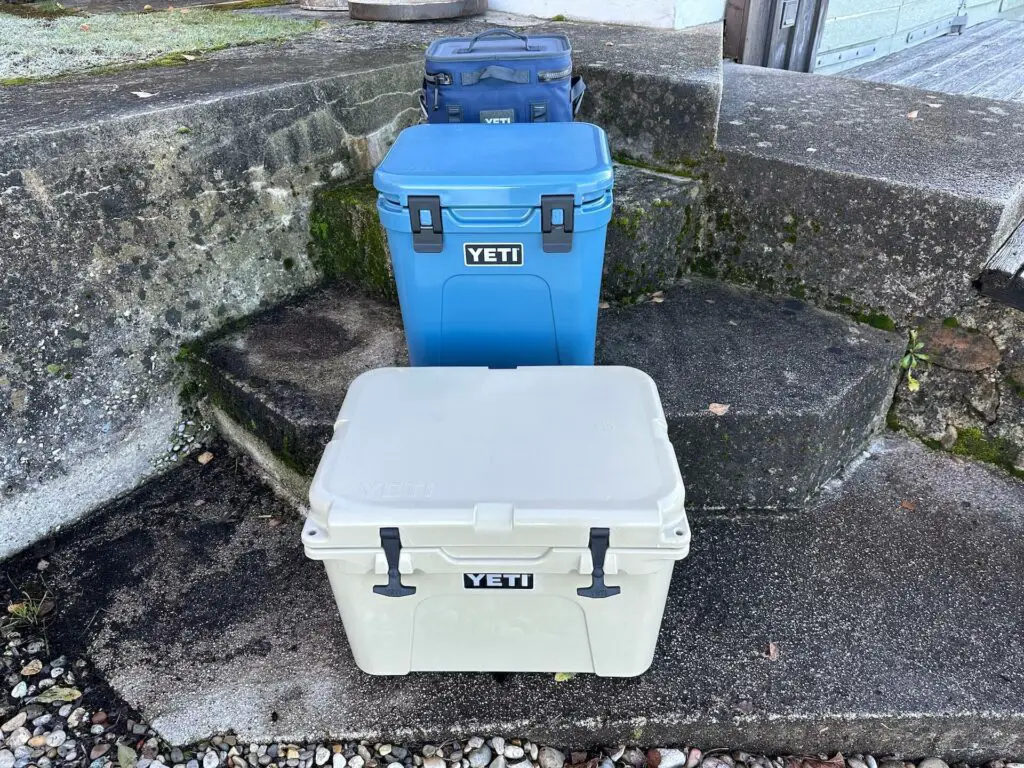 Main Area of Contention: No Drainage Valve 
Yes, *big sigh of disappointment*. Considering the cost of the cooler and its upgraded features and functionalities, it still amazes us that the company didn't give much attention to adding a drainage valve, unlike the Roadies 20. We gave it a lot of thought – whether to highlight this lack of attention as a disadvantage or an advantage before finally concluding that it's neither. Hear us out. 
While having a drain valve is certainly helpful, the problem is a lot of people don't necessarily clean and maintain their cooler drainage as they should, leaving their coolers to get disgustingly nasty. Moreover, drainage is not going to be much of an issue for most people because, well, the Roadie 24 is more lightweight than its predecessor. This means you can easily tilt the cooler and manually drain excess water or any other spillages. But yes, the bottom line is, from a value perspective, YETI should have included a drainage valve, period. 
A Quick Look at the Pros and Cons
Pros
– Excellent storage capacity (24 liters)
– Top-notch insulation with rotomolded build 
– With a taller ship, the cooler is easy to pack in the car 
– Can be used as a small table or stool thanks to its solid build quality
– Comfortable handle and latches
Cons
– Poor rubber gasket fitting. It isn't as airtight as it should be
– No Drainage
– You have to section the content to reach the bottom of the cooler to grab something
The Verdict – YETI Roadie 24 Review
In all, the Roadie 24 is an excellent product that offers an exquisite balance between usability and functionality. The product comes with cutting-edge insulation, and you can store a diverse category of both wet and dry goods. In addition, the cooler is creatively designed for 2-person camping scenarios. It's easy to open and shut thanks to the ergonomically designed handle latches and you can comfortably carry it in one hand.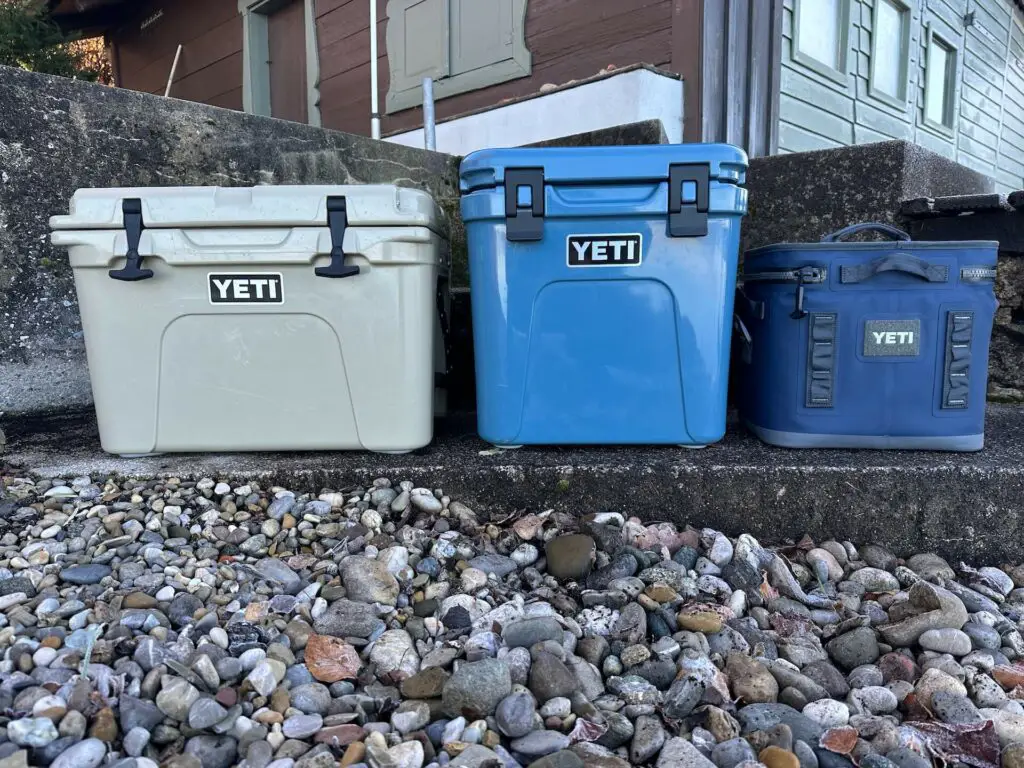 Frequently Asked Questions
How long will my Roadie 24 retain the ice?
With our field testing, we kept the cooler filled with ice in a room (at 40 degrees F) and saw that it retained the ice for up to 3 days. However, ice retention will generally vary depending on how frequently you open and close the lid, and of course, the overall temperature. 
How many drink cans can I fit inside the Roadie 24? 
We were able to fit up 16 cans. For more optimal cooling, we recommend following YETI's 2:1 ratio.  
What are some excellent YETI accessories I can use with the cooler? 
We recommend going for the Hard Cooler Basket from YETI. It will help you store your drinks above the cold water. 
Should I use dry ice in the cooler?
Yes, you can use the cooler to store dry ice. However, check the Roadie 24's instructions manual for storing dry ice. 
Can I use the YETI Roadie 24 to store hot beverages and items?
Absolutely. While the permafrost insulation helps keep things nice and chill, the same insulation will keep hot beverages or food items warm.
Note: We take part in so-called affiliate programs. This means that if you click on one of the links provided in this article and end up buying a product, we might earn a small commission at no extra cost to you. This helps us run our business. We never get paid for reviews and always express our honest opinion.