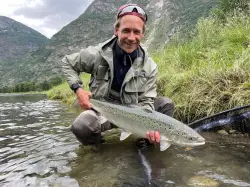 Latest posts by Leonard Schoenberger
(see all)
Let's talk the Umpqua ZS2 Bandolier Sling Pack—the sling sidekick you didn't know you needed.
I got my hands on this slim boy, and let me tell you, it's more than just a gear carrier. In this down-to-earth review, we're going to break down what makes this sling pack tick and talk about its real-world performance on the water.
Note: Some of the links in this article are affiliate links. If you click on one of them and end up purchasing a product we earn a small commission at no extra cost for you. We only recommend products we believe in ourselves and would recommend to our friends and family. Learn more here.
Key Features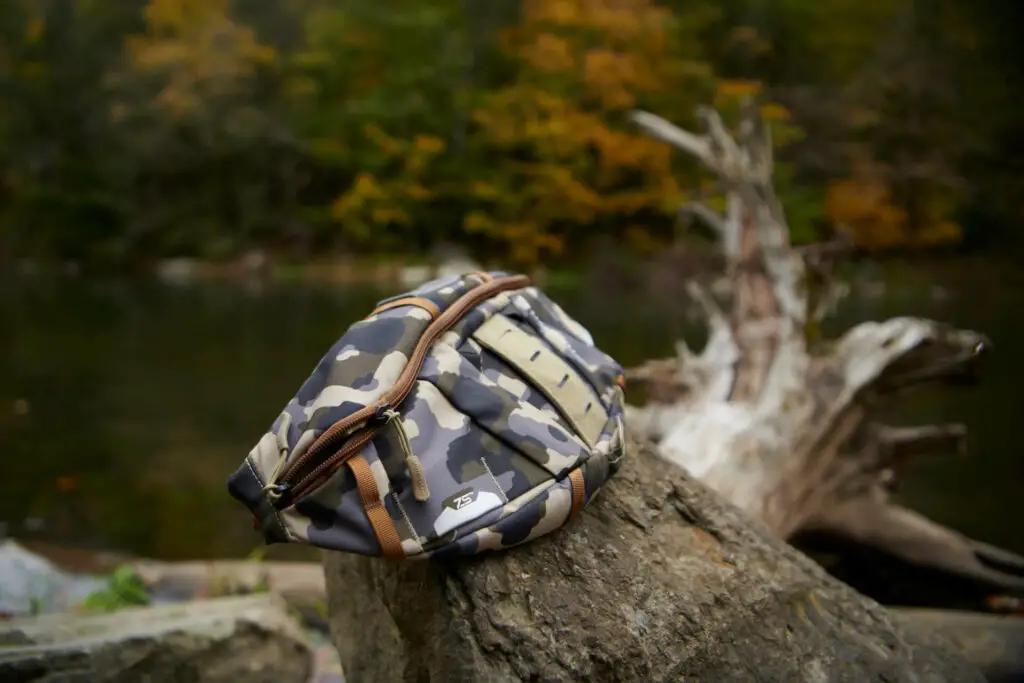 Durable Construction: Built to withstand the rigors of outdoor adventures.
Intuitive Bandolier Style: Allows for easy access to gear while maintaining security.
Smart Compartmentalization: Multiple pockets and attachment points for organized storage.
Ergonomic Design: Even weight distribution and a comfortable strap for extended wear.
ZeroSweep Compatibility: Integrated design allows for personal customization with ZeroSweep accessories.
Colors: two (camo and olive)
Price: $79.99
First Impressions and Design of the Umpqua Sling Pack
Umpqua is known for producing some quality fly gear at affordable prices. Their Umpqua sling has been popular with fly fishermen and women in the past for its slender silhouette that won't obstruct your casting. Now they've made their sling even better. We've taken it out for a day of fishing and tell you what we link about this fly fishing sling pack.
Built to Last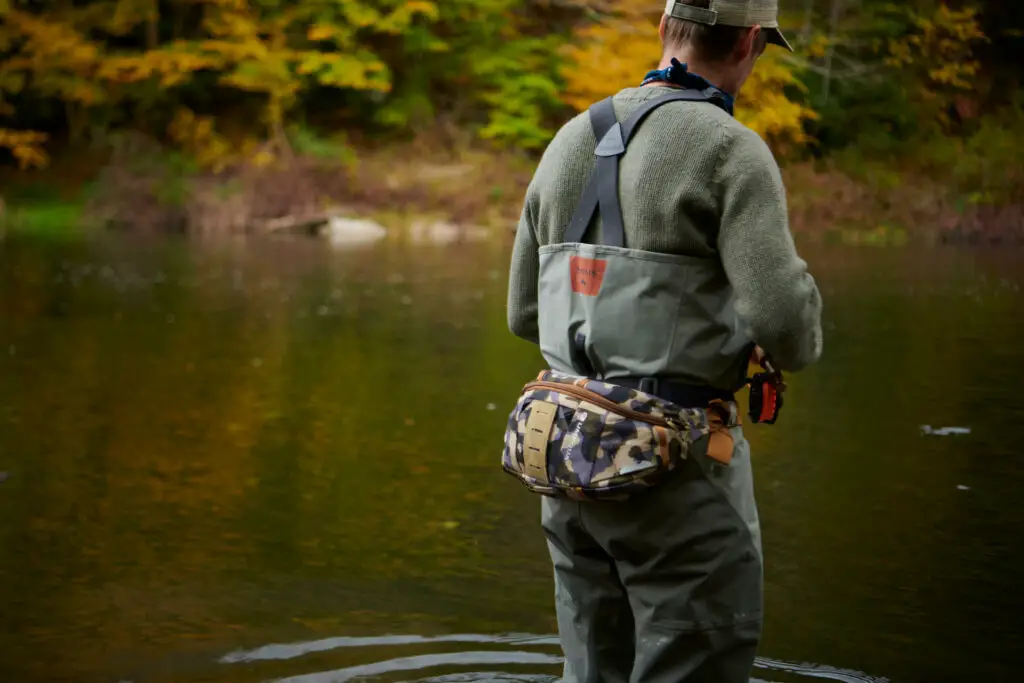 Let's talk about the nitty-gritty. This sling pack means business. It's built to take a beating, with sturdy materials that can handle whatever the great outdoors throws at it. The pack is made from 420 denier nylon and features extra tough ballistic nylon in areas of increased abrasion. I personally like the camo pattern as it gives this bag an edgy look. A YKK zipper for the main compartment is another quality component. I'd describe the differences between the older and newer version of this sling pack as fine tuning apart from the fact that the Bandolier is now compatible with accessories from Umqua's ZS2 line. That's a nice iteration and increases flexibility.
Performance on the Water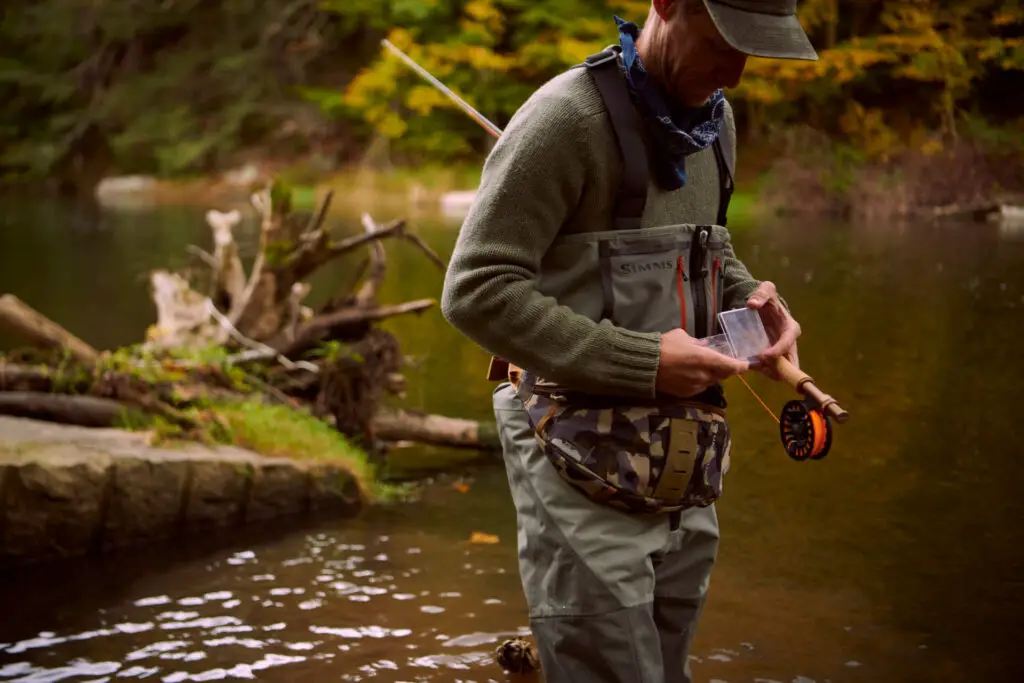 But let's get real—the true test is how this bad boy performs on the water. The strap? Comfy. The weight distribution? Spot-on. You can move, cast, and wade without feeling like you're lugging around your entire fishing supply shop. As you can see in the photos, I've even worn the Bandolier as a waist pack since it's so comfortable and its slender shape lends itself to be worn around your hip.
The compartments? Smartly laid out. Need your flies or leaders? It's right there, within arm's reach.
Nice Extras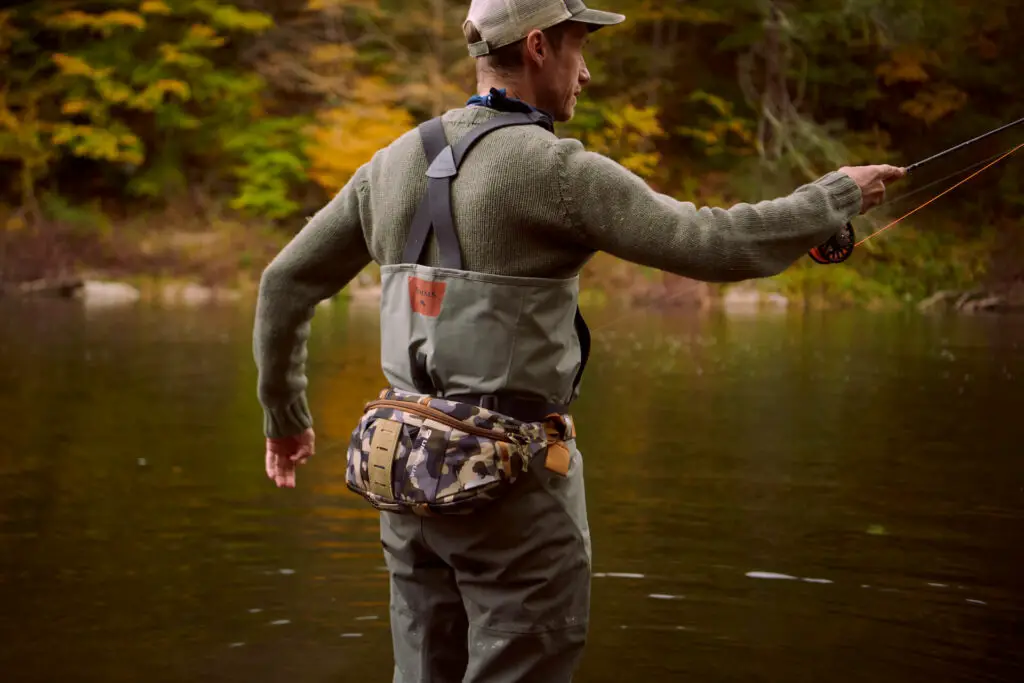 Umpqua didn't stop at the basics. The pack has these cool tool sheaths and attachment points that make you wonder why all sling packs aren't like this. And guess what? You can pimp it up even more with Umpqua's ZeroSweep accessories. It's like the pack adapts to your fishing style, not the other way around.
The Real Talk—Pros and Cons
PROS:
It's tough as nails, ready for whatever nature dishes out.
Stylish camouflage pattern
Slender profile, yet ample storage on the inside
Nicely padded strap
Compatible with Umqua's ZS2 accessories
CONS:
Hard to find any weaknesses on this sling: it's not waterproof but you wouldn't expect that at $79.99
Only thing I could think of would be a little outside pocket, ideally transparent for a fishing license for example
Conclusion on the Bandolier Sling Pack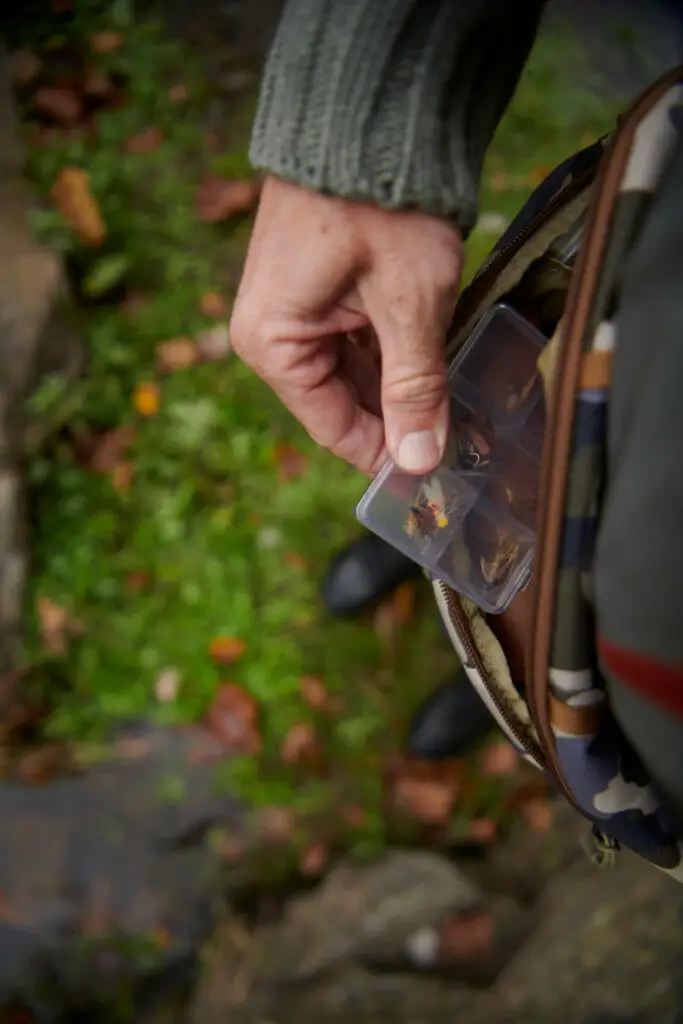 To sum it up, the Umpqua ZS2 Sling Pack isn't just a gear carrier; it's a fishing companion that gets you. With its durability, smart design, and extra touches, Umpqua has created a sling pack that feels like it's on your team. If you're on the lookout for a reliable and versatile sling pack, the ZS2 Bandolier is a strong contender.
FAQs—Because We've All Got Questions
Can I wear the Umpqua ZS2 Bandolier Sling Pack all day?
Absolutely. The strap is designed for comfort, ensuring you can wear it all day without feeling like you're carrying a ton of bricks.
Will my larger fly boxes fit in this pack?
You bet. The compartments are roomy enough to accommodate larger fly boxes, giving you flexibility in your gear choices.
Is the pack really waterproof?
While it's built to handle some water, it's wise to be cautious in heavy rain or and avoid submersion situations.
How easy is it to access my gear while wearing the pack?
Super easy. The bandolier style lets you swing it around and grab what you need without having to take it off. It's like having a mobile tackle shop on your chest.
Can I use this sling pack for things other than fishing?
Absolutely. While it's designed with anglers in mind, the Umpqua ZS2 Bandolier Sling Pack is versatile enough for various outdoor activities where easy access to essentials is key.