Last updated on November 6th, 2023.
Latest posts by Leonard Schoenberger
(see all)
Topo Designs has made itself a name in the outdoor industry with innovative bags such as the Topo Designs Quick Pack.
In my eyes there are two types of fly fishermen: the ones that head to the water equipped with only the most necessary items. They like to keep it light and simple. I call them the minimalists and would count myself amongst them. Then there are the ones that want to be prepared for any possible scenario. They usually carry a lot of equipment including several fly boxes, tippet spools, extra reels, to name only a few. The most common way to carry all this stuff is a fly vest. The other way to do it are hip packs/hip bags that you sling around your waist.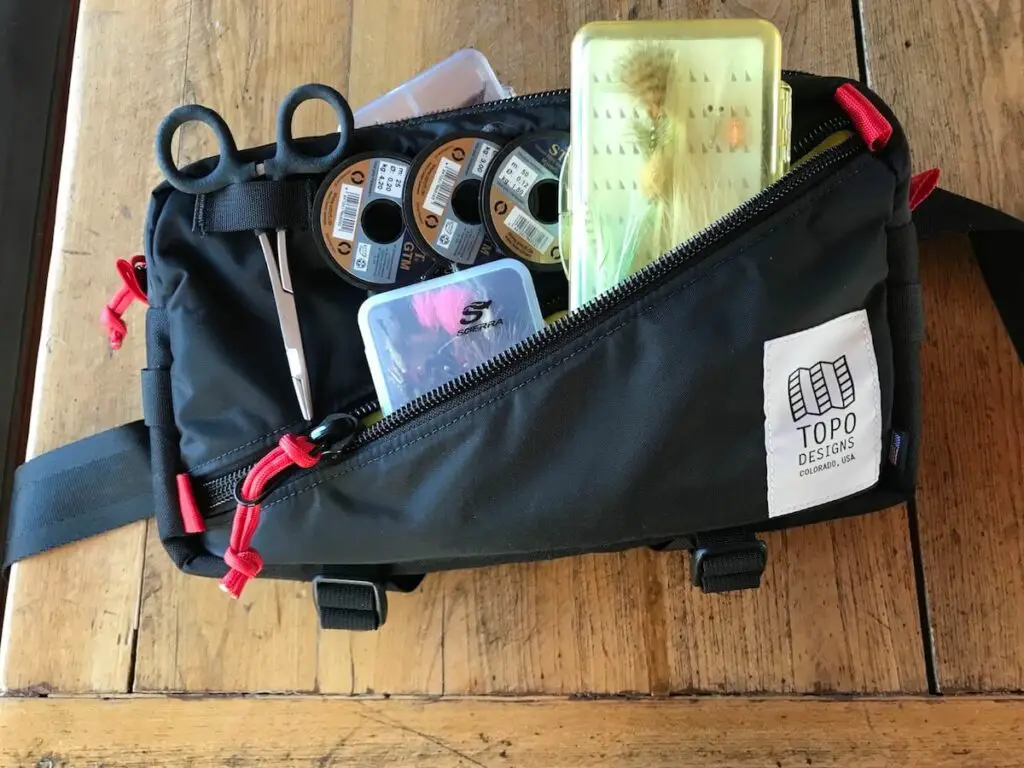 When in need of a little gear I prefer a hip pack to a vest. I find it more comfortable and I like the extra room I get around my upper body – especially in terms of casting. There are hip packs/hip bags that are waterproof and can be exposed to any weather condition. And then there are the ones that are simply meant to carry your stuff without caring about the rain. One of these is the Quick Pack by Colorado-based brand Topo Designs.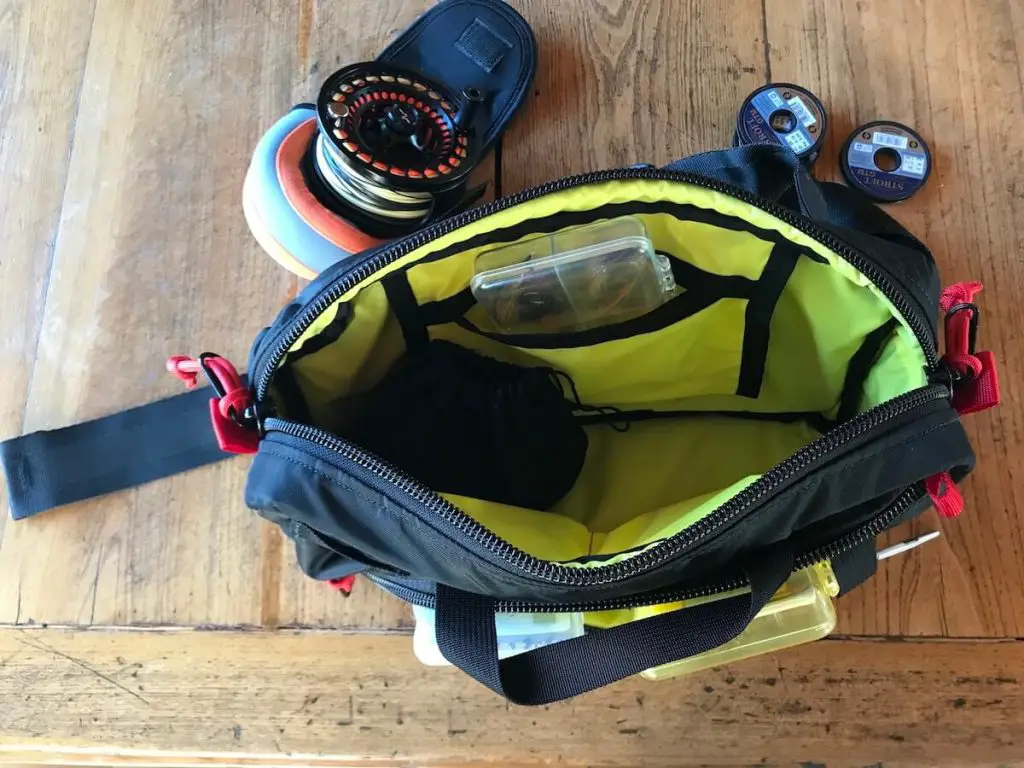 The Topo Designs Quick Pack is very versatile
The good thing about this Topo Designs Quick Pack: you can wear it for a day on the water but equally around the city and still look good. Moreover with its dimensions of 13″w x 7″h x 4″d it can hold quite a bit of (fly fishing) equipment. Furthermore, if you are tired of wearing it around your waist don't worry as it comes with extra straps to wear it around your shoulder.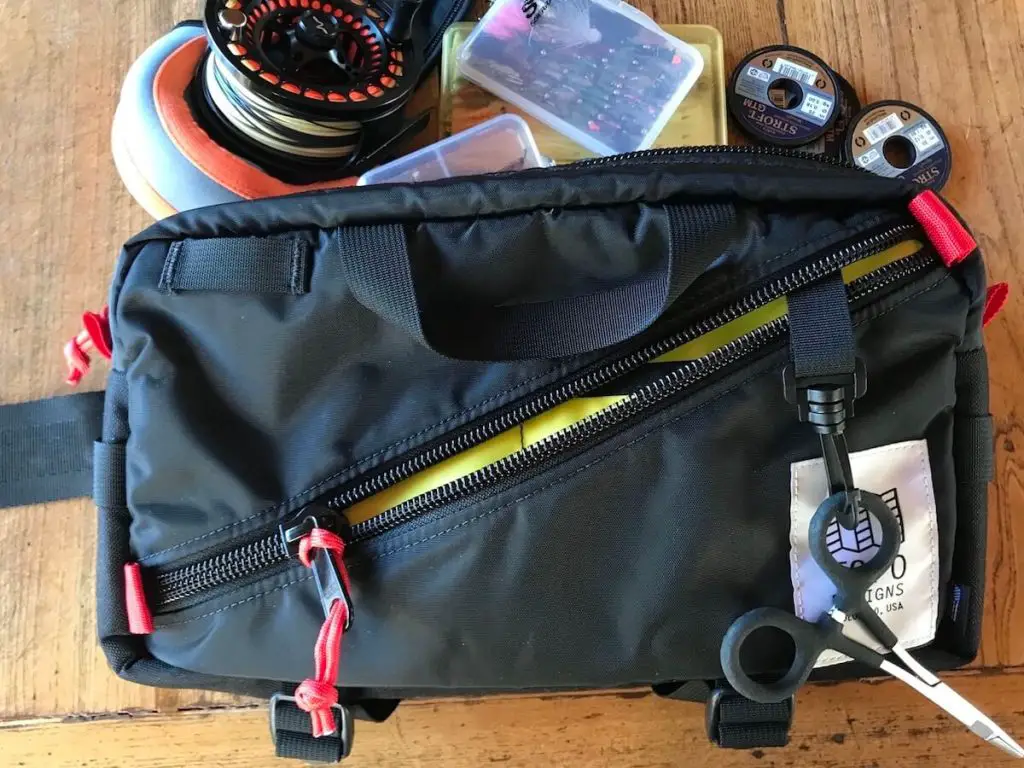 It's a great choice for fly fishermen in my eyes featuring a main compartment with an internal slip pocket, partnered with an external zippered pocket and bottom compression straps. This helps to keep all your gear and tools secure and in place. A 1000D Cordura® base, 400D pack cloth outer & liner are the fabrics of choice for the Topo Designs Hip Pack. Handmade in Colorado this hip pack can hold a volume of up to 6l. You can choose from a number of colours such as classic black or more modern designs in green, blue and turquoise.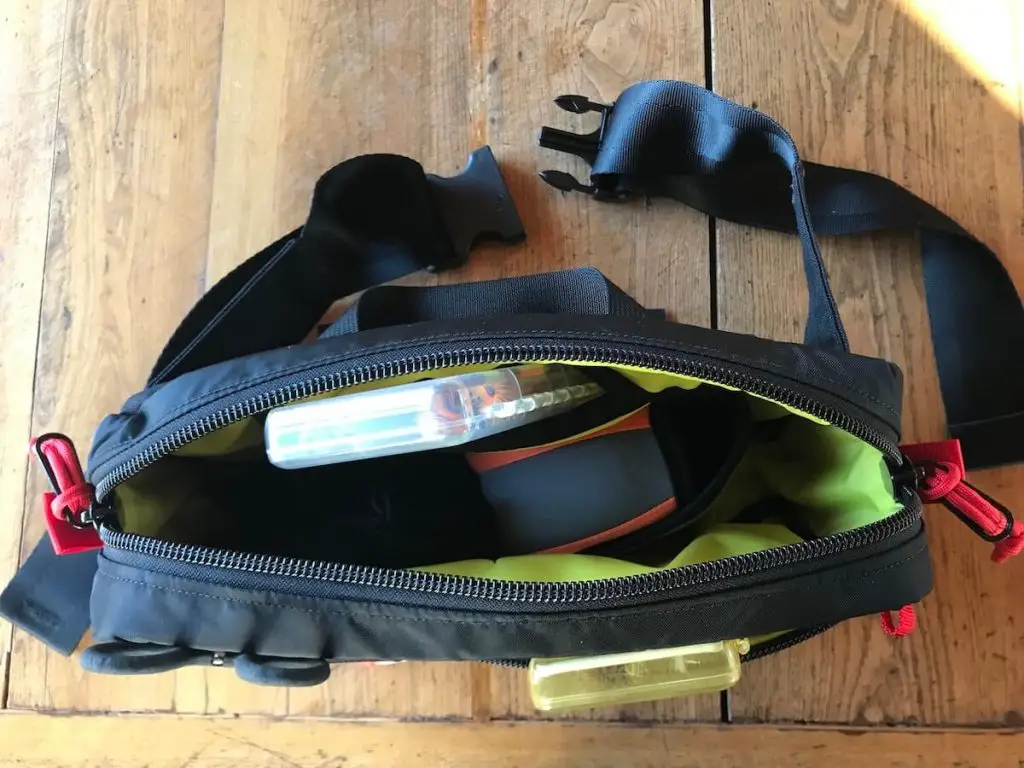 Price tag for the hip pack: $69.
Our verdict: A great choice for fly fishermen who like to travel.
Find it here: Topo Designs
Note: If you click one of the links and end up purchasing a product we earn a small commission at no extra cost for you. We only recommend products for purchase that we tested and believe in. Thanks for your support!