Last updated on August 18th, 2023.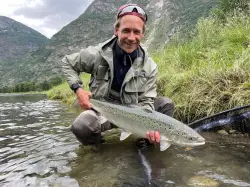 Latest posts by Leonard Schoenberger
(see all)
If you're a fly fisherman or woman looking for the perfect rod to give you an edge, look no further than the Sage R8 Core Fly Rod.
This advanced and versatile rod is designed with top-of-the-line technology to provide anglers with incredible performance on any body of water. Whether it's small streams or big rivers, the Sage R8 can handle whatever comes its way! It features an ergonomic grip that makes long days of casting more comfortable while providing maximum sensitivity when detecting strikes. In this review we'll take a closer look at the pros and cons of this amazing piece of equipment so you can decide if it's right for your needs as an outdoor enthusiast.
Disclaimer: All products in this guide are independently researched by our team. We only recommend products we believe in and never get paid for the reviews. Learn more about our review process here.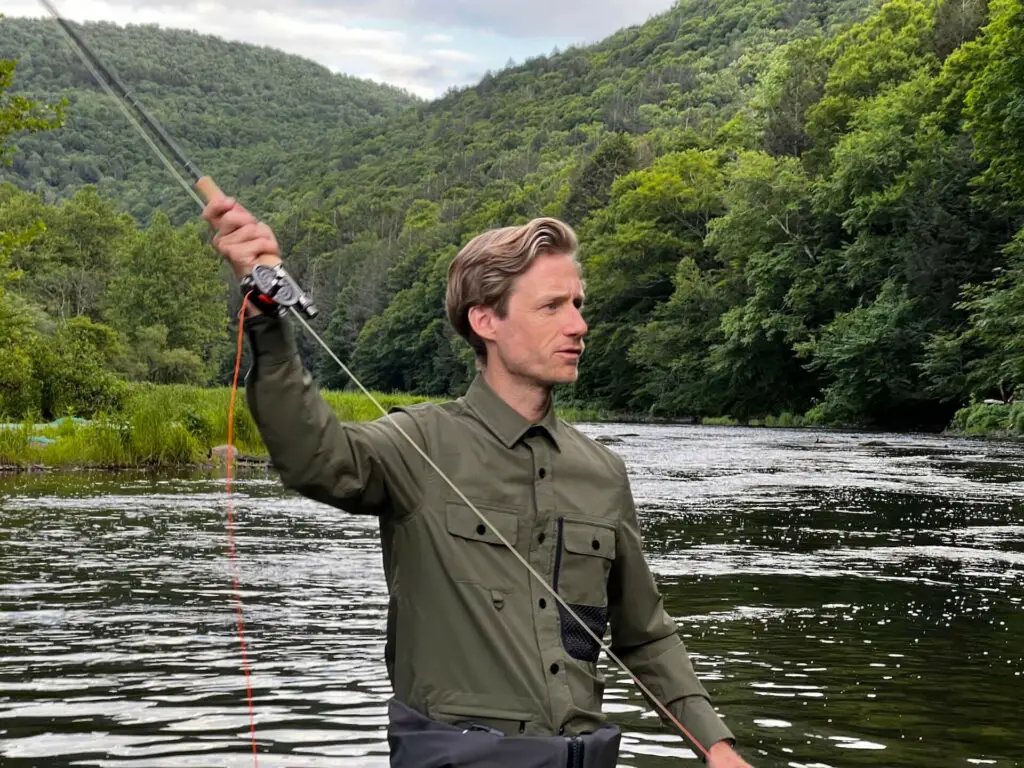 Table of Contents:
Overview of the Sage Core R8 Fly Rod
Overview of the Sage Core R8 Fly Rod
The Sage Core R8 Fly Rod is a top-of-the-line fly fishing rod designed for the serious angler. It features an 8 weight, 4 piece construction and comes in lengths from 8'6" to 10´0". The blank is made of high modulus graphite and has been designed with a fast action taper that provides plenty of power when casting long distances or fighting strong fish.
Design and Construction
The Sage Core R8 is constructed using high modulus graphite blanks which provide strength, sensitivity, and durability while still remaining lightweight. The rods are built with an advanced fast action taper that allows for quick loading and unloading during casts as well as increased power when needed. I found it incredibly easy to make precise casts even at long distances. Additionally, each rod includes Fuji ceramic stripper guides, hard chrome snake guides, premium cork handles with custom reel seats, and hook keepers for convenience.
Performance Features
When it comes to performance features the Sage Core R8 offers plenty of options to suit any angler's needs. Its fast action taper makes it ideal for making long distance casts while its light weight design ensures fatigue won't be an issue even after hours on the water. Additionally, its sensitive tip section helps you detect subtle strikes while its powerful midsection gives you enough leverage to battle larger fish without worry of breakage or loss of control over your line or lure presentation.
Price Point
Yes, Sage's new flagship rod is expensive. Coming in at more than $1,000, the Sage Core R8 is an investment. However, if you want to purchase an absolute premium rod that will give you joy out on the water for years to come, take a closer look at this rod.
Key Takeaway: The Sage Core R8 is an excellent choice for serious anglers due to its high modulus graphite construction, fast action taper, and performance features such as: – Fuji ceramic stripper guides – Hard chrome snake guides – Premium cork handles with custom reel seats – Hook keeper.
Pros and Cons of the Sage Core R8 Fly Rod
Pros:
The Sage Core R8 is a high-performance fly rod designed for anglers of all skill levels. It features a four-piece design with a fast action and medium power that makes it suitable for both dry and wet flies. The rod is made from premium graphite material, which provides excellent strength and sensitivity while still being lightweight enough to be easily maneuvered in the water. Additionally, the blank has been reinforced with titanium alloy to increase durability and prevent breakage even when casting large flies or fighting powerful fish. The reel seat also features ergonomic cork handles that provide comfortable grip during long days on the water. On top, it comes in a beautifully subtle dark grey blank color.
Cons:
You know how brands often praise their new products as "revolutionary" or "the next big thing". In reality most changes from one model to the next are subtle. In the case of the Sage Core R8 fly rod, however, I was really impressed about its power and precision that comes effortlessly. So, to be honest, I couldn't find a con for this fly rod – apart from the price maybe which means an investment for most fly fishermen and women out there.
Final Thoughts on the Sage Core R8 Fly Rod
With its impressive design and construction, the Core R8 offers excellent performance features in a lightweight package. Let's take a look at some more features of this rod to help you decide if it's right for you.
Durability and Reliability: The Sage Core R8 Fly Rod is built with high-quality materials that make it both durable and reliable. Its four-piece design ensures easy transport while also providing maximum strength when casting or fighting fish. Additionally, its graphite blank provides superior sensitivity so anglers can feel even the slightest nibble on their line.
Versatility and Customization Options: This rod is designed to be versatile enough to handle any type of fishing situation from small streams to large rivers or lakes. It comes in several different lengths ranging from 8'6″ up to 10'0″, allowing anglers to customize their setup based on their needs or preferences. Furthermore, each length has multiple action options available which provide varying levels of power depending on what kind of fish you are targeting or where you are fishing.
Value for Money: The rod is made with top quality components, hence the Sage Core R8 comes at a high price point. Whether you're just starting out as a fly fisherman or have been doing it for years, this rod will give you plenty bang for your buck.
Overall, the Sage Core R8 is an excellent choice whether you're just getting into fly fishing or are already experienced in the sport. It offers great value combined with outstanding performance features that will keep even seasoned anglers satisfied.
Key Takeaway: The Sage Core R8 is an excellent choice for anglers of all levels, offering durability, reliability, versatility and customization options at a great value.
Conclusion on the Sage R8 Core Fly Rod Review
In conclusion, the Sage Core R8 is a great choice for fly fishermen and women who are looking for a reliable rod that can handle all types of fishing conditions. The rod is lightweight and easy to use, yet it still offers plenty of power and accuracy when casting. The cork grip provides excellent comfort while fishing, while the aluminum reel seat adds extra durability. Overall, this rod has everything you need in order to have an enjoyable day out on the water. Whether you're just starting out or an experienced angler looking for something new, the Sage Core R8 is definitely worth considering!
Fly fishing is an exhilarating sport that can be enjoyed by anyone. But to truly get the most out of your fly-fishing experience, you need a rod and reel combination that will give you the performance and accuracy needed for success. The Sage Core R8 is designed specifically with this in mind – giving anglers optimal control over their cast while providing enhanced sensitivity to detect subtle strikes from fish.
Notice: We take part in so-called affiliate programs and might earn a small commission at no extra cost for you if you end up making a purchase. We only recommend products we are convinced of and use ourselves.