Last updated on September 30th, 2022.
Read the first part of "Fly Fish Mongolia a Different Way" here.
About three weeks before our trip, Ganba wrote to say he was getting worried that we would not be able to fish on the rivers he had promised. As it turned out the weather gods had decided against us and most of the rivers were flooded to the extent that fly fishing at two of our chosen locations had become impossible. In fact, in one particular river system fishing had become positively dangerous; this was the trip where we had planned to float downstream in drift boats through a canyon. The water level was several feet above normal. Ganba kept us informed on the conditions each day, but the prospects didn't improve and he had to change from plan A to Plan B and from Plan C to D and we finally ended up with his last hope, Plan F.
This fishing was about 800 miles away from the three previously planned locations. I guide and host people a lot myself and realised that Ganba was changing plans with military precision to secure the best option for his clients. He updated us regularly and that increased my respect for him enormously. Fortunately the water levels at his newly planned location looked good and the forecast couldn't have been better. But as a result of the change, the chances of catching taimen were reduced from excellent to poor and Ganba didn't make a secret of it. At the new location we only had a small chance of catching taimen and then probably only smaller fish. Whatever, the notable result was that none of us was sad or disappointed. In fact Nick and Dron were well pleased with the outcome because the new location was a place that neither of them had fished before.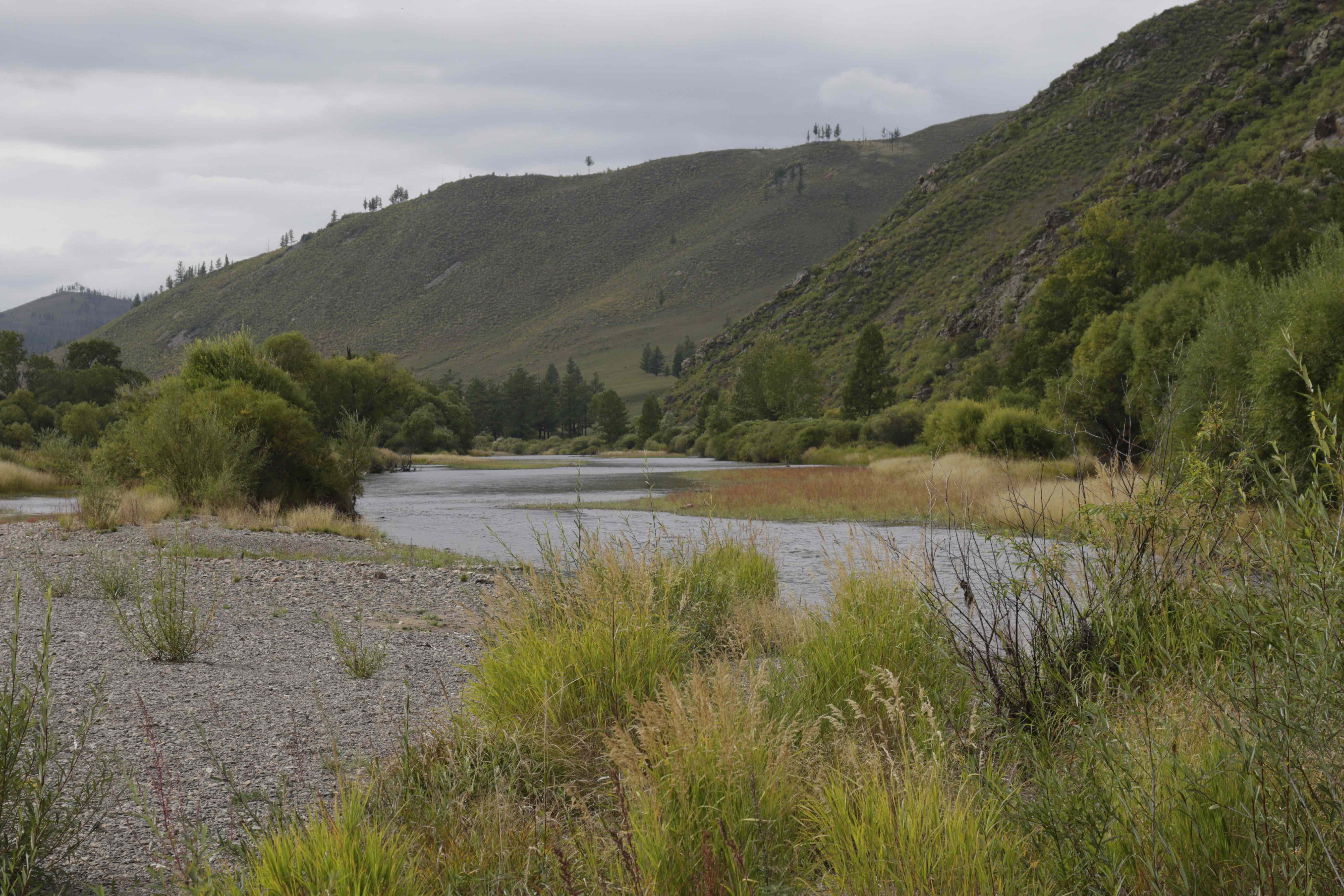 I had decided to fly to Malaysia a few days early so I could overcome any lingering jetlag and would be a lot fitter to travel to Mongolia with Dron and Nick. On the 27th of August we flew to Seoul and from there to Ulaanbaatar, arriving on the 28th at around 6:00 p.m. Ganba picked us up and dropped us off at our hotel from where we arranged a big shopping excursion together with Tuya, Ganba's wife. Tuya not only speaks several languages, which made communication easier, but she also joined us as our chef for the trip. She was responsible for some outstanding wilderness-cooked meals throughout our travels. For me it was amazing to see that even in Ulaanbaatar you can buy nearly everything you need – and we bought a lot. We ended the day with a pleasant dinner together with the Buyan family, and headed to bed early given the long journey ahead.
The next morning we were introduced to the other members of the crew. Bayara, the driver of the second car and our general mechanic, an indispensable man, the sort you simply must have when travelling in total wilderness far from civilisation. We got to know him as a very responsible person. Bat, the brother of Ganba's uncle and his mentor in fishing, was a nice, trustful man, well known to the Buyan family for his reliability. With their special knowledge, all these people formed a great team. Finally there was Daasai, a 23-year-old student who helped as a translator and our girl Friday.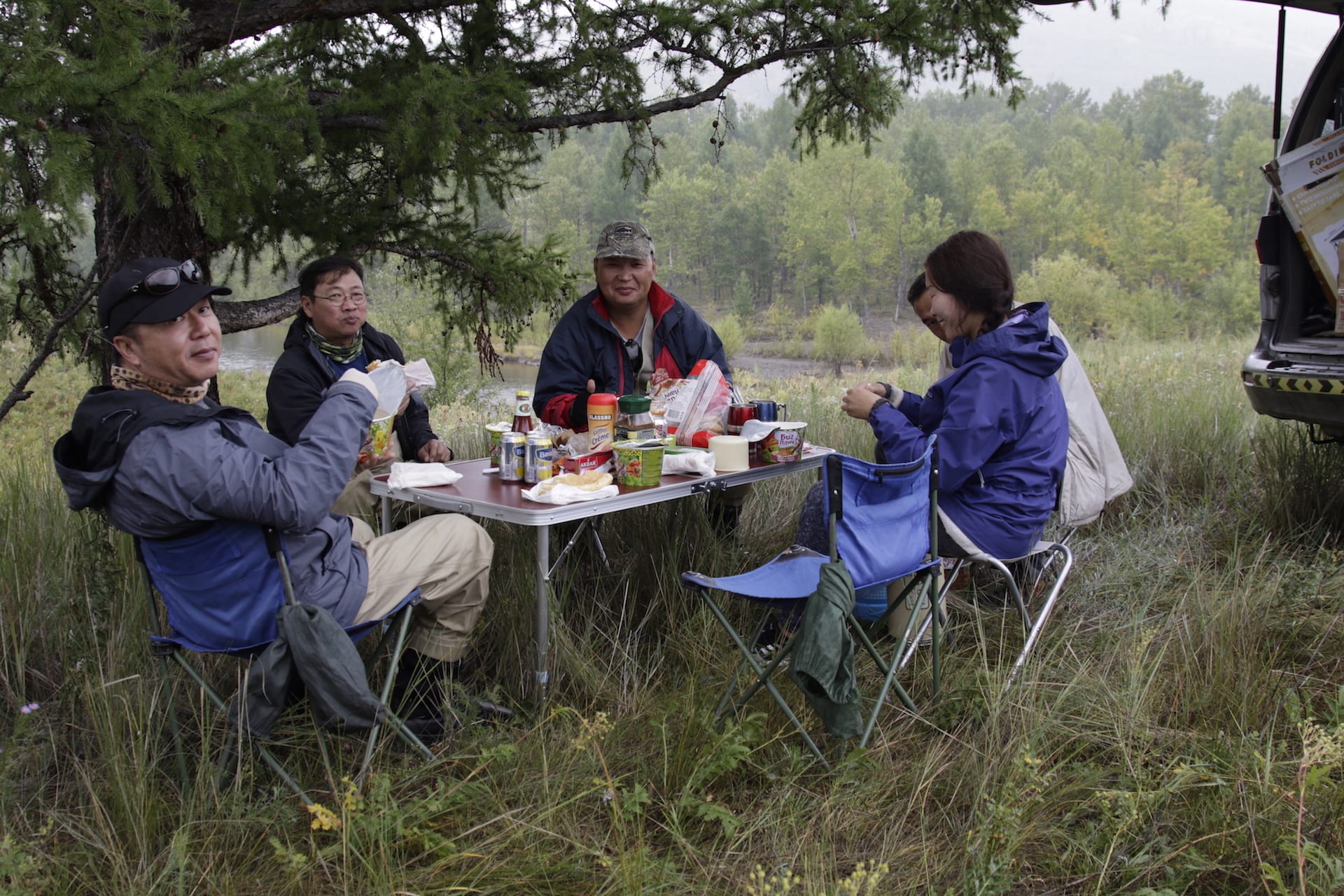 We left Ulaanbaatar around 9:00 a.m. in two nice four-by four vehicles loaded with food and supplies for the next eleven days. Equipped with a satellite phone, a shower installation, a toilet and several tents, we were indeed very well organised. In addition, I had my own GPS system. Our first stop was about 30 miles east of Ulaanbaatar where we visited the gigantic statue of Genghis Khan riding on horseback. The statue is at least 40 meters tall and wrapped in tons of gleaming stainless steel. It was a very impressive experience.
Our trip actually really only got into full swing after lunch when we left the paved road. If you like birds and nature as much as I do, this "birder's paradise" is a place for you. There are well over four hundred bird species in Mongolia and in no time you will easily see at least a few dozens of them. I love birds of prey in particular and we saw hundreds en route. I am very thankful that Ganba stopped each time he saw a new species that I hadn't yet captured on camera.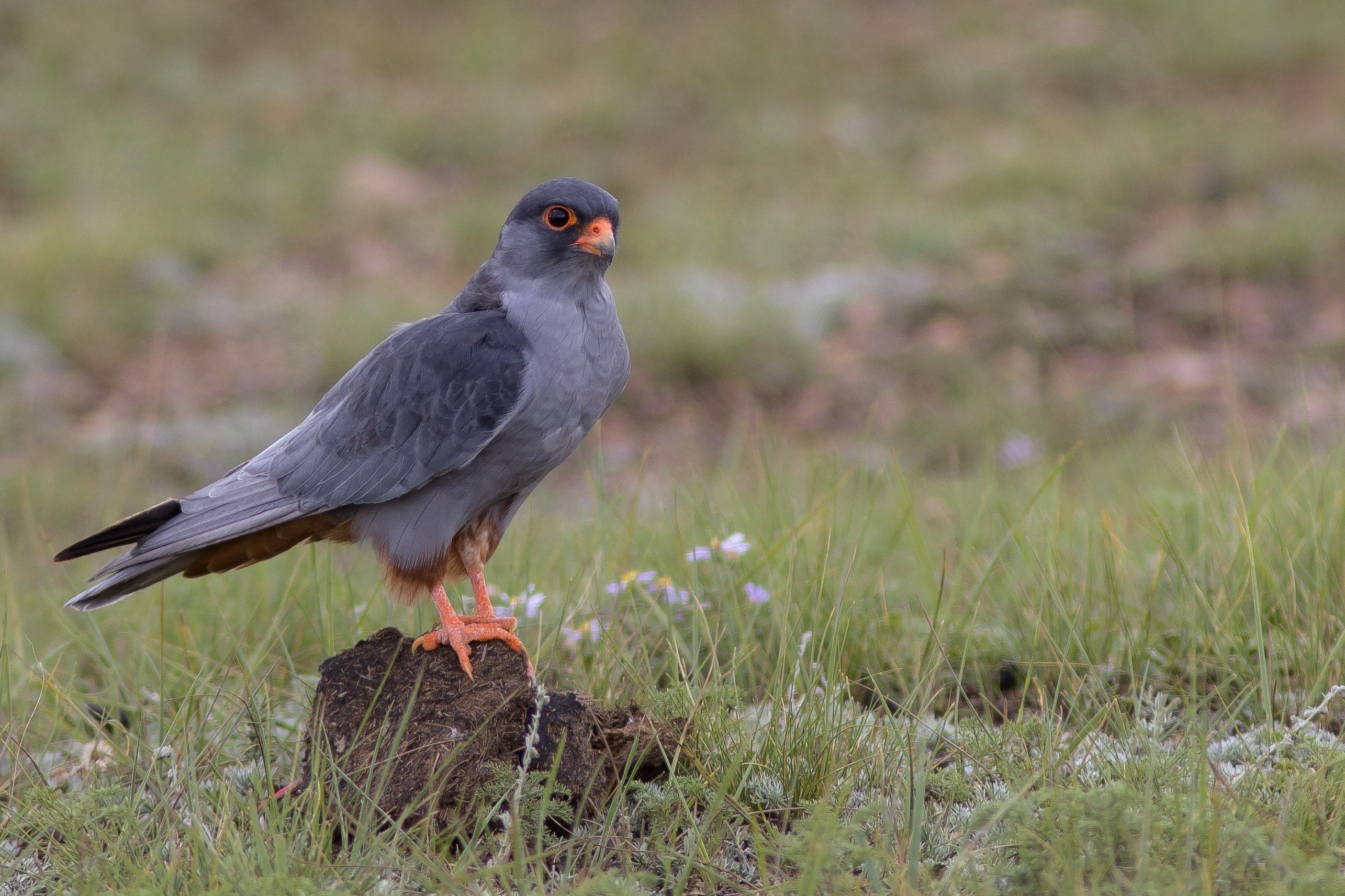 The first night we stayed in an official tourist camp about halfway along our trip, sleeping in a traditional, round Mongolian dwelling locally called a ger. A ger is the perfectly structure to cope with the harsh conditions, rough terrain and the Mongolian lifestyle.
The next morning we had an early breakfast because there were still another few hundred miles to go. I really loved all the nature and landscapes that we passed through, because they were so different to all the isolated areas that I had visited before. Although our route looked very easy and almost straight on a map, travelling and picking the correct roads to take is not easy in the remote areas of Mongolia. The routes are far from straight and they branch off in all directions. Sometimes the road just turned into a barely visible track, and there were a few occasions when there was simply no road anymore at all. But situations like this really make your trip even more exciting and it becomes part of the adventure too. Then suddenly there would be five or six roads next to each other and all you can do is pick the best.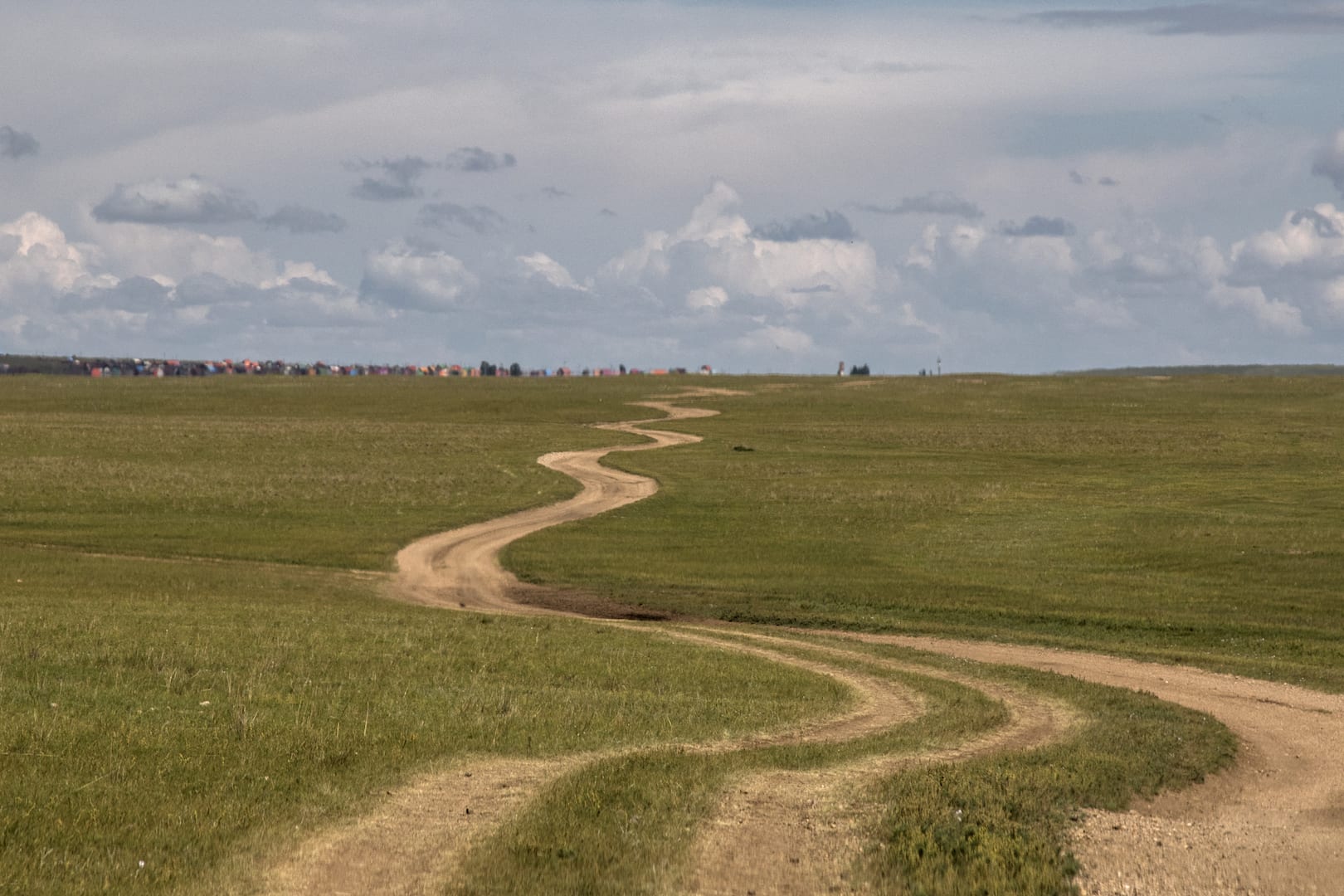 Of course GPS works in Mongolia but not all the roads are on the map and roads can change considerably from their previous locations, especially after a period of really bad weather. This is why most of the time your GPS locator directs you to the middle of nowhere. This can make you totally confused, especially when travelling by yourself. Luckily enough we had a guide otherwise we would have lost much valuable time travelling. Besides, out there you have nobody to ask. We had only seen one road sign during our entire trip – and we couldn't even read it. We were depending fully on the built-in GPS in Ganba's mind.
After a long second drive we arrived at our final destination close to sunset. Together with Dron, Nick, Ganba and Tuya we enjoyed ourselves simply gazing down the valley. The last sunbeams just reached the water surface, the sunlight reflecting off it with a vivid, dazzling beauty. Then we rolled up our sleeves, set up camp and prepared our fishing gear for the next day. While Tuya cooked dinner with Daasai, Ganba unloaded the vehicles and put up the storage tent. Bayara and Nick set up a toilet and shower tents, while Bat made a beautiful campfire and boiled water for the shower. Dron and I prepared our cabin. It was perfect teamwork. The shower was the best I have ever had in total wilderness and was set up by a mobile high-pressure cleaning installation that worked perfectly when connected to the power from the cigarette lighter socket in the car. All we did was fill the system with hot water, turn on the engine of the car, let Bat or Bayara hold the shower head above the tent and voilà. Once refreshed and after dinner, we had a few drinks and a nice chat around the campfire looking up at a trillion of clearly visible stars.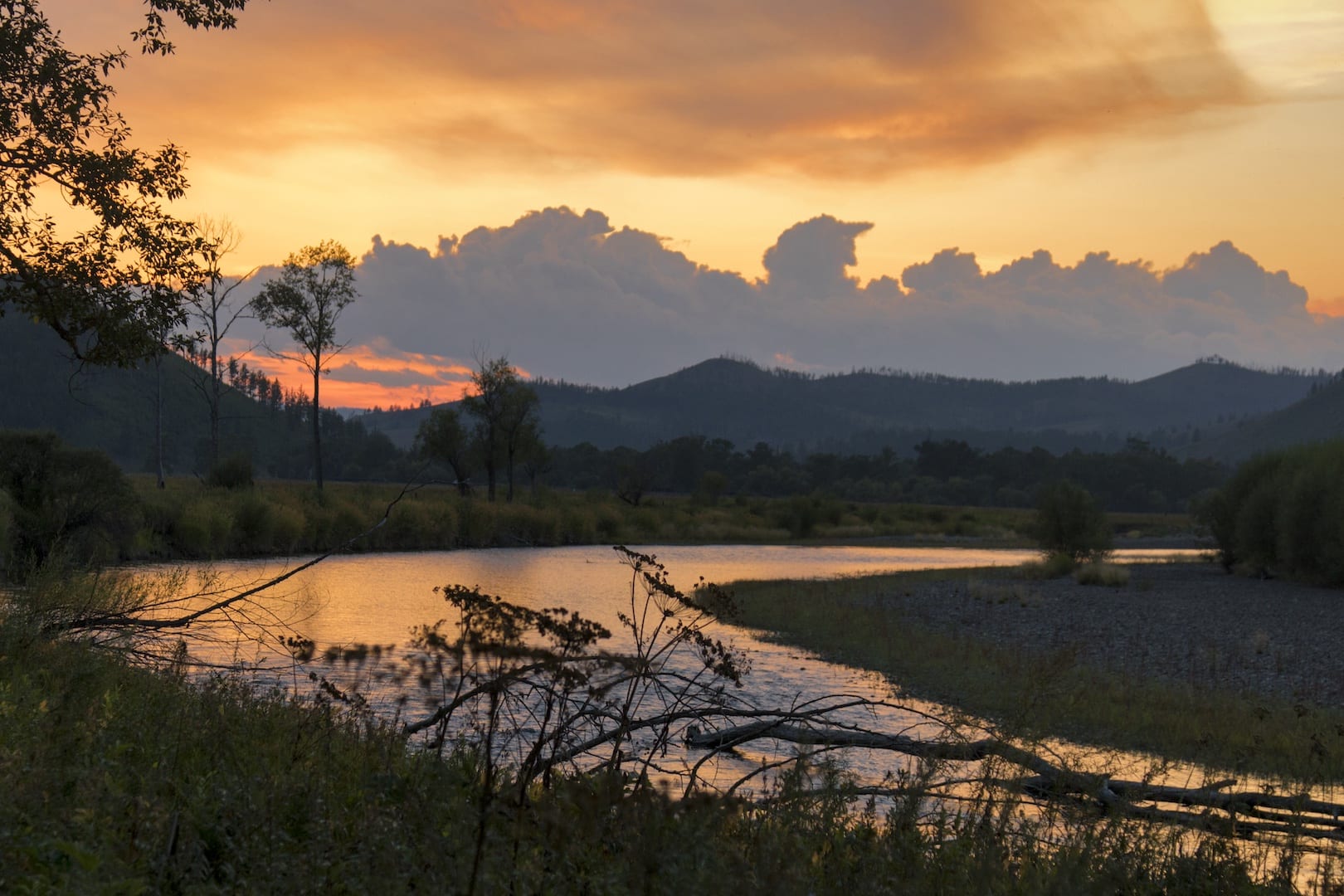 The next day the weather was great and we went to the river around 9:00 a.m. Ganba told us that we didn't need to get up early because it seems that in this particular area in Mongolia the fish are lazy in the morning, and it was very true. I have never seen a country where fish really seem to sleep in, at least when you're fishing dry flies. I had two rods with me; my 5-weight for lenok and grayling, and a 7-weight just in case we saw an unexpected taimen around. Nick and Dron went downstream and Ganba put me onto a beautiful pool and told me to fish it from the other side, but my start wasn't that good. After trying for a while without any success, I wanted to get back but tripped over a hidden stick and fell when crossing the river. One of my fingers went out of joint but fortunately I was able to pull it back into shape.
I worked myself slowly upstream and fished as I had done in Scandinavia for so many years. I used a hopper on Ganba's and Dron's advice, and walked a lot, but very quietly and carefully with minimal disturbance of the water. I watched the surface continuously and avoided making too many casts into the same spots. When I found a good looking spot I just cast once because I didn't want to scare the fish. I cast only ten times into any really good-looking pools. This was wild country with 100% wild fish but in my experience of fishing untouched rivers, dry casts easily scare fish and put them down or spook them. We were fishing in an area where there were no signs of human footprints; the only prints that I saw were those left by wild wolves. Wading was easy but I didn't like walking around with two rods so I left my backpack and my 7-weight on the bank. I don't know what I did wrong but I found no sign of fish at all, although the places I tried looked very fishy.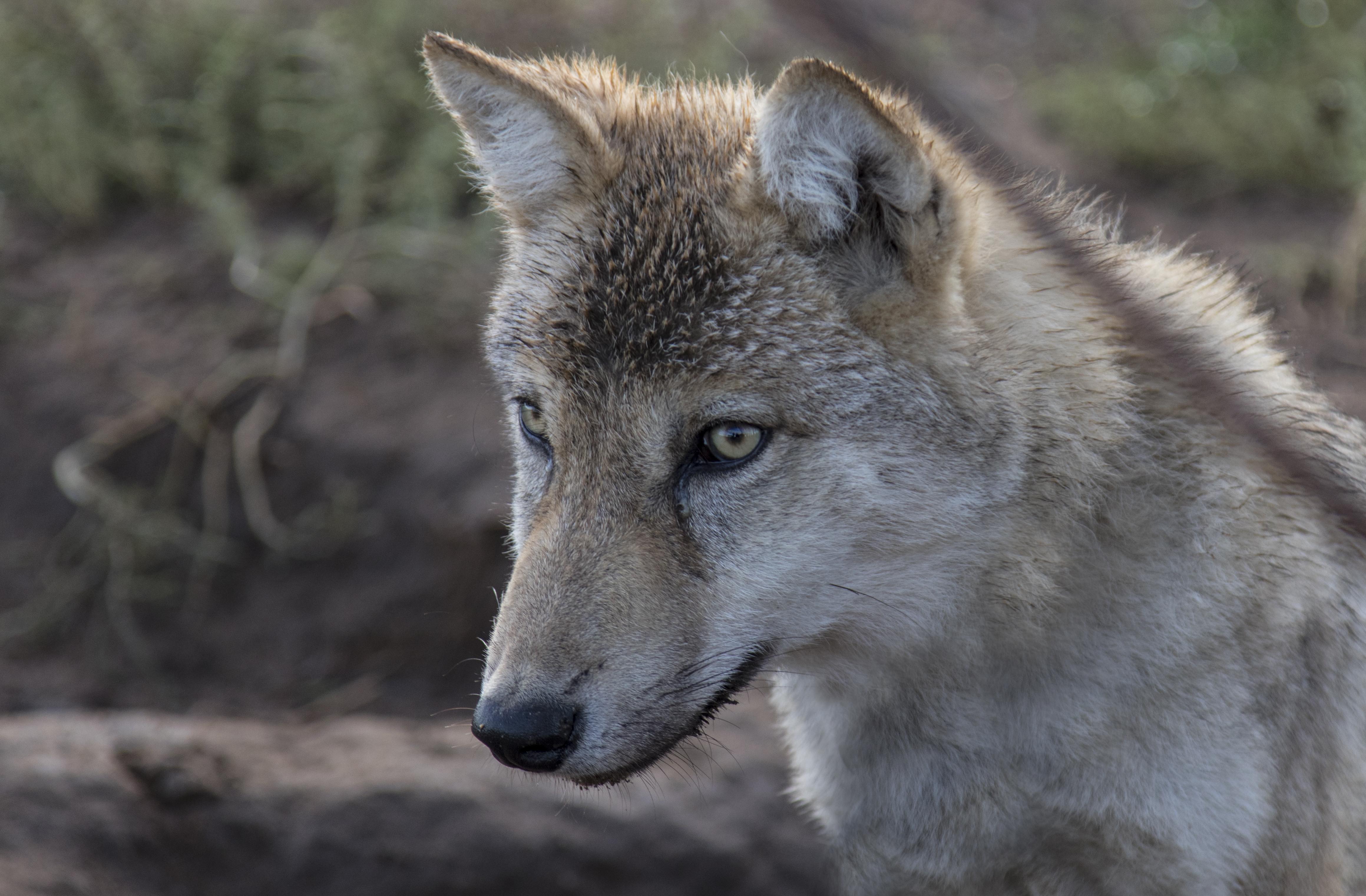 Then, around 11am when the sun was higher and warming the water surface, I saw my first fish. It was a whopper for sure but I had no idea what it was. All I know is that it was not a grayling and since I hadn't caught any lenok I didn't know what they actually looked like in the water, or how big they grew in this river. Ganba and the rest were far away so I had to deal with it myself. Because of the size of the swirl I saw I decided to walk back and grab my 7-weight and put on a large mouse on a 10 lb tippet. I first did a few false casts to get used to the heavier rod and much bigger fly. Then I returned to the spot where I had seen this enormous fish. I cast, let the mouse drift over the spot, but nothing happened. On my second cast I did the same thing, but this time I moved the mouse. A lenok, my first ever, grabbed the fly with an aggressive take, the likes of which I had only ever seen in the Yukon. It was definitely not the fish that I had spotted before but only a few seconds later, a huge monster fish followed the fish I had on for a short moment, and I knew right then that it must be a taimen. I landed a 40cm lenok and couldn't believe that he took my giant mouse. I released him quickly but cautiously, then tried for at least for 15 minutes to get my first taimen, but he never showed up again.
After trying a big streamer as well, I gave it up and continued with my 5-weight rod, and this time with success. I landed eight lenok trout with Dron's amazing hopper fly. Ganba managed to pick us up and after a snack we drove a little further to another nice-looking location. Here the river was a bit wider and we could all easily fish together. Nick caught several beautifully coloured lenok where the river ran in a nice wide pool and I was able to catch my first Mongolian grayling on my Klinkhåmer Special. I landed four. Dron had caught the biggest fish so far and we were by then ready for a nice shore lunch not too far from our main camp.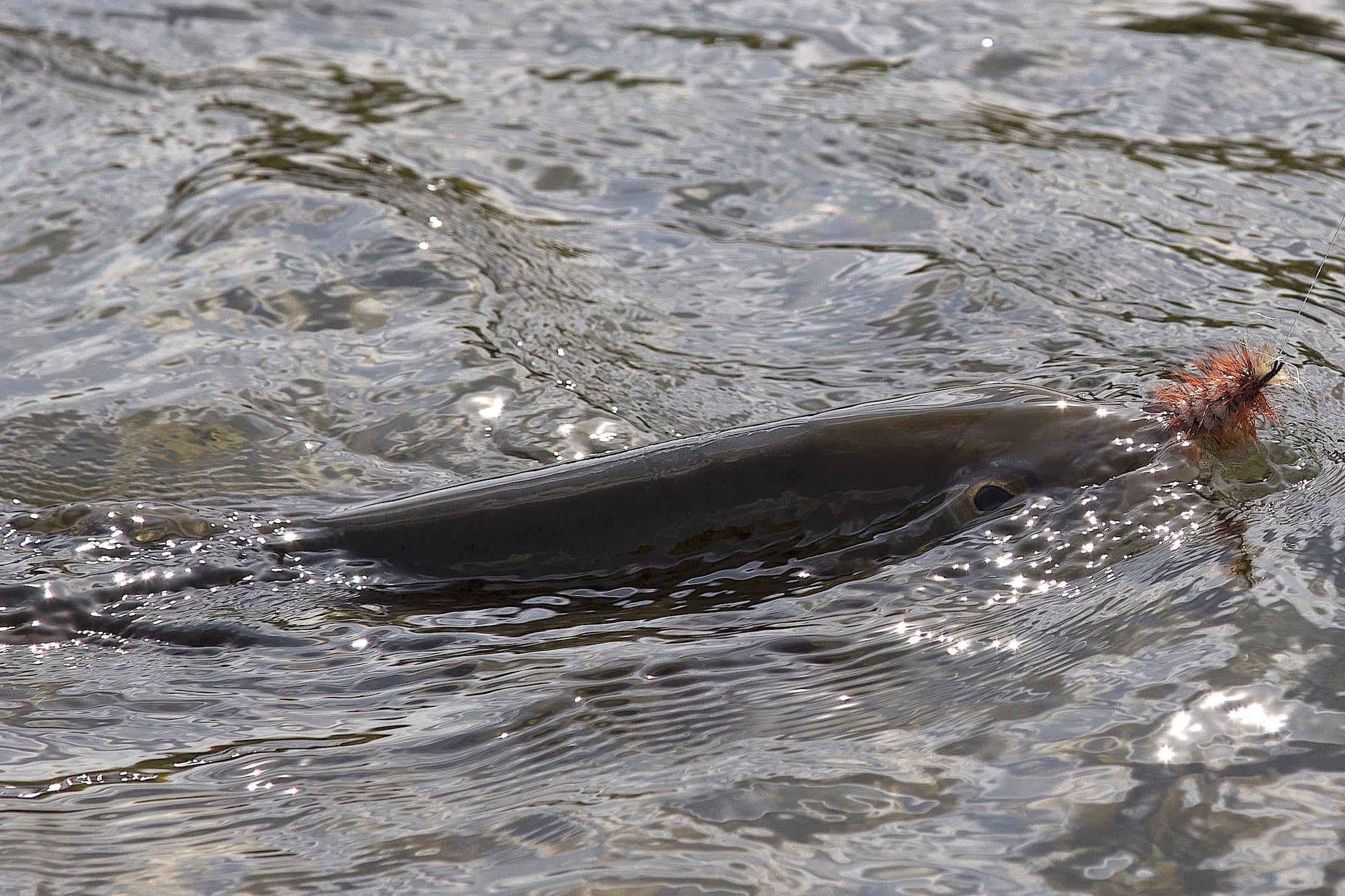 After some rice with fresh fish balls, salad and very nice sweet and sour pickle, I fished together with Nick and we ran into a very good spot because in no time he not only caught a large number of lenok, but also very big ones, and even three different species as well. The fish had woken up and time for number counting was over. With Dron's hopper tied in his own style he did far better than me and the benefits he had derived from his previous Mongolian fishing experiences showed clearly. He landed a sharp-snouted lenok (Brachymystax lenok), a blunt-snouted lenok (Brachymystax tumensis Mori) and the much stronger fighting Amur trout (Brachymystax savinovi).I was genuinely happy for him because that was almost a grand slam.
Nick stayed in the same spot and gave me a few of his hoppers and I tried my luck following the river upstream. I did very well and had great fun catching the remarkable Amur trout as well. They were strong and they put up an awesome fight on my light 5-weight rod. Around 5pm I was tired and started strolling back to our camp. After I had refreshed myself, Tuya surprised me by serving a dish of homemade sushi in middle of nowhere. Meanwhile Nick, Dron and Ganba arrived back and after a great dinner we enjoyed our second evening around the campfire.