Last updated on September 30th, 2022.
When I got the opportunity to join my Malaysian friends Dron and Nick on their trip to fly fish Mongolia, I jumped at it.
To fly fish Mongolia had been high on my bucket list for a while and joining two passionate fly fishermen couldn't make for a better occasion. Both had fished Mongolia several times, and since hearing dozens of amazing stories about their fly fishing expeditions over the last few years, I was dead keen to visit the place from the moment I heard about it. I also preferred their way of travelling where instead of flying in by chopper, all their transport is by cars, so as to learn firsthand as much as possible about the country and its people. This however meant that I would be taking extra time for the trip, but since I am retired, that's now less of an issue for me.
I listened attentively to their stories and it was clear that Dron and Nick were completely spellbound by the wide-open Mongolian landscapes and its abundant bird life and countless flowers. And when I did eventually see it all with my own eyes, I was hooked from the moment we left the asphalt. In fact I was even more impressed than expected. I love topography and geography since I was a teenager. I have always read up everything about any destination I was going to visit, and I happily watch and search Google Earth for hours. If I get to hear of an interesting-sounding place, or come across a nice landscape I don't know, I will carefully research it; and I have done that all my life.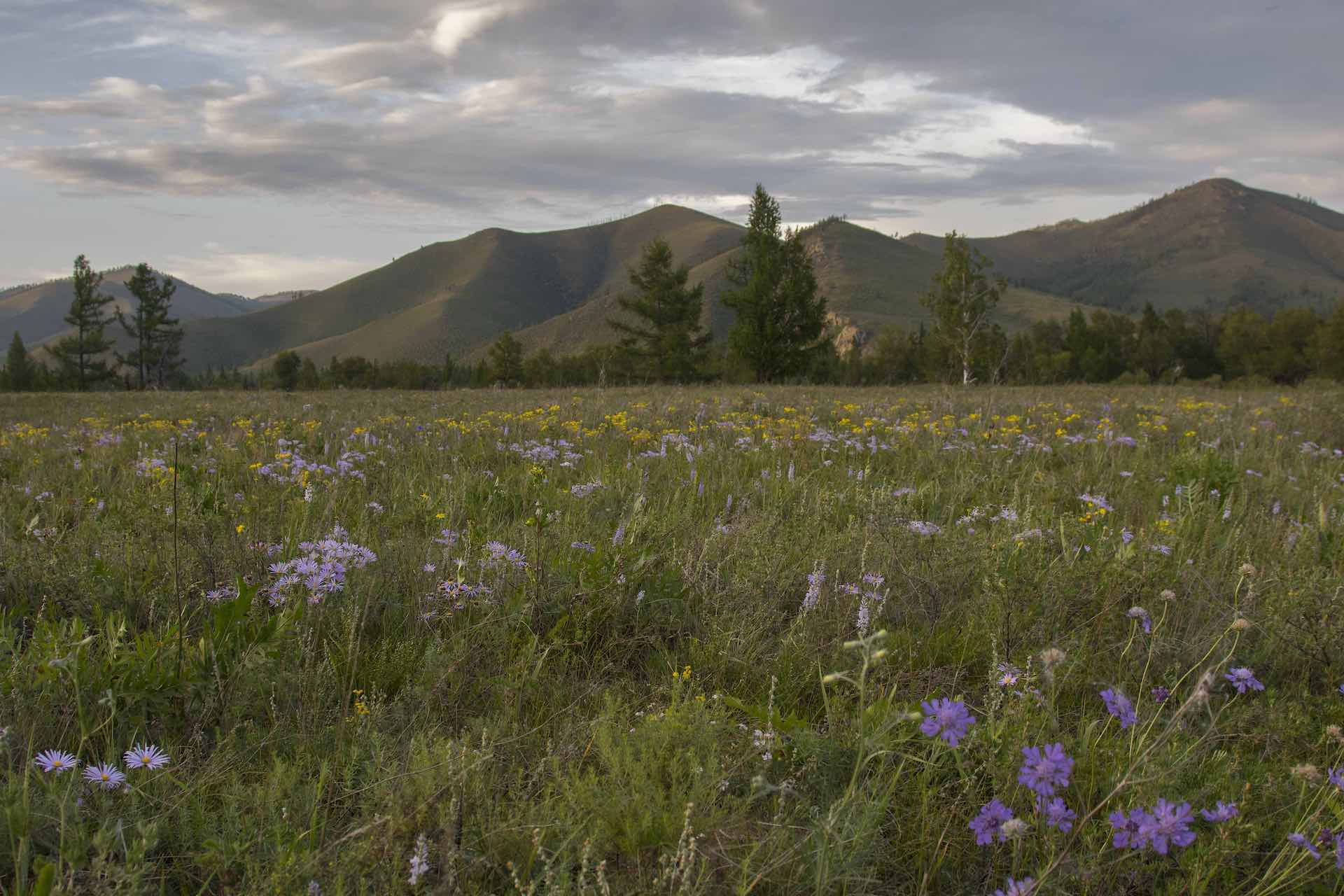 Mongolia is described as having seven natural geological zones, meaning it is a land of incredible variety. It offers the tourist high mountains, with peaks over 12,000 ft in the West, a large Taiga forest zone in the North, followed by a clear transition zone between taiga forest and a steppe zone on the Southern slopes. It is in this area where carpets of wild flowers dominate the landscape, and I consider myself blessed that I have spent a full night in the middle of such amazing flora. And these carpets of wild flowers reach in their profusion just as far as the eye can see. Within minutes I had noted at least twenty different plant species before I lost count. It's this sort of exuberance of nature that quickly makes you aware just how beautiful our planet can be.
The taiga, or boreal forest as it is sometimes known, is mainly overgrown with conifers such as the Siberian larch, changing to pine in higher-lying areas. The steppe zone covers one fifth of Mongolia and is crucial for the nomadic and semi-nomadic herder families with their livestock such as horses, goats, sheep, yaks and camels. Between the steppes and the Gobi Desert zone there is another huge transition zone, which contains a very dry region of parched grasslands and saltpans. It is in this area where strong winds and dusty storms plague the region and torture the land by evaporating the last bit of moisture from the soil when the winds start to blow.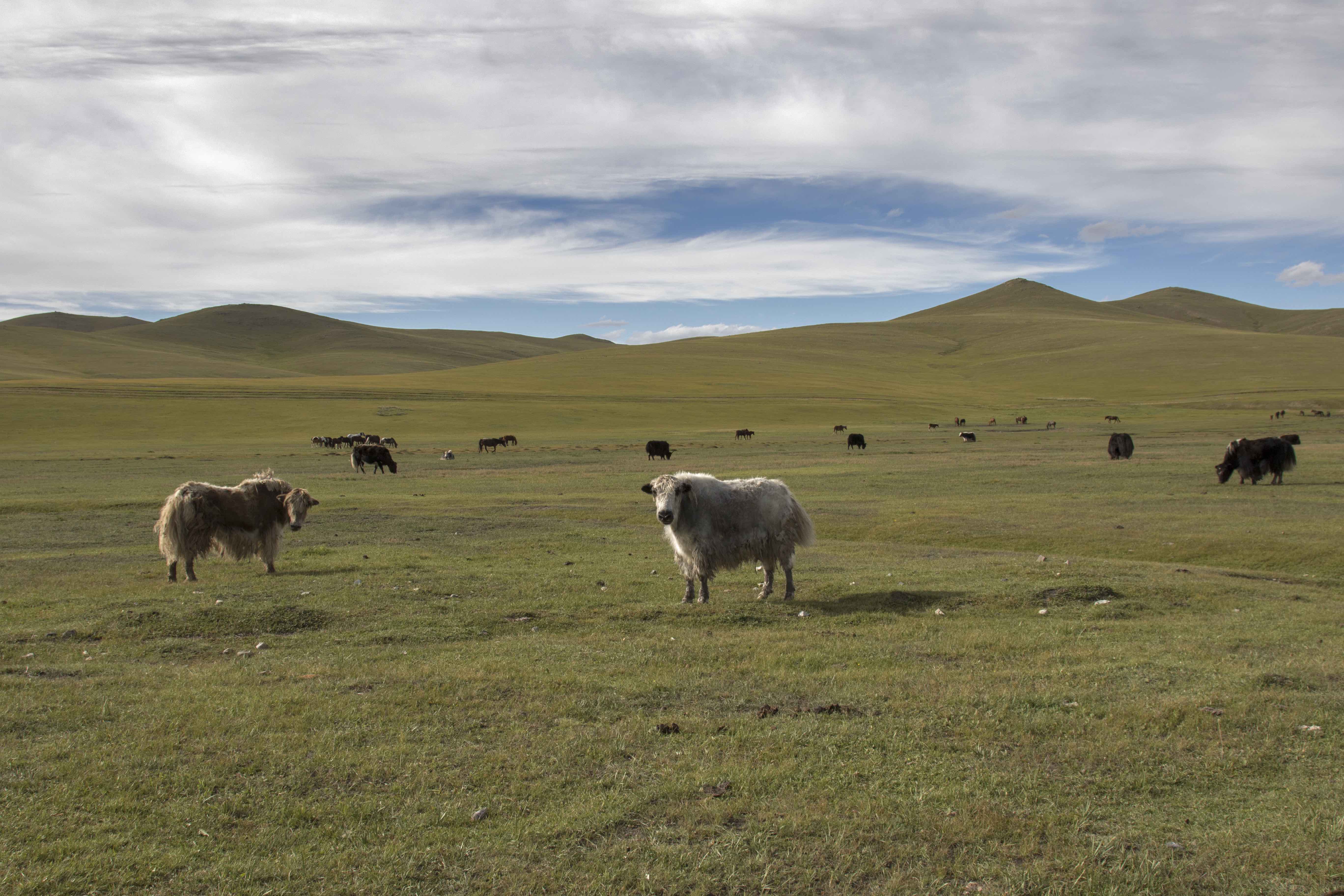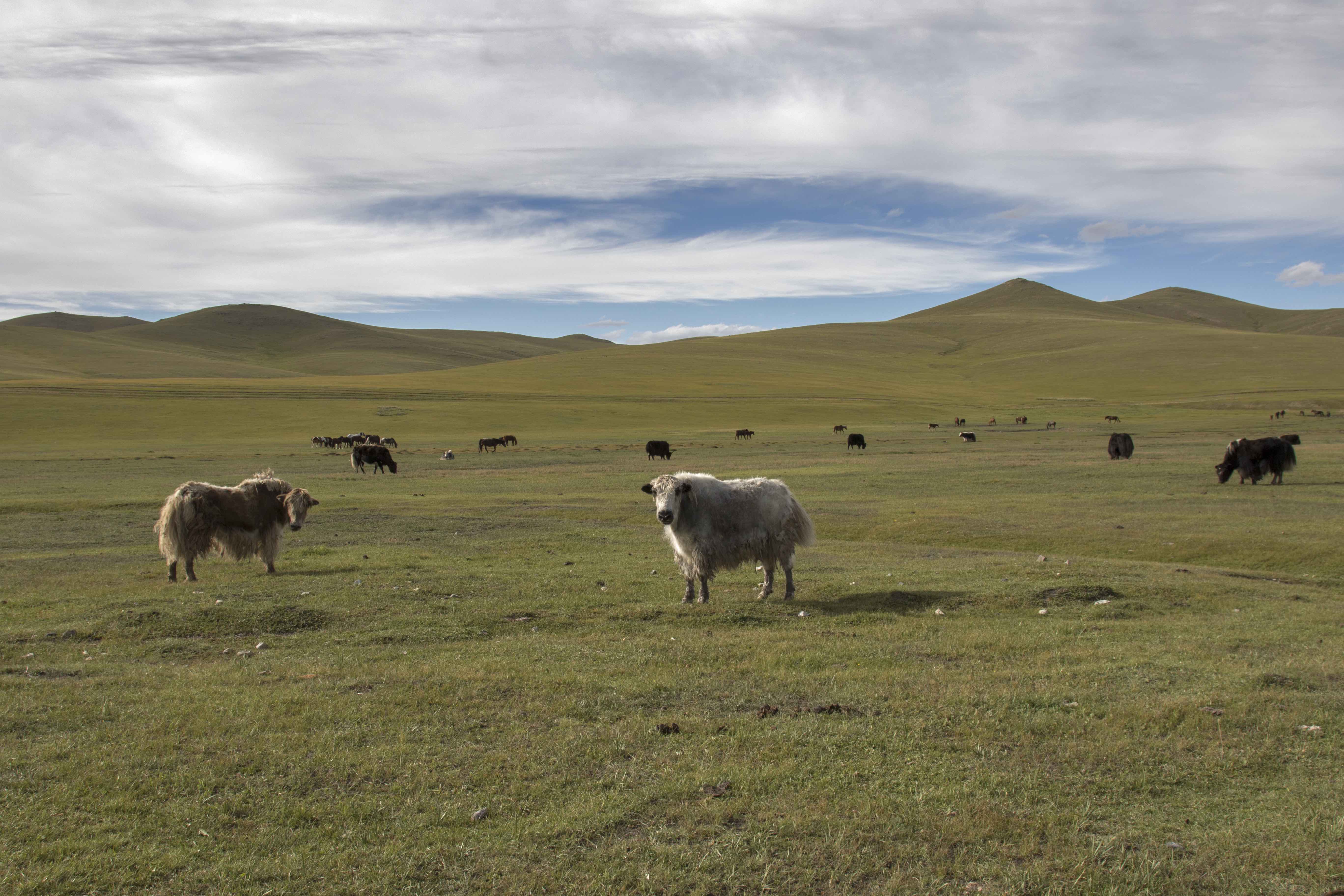 There are three main hydrological basins in Mongolia forming the wetland zones. These are the Arctic Ocean basin, the Pacific Ocean basin and the Central Asian Internal Drainage basin. The Central Asian Internal Drainage basin is the largest one and includes the Great Lakes Depression that contain the major Mongolian lakes. The lakes, rivers, streams, marshes, oases and other wetlands support their own characteristic flora and fauna and their abundant presence is why Mongolia is so well known as a land that offers truly astonishing fly fishing.
I have travelled a lot in my life and seen many countries of the world, but Mongolia, and its people in particular, have left a deep impression on me. When I started writing this story I realised how much I wanted to say, and to share, of this amazing country, but it was not easy to know where to start or what to skip, because there is so much to tell and share. After my trip I understood precisely why Dron and Nick were always so full of passion and so enthusiastic in telling their stories about this country. When travelling in Mongolia it is easy to find the perfect harmony between nature, wildlife and fly fishing, similar to what I found for so many years in very isolated arctic regions in northern Europe and North America. Many fly fishermen have a great affinity with the wilderness and in emerging yourself in nature and wildlife. Not only will it give you peace, but it will also relieve your stress and tension. Mongolia is a perfect country for recharging your batteries and for getting yourself back into shape.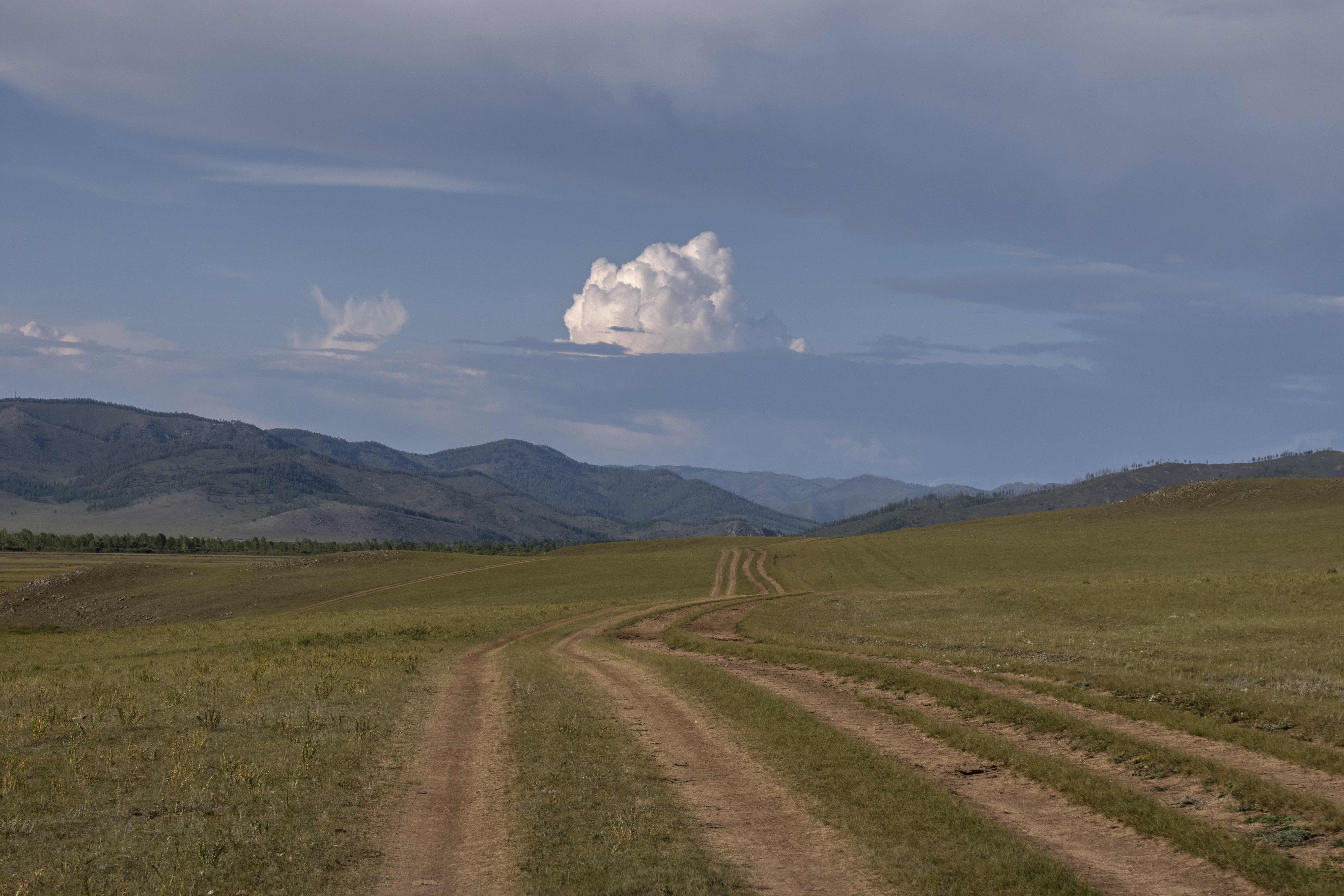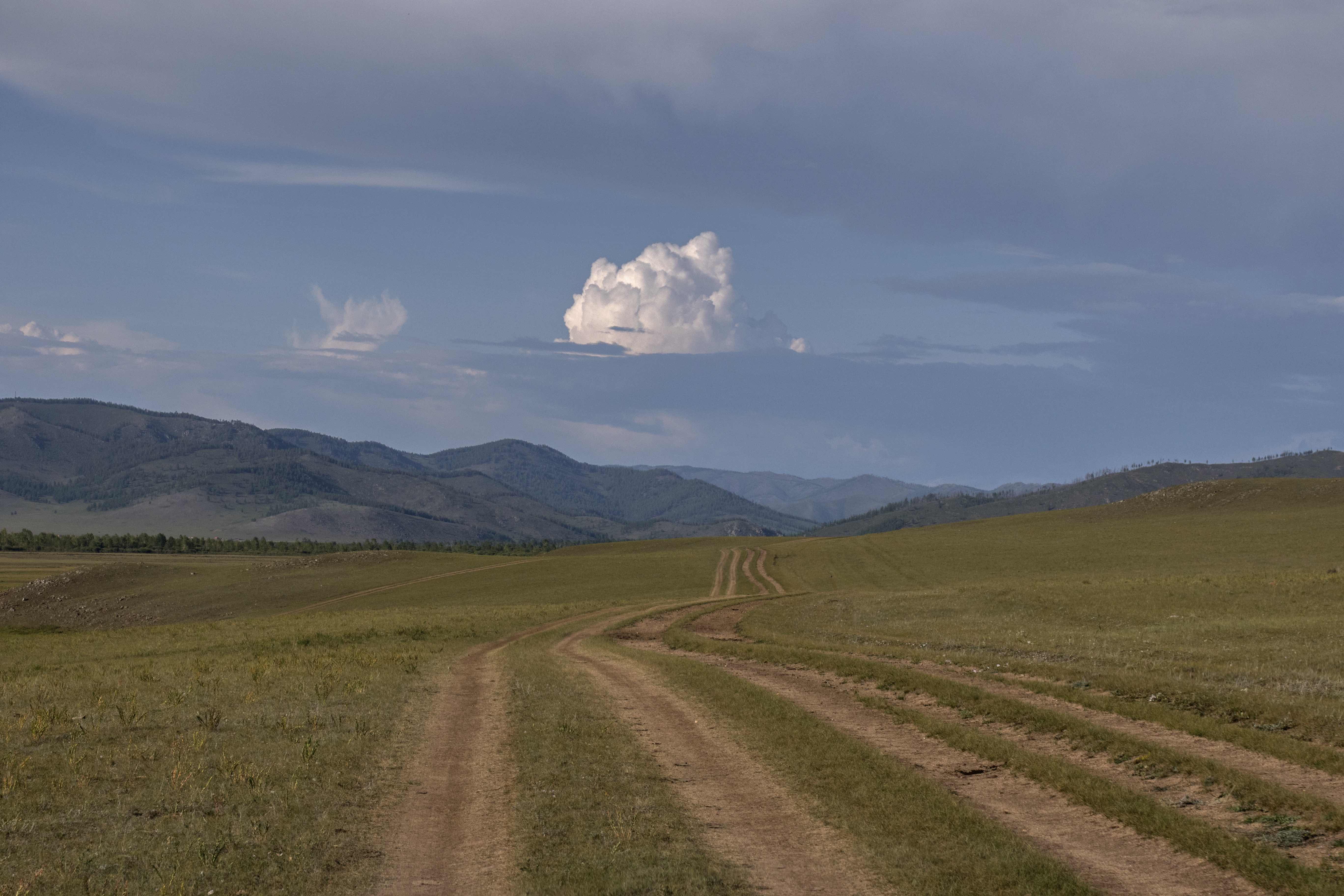 My trip began the moment that Dron invited me, and I immediately started working on my preparations. I didn't know anything about how to fly fish Mongolia and for me research is a big part of my trips, not just research on the fly fishing opportunities, but on everything else about the country too. Dron also put me in contact with our host and guide, Ganba Buyan, from BG&TN Travel Company.
Ganba informed me about everything I needed to know about the rivers, the fish and the flies that I needed. The main plan was to go after taimen, lenok and grayling, by visiting three completely different river systems. Ganba chose these river systems because the areas were so diverse that they would show us the great variety of the country. The locations were about 450 miles from each other, which meant we had to be well prepared for plenty of travelling time. I wasn't worried at all about grayling flies and equipment, deciding to trust the knowledge and experiences I had built up in northern Scandinavia, Alaska and Canada in nearly forty years of grayling fishing. While everybody told me to use large flies, I just grabbed the biggest grayling flies from my collection and put them in my new Mongolian grayling fly box. After seeing so many photographs of the rivers and reading up facts about the flies I would need, I had the strong feeling that Klinkhåmers in sizes 8, 6 and even 4 would work just fine. Because of my passion for grayling I already knew that there are six species of grayling in Mongolia but most of those are in the West of the country and our trip was more to the Northeast.
For lenok trout and taimen fishing, and deciding which were the most effective flies to catch them on, I studied all the files and material that I got from Ganba, Dron and Nick, in addition to all the other information I was able to find on the Internet. To finalise my preparation I contacted a few personal friends in the Netherlands whom I knew had successfully fly fished Mongolia for taimen. For lenok trout I tied up a bunch of extra large terrestrials but I also wanted to try several of the big dry flies I use for brook trout in Labrador and for lake trout in the Yukon. I asked Gordon MacKinnon (Gordy) from Nova Scotia to tie me a few huge 2/0 bombers with rubber legs just to have something big and different as well. I like to experiment with flies that I imagine fish might never have seen before and I have had great success using this approach.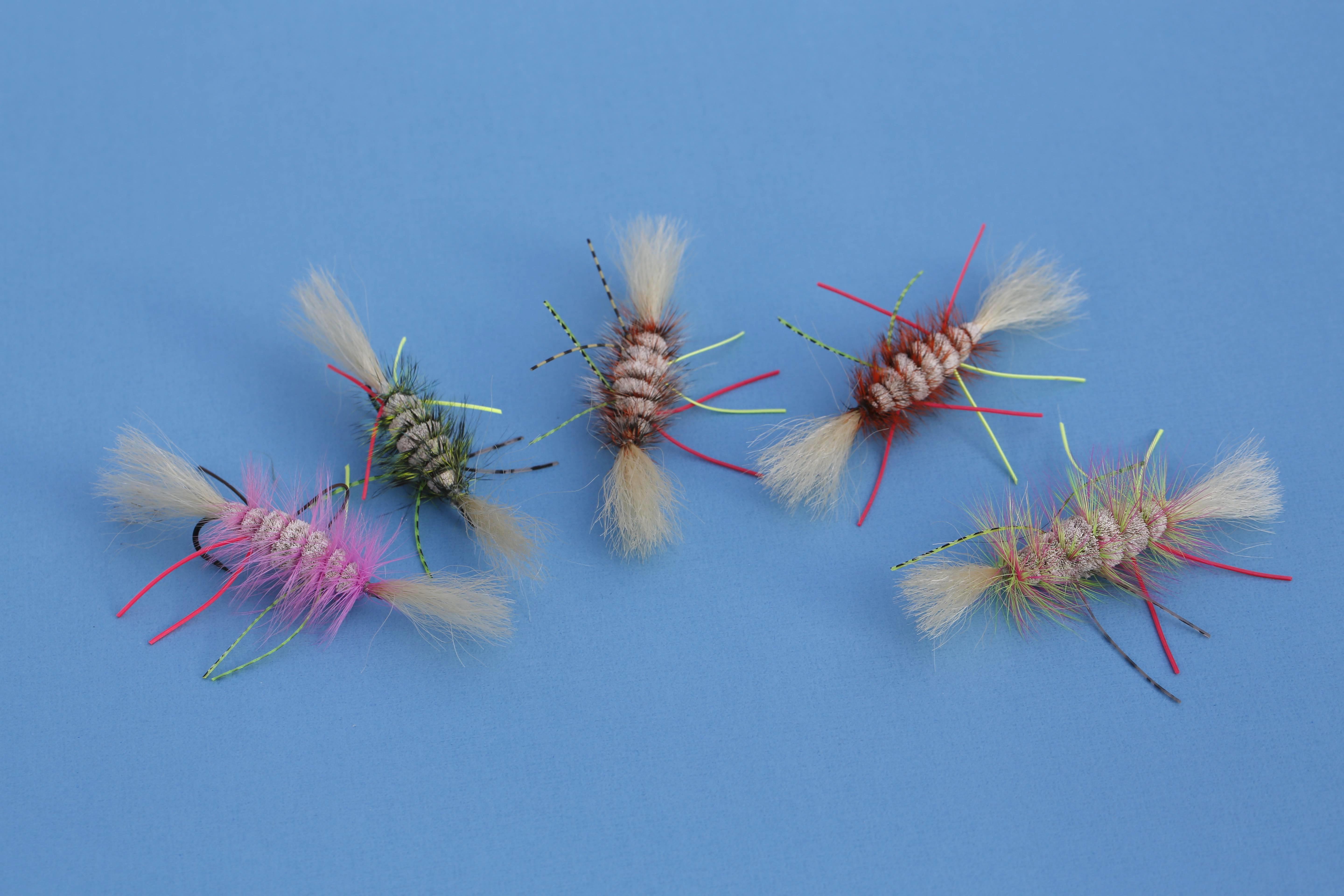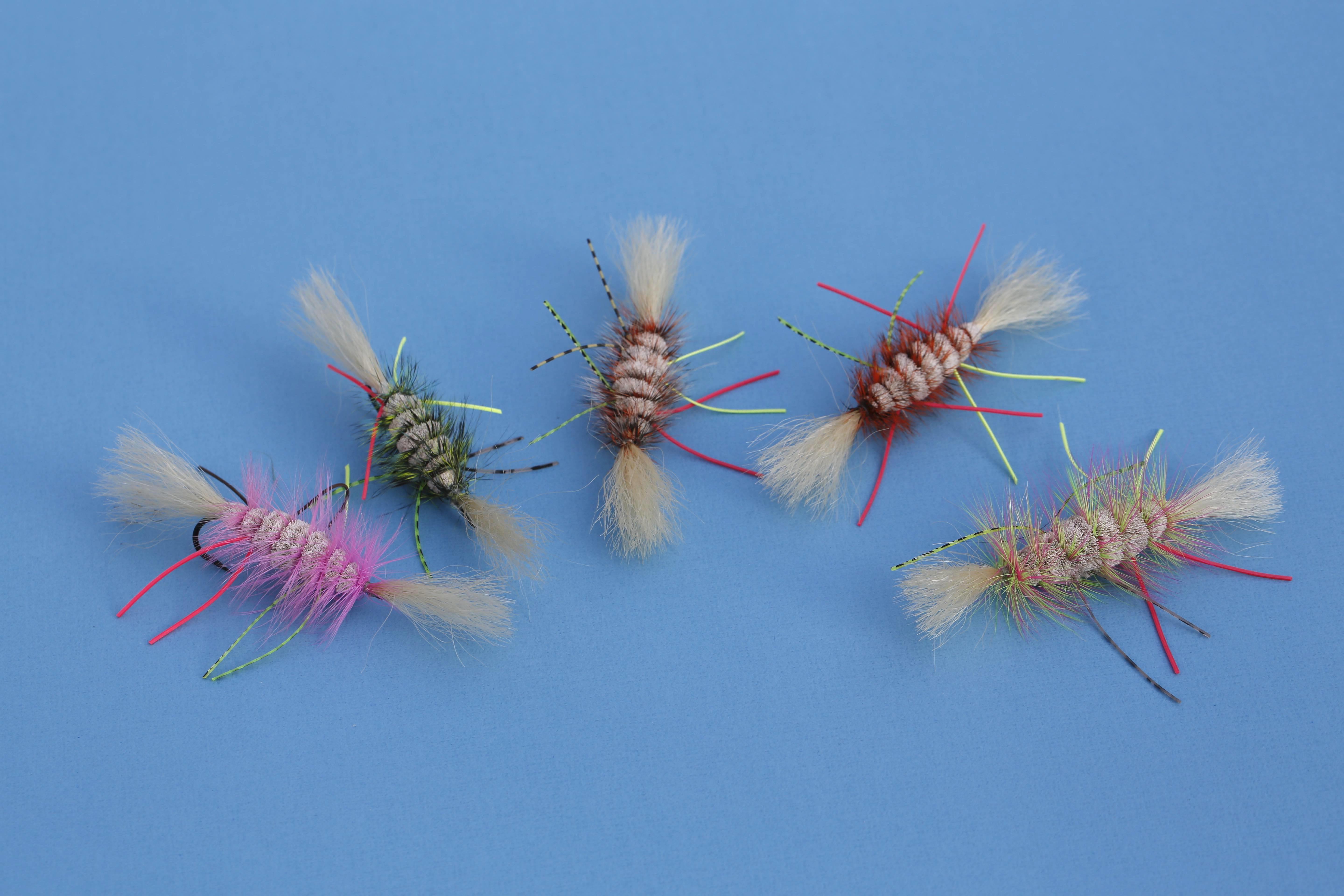 For taimen I spent time tying mice and big streamers as suggested to me by Peter Elberse, a famous Dutch fly fisherman with a lot of travel and fishing experience in very remote and relatively unknown locations. Because I'd previously had amazing success in Canada fishing for pike and lake trout with mice imitations, I tied up quite a few. Each mouse I tied with very long rubber legs and I used a strip of soft suede for the tail. I wanted to have mice with the power to really attract fish. To be 100% sure I even tested each mouse in the pond in front of my house for castability, floatability, visibility, mobility and for their action in the water. I wanted maximum mobility and action while fishing my mice patterns.
It was a very wise decision to test them, because a few patterns didn't perform the way I had imagined. Adding an extra back cover cut from a piece of craft foam and tied in as a back shield the way William Blair used in his Blair mouse, solved all the problems right away. (Thank you William!) Dozens of new fancy streamers all passed the bathtub test and I completed my selection with some lake trout flies I had developed and fished successfully in the Yukon Territory in northwest Canada in the 1990's and early 2000's. Finally, and after weeks of fly tying, I felt satisfied that my selection of fly patterns and my arduous preparations would leave me more than adequately equipped to take on Mongolia's lenok, grayling and taimen fish populations.