Last updated on July 21st, 2022.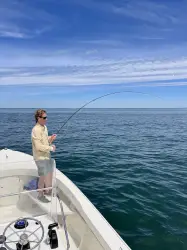 Latest posts by Leonard Schoenberger
(see all)
Fly anglers from New York and around the world can enjoy excellent fly fishing in the Catskills thanks to Ed van Put.
The 86 year old has fought for public access to rivers like the Beaverkill and the Delaware for more than five decades. We sat down with him to discuss how fly fishing in the Catskills has changed over the years, his approach to catching wild fish and what factors contribute to success on the water.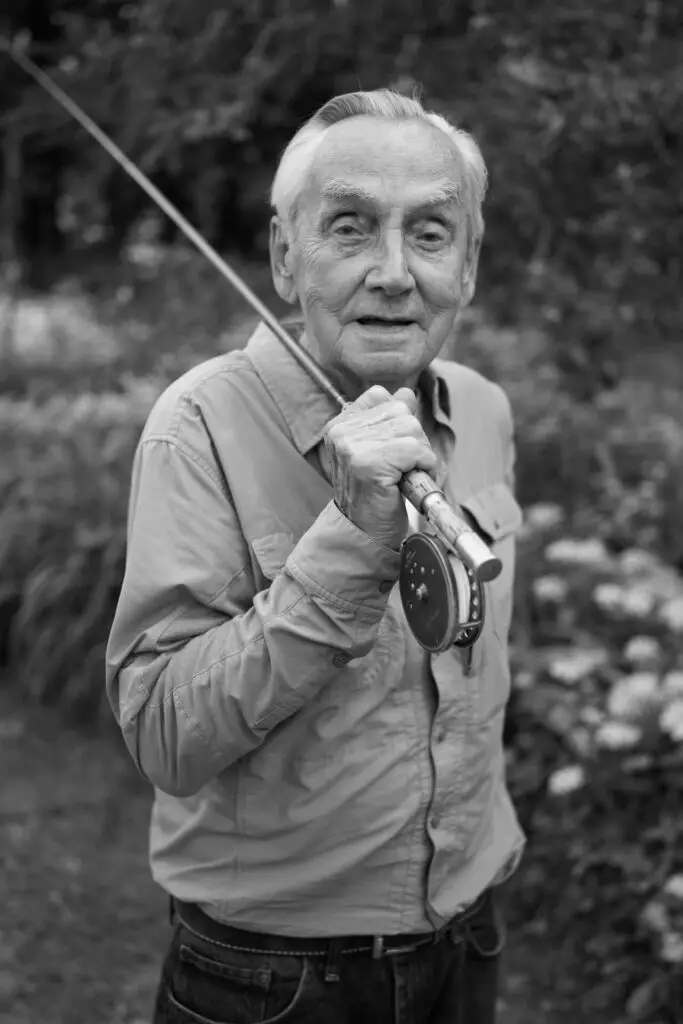 Leonard Schoenberger: Ed, tell us a little bit about your connection to the Catskills?
Ed van Put: I started coming to the Catskills back in 1962 on the weekends to fish. My philosophy was that although I had a well-paying job in New Jersey, I didn't care what I did for a living as long as at the end of the day after dinner, I could pick up a rod and go fishing. So in 1965 I bought this property (the house Ed still lives in) and moved up from New Jersey.
Eventually I landed a job with the New York State Conservation Department in fisheries. It couldn't have been better than that and I literally would, all these years except for the most recent years, fish almost every day. And when I wasn't fishing for my own pleasure, I was fishing for the state of New York with nets and electro-fishing and doing surveys.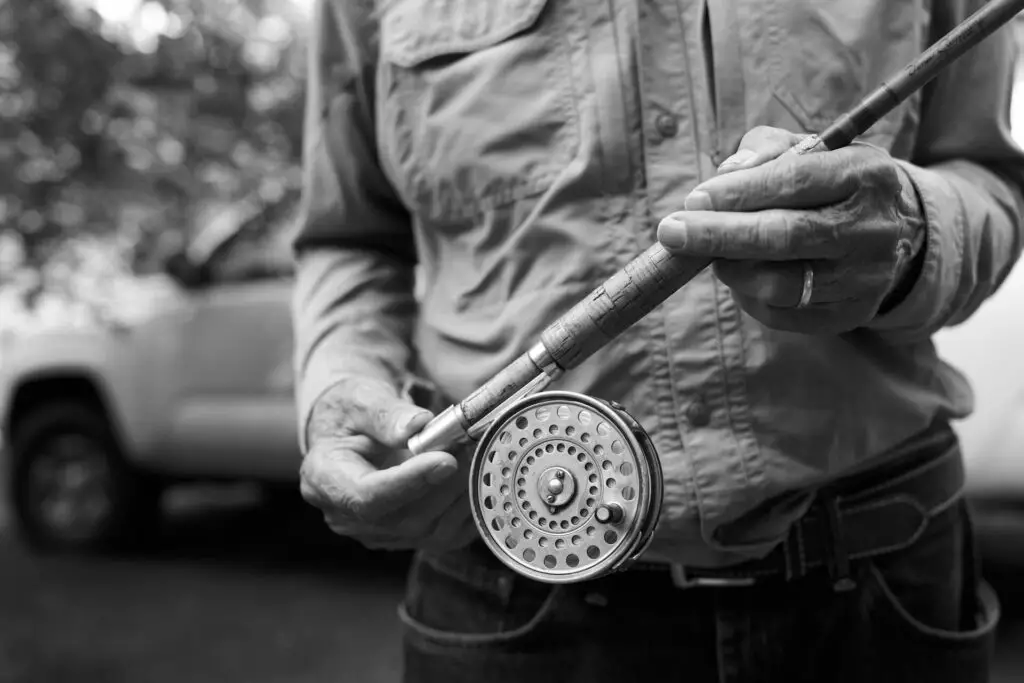 Leonard Schoenberger: How has the fishing in this area changed from the time you just mentioned compared to nowadays?
Ed van Put: When you look at the rivers, one of the biggest changes for the better is in the rivers below New York city reservoirs, which now have a cold water release program during the heat of summer, water that is released from the bottom of the reservoirs and measures approximately 39 to 41 degrees F.
When I moved here, those releases were not controlled by anybody but New York City. You could go to the Delaware river one day, maybe 10 miles downstream, and the water temperature would be 50 degrees in August and you'd need long underwear because it'd be so cold. Sometimes there would be fog from the dense cold water and the air temperature. And you go the next day and the water is 76. Sometimes there'd be fish kills or if they didn't let any water out for a number of days, the trout would seek cooler water off the mouths of brooks and spring holes for survival.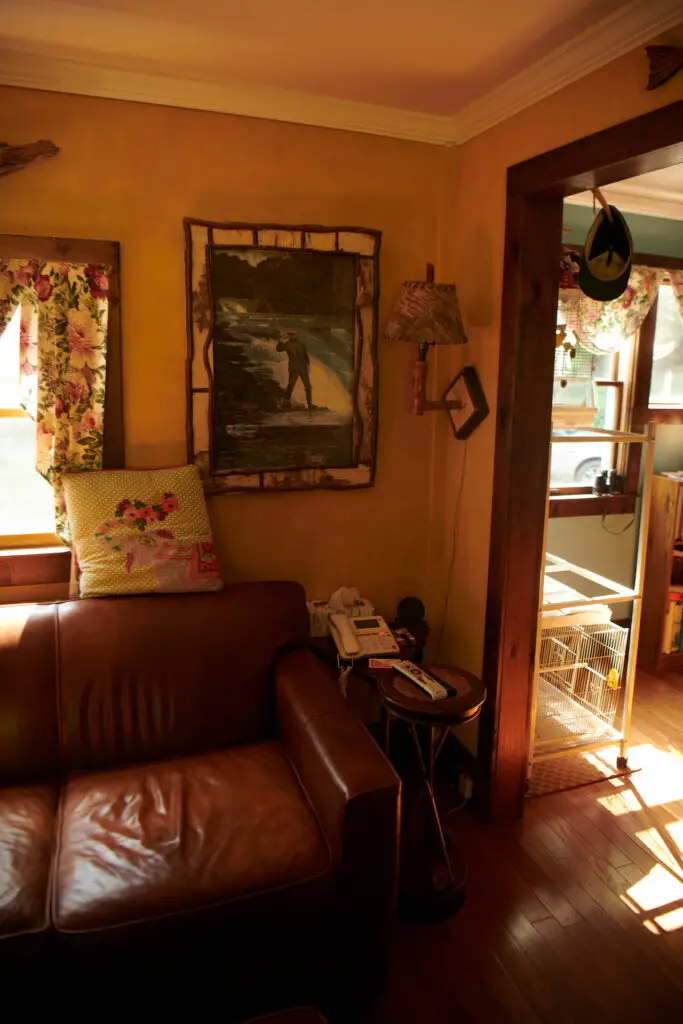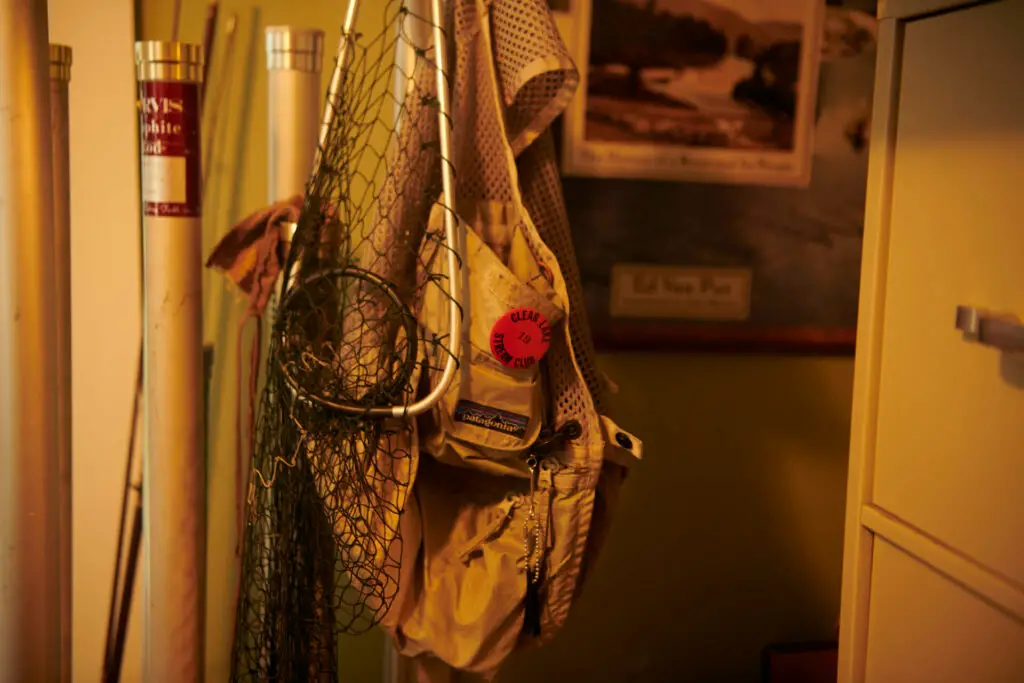 All of that changed in the mid 1970s when the city had to meet the criteria of environmental discharges of flow to better protect the fisheries. There were people who, when the temperatures got too warm, and fish were surviving off the tributary mouths, would go there and pour in Clorox to kill the fish. Others would be snagging them. I mean, it was very bizarre. When NYC built the reservoirs, there was no environmental assessment or anything. They just paid the landowners below the dams for their losses and felt like they owned everything. And so they could do what they wanted, but that all has changed. And by changing, it really has turned tailwater rivers like the East and West Branches and the main Delaware into great fisheries.
Nowadays, I think the Delaware River is the best trout stream this side of the Mississippi. But you gotta put your time in. It's like playing in the big leagues, you know, you're not always gonna have 20-fish days regardless of what anybody tells you. I know, because I fished that river almost every day and would camp on it for two weeks every year.
On the Delaware River I kept records accurately. I measured every fish I ever caught over there for my own knowledge and took scales of a lot of fish (to age them). And I'm assuming that it's the same today. I don't fish like I used to, but one in a hundred trout measures 20 inches long. Rainbows don't live much longer than five years. The fifth year is the end, and that's not an unusual life expectancy.
The hatches can be immense, It's amazing when you see them. That is a major change from when I got here. 
Leonard Schoenberger: What else has contributed to the fishing being as good as it is today?
Ed van Put: In 1962 or 1963 the Conservation Department introduced special regulations that resulted in the first 'no kill' areas on the Beaverkill. That was very important to the trout population in the Catskills. Fly fishers accepted the idea immediately, most fly fishers today have fished those areas and as a result, do not keep their fish.
Today the No kill areas get a lot of fishing pressure, but I think since I've been here, the fishing has improved because of water releases on tailwater streams and special regulations on the others. 'No kill' or Catch and Release definitely made a difference. 
Leonard Schoenberger: Ed, we've talked about fishing in the Catskills in particular. On a bigger scale, what's the essence of fly fishing for you?
Ed van Put:The essence of fly fishing? For me, I think of the word solace. I remember a letter I once wrote to a friend who owned some private water on the Upper Beaverkill that was in danger of being modified by machinery under the concept that they were going to improve the fishing.
Let me quote from my letter: On a trout stream the beauty of nature is more satisfying than a scene that has been artificially contrived. Streams are vibrant, and many fly fishers seek more than fish; they look for solace in the natural world of the stream, they also enjoy the chatter of a kingfisher and the experience of seeing a bald eagle perched on a limb, or a doe and a fawn crossing the stream, and the fragrance of streamside wildflowers – these pleasures may not occur in a manipulated stream."
Leonard Schoenberger: We talked about fishing the East Branch (of the Delaware) and how difficult it can be to trick a wild fish. What piece of advice would you have for someone who comes here to fish for the first time?
Ed van Put: I believe in accuracy and casting position. You should always try to make your first cast your best cast. 
In order to do that, I'm a traditionalist and have always fished with a double tapered line as it presents the fly more delicately.
And I also believe in a white-colored line because if you look at creatures that live around the water, their bellies are white. A duck's belly is white, a frog's belly is white and a trout's belly is white. My assumption is that it protects them from below and matches with the sky above. So I bought into that and I have only used white fly lines and I strongly believe in using that color.
Leonard Schoenberger: How important is the selection of the correct fly?
I think confidence in a certain pattern (rather than the correct fly) plays a very important role.
I basically fish with three dry flies: An Adams, a Royal Wulff and a Pheasant Tail Midge. I kind of built a reputation on those three flies.
I've kept a fishing diary for 50 years. What I caught, where I caught the fish, maybe what was hatching, maybe the water temperature. During the 30-year period from 1972 to 2001 I caught a total of 6,660 brown, rainbow and brook trout on dry flies. Of this amount, 72.3% were caught on an Adams, the Pheasant Tail netted 5.6%. Overall, my three favorite flies accounted for 83.5% of the trout I caught on dry flies. I think confidence in a certain pattern plays a very important role.
Leonard Schoenberger: What role does craftsmanship play in fly tying?
Ed van Put: It's very important.
I once did a survey interviewing fly fishermen. People were anxious to show me their flies. And in some cases I thought "how on earth did you manage to catch a fish with such a fly?"
People don't concentrate on proportions. The tail is a certain length. The wings are a certain length. The hackle is a certain length. Certain flies need to sit on the water's surface, not in the water's surface film.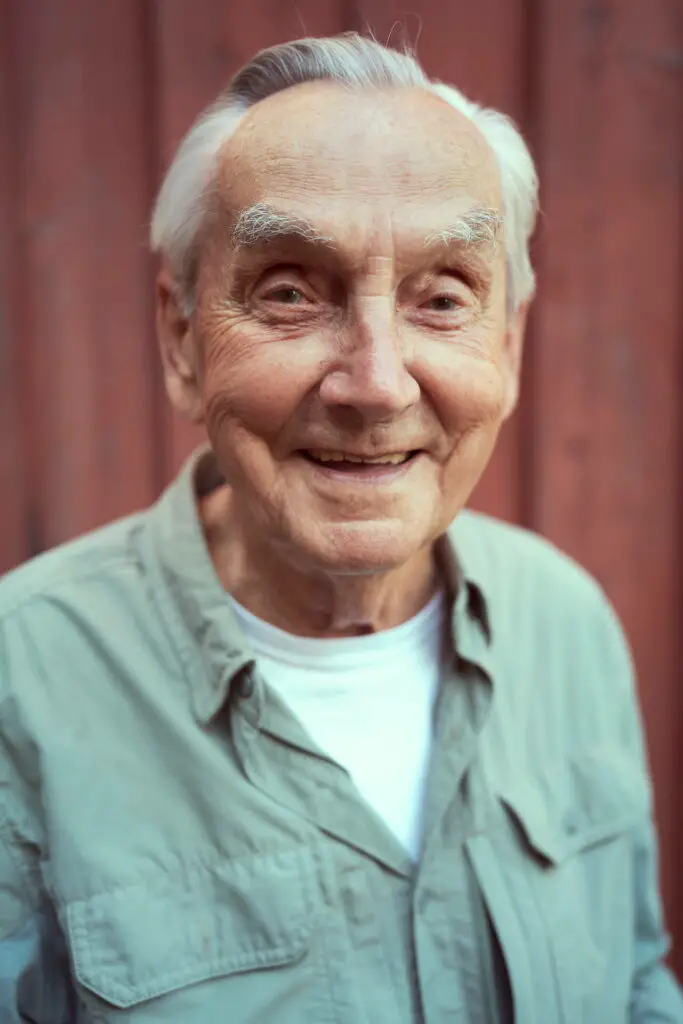 Leonard Schoenberger: What other factors play a role to be successful on the water?
Ed van Put: I make my own leaders because as you use the tip, I wanna know exactly what part I have to replace. I've used an Orvis leader kit for years and strongly believe in making my own leaders for the best presentation.
Leonard Schoenberger: Have you always been a trout fisherman?
Ed van Put: No, I grew up in New Jersey and started with BlueGills. I've also fished in saltwater through the years, and tried salmon fishing, but it's not my kind of fishing. I like trout fishing the best.
Leonard Schoenberger: What makes a good fly fisherman/woman for you?
We've been talking about reading the water before. The biggest thing you can do is fish every day. I think that that's the number one thing. You're practicing every day. You're gonna get better at it. 
Leonard Schoenberger: Have you ever had the desire to explore other trout rivers across the nation or in different countries?
I've tried other places that were great places to fish but the thing I enjoyed most was the different landscapes more than the fishing. I enjoyed that but I really love the fishing here very much.
When I was a kid, there was an outdoor writer named Ted Trueblood, whose articles I used to read. He said, 'you shouldn't be going all over the place for better fishing, because they'll always tell you, you should have been here yesterday.'
Put in your time where you live and you'll do just as well as anywhere else. Again, I love the fishing here very much. The Catskills are intimate. I mean, in Montana, the views are amazing. In the Adirondacks, you've got bigger mountains but here they are all around you, they're everywhere, they're more intimate. 
Thanks a lot for the interview, Ed.