Last updated on August 17th, 2021.
Latest posts by Leonard Schoenberger
(see all)
Flying into Bristol Bay, Alaska, in the summer is to witness one of the greatest migrations on earth…
Millions of wild sockeye salmon running red returning to its rivers and lakes. Cast a fly into the clear waters of premier streams like the Kvichak or the Naknek. Then you will experience the one-of-a kind thrill of fighting the largest and strongest rainbows in the world. Go upriver and you'll find yourself in Katmai Wilderness. One of the planet's premier brown bear viewing spots.
Over 50% of wild sockeye salmon in the world return to spawn in this special place. This way they drive a rich, cold water ecosystem in the sub-Arctic tundra that is a global marvel. These are just a few of the reasons Bristol Bay deserves champions among fly fishermen around the world. Yet, this extraordinary fishery is at grave risk.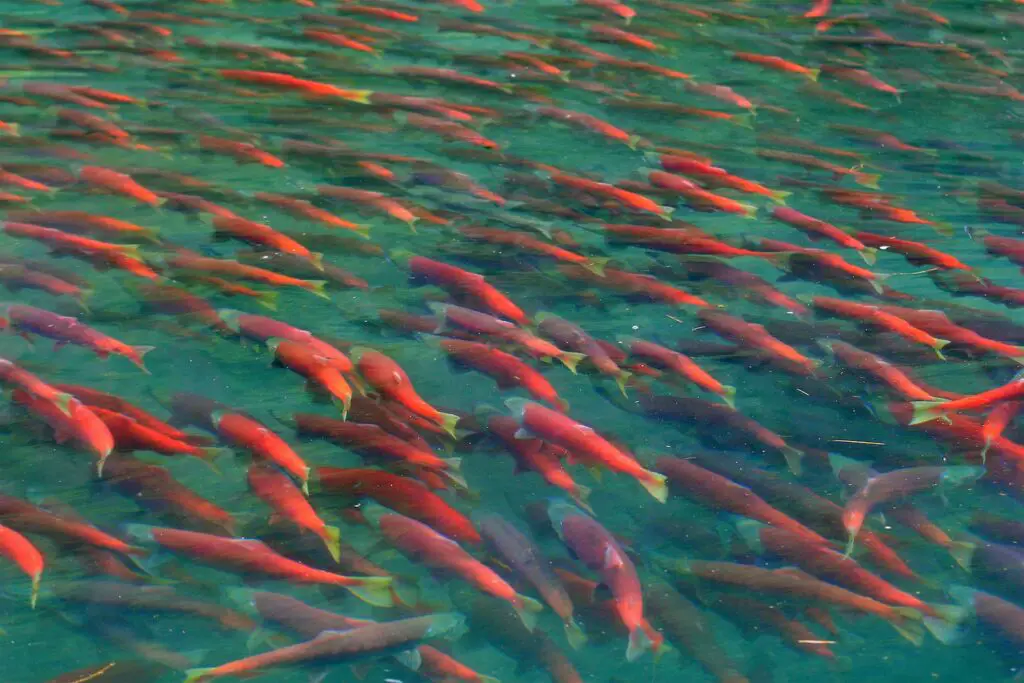 A Crossroads for Wild Sockeye Salmon: Pebble Mine
The greatest threat to Bristol Bay is the proposed gold and copper mine, Pebble Mine, at its headwaters. If developed, it would be one of the largest open pit mines in the world. The first phase alone would wipe out 30 miles of salmon streams and 3,000 acres of wetlands. Pebble would also generate up to 10 billion tons of waste which would be stored in a massive earthen dam, just upriver from Bristol Bay. Hanging in the balance is the $1.5 billion-a-year salmon fishing economy and an important subsistence food source for Bristol Bay communities.
These types of dams have a track record of disastrous environmental impacts. A recent disaster includes the breach of the Mount Polley dam in British Columbia in 2014. It is designed by Pebble's engineers. Mount Polley's dam leaked slurry and mine waste into local salmon rivers. That contaminated the drinking water of British Columbians.
Corporations Pulling out of Pebble
Pebble is also on shaky financial ground. Pebble Limited Partnership cannot secure funding from even the most risk tolerant investors. Canadian mining conglomerate First Quantum Minerals became the fourth international company to pull out of a profit sharing deal with Pebble. It left $37 million behind. Quantum followed global heavyweights Anglo America, Rio Tinto and Mitsubishi. They have all walked away from this project. Anglo America, for its part, took $500 million in losses upon exit.
Despite these limiting factors, the battle over the proposed gold and copper mine in this extraordinary place has gone on for years. The current administration is now determined to get this mine developed at any cost. It is fast tracking the federal permitting process at unprecedented speed. This means it completely disregards the millions of people that have spoken out against Pebble and a groundswell of Alaskans who continue to fight it.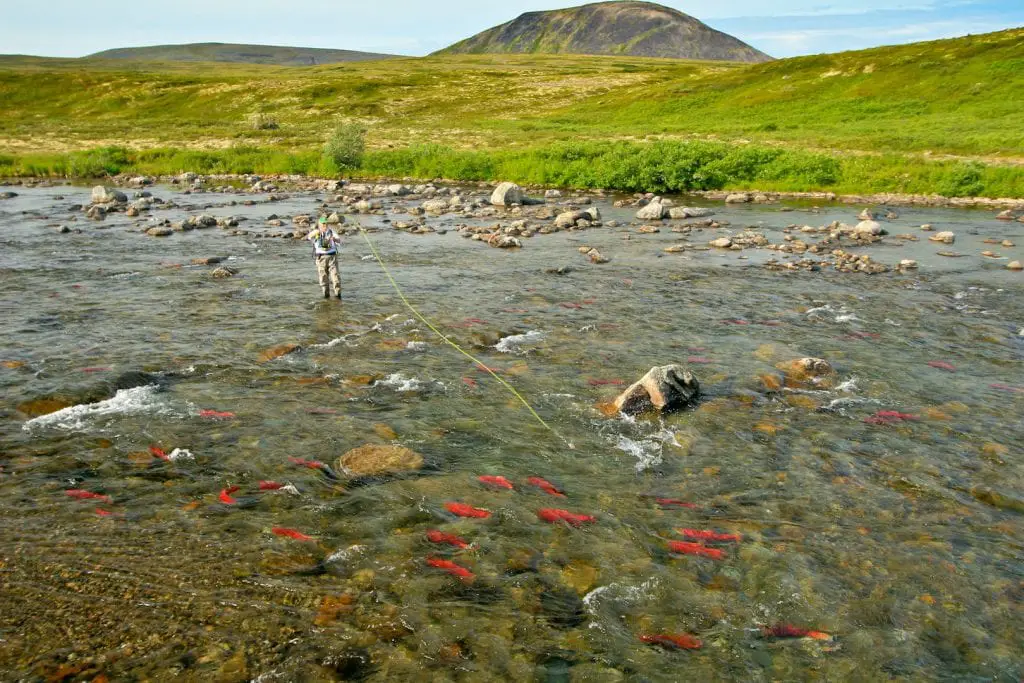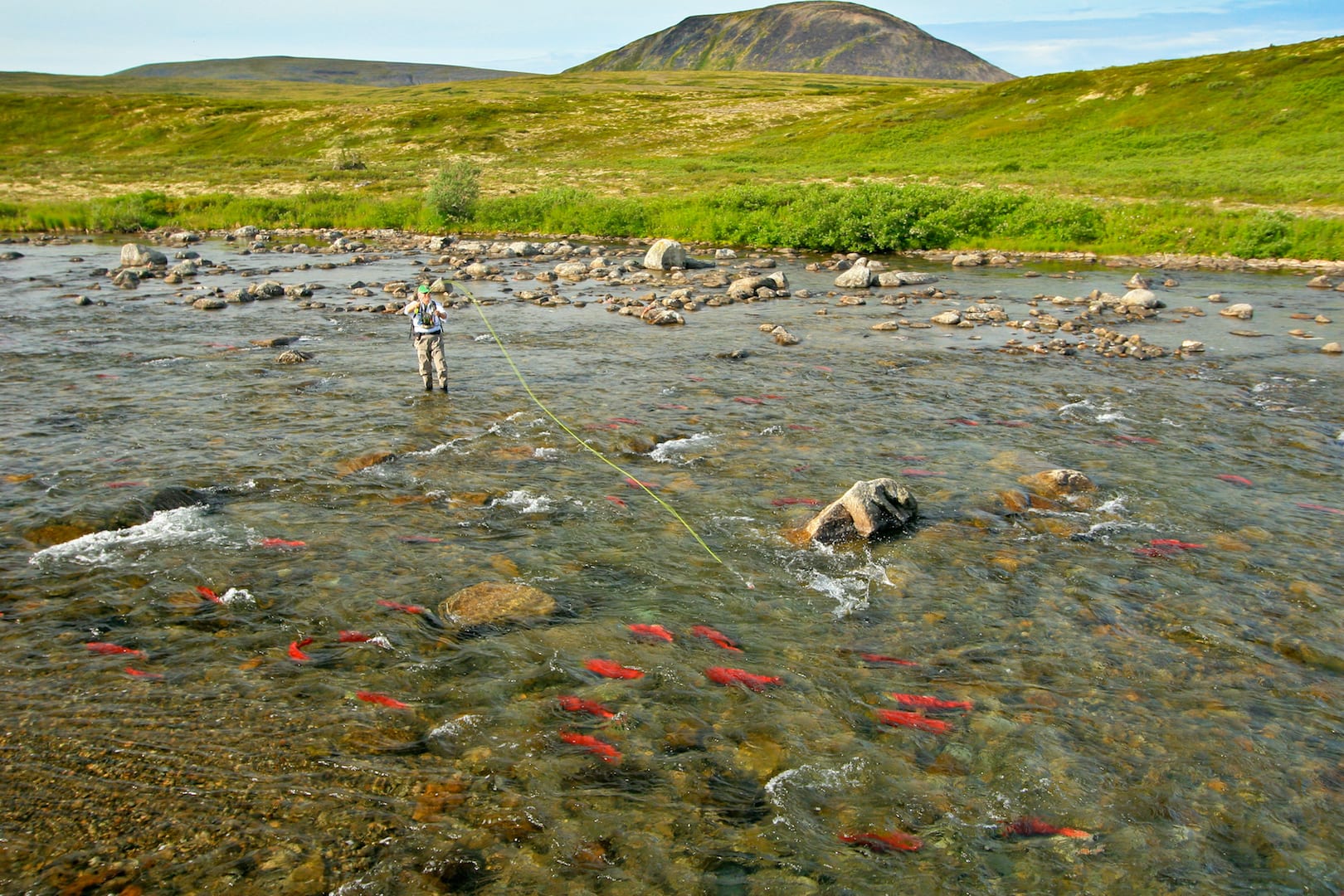 What can we do for Alaskan Sockeye Salmon?
Alaskans have stepped forward with a state-driven solution. A ballot measure that will modernize their state fish habitat projection and permitting laws. If passed, it will create clear, science-based standards for responsible development.
A statewide campaign, Stand for Salmon, is driving this effort. It's a broad-based coalition of Wild Salmon Center and other conservation partners. These include commercial and sport fishermen, small businesses, and Alaska Native communities—along with tens of thousands of residents across the state.
Multinational corporate mining companies lead by British Petroleum and Pebble Limited Partnership are fighting this initiative with the only thing they have: big money. They have raised $7 million to date—to ensure developments in Alaskan sockeye salmon habitat like Pebble Mine can move forward unfettered. They've launched a digital advertising campaign to discredit the initiative, stretching the truth beyond recognition.
Take Action to Protect Wild Sockeye Salmon
If we want to stop the sorry global tradition of steadily wiping out our wild salmon and trout fisheries, Bristol Bay is a good place to start. Now is the time for all fishermen to support the Stand for Salmon campaign. It is our last gasp to stop Pebble Mine. Stand for Salmon will be striking back with its own ad campaign this summer and hitting the streets talk to voters. This strong ground game needs even stronger financial support from fishermen around the globe. It needs to get their message in front of Alaskans up until election day on November 6th.
This campaign is not only about saving Bristol Bay. It's about securing the long-term health of some of the world's most important salmon rivers and the communities that depend on them.
The time is now to step up to stop Pebble Mine and large-scale, "worst of the worst development projects" in the planet's most precious fisheries.
Please join us in supporting this effort to safeguard Bristol Bay—and spectacular wild salmon rivers across Alaska—by adding your name to this movement and visiting Stand for Salmon to make a contribution today.
Ashley Rood works for the Wild Salmon Center in Portland, Oregon. To learn more about their work visit the Wild Salmon Center's website.