Last updated on August 17th, 2021.
Latest posts by Leonard Schoenberger
(see all)
Ken Middlemist is the last remaining fly dresser to be educated at the famous Hardy factory in Alnwick, England. He keeps tying flies, especially salmon flies until this day.
We met him in Munich at the EWF to talk about fly tying vs fly dressing, his attitude and his life.
Ken, you describe yourself as a fly dresser instead of a fly tyer. What's the difference?
I've always classed myself as a fly dresser. You have fly tyers, whether they have been trained to do what they do or whether they have just picked it up and then improved their ability. In my case I've always classed myself as a fly dresser because of the fully dressed salmon flies. It's just the way I've been educated, Northumbrian if you want (laughs).
You are special in that you tie without a vice. How did that happen?
Initially when I started at Hardy in 1959 I began out in the packing room packing parcels. I was in there for a few years. My wage back then was £1.90p a week. Then I asked for a transfer to the factory and they put me there. I had never tied before and there were about eight men doing salmon flies and about 25-30 women doing trout flies. I had to do one fly only in the beginning. When the foreman saw it and it wasn't right he would strip it down with a razor blade and I would have to start again. Once I was able to do the basic fly I went on to plain dressed flies and then to full dressed flies.
Soon they tried to speed up the fly dressing. Hardy made vices at the time in the tool room. It was basically a pair of long-nose pliers with a slide on, a grip, so no matter the diameter of the hook, the vice kept it tight and you could then dress your fly. I gave it a go but I soon found out I couldn't do it that way. In a full day's work we would do about three dozen full dressed salmon flies. And they let me do it.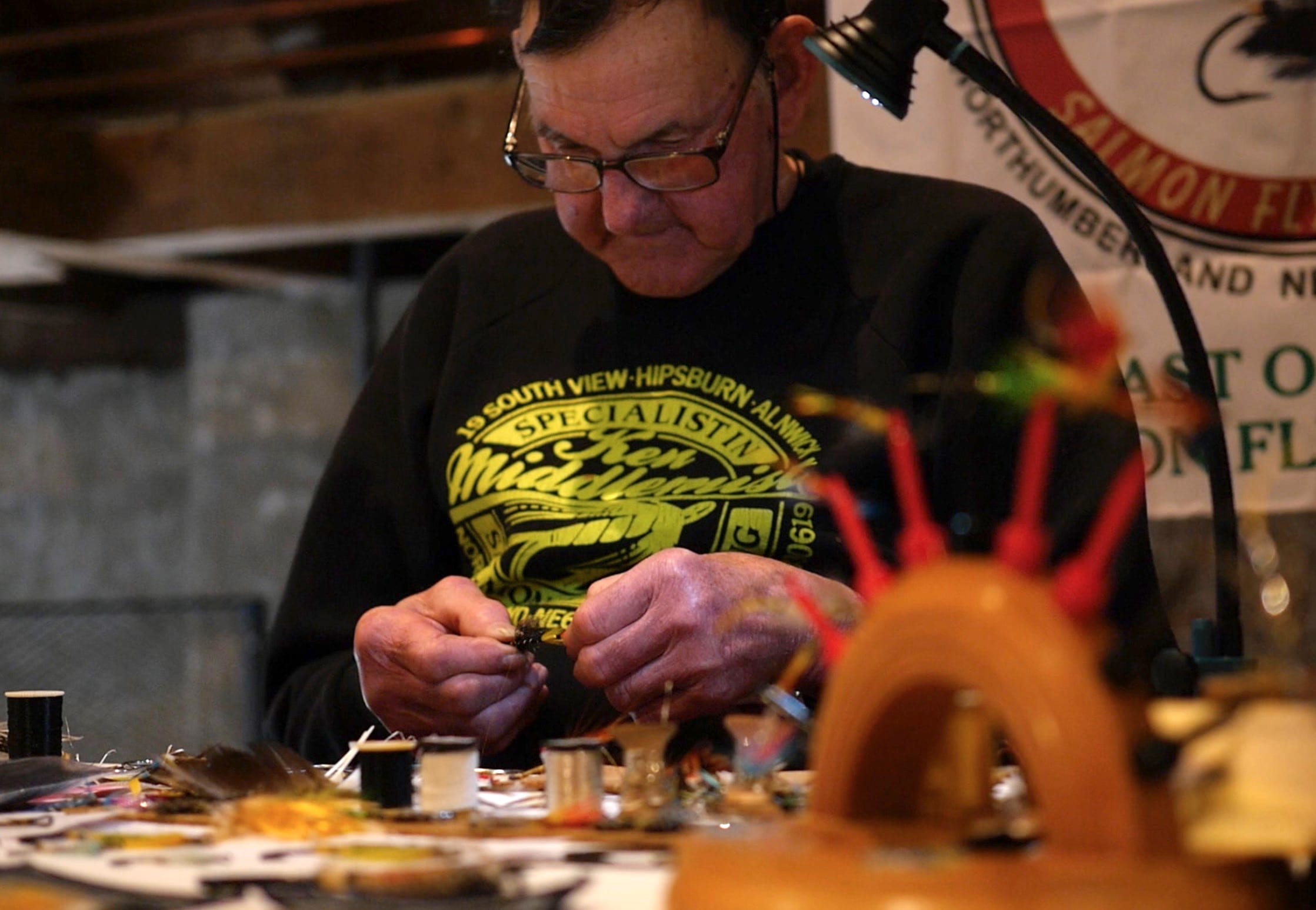 What was the atmosphere like back then at the famous Hardy factory?
Oh the atmosphere – it was amazing. Everybody was like family. Everybody knew everyone. Oh and Mr. Jim, Jim Hardy, we always called him Mr. Jim, he was a gentleman.
How did your story at Hardy continue?
I moved on to the fly shop. But I had what you would call "hot feet", I wanted to move on. So I talked to my dad who was a locomotive driver and told him I would fancy a change in jobs. He said: "Well, I'll keep a look out for you." The first thing he offered me was to work the signals on the tracks. But I told him that wasn't for me. His next idea was for me to become a fireman for the railways at Alnmouth. I found that appealing. So I decided to leave Hardy. I started working there in 1962 and stayed until 1966 when the steam had to go.
I had the chance of a transfer to Blyth about 12 miles down the coast. Hardy had built a new factory at Willowburn. So I went there and saw if I could get a job. They told me I could start straight away if I wanted. So I weighed up whether I was better off there or transfer. I decided to go back to Hardy. Then 1969 came along and there were not so many of us left in the fly shop as they had to scale it down. The same year Hardy decided to sell the factory. The new owner decided to do a survey on all the shops in the factory and the fly shop had to go. I was made redundant again.
Looking back at your career in fly tying. How has it changed over time?
All the materials I use are conventional fur and feather. There is a lot of improvised material coming in on the market nowadays. But if I can keep on going with materials I am used to, I keep doing that. I have a little workshop in the attic of my house where I keep tying. I just like passing on my knowledge. Still have a close contact with Hardy. They asked me to do a special box of twelve, 50 sets. These boxes were sold through the shop in Alnwick. Within a few months they were gone – for £500 each.  
What has been the beauty of fly tying for you over the decades?
Just having something at your fingertips. As you can see my hands are a bit "worn out", mainly from the railway work. But they are still viable. As long as I have my health and my eyesight I'll keep on doing it.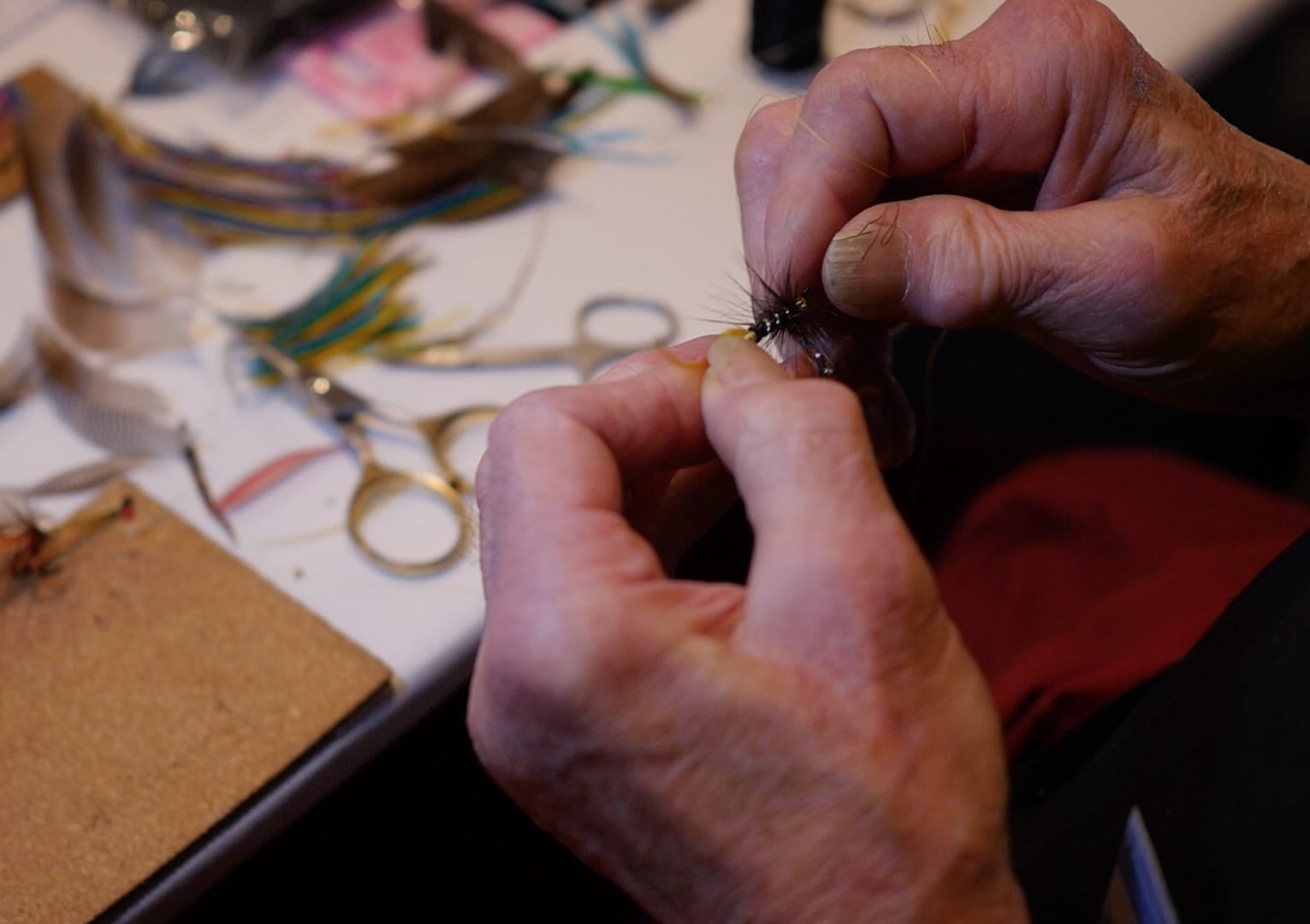 You are well known for your salmon flies. Would you say they have always been your specialty?
Nowadays I mostly sell my flies to collectors. Megan Boyd, the Scottish fly dresser, sold some flies to a customer. Someday he had to downsize his house. The flies had not gotten framed. I think there were 50 flies, full dressed salmon flies. Just recently they went for auction. I was made to believe they would go for £10,000 – 12,000. They didn't. They went for £22,000! So anybody that gets a fly off me, you know, will not come to that subject (laughs). But I am still here and whatever knowledge I have I just pass it on.
How have salmon flies evolved over time? Do you see many differences today compared to a few decades ago?
I don't think many people nowadays are prepared to use full-dressed salmon flies. Over the years they went from traditional bodies to hair wing which makes it a bit more feasible to use. But I have noticed that the size of the hook has come down a lot. I mean from a 9/0 or 10/0 to a size 1 or 2.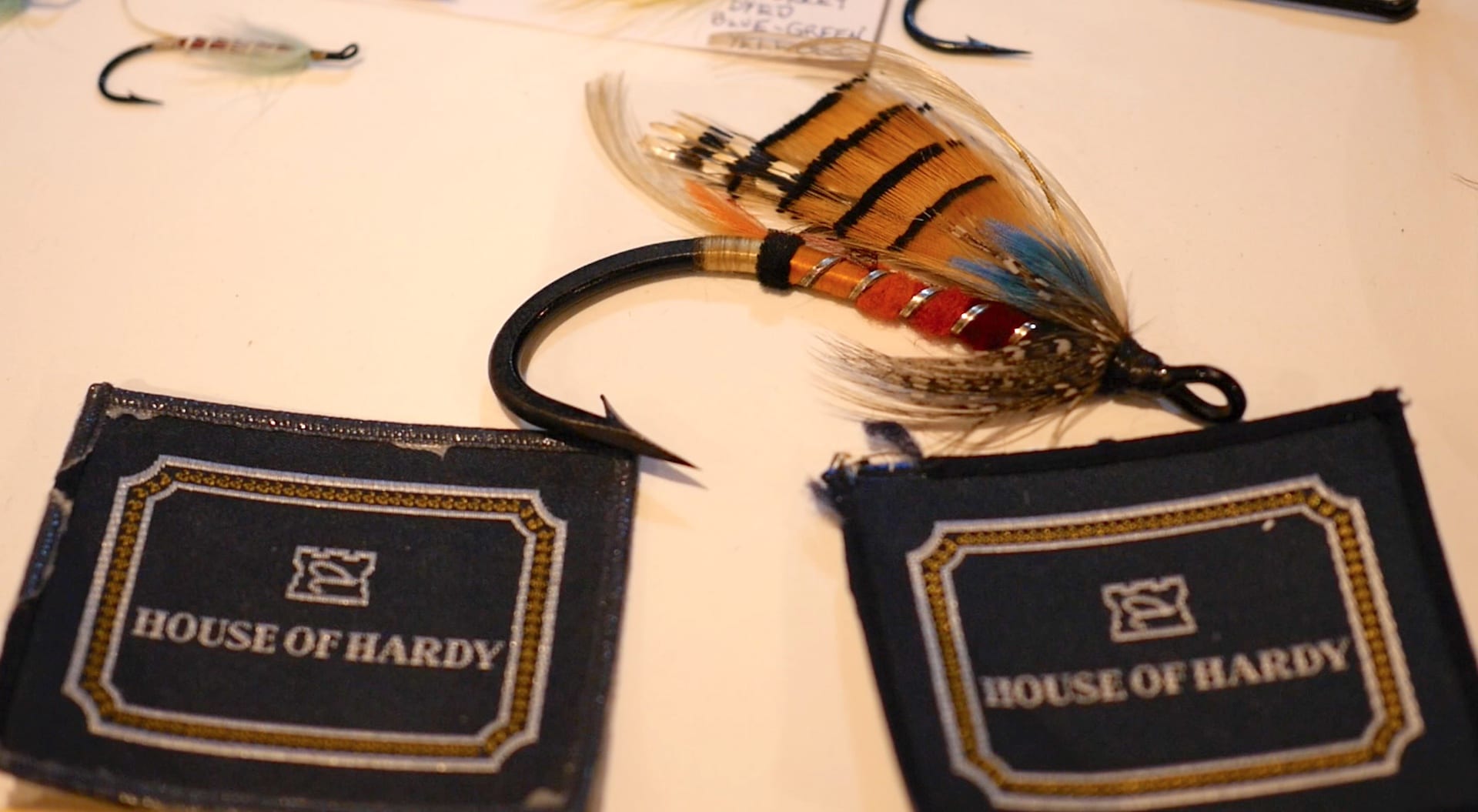 Have you ever had a favourite salmon fly pattern?
The Black Prince. A lot of people go for the Green Highlanders and the Jock Scotts. I just loved doing the Black Prince for no special reason. It just became my all time favourite.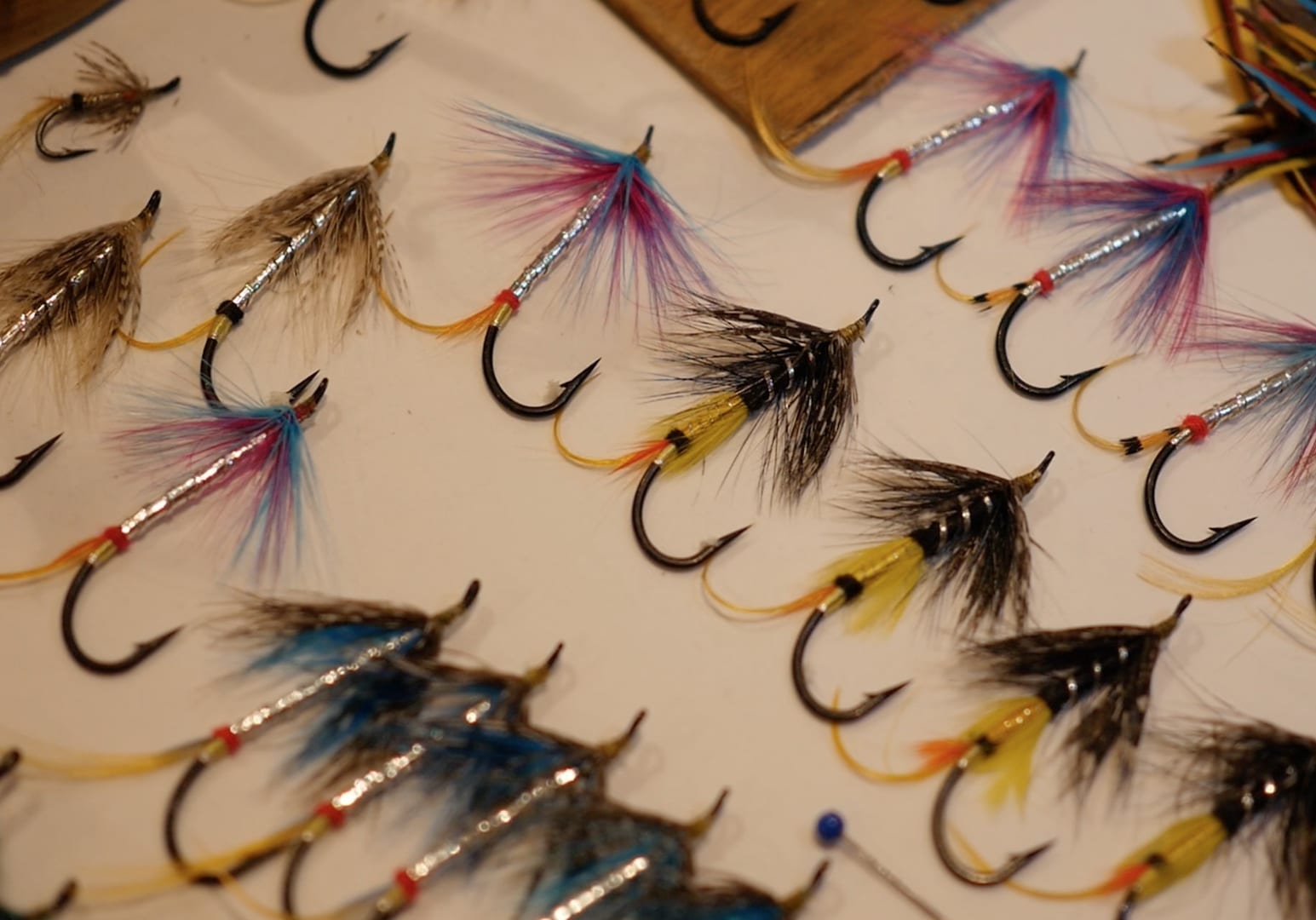 Thanks a lot for your time, Ken. 
The interview was recorded at the EWF 2018 in Munich.