Last updated on September 21st, 2021.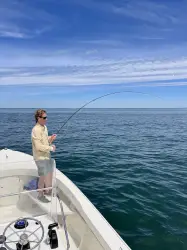 Latest posts by Leonard Schoenberger
(see all)
The Sakhalin Taimen inhabits the region between eastern Russia and Northern Japan. A recent die off raises the question of whether the incident is related to climate change.
We spoke to L. Mark Weeks, expert fly angler and pro bono counsel for a number of conservation groups, such as the Wild Salmon Center (WSC) and Fish for Change and Dr. Peter S. Rand, Research Ecologist at the Prince William Sound Science Center about the situation.
Could you give us a quick intro to Sakhalin taime. What sets them apart?
Originally thought to be a huchen (that is, in the genus Hucho), but DNA data revealed they are very different. They have been placed in their own genus now (Parahucho). They have both landlocked (freshwater) and sea-run life histories, so that sets them apart from huchen. 
Sakhalin Taimen share many of the same life history traits as huchen: relatively late age at maturity (about 6-8 years), long lived (many have been aged into their 20s), and large head/mouth (major predator). You have probably seen photos of them during spawning – the males turn very bright red. I led the original IUCN status assessment of the species, and they have been listed as critically endangered since 2006. The assessment is here and contains a lot of information on the species, including their range (which includes Russia).
Why do you care about them?
They are definitely an apex predator, so they are a great indicator of the overall quality of the environment/habitat.  They are also revered as a game fish in Japan. There are many Japanese that are known as "ito watchers" (ito is the Japanese name for Sakhalin taimen) – they observe, photograph, and film adult ito during the spawning period in the spring – many work in wet or dry suits. 
They are very avid, and care deeply about these fish, and some can recognize individual fish over multiple years based on unique spot patterns on their heads.
What happened in the recent incident in Japan?
At least 40 fish were observed dead in the Sarufutsu this year. It appears it was a mixture of sub-adult and adult fish – I understand the water temperature exceeded 27 C, which is definitely in the lethal range.
Is there a possible connection to climate change regarding this incident
or did such things occur back in the days as well?
I am not aware of anything like this happening in the past. The Soya Region is a coldwater refuge for many stream fishes – I was very surprised to learn this happened. I suspect it is a sign of a changing climate, and conditions like this are likely to happen more frequently in the future.
What can be done to improve the situation on location?
Working to mitigate global climate change (reducing greenhouse gas emissions) would be a good start! The Sarufutsu is one of the few remaining intact watersheds in Japan – there are a few small dams and culverts in the upper reaches, but the habitat is generally in very good condition (thanks, in part, to the Oji Paper conservation agreement).
What can fly fishermen and women around the world do to support this cause?
Over the years we have been tagging adult ito during the spawning period. I have encouraged anglers to report catches of tagged ito (there is a unique number on each tag, so we are able to track them over time). I would also encourage best practices (no barb/single hook, no bait, catch and release without exposing fish to the air, etc.). 
It is still very surprising to me that you do not need any form of license to fish for ito, and there are no fishing regulations for Sarufutsu ito. My observations over the years indicate that most people practice catch & release, and anglers tend to be gentle on the fish, but I always hear reports of bad actors (e.g., fishing at night, killing fish for black market).
Thanks a lot for the interview, Mark and Peter.