I got into salmon fishing a few years ago and have since been addicted to spey casting with big 15ft rods. The ease with which you can cast heavy shooting heads and large salmon flies has fascinated me right from the beginning. Ever since I have particularly looked forward to my yearly week of salmon fishing in Norway. Simply because of the way of fishing.
Back at my home waters which are mostly not quite as wide as Norwegian salmon rivers I have always longed for a similar way of presenting the fly. Sure, shorter two handed (switch) rods can be set up just like a bigger salmon rod. But since my favorite rod to fish for brown and rainbow trout is my Hardy Zenith Sintrix 9'6 #6, I have always longed for a setup that allowed me to make spey casts but also gave me the opportunity for an overhead cast.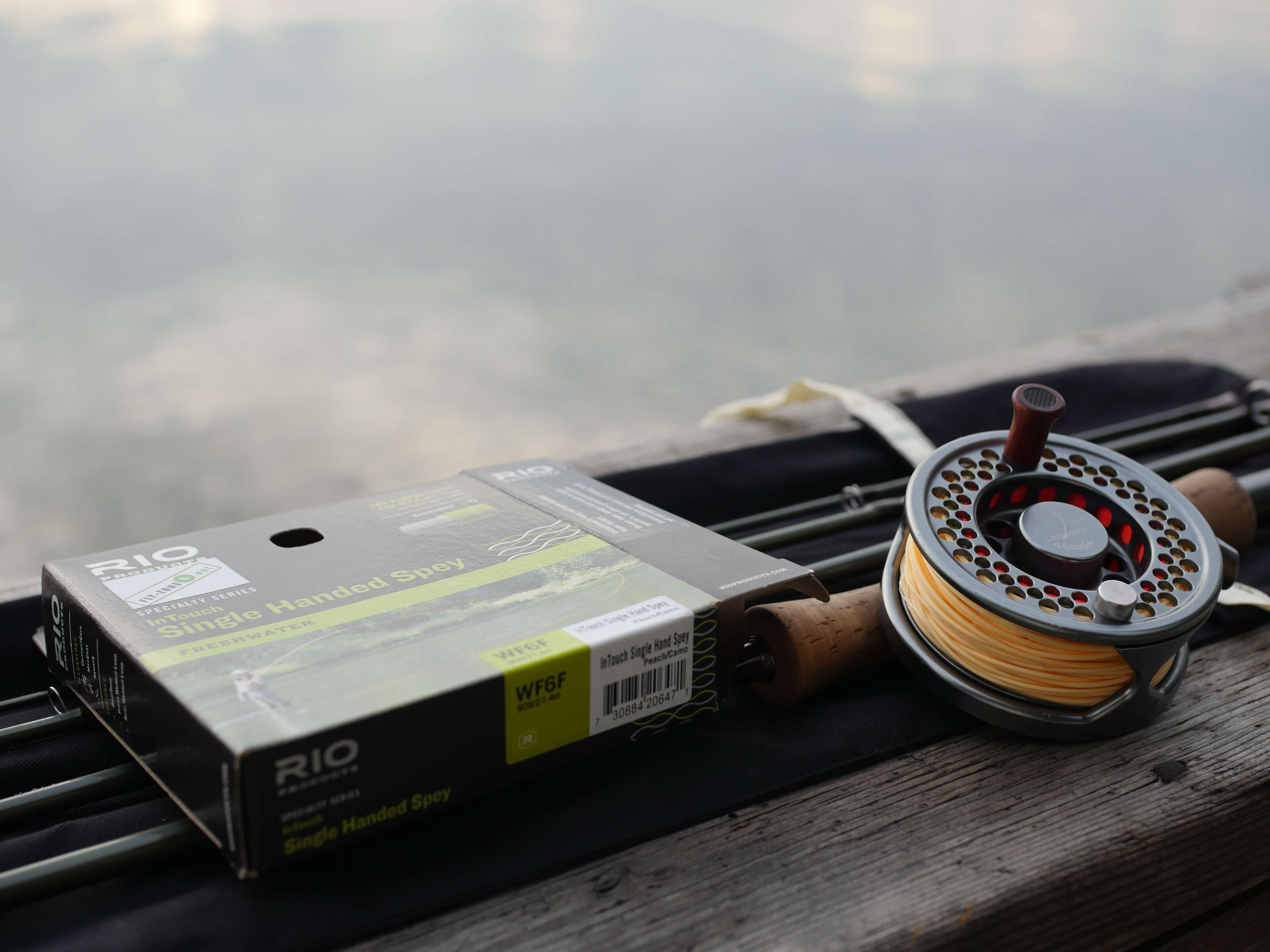 The Rio InTouch Single Handed Spey line on a Vosseler DC3 reel
A few weeks ago I was searching the web for options. I read quite a bit about the OPST concept which I haven't tried yet but find quite interesting. I finally ended up on Rio's website and discovered the Rio InTouch Single Handed Spey line. After watching an episode of Simon Gawesworth on this very line I was convinced an ordered the line as a #6.
It arrived today and I immediately went to work and gave it a try. I rigged my old but sturdy Vosseler DC3 reel with the new line that comes in a nice subdued color combination of peach and camo. Here are the specs for the #6 I chose:
Rio Fly Line: InTouch Single Handed Spey line:
Full Head Weight 230gr (14.9gm)
Head Length 33ft (10.1m)
Total Length 90ft (27.4m)
The loops on both ends of the line make the setup easy. I started with a few roll casts and could feel the heavy head right away. At this point already I could tell the line was begging for more. Next up were some spey casts which immediately showed me the potential of the line and created a bright smile on my face. The rear weight distribution makes loading the rod very easy. And since you basically need no space behind you it is a great choice for rivers where you want to cover some distance but have bushes behind you for example.
I played around a bit with casts into the wind. Even though I am not a world-class caster I managed to get quite a bit of line out. When I turned around and cast with the wind in my back the combination of the rod and the line felt like a rocket.
What really struck me was the way the line performed when I lifted it into the air for an overhead cast for the first time. The power it generates can really be compared to two handed spey rods. The Rio Intouch Single Handed Spey creates this feeling where you can feel the energy of your cast all the way into your reel.
The Rio Fly Line: InTouch Single Handed Spey with a Hardy Zenith Sintrix rod
.
I am already convinced to have found my new favorite set up for bigger rivers where you fish for larger trout with heavier streamers. Just a bit like salmon fishing…
Disclaimer: If you click on an affiliate link on this page and end up making a purchase we earn a small commission at no extra cost for you.