Last updated on February 14th, 2023.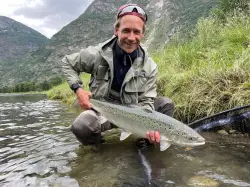 Latest posts by Leonard Schoenberger
(see all)
Fly fishing is a beloved pastime for many outdoor enthusiasts. It's no surprise then that the activity has been featured in several movies over the years.
Whether you're an experienced angler or just looking to learn more about this sport, these fly fishing movies are sure to entertain and inspire! From A River Runs Through It (1992) and The River Why (2010) to more modern-day documentaries, we'll take a look at some of the best films featuring fly fishing ever made. So grab your gear and get ready – it's time for a reel-y good movie night!
Best Fly Fishing Movies 2023
A River Runs Through It (1992)
A River Runs Through It (1992)
A River Runs Through It (1992) is a drama film directed by Robert Redford and based on the 1976 semi-autobiographical novel of the same name written by Norman Maclean. The story follows two brothers, Norman and Paul Maclean, growing up in rural Montana during the 1920s. They are taught to fish by their father who has an intense passion for fly fishing which he passes down to his sons. As they grow older, their paths diverge as one brother pursues a career in academia while the other descends into alcoholism and crime. Despite this difference between them, they still remain close with each other through their shared love of fly fishing.
Cast and Characters: Brad Pitt stars as Paul Maclean alongside Craig Sheffer as Norman Maclean; Tom Skerritt plays Reverend John Maclean; Emily Lloyd plays Jessie Burns; Edie McClurg portrays Mrs. Burns; Brenda Blethyn stars as Mrs. Maclean; Stephen Shellen appears as Neal Burns; Joseph Gordon-Levitt plays Young Paul MacLean, and Robert Redford portrays Mr. Johnson/Narrator/Old Man at Fly Fishing Competition.
Key Takeaway: The movie A River Runs Through It is a story about two brothers, Norman and Paul Maclean, growing up in rural Montana during the 1920s. They are taught to fly fish by their father which unites them despite their different paths in life. The cast includes Brad Pitt, Craig Sheffer, Tom Skerritt and more.
The River Why (2010)
The River Why (2010) is a drama film based on the novel of the same name by David James Duncan. It follows Gus Orviston, an angler who has been fishing since he was a child and now wants to find himself in life. He moves away from his family's home in Oregon to live alone near a river and discovers that fly-fishing can be more than just catching fish; it can also help him discover himself. Along the way, he meets several characters who teach him about life and love as well as how to become a better fisherman.
Cast and Characters: The main character, Gus Orviston, is played by Zach Gilford with Amber Heard playing his love interest Eddy McDonough. Other cast members include William Devane as Gus' father Harry Orviston, Dallas Roberts as his brother Frank Orviston, Kathleen Quinlan as their mother Martha Orviston, William Hurt as legendary fly-fisherman Joe Humphreys and Bonnie Bedelia portraying Aunt Mary Lou Humphreys.
The River Why (2010) received generally positive reviews from critics for its beautiful cinematography of nature scenes combined with its heartfelt story about finding oneself through fly-fishing. Since its release, it has gained cult status among outdoor enthusiasts due to its relatable themes of self discovery while enjoying nature's beauty at the same time.
"Fly fishing isn't just about catching fish – it's also about finding yourself. Check out The River Why (2010) to learn more. #flyfishingmovies #selfdiscoveryClick to Tweet 
The Complete Angler
The Complete Angler is a film by artist and writer James Prosek and producers Fritz Mitchell and Peter Franchella following James Prosek trip to England to explore the roots of fly fishing in the 17th century. The Complete Angler refers to the famous book by Isaac Walton with the same name that has laid the foundation for fly fishing as we know it today.
Home Rivers Recycled
Home Rivers Recycled is a brand new fly fishing documentary filmed in the wild north of Sweden. It's a generational story about passing on the love of the outdoors to the next generation of fly fishermen and women. At the core of the story is the mighty Baltic Salmon that almost went extinct in the beginning of the 1990s but is now making a comeback.
Live the Stream
Joe Humphreys is a legend in the world of fly fishing – he can cast a fly line without a rod. Live the Stream tells Joe's life story and follows in his footsteps in Pennsylvania. Joe is an amazing fly fisherman but also an acclaimed fly fishing author and fly casting instructor.
Conclusion
Fly fishing movies have come a long way since the 1970s, and there are now many excellent films to choose from. From A River Runs Through It (1992) to The River Why (1979), these fly fishing movies offer something for everyone. Whether you're looking for an inspiring story or just want to enjoy some beautiful scenery, these films will provide hours of entertainment and education about this beloved sport. So grab your rod and reel, pop some popcorn, and get ready to explore the world of fly fishing through cinema!
Fly fishing is an activity that can provide hours of enjoyment and relaxation. It's a great way to connect with nature, have some peaceful time alone or bond with friends over the shared love of casting lines into rivers and lakes. However, there are still many people who don't know much about fly fishing – which is why we need more movies showcasing this sport! Movies like A River Runs Through It and The River Why have already shown how enjoyable watching characters learn, practice and master fly-fishing techniques on screen can be. Let's continue to tell stories that capture what makes fly-fishing so special: its connection between person, fish & environment – by creating more engaging films featuring this popular pastime!