Last updated on September 21st, 2021.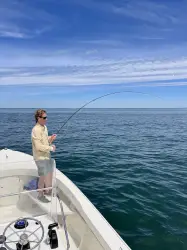 Latest posts by Leonard Schoenberger
(see all)
Across the globe fish are having a hard time to migrate up and down rivers. The global swimways project wants to improve their situation.
William Darwall of the Cambridge Conservation Initiative fights for fish to move freely again. We talked to him about what needs to be done to improve the situation of migratory fish around the world.
The Wading List: What is the idea behind the global swimways project and how did it come into being?
WD: Anthropogenic use of water resources is driving high levels of decline and extinction in freshwater species. That is in large part due to the extensive impacts of hydrological alteration and fragmentation. This leads to major disruption of fish migration routes.
The "Swimways" concept was originally developed by the World Fish Migration Foundation (WFMF). It partners as an overarching framework to stimulate protection and restoration of freshwater fish migrations. It was initially inspired by BirdLife Internationals "Flyways" programme. That works to save migratory birds through developing collaborations between individuals, organisations and countries along the world's greatest bird migrations routes, or "flyways". The Swimways approach was similarly developed for freshwater migratory fish as a way to connect fish, rivers and people globally. The goal is to foster international cooperation in the management of transboundary fish migration routes. 
The "Global Swimways" project was implemented by a small consortium (IUCN, International Union for Conservation of Nature, Cambridge University, the UN Environment Programme World Conservation Monitoring Centre, and the WFMF) in 2020 to build upon the original idea of a Swimway by identifying and mapping the world most important freshwater fish migration routes as the basis for decision-making on the protection and restoration of these migration pathways. Global Swimways are yet to be formally defined. They are taken to represent the most important migration routes for freshwater fishes according to a set of draft criteria.
By visualising Global Swimways through an online map explorer we aim to inspire, inform and trigger action. The goal is to restore and conserve the world's greatest freshwater fish migrations. This represents one of the most effective, dramatic and rapid solutions to reverse global biodiversity loss. Mapping the migration route helps develop cooperation to protect the fish from sea to source.
Global Swimways Aims to Inspire, Transform and Trigger Action
The Wading List: What is the current status of the project?
WD: At this stage of development the feasibility study has been completed. It identified potential Global Swimways according to the following preliminary set of criteria for presence of migratory freshwater fish. It includes species richness, the number of threatened and basin endemic migratory fish using each river system, and the length of migrations undertaken. The resulting Global Swimways are visualized using an interactive online map explorer. These maps are based on freshwater migratory species ranges derived from the IUCN Red List database (IUCN, 2020). Maps obtained so far are for 665 migratory species. Information gaps remain for a few key regions. They include South America and China. But we hope these gaps will be filled during 2022. At that point all freshwater fishes will be mapped and assessed for publication on the IUCN Red List of Threatened SpeciesTM.
As part of the project a 24 hour Global Swimways webinar last year attracted 2,000 participants from over 60 countries. It demonstrated that people across the world are ready for action. In July 2020 the consortium published the first Living Planet Index report on the status of migratory fish. Through World Fish Migration Day the global movement to protect and restore Swimways has grown to over 10,000 people from 70 countries. It reaches out to over 100 million citizens.
The Wading List: What are the next steps?
WD: Following completion of this feasibility study the plan is to now develop a full-scale project. The goal is to first formalise the criteria for defining Global Swimways through a wider review. Then we want to complete the global map of all Global Swimways in all countries. We will then investigate options for conducting a global consultation on creating Global Swimways as an internationally agreed standard for prioritising those Swimways to be protected and restored. We also aim to use Global Swimways to guide and strengthen other initiatives. These include Dam Removal Europe in their actions to remove obsolete dams and other river obstructions to fish migrations.
The Wading List: What is the scope of the project?
WD: The initiative is truly global. Global Swimways is mapped in all countries. It includes marine migrations for diadromous species such as the Pacific and Atlantic salmons and European eel. The network of supporters is already global, covering more than 70 countries.
The Wading List: How are global swimways of migratory fish connected to climate change?
WD: This is research yet to be conducted. It is something to be potentially investigated under the proposed full scale project. Indications are that declines in diadromous species may be linked to changes in ocean currents and food supply.
17,800 Freshwater Fish Species Need Protection
The Wading List: What is the importance of migratory fish to ecosystems?
WD: Of the approximately 17,800 freshwater fish species currently described, the majority undertake some form of migration. They migrate between or to feeding and spawning areas. Of these species, over 1,000 are considered truly migratory. Some species travel in excess of 600 miles and between freshwater and marine ecosystems. Migratory fishes can provide a keystone role in ecosystem functioning. For instance when acting as vectors to transport marine nutrients into the freshwater realm. The Pacific salmon, for example, have been shown to act as an effective conveyor belt for nutrients. They move nitrogen and phosphorus upstream from the Pacific Ocean to the tops of river catchments in Alaska. There they spawn and die releasing their nitrogen which the forest trees take up.   
The Wading List: What is the importance of migratory fish in terms of society?
WD: Migratory fishes also deliver significant ecosystem service benefits to human populations. This includes dietary animal protein. They also serve as a source of income from both commercial and recreational fisheries. And lastly through their symbolic and cultural importance. As such conservation of these species is not only an ecological necessity, but also an economic and societal one.
The Wading List: How is the project funded?
WD: The project has been funded by the Cambridge Conservation Initiative (CCI) Collaborative Fund in the UK. This is a small grant designed to kick start work leading on to larger projects. The CCI Fund was established in 2008 thanks to the generous support of Arcadia. Arcadia is a charitable fund of Lisbet Rausing and Peter Baldwin. It recognises the vital need for collaborative approaches to investigating global conservation problems and creating sustainable solutions. In addition to the Arcadia fund, support to the CCI Fund is, or has been, provided by the following donors. The A. G. Leventis Foundation, the Mitsubishi Foundation, the Grantham Foundation, the Rothschild Foundation, the Isaac Newton Trust, the Prince Albert II of Monaco Foundation and the Paul and Louise Cooke Endowment.
We are now seeking funds for the second phase, full size project which we hope will begin in early 2022.
More information on William Darwall and his work here