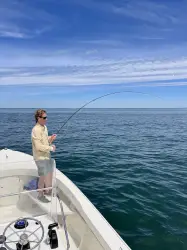 Latest posts by Leonard Schoenberger
(see all)
Fanny packs are the ultimate storage tool for outdoor enthusiasts.
They offer a lot of comforts while allowing you to store your belongings safely so you can keep everything in place without burdening yourself.
While good old fanny packs are fine, it doesn't get better than the waterproof variety. However, there are so many styles and brands to choose from, we thought we might help you narrow it down with this helpful guide on the best waterproof fanny packs on the market. 
Overview – Important Features in Waterproof Fanny Packs
Sizing
You need to figure out how big your waterproof waist pack needs to be, and this calls for you to consider what you'll be using it for. Say you're hiking up the mountainside and you're planning on having a little picnic. You're going to need something spacious for all that trail mix, beverages, or whatever provisions you might want to bring along.
Slots
Besides space, think about the nooks and crannies that could come in handy. Keeping all your stuff in one pocket could result in a mess, that's why you need to be able to divide your things.  
Once again, you need to keep in mind your intention for getting a waterproof waist pack in the first place. You don't want to place your sunscreen next to your snacks or anything like that, so if you want the waist pack to serve multiple purposes, you might want to have a couple of nooks and storage pockets in there.
Straps
A fanny pack is nothing without the strap that keeps it attached to you. Not only are you looking for something durable, but the more flexibility a strap offers; the better. 
If you want to wear it differently, you should be able to, and the right kind of strap can help you achieve that. This gives you a shoulder bag, a bum bag, and a waterproof hip pack all wrapped up in one.
Substance
Knowing what a fanny pack is made of is a great way to ensure you get the perfect pack to suit your needs. The lighter it is, the more of an advantage it is for you. The waist is a weird place to experience a sense of heaviness, so you've got to make sure you go for the feathery stuff, otherwise, you might as well be wearing a big, old backpack.
Notice: We take part in affiliate programs such as the amazon associates program. If you click on one of the links in the text and end up purchasing a product we earn a small commission at no extra cost for you. We only recommend products we are convinced of. Thanks for supporting our business. All images courtesy of amazon.
Best Waterproof Fanny Pack: The Contenders
A dry hard shell makes the YETI Sidekick Dry one of the most durable waterproof fanny packs on the market. Strong magnets are used to keep this baby protected, and RF welded seams ensure that nothing goes out and nothing goes in that shouldn't. 
You're spoilt for space on this one, with 29.5 x 19.5 x 8.6 inches of space at your disposal. At $79, the YETI Sidekick Dry can be yours, and with hundreds of five-star ratings, this might be exactly what you're looking for.
Getting knee-deep in the water while trying to catch some fish doesn't have to be a concern with the Filson Dry Waterproof Waist Pack. This pack is made from durable nylon tarpaulin fabric coated with thermoplastic polyurethane, meaning dryness is ensured. 
The different layers are welded together using Radio Frequency, resulting in something sturdy yet flexible. What makes the design process behind this product special is that actual fishermen have creatively contributed. They've added their expert knowledge to make for a product anyone in the trade can rely on. 
You get a wide waist belt, a detachable shoulder strap, as well as loops and rings so you can attach extra gear. The Filson Dry Waterproof Waist Pack also comes with a top handle with buckles so you can secure yourself to a boat and the zipper is not only waterproof but heavy-duty as well. Just take our $235 already and get this one! 
The Simms Dry Creek Z Hip Pack lets you get to your gear quickly and with ease. You've got nice, cushioned support for ultimate comfortability, with foam that is not only water-resistant but breathable as well. 
A toothless zipper system allows for an easy-sliding mechanism and water isn't the only thing you're guaranteed protection from, as dust and sand won't stand a chance either. 
All of this comes at a $199 investment, and what you get is an easy-to-maintain product that'll add a lot of convenience to your life.
The HEETA Two-Pack Waterproof Pouch has been proven in lab conditions to last more than 30 feet underwater for up to an hour. Safety is not a problem on this one, with three zipper locks to protect your stuff from fellow humans and three layers of protection to keep the elements at bay. 
With top-notch PVC fortifying this fanny pack, your possessions are impervious to the kind of sharp objects one may find in the wild. What sets this pouch apart from the rest is the fact that it has a 'window' of sorts through which you can monitor your belongings. There's even talk of how you could use your smartphone while the HEETA Two-Pack Waterproof Pouch is closed, all by clicking on what you see. 
If privacy is a major concern for you, just get it in black; nobody will be able to see what's inside that way. At just $13, this is one of the more affordable products on the list. Coming in at a large size of 11.5 x 8 x 0.5 inches, you could keep a whole lot of stuff in here while you're on the go. 
In terms of size, it only weighs 6 ounces and the strap is so comfortable, you can wear the thing for hours without leaving a trace on your skin.
The geckobrands Optixtreme Waterproof Waist Pack is as light as a feather. The back panel and hip belt are made from foam so light, you'll forget you're wearing it. A stretch mesh pocket with pocket enclosure makes for a functional fashion statement while an exterior zippered pocket and a small clear stash pocket are the perfect places to keep small items. 
A padded shoulder strap pad gives a comfortable experience while the accessory attachment allows for so many activities and caters to different lifestyles. It was designed with anglers in mind, so your gear can remain in perfect condition even while as you face the most extreme conditions. 
The geckobrands Optixtreme Waterproof Waist Pack is made from coated and recycled nylon so you could submerge the zipper underwater and it would still continue functioning as it would above ground. What's more, sports and outdoor fans seem to love this one, and who wouldn't? With a lot of space to offer, an airtight closure system, and the fact that it's just $60 – it's highly desirable.
The Mountainsmith Dry Tour Fanny Pack Waterproof is built to withstand the toughest conditions and is best used by hikers or anyone in extreme sports. There's loads of space to carry your gear and store your water, it's made from TPU coated nylon, has welded seams, and it comes with a lifetime guarantee. 
The company has been making packs for decades and this experience makes itself evident in the efficacy and efficiency displayed by their fanny pack. Price-wise, $179 is the damage for this one, which is very reasonable considering how great the pack is.
The Patagonia Guidewater Hip Pack is made from recycled material, including nylon fabric, webbing, and polyester. 
You've got a back panel that doesn't take in any water, an internal organizer pocket to separate your stuff, and pass-through storage. It weighs just 1 lb and 6 oz and it's fair trade certified sewn; which is good news for conscious consumers. The Patagonia Guidewater Hip Pack also sports plain weave recycled nylon coated with a recycled polyester lining. From the webbing to the back panel, it's all made of recycled material. 
Most importantly, this is a pack that can handle full immersion, as shown in tests. So you can wear it on your back, have it hang down your shoulder, whatever makes you most comfortable.
If you're looking for loads of interior organization then the Fishpond Thunderhead Submersible Lumbar is the one. It comes with one zippered pocket and one stash pocket for smaller items. The shoulder strap is padded, the back panel and hip belt are lightweight, and there's a front stretch mesh pocket with a zipper enclosure. 
It weighs a manageable 0.33 pounds and it's made from recycled nylon-like all the great fanny packs on this list. Not only that but it's got stellar ratings; with most of them nearing the 5-star mark. So it's definitely worth the $230 cost.
FAQs Waterproof Fanny Packs
Are Waterproof Fanny Packs Worth it?
Many will ask why you should buy a waterproof fanny pack when you can just keep your normal fanny pack out of water's reach. The important thing to keep in mind is the fact that not all water-based mishaps are anticipated. 
You're better safe than sorry in this department because if you have valuables like gadgets in your waist pack, you're going to want to make sure that waist pack is fortified. 
Is my Fanny Pack Waterproof?
There are hundreds of fanny packs out there that can withstand water for a short period of time. These will not completely block water out but they'll prevent it from wreaking complete havoc to your gear. 
You need to make sure that it's made from waterproof materials; otherwise, it's only a matter of time before you start to complain about water damage on your possessions.
You're better off on the safe side, and rather than trusting in the staying power of your average fanny pack, it's better to get something that was designed to deal with wetness. 
Heavy-duty fabric, a slide seal system, and weather-proof zips will determine just how well your waist pack will resist water and anything that doesn't need to be in there. 
If any of these elements aren't up to standard or if they're compromised in any way, it could spell trouble.
Can Plus-size People Wear it and Can Children Use it?
The beauty of these fanny packs is in their adjustability. Depending on how much adjustability they'll allow, you can stretch it out to accommodate those with a bit more weight. 
Some will even have extender belt options that you can have added in the name of offering yourself more freedom. Smaller figures shouldn't have much trouble making use of it either, as long as their waists are big enough to give the pack a place to settle on.
What Can You Put Into a Waterproof Fanny Pack?
It can get annoying having to put your phone in one pocket, your keys in another, and your lure in yet another. Fanny packs can help solve this problem. 
Depending on whether your fanny pack is water-resistant or waterproof, you can keep just about anything in it. However, it's worth noting that you can only stay underwater with your fanny pack for so long before water starts making its way to your nicely tucked-away possessions. 
What are the Advantages of Waterproof Fanny Packs?
They're stylish but practical. They pass as both a fashion statement and a survival accessory. They allow you to live in the moment without having to worry about the weather or your surroundings. 
You can just do what you set out to do with a waterproof fanny pack. No matter where you are or what you're doing, no drop of moisture will spoil your mood.  
Most of them are made from recyclable materials, so the manufacturers haven't just put thought into giving you a good storage experience; they've also considered the effect on the environment as well. 
Safety is one of the main reasons why waterproof fanny packs are so valuable since so many important possessions are stored in these waist packs. For those that like camping and being in the great outdoors, this is a great way to secure your survival which may depend on something as simple as keeping a box of matches dry.                                               
Can you Swim with a Waterproof Fanny Pack?
We all know water can cause irreversible damage to certain items, and sometimes it's best not to take a chance. You can expect your valuables to be protected from sweat, rain, and pretty much any substance you can pour into a cup. 
What about swimming? Well, it turns out that you should be able to do most water activities, as long as your fanny pack is made from quality materials and is assembled to maximize durability.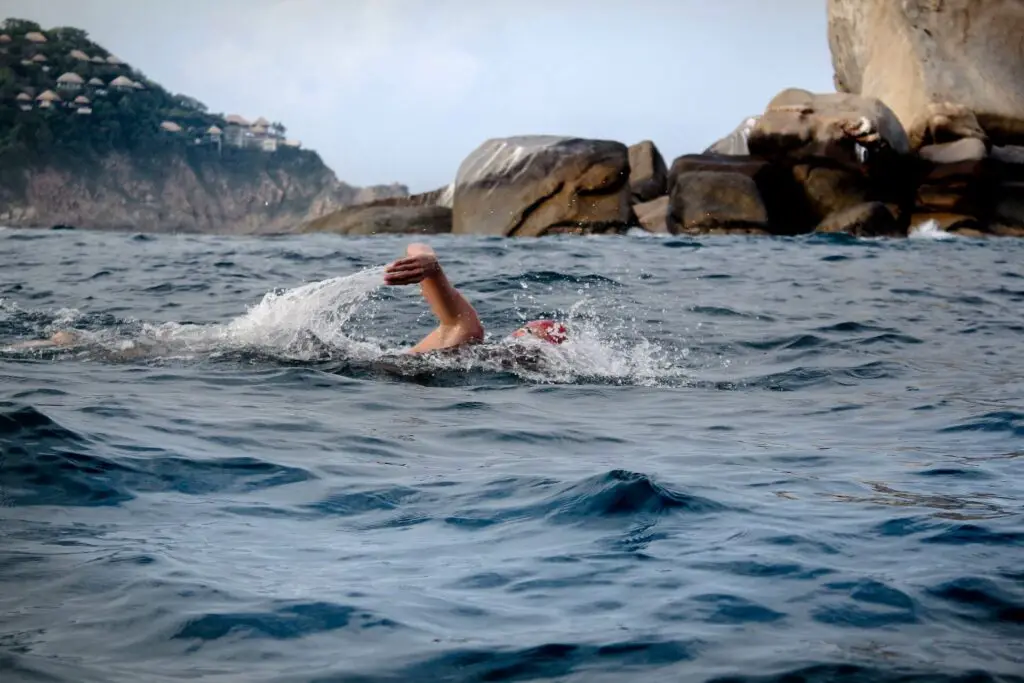 Notice: We take part in affiliate programs such as the amazon associates program. If you click on one of the links in the text and end up purchasing a product we earn a small commission at no extra cost for you. We only recommend products we are convinced of. Thanks for supporting our business. All images courtesy of amazon.