Last updated on August 30th, 2023.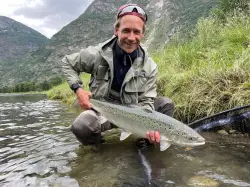 Latest posts by Leonard Schoenberger
(see all)
It's time to cozy up because today we're diving deep into the world of fly fishing hoodies.
These staples of the fishing wardrobe are so much more than just a basic clothing item. They are your shield against the elements, your storage unit on-the-go, and let's face it, an unmissable fashion statement on the riverbank. So sit back, grab a cup of coffee, and let's talk hoodies!
Table of contents:
– An introduction to fly fishing hoodies
– Best fly fishing hoodies on the market
– FAQs
Disclaimer: All products in this guide are independently researched by our team. We only recommend products we believe in and never get paid for the reviews. Learn more about our review process here.
Introduction to Fly Fishing Hoodies
Sun Hoodies
First up, we have the sun hoodies. Yes, you heard that right, a hoodie designed to protect you from the sun! These lightweight wonders are designed to provide UPF protection without the sticky feeling of too much sunscreen. Their breathable, moisture-wicking fabric keeps you cool even when the sun blazes overhead, making it your best friend on a sunny day out on the water. Brands like Patagonia and Simms have really set the bar high with their offerings, marrying comfort, UV protection, and durability all in one hoodie.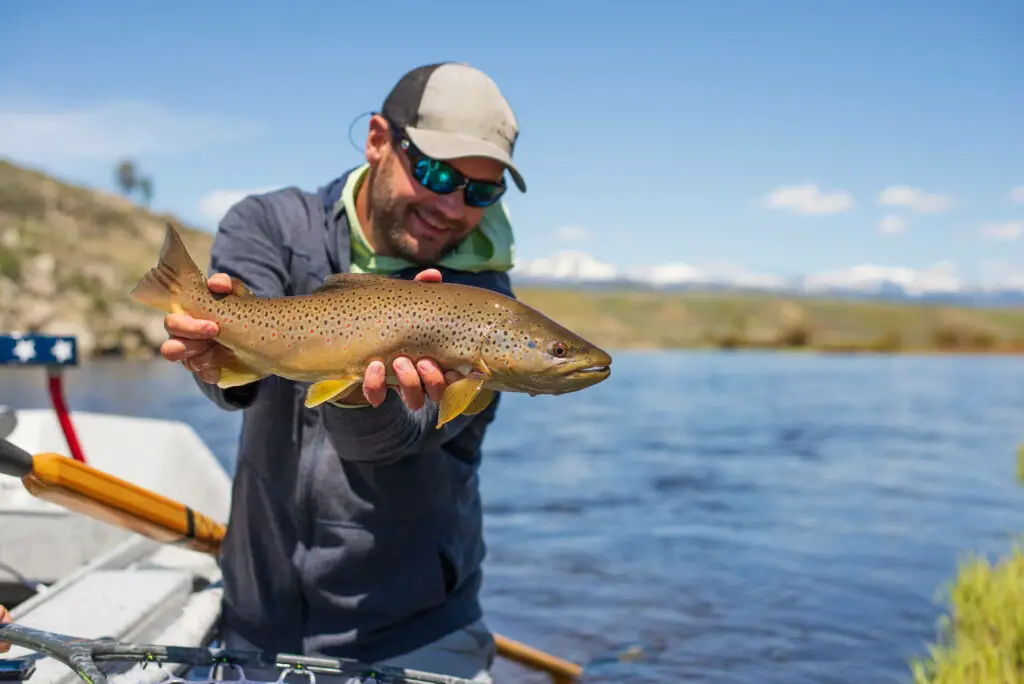 Soft Shell Hoodies
Next, we step into the realm of soft shell hoodies, the Swiss army knife of the hoodie world. These bad boys offer an intermediate level of weather protection. They combine the comfort of your favorite fleece sweater with the water and wind resistance of a hard shell. Soft shells strike an ideal balance, offering enough breathability for active anglers while still keeping you warm and dry. Look for options with extra perks like vented armpits or zippered pockets to secure your fishing accessories.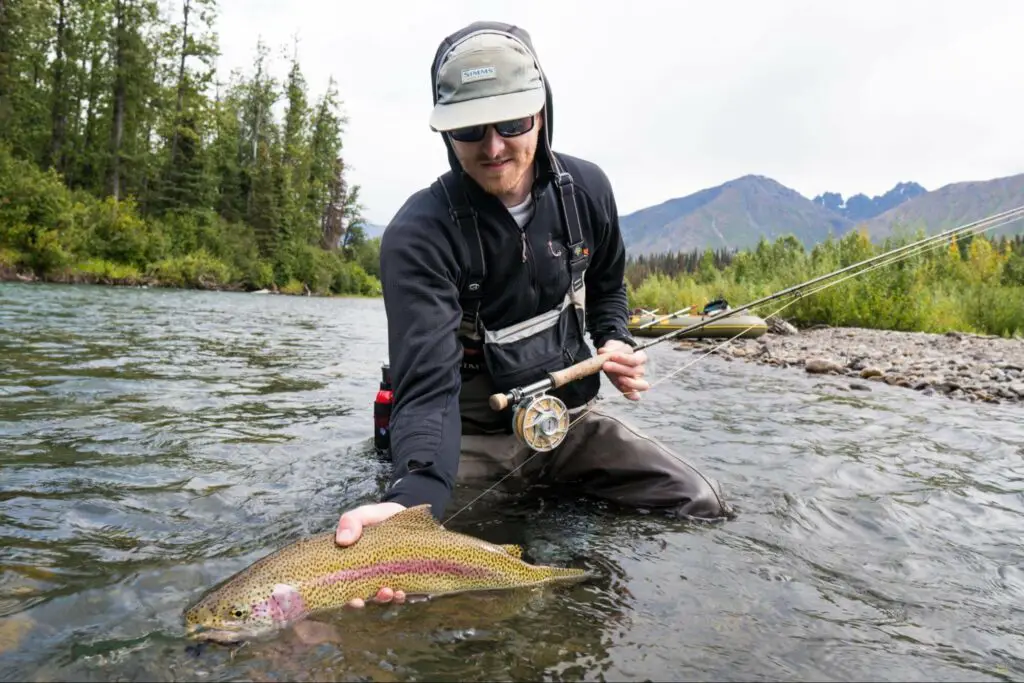 Puffer Hoodies
And now, let's not forget about the warm and cozy puffer hoodies. Puffer hoodies are the heavyweight champions in the cold weather category. If you're fly fishing in colder climes or during the chilly parts of the year, a puffer hoodie can be a game-changer. Designed with an insulating material, often down or a synthetic equivalent, these hoodies work by trapping body heat in air pockets within the fabric. This means that even on the coldest days, you'll be toasty warm. The "puff" in the puffer is not just for show – it's a feature that adds a significant amount of warmth.
In terms of features, look for options with an adjustable hood and elastic or drawstring hem to seal in warmth. Some puffer hoodies also come with a water-resistant outer shell to protect you from snow or light rain.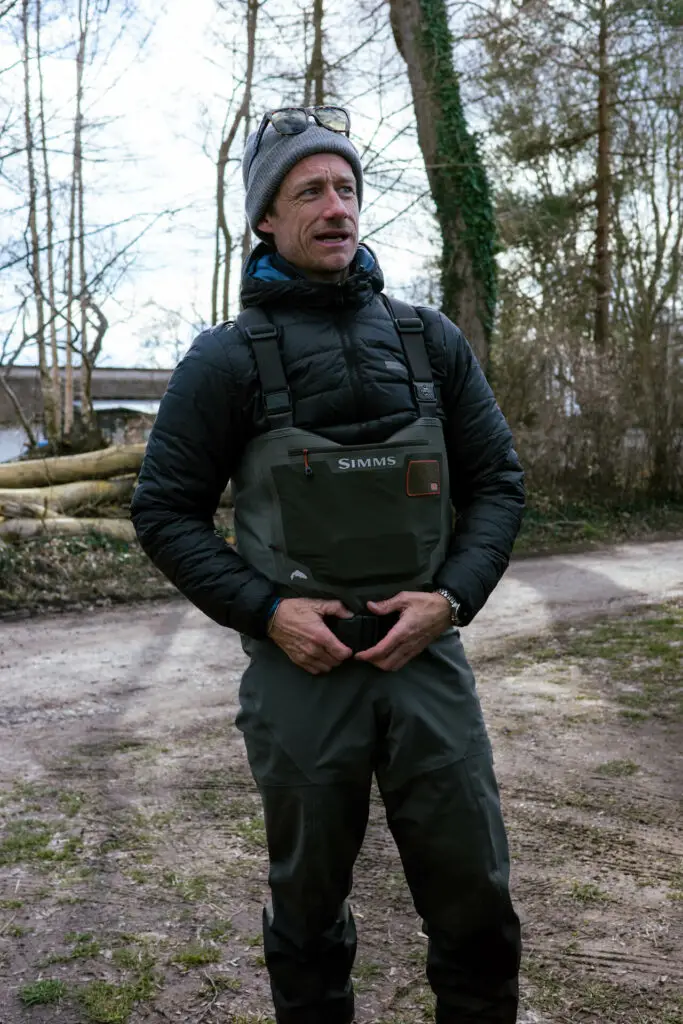 Best Fly Fishing Hoodies for the Money
Now that you've got a good idea of the options out there, let's dive into our best fly fishing hoodie review to find the best hoodies out there on the market. For this review, we made sure to pick different kinds of fishing hoodies, ranging from sun hoodies, to insulation hoodies, soft shell and hard shell ones as well as puffer ones. We've also made sure to include a few options for the female angler. Let's go.
Why we picked it: Let's dive into the world of Simms, a brand synonymous with quality and innovation in the fishing universe. Today, we're sizing up the Simms Men's Bugstopper Intruder Hoody.
The Bugstopper Intruder is a polyester hoody, with quick-drying and wicking properties. It offers solid sun protection, a nice plus for those sun-kissed afternoons on the river. But the crown jewel here is its Insect Shield technology, an ingenious feature that keeps those pesky bugs at bay. Now, don't get me wrong, I love nature as much as the next angler, but mosquitoes and flies? They can take a hike. With this hoody, Simms has given us a first-class ticket out of bug town. The Insect Shield technology is odorless and invisible, and let me tell you, it works like a charm.
What sets the Simms Men's Bugstopper Intruder Hoody apart from its unrivaled insect repelling abilities, is its fit and comfort. The hoody is designed with an articulated hood and a built-in gaiter for added protection. The fit is athletic, meaning it's designed for action – you'll be able to cast, reel and celebrate that big catch without feeling restricted.
Of course, it wouldn't be a fair review without some critiques. Firstly, this hoody falls a bit on the pricey side. But with the technological features and quality materials, I'd argue it's a worthy investment for dedicated anglers. Secondly, it's worth noting that the Insect Shield technology has a lifespan – after about 50+ washings, its effectiveness will decrease (on the upside, you will get in plenty of fishing days if you get to 50 washings).
To wrap up, the Simms Men's Bugstopper Intruder Hoody is not just a hoody. It's a bug-repelling, sun-protecting, fish-catching machine. For those who are serious about their fly fishing adventures and want to invest in a piece of gear that's going to enhance their experience on the water, this hoody is definitely worth a look.
PROS:
Insect Shield technology keeps bugs away
Quick-drying and wicking fabric
Articulated hood with built-in gaiter for extra protection
Comfortable, athletic fit for unrestricted movement
CONS:
A bit pricey
Insect Shield technology diminishes after around 50+ washes
Why we picked it: The Patagonia Men's Tropic Comfort Natural UPF Hoody is a hoodie that feels like a gentle hug from Mother Nature herself.
Spec-wise, the Tropic Comfort Hoody features a seriously impressive UPF 40+ sun protection. This hoody's named 'Tropic Comfort' for a reason. It is feather-light, breathes easier than a morning yoga instructor, and wicks moisture away in a heartbeat. Thanks to its relaxed fit, you'll be casting and winding all day with ease, without the fabric clinging to you like a stubborn clam.
One standout feature of this hoody is its Fair Trade Certified™ sewn credential. Every purchase sends extra money to the workers who crafted this garment, meaning your fishing trips will be contributing to a more equitable world. Now that's a catch!
Let's touch on its aesthetics: it comes in a range of nature-inspired colors and features a simple, clean design. This hoody knows it's all about function, and it doesn't try to lure you in with unnecessary frills.
The critiques? While the Tropic Comfort is a top-notch performer in the heat, it's not designed for colder temperatures, so you'll need an extra layer when the mercury dips. Also, some may find the price a little steep, but given its top-quality materials, performance, and Patagonia's commitment to ethical production, I reckon it's worth every penny.
Wrapping this up, the Patagonia Men's Tropic Comfort Natural UPF Hoody is like your best fishing buddy: reliable, low-maintenance, and always up for a good time in the great outdoors. With its environmental and ethical credentials, you'll feel good about wearing it, too. A fine choice for the conscientious angler!
PROS:
Top-tier UPF 40+ sun protection
Lightweight, highly breathable with moisture-wicking properties
Fair Trade Certified™ sewn
Clean, simple design in a range of colors
CONS:
Not designed for colder weather
Higher price point
Why we picked it: Let's talk about the Freefly Men's Bamboo Lightweight Hoodie. This is not just another piece of outdoor gear – it's a fly fisherman's dream! With a composition of 70% viscose from bamboo and 30% polyester fabric, this hoodie makes you feel like you're wrapped in a cloud. It's available in a range of sizes from small to XXL and a variety of designs, including the striking water camo pattern – a real nod to the angling lifestyle. When worn directly on your skin, the Freefly Men's Bamboo Lightweight Hoodie feels quite similar to the Patagonia Men's Tropic Comfort Natural UPF Hoody. Compared to the Simms Men's Bugstopper Intruder Hoody, it features a softer fabric which makes it a great base layer as well.
Firstly, I've got to talk about its comfort. The moisture-wicking ability is impressive, making those long summer days by the river much more enjoyable. And let's not forget the UPF 20+ sun protection! It's like having a sunscreen that never wears off. This hoodie helps protect you from those harmful UV rays that you'll inevitably encounter during your fishing escapades.
As for odor? Not on this hoodie's watch. The fabric is naturally odor-resistant, so you can fish from dawn till dusk without worrying about smelling like you've run a marathon. The low-profile hood design is another stellar feature. It's not too big to block your view but large enough to provide that additional shade when the sun is high.
There are a couple of things that could be potential deal breakers. Firstly, it's a bit pricey. You're getting quality, no doubt about that, but it's a bit more of an investment than other fishing hoodies. Secondly, the lightweight fabric is great for hot days, but if you're going out in colder weather, it might not provide enough insulation.
To wrap it up, the Freefly Men's Bamboo Lightweight Hoodie is more than just a fishing hoodie. It's a piece of gear that understands what a fly fisherman needs – comfort, sun protection, and a bit of style too. Despite the higher price and its lightweight design, its benefits can easily make it a top contender in your fly fishing wardrobe.
PROS:
Great protection from bad door
Bamboo fabric feels really nice on the skin
Wide color range including some camouflage options
CONS:
I found the sizing to run a little small. So consider going one size up from your normal size
UPF 20+ protection is not bad but it would help to get it to 40+
Why we picked it: Boasting a 94% polyester and 6% spandex blend for optimal stretch, this softshell hoodie is available in a variety of sizes, from small to XXL. With color options including sage and shadow, it's got a low-key vibe that says, "I'm here to fish". If comfort had a mascot, this hoodie would be it. Its brushed fleece interior feels like a gentle hug, keeping you toasty warm on those chilly morning outings. Plus, the 4-way stretch fabric means it moves with you, so whether you're casting a line or reaching for your coffee, it's all smooth sailing.
This hoodie is not messing around when it comes to protection from the elements. Its water-resistant finish keeps you dry when you're out in the drizzle or dealing with some unruly splashes. And wind? What wind? The windproof material keeps the chill at bay, leaving you free to focus on your fishing.
One feature I particularly love is the adjustable hood. The Orvis LT shines when you need a bit of extra protection from the elements, and the brim helps keep the rain out of your eyes so you focus on your casting.
Now, onto the few downsides that I discovered during the review process. This hoodie is somewhat lacking in storage. Aside from the front pocket, there's nowhere to stash small items. If you're someone who likes to keep gear on hand, this could be a downside. And while it's great in the cold, the thick material might be too much for warmer days.
In conclusion, the Orvis Men's PRO LT Softshell Hoodie is a top-notch choice for fly fishers who value comfort and protection from the elements. Despite the lack of storage and potential for overheating in warm weather, it's a sturdy and stylish addition to any fishing wardrobe. Trust me, once you've cast your line in this hoodie, you won't want to fish in anything else.
PROS:
Fleece lining is very comfortable
Great all-round jacket that you can use for hiking as well
Excellent Orvis guarantee
CONS:
I found the cut of the jacket to be a bit long for fly fishing/fly casting
Why we picked it: Available in sizes ranging from Small to 3XL, and in three unique colors: Deep Lichen, Steel, and Orange, this hoodie lets you flaunt your style while staying true to the fishing scene. Made from a robust 100% polyester, it's built to last without sacrificing flexibility.
If you've ever craved comfort while on a fishing trip, the Bering Pro has got your back. Its brushed fleece interior feels like a soft cuddle from a friendly bear, providing warmth on those cooler days on the water. The 4-way stretch fabric of this hoodie makes it a true champion when it comes to range of motion, effortlessly matching your every twist and turn. A major standout of this hoodie is its water and stain-resistant finish. Mother Nature has nothing on you when you're rocking this hoodie. Come rain, wind, or an unfortunate fish mishap, you'll stay dry and clean.
Now, let's tackle some of the potential drawbacks. Although the Bering Pro promises good breathability, it may still feel too warm for particularly hot weather. Also, despite the zip chest pocket, the hoodie might not provide ample storage for your fishing essentials. The biggest downside I found during our testing days, was the fact that the hood opening is really tight – so if you have big face, this fit might not be ideal for you.
In a nutshell, the Grundéns Bering Pro 1/4 Zip Hoodie is a gem among fishing gear, especially if comfort, flexibility, and resistance against the elements are high on your priority list. Even though it might be a bit too toasty for hot weather and lack some storage, its overall performance is certainly impressive. I'm confident in saying, once you've spent a day fishing in this hoodie, you'll wonder how you ever managed without it.
PROS:
Great choice if you move a lot as the material is very flexibel
The DWR finish handled rain surprisingly well during our test
CONS:
The opening of the hood is a little small for my taste
Why we picked it: It's time to dive into the details of the Simms M's Flyweight Access Hoody, an all-around star performer in the fly fishing fashion firmament. It's my favorite fly fishing hoody when it comes to maximum protection from rain. Technically it's not a hardshell but I've found the Flyweight Access to safely protect you from a shower while out for a fishing session (it's not the right choice if you're looking for a proper wading jacket. If that's the case make to check out big "Guide to the Best Wading Jacket").
Available in sizes ranging from S to 2XL, and in two earthy colors – a shade of Shadow and a tone of Hex Camo Carbon, this hoodie offers a dash of understated style to your fishing ensemble. Composed of 100% recycled polyester (0f which 3% elastane for extra stretch), it's a marriage of comfort and durability that feels as good as it looks.
Once you slip into the Flyweight Access Hoody, you realize that it's aptly named. This is a piece of gear that's virtually unnoticeable when you're wearing it, with its lightweight design offering exceptional comfort and mobility. The hoodie's key features are all geared towards optimizing your fishing experience. The water-resistant finish helps to keep you dry during unexpected rain showers or the occasional splash of river water. But wait, there's more! This hoodie is also endowed with a spacious chest pocket, perfect for stashing your fly box or other essential gear.
Now, every river has its rapids, and the Flyweight Access Hoody is not without a couple of minor drawbacks. Although the hoodie is water-resistant, it's not completely waterproof, which could be a downside if you're frequently fishing in heavy rain.
Overall, the Simms M's Flyweight Access Hoody is a catch in the world of fly fishing attire. It offers comfort, practicality, and thoughtful features, making it a reliable partner for any fly fishing expedition. While it's not completely waterproof and the fit might be too relaxed for some, my personal experience with it was nothing short of fantastic – it truly made every fishing trip feel like an adventure.
PROS:
Solid protection from rain
Tight fit is great for fly casting
I am a big fan of Simms' stretch cuffs around the wrists
CONS:
The hood is the only little downside since the adjustment options are very limited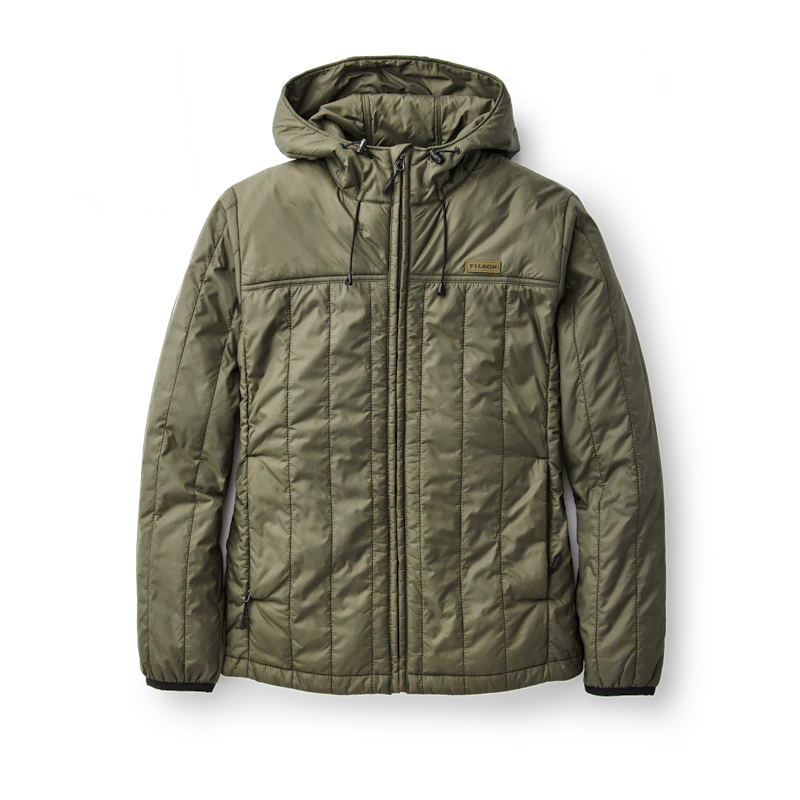 Why we picket it: The Filson Women's Hooded Ultralight Hooded Jacket is a true featherweight champ in the arena of fly fishing attire. This jacket offers sizes from XS to 2XL and is available in a subtle olive grey coloring. It's crafted from a blend of 60g PrimaLoft Gold insulation and Cordura ripstop nylon, marrying durability and feather-light comfort in a single package.
Setting foot on the riverbank wearing the Filson Ultralight Hooded Jacket feels like stepping inside a cocoon of pure comfort. The jacket's lining is a soft moleskin that feels luxurious against the skin. Meanwhile, the Cordura ripstop nylon exterior ensures that it can take on whatever the wilderness throws at you.
One of this jacket's winning features is its fantastic temperature control. The PrimaLoft Gold insulation locks in your body heat, keeping you warm when it's cold. Yet, it remains breathable enough for those warmer days. With the Ultralight Jacket, you're truly ready to face the fluctuating moods of Mother Nature.
The adjustable hood adds another layer of adaptability, ensuring you're protected whether you're casting lines or caught in a downpour. Plus, with a two-way zipper, you can easily adjust the jacket for movement or ventilation.
Now, let's navigate some potentially choppy waters. Although the Ultralight Jacket is certainly light and comfortable, it lacks a bit in the storage department, with only two handwarmer pockets. Additionally, for those used to a more fitted style, this jacket may seem a little boxy.
In conclusion, the Filson truly lives up to its name. It's an excellent choice for those seeking a comfortable, adaptable, and durable fly fishing jacket. While it might not offer an abundance of storage and has a more relaxed fit, it scores big on comfort, warmth, and adaptability. My experience with this jacket was nothing short of spectacular. It was like having a trusted companion by my side, every step of the way.
PROS:
Great primaloft insulation
Reinforced shoulders for increased abrasion resistance
The hood is well designed and the cord close it tightly
CONS:
The cut on the Filson is a little boxy. So I don't recommend it if you're a more petite person or you should size down
Conclusion on the Best Fly Fishing Hoodie
No matter the type, a good fly fishing hoody can truly transform your fishing experience. From shielding you from the elements to providing quick storage solutions, they have you covered. Whether it's the lightweight comfort of sun hoodies, the balanced resilience of soft shells, or the unyielding protection of hard shells, there's a hoodie out there tailored to your angling adventures. So, don't be shy and add one of these fabulous fishing companions to your gear!
Frequently Asked Questions
Are all fly fishing hoodies water-resistant?
Not all hoodies are water-resistant. While hard shell hoodies usually offer full water resistance, soft shell hoodies provide moderate resistance, and sun hoodies focus more on sun protection rather than repelling water.
Can I wear a sun hoodie in colder weather?
Sun hoodies are designed for protection from UV rays and to keep you cool in hot weather. They can be layered with other clothing in colder weather, but on their own, they may not provide adequate warmth.
How should I clean and care for my hoodie?
It's best to follow the specific care instructions provided by the manufacturer. Generally, most fishing hoodies can be machine washed on a gentle cycle and hung dry.
Does the color of the hoodie matter when fishing?
While there's no definitive rule, some anglers believe that muted, natural colors can help blend into the surroundings and not alarm the fish. Ultimately, comfort and protection should be your first priority.
Remember, fellow fishers, your gear is not just a toolkit, it's an extension of you. So, whether it's a sunny afternoon or a stormy morning, get out there and cast your line in style!
Why You Should Trust Us
Leonard Schoenberger and his team spend plenty of days out fishing. Their goal is to test and review products for you so you can make a solid purchase decision and improve your fly fishing game. We always express our honest opinions, never get paid for reviews and are proud of our editorial independence.