Last updated on August 30th, 2023.
Latest posts by Leonard Schoenberger
(see all)
When you talk about getting a puffer jacket for fishing, you need to look beyond styling and the current fashion trends. 
You need to consider important factors such as whether the jacket is in line with your lifestyle, can keep you warm during your fishing adventures, is water resistant, and is made with the right insulation materials. Getting a regular jacket for your outdoor adventures may prove to be an ineffective and expensive endeavor. In light of this, we're going to talk about all the important considerations you need to keep in mind when buying a puffer jacket and some of the best products you can choose from.  
Best Puffer Jackets for Fishing Quick Answer List
1. Best Overall: Patagonia Micro Puff Hoody
2. Best Fit: Simms M's ExStream Insulated Hoody
3. Best Comfort: Filson Ultralight Jacket
4. Best Weatherproofness: Grundéns Windward Gore-Tex Jacket
5. Best Versatility: Outerknown Hooded Puffer
6. Most Stylish: Topo Designs Global Puffer Hoodie
7. Best Down: Helly Hansen Verglas Hooded Down Hybrid Insulator
8. Best for Layering: Skwala Fusion Hybrid Jacket
9. Best Recycled: Orvis Recycled Drift Jacket
10. Most Affordable: The North Face Aconcagua 2 Puffer Jacket
Factors to Keep in Mind When Buying a Puffer Jacket for Fishing 
The Jacket Must be Water Resistant 
I can't stress enough how important it is to look for a product that comes with a DWR coating. This is especially true if you're buying a jacket for your fishing excursions. If your priority is to stay warm and dry, go for a Gore-Tex-treated jacket. One of the best things about this membrane material is that it quickly evaporates any sweat-build up and acts as an effective water repellant. It's a hard shell material that's going to make it a bit stiff to move in but it's not going to compromise your flexibility. On the other hand, soft shell jackets are easier to move in but lack effective water resistance. In that case you should consider wearing a traditional wading jacket above the puffer jacket when it starts raining.
The Jacket Should Have Excellent Windproofing 
Go for a jacket that is made with reinforced nylon and polyester weaves. This combination of materials is great for retaining your body heat without allowing any excess air to enter. Some of the best products are made with PrimaLoft Gold insulation and down goose feathers for added warmth, comfortability, and flexibility. 
Look for Jackets that Provide Breathability 
There will always be a difference between performance jackets and casual jackets in terms of breathability. If you're investing in a jacket primarily for fishing or any other outdoor activity, buy a product that's designed with a fabric for added ventilation.
Impeccable Insulation
Good winter insulation is important if you're going for long fishing adventure. You can't settle for a regular hoody or puffer jacket to counter sub zero winds. That's why it's important to invest in a product that features a down fill of goose feathers or PrimaLoft Gold fillings for added protection and warmth. 
The best way to measure the quality of the duvet is to check the tag for a number such as 500, 700, and 900. A higher number means that the jacket is designed with an increased capacity to quickly reshape after it has been worn and compressed.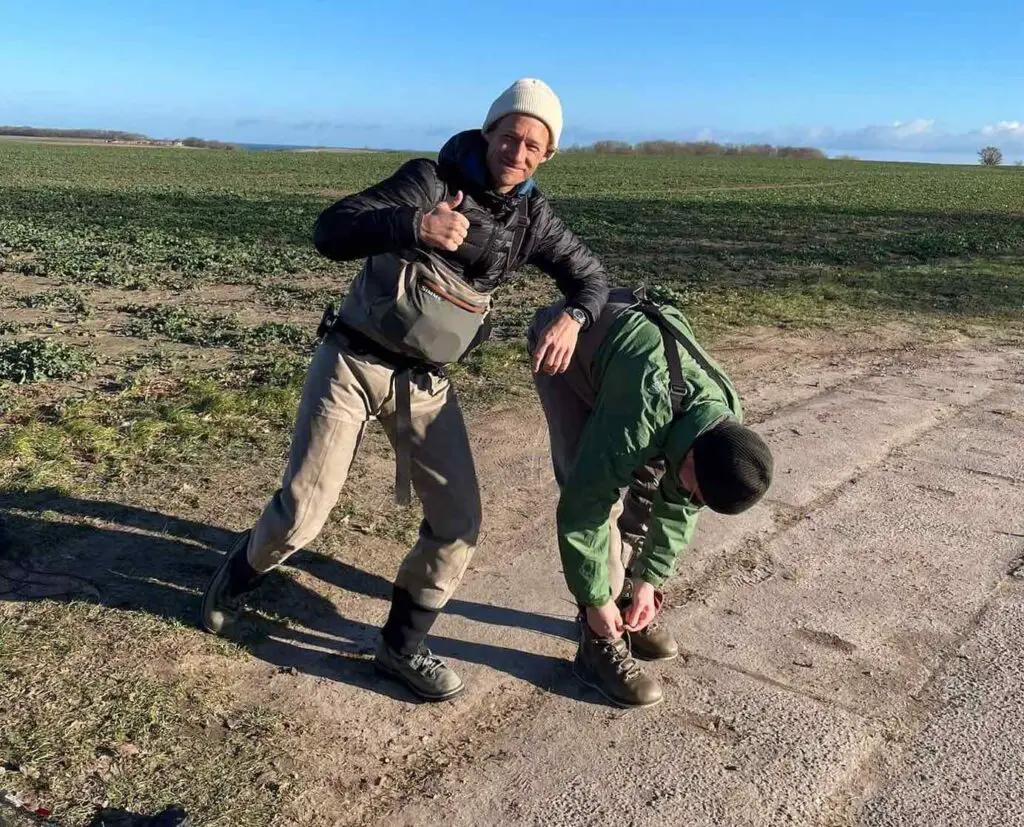 Best Puffer Jackets for Fishing at Different Price Levels
Disclaimer: The Wading List is reader-supported. We take part in the affiliate programs and might earn a small commission at no extra cost for you if you end up making a purchase from one of the links we provide in this article. We only recommend products we are convinced of and use ourselves. Thanks!
I have been wearing the Patagonia Micro Puff Hoody since it's debut a few years ago and have to say that it's still one of my favourite pieces of outdoor gear. It's a great layer for fishing in the colder months but works exceptionally well for hiking as well for example. It has an incredible weight to warmth ratio and packs into into its own pocket at a tiny size. This makes the Patagonia Micro Puff Hoody a great choice if you travel a lot and need to keep weight and size in mind.
Personally, I am a big fan of the hooded version but if you want a little more "freedom" around your neck, go for the Micro Puff Jacket. Patagonia's commitment to environmental sustainability and using recycled materials to manufacture outdoor apparel and goods is undoubtedly exceptional. Manufactured with their premium Pertex Quantum shell fabric combined with their patented PlumaFill insulation, the jacket is going to keep you nice and warm during your fly fishing expeditions in the winter. A neat little extra feature of the Patagonia Micro Puff Hoody: it keeps you warm even when it gets wet.
Pros
Made with 100% recycled nylon (postconsumer)
Manufactured using ripstop nylon from fishing nets 
Recycled polyester (insulation)
Cutting-edge PlumaFill technology 
Two hand pockets
Lightweight
Cons
Delicate coating
Pricey
While winter's right on the horizon, you need to ensure you're well-equipped for your exciting fishing excursions. How? Well, one of the most important things to consider is staying warm. And when it comes to insulation, windproofing, and water resistance, it doesn't get any better than the ExStream Insulated hoody by Simms. The product is exceptionally designed with a combination of unique and patented materials such as PrimaLoft insulation. This means no matter how windy or cold it gets; you'll never have to worry about getting the jitters on your extended fishing trips.  
Moreover, the Simms M's ExStream Insulated Hoody is made with a premium stretch fabric that streamlines the fisherman's mobility, providing comfortable movements to cast far and for long hours. In addition, the jacket is lightweight because it is manufactured with pre-baffled fabrics to eliminate snagging.  
Pros
Easy to move in, great for casting 
Lightweight for enhanced mobility
Made with premium fabrics for excellent insulation
Great windproofing 
Water repellent material
Two zippered pockets (hand warmers) 
Zippered chest pocket
Dump pocket inside the jacket (mesh)
Cons
On the more expensive side
Enhanced compressibility, lightweight, and well-insulated, the Filson Ultralight Jacket can be a great addition to your fly fishing apparel. Designed for improved mobility and superior warmth, the puffer jacket for fishing is designed to be worn as a mid or outer-layer hoody. The product features PrimaLoft Gold insulation (60 grams), which keeps you warm even if the jacket gets a bit wet.
What's more, the Filson Ultralight Jacket features a durable, cordura ripstop weave with a powerful outer shell for enhanced performance. Excellent windproofing, great versatility, and improved comfortability easily make the Filson Ultralight a go-to choice for winter fishing. I particularly liked the nicely padded inside of the collar for all-day comfort.
Pros
Improved comfortability thanks to waist closure and elastic cuffs 
Durable coil zippers 
Handwarmer pockets made with moleskin 
Inner collar 
Great wind and water resistance
Lightweight and flexible 
Cons
Expensive
Not as packable as the Patagonia
The Grundéns Windward Gore-Tex Jacket is the brand's most prized winter jacket for fly fishing. The greatest thing about this jacket is that it's basically two jackets in one. The puffer jacket features incredible Gore-Tex Infinium insulation, making the product exceptionally windproof. Moreover, the product is designed to improve your breathability and comfort while maintaining your body's heat levels, especially in areas where the wind output is very high. 
Because the Grundéns Windward Gore-Tex Jacket is manufactured with a higher shell cloth, it provides users excellent moisture protection, which means you can wear the jacket in light rain without losing any body heat. Moreover, the jacket features PrimaLoft Silver insulation for added winter-proofing. 
Pros
Durable shell fabric with woven construction
Gore-Tex Infinium for added wind and water-resistance
PrimaLoft Silver insulation 
Insulated hood
Two large pockets
Cons
Pricey
A little less freedom of movement than classic puffer jackets
When you talk about relaxed fitting and excellent insulation, it doesn't get any better than the Outerknown Hooded Puffer jacket for fishing. Designed with recycled polyester and a slightly hard outer shell, the jacket features a water-repellent coating and contains 100% grey duck-down feathers. One of the best things about the product is that it's extremely lightweight and easy to move in, making it perfect for fishing.
Additionally, the jacket adds to your style thanks to a flared and insulated collar, has zippered pockets to store your items, and contains soft layers. The jacket also features reversible pockets and the hood has a drawstring to keep your head nice and snug. Best thing about this jacket: you get two colors since the Outerknown Hooded Puffer can be worn inside out.
Pros
Elastic cuffs to help keep your hands warm 
Made with ripstop fabric with DWR-treatment
Reversible design that allows users to wear either side of the jacket
Affordable 
Cons
Heavier fabric: great for warmth, a little bulkier when travelling
The Topo Designs Global Puffer Hoodie is another great option for fly fishers looking to beat cold winds. Multilayered and durable, the jacket is designed to be neatly folded and stored in its pocket. This means you can easily carry it during your travels.
Moreover, the Topo Designs Global Puffer Hoodie comes with the company's C0 water-repellent fabric, which keeps you warm during light showers. Plus, it doesn't get heavy when it's wet, giving you enhanced mobility and flexibility. A great, lightweight piece for layering up when the weather gets cold.
Pros
Packable design
Lightweight 
C0 insulation for improved waterproofing 
PrimaLoft Gold insulation 
One chest pocket and two handwarmer pockets
Cons
Longer fitting 
Might not keep you as warm as other product
The Verglas hooded jacket with a hybrid insulator by Helly Hansen is a premium outdoor hoody that's designed to keep your body warm in potentially freezing temperatures. It's an excellent choice for fly fishers that want to stay out for longer periods without shivering. The hoody is designed with a powerful blend of nylon and polyester, providing effective breathability while retaining your body heat.
The Helly Hansen Verglas Hooded Down is insulated with 20D ripstop PrimaLoft materials, featuring durable, soft shells throughout. This makes moving comfortable and adds to the jacket's capability to keep you dry during light showers. Moreover, the Verglas has a PFC-free water coating and features the company's patented hybrid insulator.  
Pros
DWR-treated 
Strong seam stitching for added warmth
Hybrid heat insulator
20D PrimaLoft fabrics
Water-resistant
Cons
A bit heavy to wear
The Skwala Fusion Hybrid puffer jacket for fishing is designed with the company's superior Fusion Hybrid materials, replacing soft shell layers. The product offers optimal heat-retention while improving your movements and flexibility, which is perfect for a day of fly fishing in the winter. I personally like the slimmer silhouette of the Skwala which makes it ideal layer under a wading jacket.
The Skwala Fusion Hybrid Jacket is designed with Toray 3DEFX synthetic insulation (60 grams) with a blend of Kariyushi nylon and fleece to keep your core, hands, and arms perfectly warm. With enhanced water-repellent materials, the jacket will always keep you nice and dry during chilling showers. 
Pros
Contains 3DEFX spiral fibers for added warmth and winter proofing
Fully insulated 
Kariyushi nylon and fleece are abrasion-resistant 
Enhanced skin comfort 
Angled pocket on the chest for storing your items
Cons
Not designed for harsh winter winds
When it comes to fly fishing in winter, it's vital to consider wearing something that feels light and sufficiently warm. The Orvis Recycled Puffer Jacket for fishing is among the very best when it comes to both of these qualities. Manufactured with recycled polyester for added environmental friendliness, this hoody will keep you nice and warm during the harshest of winters.
Moreover, the jacket is also DWR-treated and features a powerful, ripstop polyester weave, making it durable and lightweight. Bluesign-approved, the jacket also features the company's patented PrimaLoft Gold for enhanced water resistance and insulation. The Orvis Recycled Drift Jacket is designed with two tricot-lined, warm hand pockets for added comfortability. Moreover, the jacket also features a Chevron-quilted collar and has a chest pocket to store your items.  
Pros
Lightweight
Excellent water resistance thanks to PrimaLoft Gold insulation
Multiple zippered hand warmer pockets
Chest pocket
Athletic fitting
Cons
Subpar windproofing capability 
Made with recycled and sustainable materials, the North Face Aconcagua jacket contains synthetic insulation materials as opposed to bird feathers. The company remains committed to using recycled (post-consumer) fabrics and materials in all its winter jackets.
The warm mid-season hoody also features a cleverly designed draft flap and comes with adjustable cuffs to keep your hands warm during cold drafts. Moreover, the North Face Aconcagua also comes with an insulated hood to keep your head warm. It's lightweight and features superior stitching. 
Pros
Made with 100% sustainable materials
Good insulation
Adjustable cuffs
Draft flap
Cons
Feels a little heavy
Not recommended for professional anglers
Bottom Line
In all, these are the best puffer jackets for fly fishing we managed to narrow down to help make your buying decision easier. However, we strongly recommend listing the top features and qualities you're looking for in a winter fishing jacket as preferences vary amongst different users. These jackets are manufactured with excellent materials and provide optimal warmth and water resistance money can buy. 
Frequently Asked Questions
What types of materials should I look for in a winter puffer jacket for fishing?
To keep warm and insulated during a winter fishing excursion, it's important to look for puffer jackets or hoodies that come with DWR treatment. This means the jacket is highly water-resistant. Moreover, look for products that are designed with recycled nylon and polyester and feature PrimaLoft Gold insulation. 
How do I stay nice and cozy during winter fishing?
Apart from wearing a well-insulated puffer jacket for fishing, it's important to dress in multiple layers. For example, wear woolen shirts or sweaters or any other winter-proof synthetic materials. Never go for cotton in winter. 
Disclaimer: The Wading List is reader-supported. We take part in the affiliate programs and might earn a small commission at no extra cost for you if you end up making a purchase from one of the links we provide in this article. We only recommend products we are convinced of and use ourselves. Thanks!