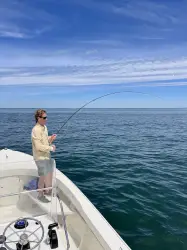 Latest posts by Leonard Schoenberger
(see all)
With the dream of having a great fishing experience comes making the choice of having the best gear companion like a fishing cooler backpack.
It could elevate your hot summer day angling adventure into one of the finest. If you are looking for something that is even more convenient when you are always fishing on the move—then a great fishing cooler backpack that you can just strap on would be the perfect fishing gear companion for you. 
These backpacks are surely different from your classic red and white portable coolers that you wheel or drag over gravel. You'll never get to awkwardly drape these coolers over your arm again when you can just have one that can be conveniently carried on your shoulders like a standard backpack. No more bulky weights, no more wasted spaces, and no more bumping around! However, you must still be knowledgeable of the factors that you need to consider before choosing the right fishing backpack cooler companion.
Features To Consider In Choosing A Fishing Backpack Cooler: An Overview
There are a lot of variations available in the market regarding fishing backpacks with coolers and you might not know which one to choose at a first glance. Here are some of the most important features you must keep in mind when choosing the fishing cooler backpack that would be suitable for you and all your fishing needs:
Size and storage capacity
Some anglers may sometimes mistake the wrong size when it comes to buying a cooler backpack, especially when it is just looked up online. Take the time to thoroughly read the key features of the product, especially its size. It is extremely important to find a backpack that is big enough to accommodate all your tools in longer expeditions, or small enough to conveniently bring during your casual fishing trips.
It is also important to take note of the accessibility and convenience that the backpack's pockets and compartments offer. Depending on the kind of fish you want to catch, or the water body you plan to fish on, your bag must be able to accommodate all these tools without giving you a hard time rummaging through them. The main compartment must be enough to store your fishing gear essentials, along with your food and clothing. 
Comfortability and convenience
Even though the size is an important factor to consider, you must still be mindful enough to assess if the added size also comes with an added weight. You would not want to hurt your back trying to carry all your essentials, because a good fishing cooler backpack must still be comfortable and easy to carry around. 
You can ensure comfortability by checking if the paddings of the bag are adequate and comfortable enough. The bag must be proportional and ideal to be used with respect to your body weight. While most bags have adjustable straps, you must still consider the comfort that the material gives you, and avoid straps that seem to dig into your skin and give you a burning feeling. One way to do this is to choose slightly wider straps, as they are less likely to cut your shoulders than the narrow ones.
Quality and durability
Choosing the right product is also an investment, and you would not want to buy something that won't even last you a year. You will need a backpack that will not break and tear easily, especially if you fish frequently and go on long trails. Always opt for products that have known durable and strong materials, such as strong polyester. You must also consider the durability of the backpack's linings because you will carry a lot of sharp objects and you would not want those to ruin your pack. 
Waterproof features
While it may be given the knowledge to choose waterproof materials when going out into the waters, a lot of people seem to overlook this when choosing the right cooler backpack. Your bag must be able to withstand going through wet and muddy trails, especially if you are bringing food, gadgets, and clothes with you. Polyester and nylon materials are usually your best choices for this. Choosing a waterproof bag will also save you from days of cleaning off the dirt from your adventures. 
Cooling compartments
Bags with a featured cooling compartment will help ensure that your bait won't easily rot, and your food won't spoil easily. This one is also important because you won't get to carry a separate box for cold storage when you already have one strapped right onto your back for convenience. 
Disclosure: The Wading List is reader-supported. If you click on one of the links in our gear reviews, we may earn a commission at no extra cost for you. We only recommend products we would use ourselves. Learn more.
Entry Level Fishing Cooler Backpacks Under $50
With those tips and factors said, we have collated some of the best fishing cooler backpacks that are sure to accommodate all your angling needs—from entry-level ones up to the premium backpacks for the most experienced anglers.
The Piscifun Insulated Cooler Backpack is one of the more affordable backpacks in the market, but it still provides a promising quality that won't disappoint. It is made with high-density nylon fabric that ensures its durability and strength. The bag also features a high-frequency heat-welded technology that makes it leakproof and easier to clean. 
Its back pads and straps are thick and yield a breathable design that will bring you optimum comfort. This bag is also very user-friendly and accessible and is perfect for any day trip.
Key features:
Easy to Clean
18-Hour Thermal Insulation
Lightweight and Durable
Comfortable and Ergonomic Design
Leakproof
Specs – Size: 9.45″ x 6.7″ x 16.54″ – Weight: 24.6 oz
For just a whopping $2 ahead of the Piscifun Insulated Cooler Backpack, you get to have a great backpack and chair combo all in one with the Preferred Nation Seated Cooler Backpack. This multi-use pack sure is the perfect companion for any outdoor extravaganza. It features a front zipper compartment with a PEVA-lined cooling storage compartment that can carry up to 12 cans. 
Its main compartment is also big enough to accommodate your extra clothes, and it even has a padded sleeve for you to put your phone or gadget into. The seat's frame is capable of supporting a weight of up to 280 lbs and can be folded flat when not in use. 
Key features:
Double-layered 600D Polyester material 
Spacious main compartment
Collapsible
Specs– Size: 13″ x 11″ x 17″
Also belonging to one of the more affordable ones without the compromised quality, the TOURIT Backpack Cooler is able to provide features that are sure to rival even the most premium ones. It comes with a high-density insulation material that can keep your food hot or cold for the next 16 hours, and it is also leakproof. 
It has multiple compartments to accommodate your specific needs, from its spacious main compartment, mesh side pockets, utensil zipper pockets, and another zipper pocket with one mesh pocket on the top. The TOURIT Backpack Cooler can also hold up to 24 cans. It's light, durable, and is made of water-repellent material that is perfect for picnics, fishing, hiking, road trips, among many other outdoor activities. Its stylish design also makes it appropriate for casual hangouts and lunches.
Key features:
Multiple Pockets
Leakproof
Large Capacity
Large Capacity
Specs – Size: 11 3/4″ x 7″ x 17 1/4″
Mid-Range Fishing Cooler Backpacks Under $200
The ROCKBROS Backpack Cooler Bag is made of double-sided waterproof material accompanied by a leak-proof zipper to ensure the storage of cool air in the bag. It has an extra cooling insulation time of 48 hours and can hold up to 36 cans with its large capacity. This backpack is also one of the more compact models out there, which you can carry easily anywhere and anytime. It doesn't take up too much space, and its straps can be removable, making it easy to carry by hand.
Key features:
100% Leak Proof and Waterproof Material
48-hour Insulation
Oxford Cloth Lining
Weight: 4.22 pounds
20L Capacity
Compactness
Dimensions: Outside size: 19.5″ x 14.2″ x 9.3″; Inside size: 15.5″ x 11.4″ x 6.3″
An ideal companion for outings, hiking, theme parks, sporting events, and fishing, the Earth pak Insulated Backpack Cooler offers a 72-hour insulation time with its high-density NBR Foam material embedded on all sides. It also features a waterproof exterior and an IPX-8 waterproof zipper that will keep your bag puncture and abrasion-proof, as well as keep the liquid inside. 
It has an eva molded backpanel and extra straps that ensure your comfort in long trails and can be worn for extended periods of time without giving you fatigue. The Earth pak Insulated Backpack Cooler has a lot of large exterior pockets, a bottle opener, and a stretchy bungee cord at the back for extra storage.
Key features:
72-hour Insulation
Leak-Proof
Big and Comfortable
Extra Pockets and Space
Portability
The TACKLE TITAN TravelBoss Ultimate Fishing Backpack and Cooler features ample space for a tackle tray and two rod holders for anglers on the move. It also has a cooler space to accommodate your snacks and beverages. The bag also comes with various built-in pockets and loops for all your fishing tools and accessories, ensuring secure storage on the go. 
This bag is ideal for long or short trips on the water, trails, tailgates, and other outdoor activities that you can ever imagine. 
Key features:
Tackle tray space
Cooling compartment
Built-in pockets
Comfort
Durability
Dimensions: 18" x 19" x 10"
Premium Fishing Cooler Backpacks Under $300
One great thing about this premium cooler backpack: it floats. The RTIC Soft Sided Cooler/Backpack is built with welded seams that enable it to be waterproof and floatable. It is also built with premium insulation that will keep your items cold not only for hours but for days. It can hold up to 30 cans and a bag of ice and keep it cold even in the midst of the hottest summer day. Also comes in a 20 can version.
The RTIC Soft Sided Cooler/Backpack also features comfortable straps that will enable you to move freely, and its zipper-top opening supports its accessibility. It is also compact and can be easily stored if not in use.
Key features:
Premium Insulation
Comfortable Straps
Accessibility
Compact
Floatable
Waterproof
Specs: 20.25″ x 15″ x 13″ (outside), 17″ x 7″ x 10″ (inside) Weight: 7.7lbs
Best described as a part cooler, part backpack, the YETI Hopper Backflip 24 is capable of storing a day's worth of drinks and food to accompany you and your crew in your fishing ventures. It's built with a waterproof, high-density fabric that makes it resistant to punctures and UV ray damage. The pack's closed-cell rubber foam material enables it to have cooling insulation for longer periods of time.
The YETI Hopper Backflip 24 is also built with a Hydrolok zipper, considered as the toughest and highest-quality cooler zipper in the world that ensures maximum leakage proof. It can hold up to 20 cans with a 2:1 ice-to-can ratio.
Key features:
Dryhide Shell
Coldcell Insulation
Hydrolok Zipper
Waterproof and Leak Proof
Specs: Inside Measurements: 13.75″ x 19.125″ x 8.5″ (oustide), 12.625″ x 6.5″ x 15″ (inside), Weight: 5.3lbs
Best Backpack Cooler for Fishing: The Takeaway
Choosing the perfect fishing cooler backpack for you will always depend on a lot of things, such as how frequent you go out, or how adventurous you get. The bottom line, however, is you must always choose quality backpacks that won't hinder you to have the best fishing experience, and can always ensure to provide you durability, comfort, convenience, and above all, a long-lasting companionship. 
With some of the top choices just laid out for you, which one will it be?
Fishing Cooler Backpack: Frequently Asked Questions
How do you use a cooler backpack?
A cooler backpack is basically a backpack and a cooler combined. You simply carry the cooler backpack on your back just like a normal backpack.
Can you put ice in a cooler backpack?
Yes, you can put ice in a cooler backpack. Make sure to check if your cooler backpack is leakproof and waterproof. The best cooler backpacks can retain ice for hours, some even for days.
Notice: We take part in so-called affiliate programs such as Amazon Associates. If you click on one of the links in the text and end up purchasing a product we earn a small commission at no extra cost for you. We only recommend products we would use ourselves. All product photos courtesy of amazon. Learn more.