Last updated on August 19th, 2023.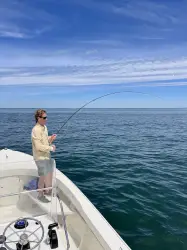 Latest posts by Leonard Schoenberger
(see all)
If you're in the market for a reliable and well-constructed 10 wt fly rod, then you've already made up your mind to hunt for bigger fish.
You see, 10wt rods aren't designed to catch smaller freshwater fish like trout. These bad boys are meant to present heavy dry flies and cast over long distances and are excellent to quickly control and reel in gamefish such a trophy largemouth, King salmon, tarpon, steelhead, and many more.  You can practically get into catching all manner of aggressive species to make your fishing excursions fun and adrenaline-fueled. 
But if you're wondering whether the rod focuses too much on power then you're wrong. 10wt fly rods are designed for increased handling and improved ergonomics. A quality 10wt will never compromise comfort for added performance. 
In light of this, we're going to talk about some of the best 10wt fly rods the market has to offer along with shedding light on some factors you should consider before buying. 
Types of 10wt Fly Rod Blank Materials
The blank is the most important component in any fly rod. All rods come disassembled, and you have to put several components on the blank such as the handle, stripping guides, etc. to make the final piece. A majority of fly rods are designed with graphite blanks. While you may be able to find fly rods made from fiberglass and bamboo, most top of the line and modern 10wts come with graphite blanks. 
Carbon Fiber Graphite
This material is exceptionally durable and chip resistant. In addition, graphite fly rods are considerably lighter than bamboo and fiberglass. The material allows the rod to become rigid, which essentially defines the modulus of the rod (its capability to bend). There are two types of modulus graphite:
High-Modulus: compared to the rod's overall weight, high-modulus graphite fly rods are quite stiff, which is what makes the rod exceptionally lightweight, and they don't compromise power and sensitivity for weight.  
Low-Modulus: This is basically the opposite of high-modulus graphite. The material makes the fly rod heavier and less agile. 
What Kind of Fish Can You Catch with a 10wt Fly Rod?
While most 10wt fly rods are designed for saltwater fishing trips, you can quite comfortably use them to catch larger freshwater fish such as pike as well. You can use the rod for medium to heavy species such as salmon, roosterfish, steelhead, tarpon, and many more. Plus, 10wts are exceptional for casting heavy streamers over longer distances with increased precision and accuracy. 
The Importance of Choosing the Right Weight
To choose the correct weight of the fly rod, it's quite important to first see if the weight is in line with the size of the fish you're hunting. It also depends on where exactly you're going to fish. So, if you're catching small fishes, you won't necessarily need a heavy rod and vice versa. By determining the size and weight of the fish you're catching, you'll be in a better position to select a fly rod to cast different types of flies that can handle the stress and tension of the fish. 
Review: Best 10 Wt Fly Rod
Notice: We take part in affiliate programs. If you click on one of the links in the text and end up purchasing a product we earn a small commission at no extra cost for you. We only recommend products we are convinced of. 
Launched in 2020, the Sage Maverick 10 wt fly rod is a classic. The rod is designed to provide anglers with exceptional performance and comes with improved lifting power and highly responsive line shooting that we've seen with previous Sage models. An excellent mid-priced saltwater fly rod, the Sage Maverick is perfect for catching bigger and aggressive fishes such as redfish and striper. 
The Sage Maverick comes with a Konnetic Technology blank made with the company's patented resin and carbon composites. The blank has cutting-edge modulus positioning; and coupled with carbon and resin, it makes for an extremely lightweight fly rod with even stronger casting. Konnectic Technology is renowned for making fly rods wobble-resistant and help considerably enhance tracking for more precision-based casts. 
Pros
Konnetic Technology blank
Ceramic stripping guides by Fuji 
Snakes guides are hard chromed
Anodized aluminum uplocking reel seat
Aluminum rod tube
Cons
Not for professional anglers
Not enough casting power
The Orvis Helios 3D is one of the company's most renowned 10wt fly rods. The product comes highly recommended for anglers who are looking to cast at longer distances and with precision, especially in windy conditions. The fast-action blank on the Helios 3 allows for enhanced durability and power, allowing you to enjoy faster response rates and quicker line speeds. It's perfect for fly fishermen and women who often find heavy fly casting difficult, even more so, in high wind conditions. 
The blank on the Orvis Helios 3D is designed for improved versatility, which means you can just about cast the rod accurately while standing on the boat or from any position. The fly rod also comes with vibration dampening features. 
Pros
Helios 3 Technology blank 
Titanium stripping guides (SiC)
Recoil snake guides 
Anodized (Type III) aluminum reel seat with carbon insert
Aluminum rod tube
Cons
Expensive
Not for beginners
The Redington Predator 10 wt is another exceptional fly rod. Redington basically makes two types of 10 wt fly rods – for musky and pike fishing. The rod features an elongated fighting butt that offers anglers improved lifting strength and enhanced rod flexibility and control. The Predator is amongst the more durable fly rods – featuring stripping guides made with aluminum oxide. 
The 10wt fly rod features a cleverly crafted blank, designed for fast-action performance. With a powerful butt, the Redington Predator 10 wt helps make casting effortless, especially when you talk about using heavier dry lines. Lightweight and agile, the Redington Predator is a well-recommended, mid-priced saltwater fly rod that specifically caters to novice and intermediate fishers. 
Pros
Rod blank designed for high-quality fast-action performance 
Stripping guides made with aluminum oxide with ceramic inserts
Durable design
Snake guides are hard wire anodized aluminum
Corrosion-resistant
Uplocking reel seat
Cons
Not for professionals
The TFO Bluewater SG is the epitome of quality casting power and lifting strength thanks to the cutting-edge combination of hybrid S-glass and IM6 graphite used to manufacture the 10wt fly rod. The saltwater rod is perfect for battling and winning against elusive and aggressive fish such as tuna, sharks, trevally, and billfish. 
For increased power and versatility, the TFO Bluewater SG features a TiCr coated blank. In addition, the rod comes with an uplocking anodized aluminum reel seat, comfortable foregrip, and a flor grade cork handle for added ergonomics.  
Pros
Durable, corrosion resistant fast-action rod
Rod body made with top of the line graphite and Hybrid S-glass technology for increased durability and lifting strength
TiCr coated, cold forged blank
Blank over ferrule feature 
Uplocking reel seat made with channel-locking CNC anodized aluminum 
Topnotch Portuguese cork handle
Alignment dots are color-coded for quick assembly 
Large titanium stripping guides
Snake guides made with stainless steel with ceramic inserts
Cons
Lacks casting power
Better alternative at slightly higher prices
The Echo King Spey is specifically manufactured for anglers looking to swing bigger flies at species such as steelhead and salmon. The fly rod comes with a powerful butt section to help harass and quickly hook the fish. 
The Echo King Spey features a high-modulus blank design reinforced with top of the line graphite, making the fly rod exceptionally lightweight. This also helps make the rod stronger and flexible. In addition, you can cast at longer distances practically from any position be it standing on the boat or wading a river. 
Pros
High-Modulus blank for lightweight and superior performance
SiC stripping guides
Snake guides are hard chromed 
Anodized aluminum reel seats
Cons
Not for experienced and/or competitive anglers
The Loop 7X Spey and Switch is another topnotch option to consider. Designed with meticulous craftsmanship and with top of the line components, the Loop 7X is amongst the handful of 10wt fly rods to incorporate revolutionary technology. We're of course talking about its heptagonal blank construction, a technology that you won't find in most fly rods, even in most high-end products. 
One of the best things about the heptagonal blank design is the fact that it enables anglers to shoot with pristine accuracy allowing for quicker recovery rates. In addition, it helps considerably improves energy transfer between your hands, allowing you to fish with streamlined accuracy and with greater tracking capabilities. The Loop 7X Spey and Switch is undoubtedly a very powerful, fast-action two-handed rod for saltwater fishing. 
Pros
Medium-action heptagonal blank for greater power transfers
Titanium stripping guides (Torzite-style)
Carbon inserted anodized aluminum reel seat
Aluminum rod tube
Cons
Pricey
If you're looking for premium, highly-durable 10wt fly rods, look no further than the Epic 10190 C. The fly rod screams meticulous craftsmanship and guarantees powerful performance. Super lightweight and stealthy, the rod is designed to provide professional anglers with an excellent balance between flexibility, casting power, and energy transfer. The Epic 10wt 1090C provides streamlined loops and is great for technical flies and nymph fishing. 
Pros
High grade fly rod built for exceptional strength and long distance casting 
AAA stripping guides made from titanium and hard chrome finishing
Ferrule system incorporates the company's SureFit technology for quick replacement of different sections 
SnakeBelly finishing for added stealth
Rod body is chip resistant
Quick assembly thanks to alignment dots 
Reel seat made with hard anodized aluminum
Cons
Expensive
Not for beginners
Best 10 wt Fly Rod Combos
If you're still fairly new to fly fishing and are not sure which rod to combine with which reels it's worth taking a look at so-called fly rod combos. These are rod and reel sets that are perfectly balanced and you can be sure to have fun with them right out of the box. Here's an overview of some high quality options for a 10wt fly rod combo.
The TFO BC Big Fly 1090-4 Fly Rod Outfit is manufactured using the company's legendary Axiom technology. The 10wt fly rod provides faster recovery rates, precision-based tracking, and helps anglers comfortably transfer energy when it comes to long fishing excursions in frustratingly windy weather conditions.
The TFO BC Big Fly 1090-4 Fly Rod Outfit features a cutting-edge full wells cork grip made from modified composite and also has an elongated fighting but (IFGA-complaint). The new and improved fighting butt helps anglers cast heavy and large flies effortlessly and with greater accuracy. 
Pros
Cutting-edge cork full wells grip made with composite 
Fighting butt is IFGA-compliant
Elongated foregrip
Recoil stripping guides by Black Pearl
Snake guides are super lightweight
Cons
A bit expensive
Not for beginners
When you talk about effortlessly catching larger fishes, then you should definitely consider the G Loomis CrossCurrent GLX. This wonderful work of expert craftsmanship comes with enhanced lifting power and is designed to be cast in extremely windy conditions. The mid-section is well-constructed for balance and precision and the rod features an elongated fighting butt. In addition, the rod's tip is purposely softer. 
Pros
Enhanced casting distance 
Fast-action taper design that provides with tighter loops 
Recoil stripping guides 
Hard chrome snake guides
Uplocking reel seat made with anodized aluminum 
AAA quality full wells cork grip
Fighting butt handle 
Reel seat made with premium graphite 
Cons
Very expensive
Good news for anglers that use the two-handed fly rods – we've found the perfect 10wt fly rod for you! The Mission 1510 by Orvis is a gamechanger and its design is purely based on the company's renowned Helios 3 series. The spey fly rod outfit can be perfectly paired with Skagit and Scandi lines, allowing for effortless casting. In addition, the Orvis Mission also helps considerably dissipate vibrations, allowing anglers to transfer more energy every time they cast. 
Pros
Two-handed fly rod combo 
Attractive blank aesthetics
Rod alignment markers for quick assembly
Composite cork grip to reduce chip damage
SiC inserted stripping and snake guides 
Cons
Expensive
Bottom Line on the Best 10 Weight Fly Rod
So there you go – some of the best 10wt fly rods available at different price ranges. Like always, select a product that's more in line with your abilities and the type of fish you're setting out to catch. 
Frequently Asked Questions
What can I use a 10wt fly rod for?
10wt fly rods are pretty good for casting heavier and larger dry flies. Plus, they're great at for casting over longer distances against the wind. In addition, 10wts are a good choice when it comes to fishing from different positions such as standing on the boat or from the shoreline. Moreover, these rods also offer a high degree of applicable versatility, meaning, you can use it for medium to heavy fishing excursions in both saltwater and freshwater. 
To catch salmon, what type of fly rod should I use?
There isn't a clear cut rule of thumb for this. However, because salmon are particularly aggressive and big in size, anglers mostly go for 9-10wt fly rods. 
Notice: We take part in affiliate programs. If you click on one of the links in the text and end up purchasing a product we earn a small commission at no extra cost for you. We only recommend products we are convinced of.